Have you ever been on the road and needed WiFi? Maybe you've been on the other side of the world, and you are lost and are searching desperately for free Internet because you didn't want to pay for that expensive data plan? Or perhaps you are sitting in a coffee shop that offers complimentary Internet, but you don't want to take a chance and risk getting hacked.
No matter the reason, in today's world, it's nearly impossible to exist without connecting to WiFi at some point for the basics like checking in with family, checking the weather forecast, or searching for a location.
I've been in the market for a portable International WiFi hotspot for a while, and I have a lot of friends who use them for convenience and security when they travel. I finally had the perfect opportunity to try one out courtesy of the folks at Keepgo for my most recent expedition cruise through Alaska's Inside Passage. The ship did not offer Internet service, and I knew that there was going to be limited access to an internet signal in the wilderness.
The Keepgo Lifetime 4G LTE Mobile WiFi Hotspot sells for $99US on the Keepgo Website with free shipping to 39 countries.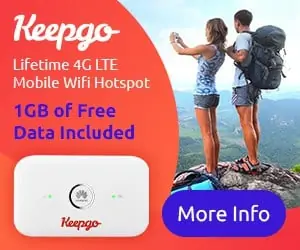 Why use a portable WiFi Hotspot?
A WiFi Hotspot is Cheaper Than Expensive International Data Roaming Charges
Paying for expensive data roaming charges is not fun. It sounds inexpensive when you think that it's only five bucks or so a day but add that up over a week or two weeks and you are looking at a pretty hefty bill. Thanks to the Keepgo, you pay a one-time cost and then enjoy WiFi wherever you are. You simply refill the prepaid data, or you can set up an auto-refill.
Read the article: Does your phone make a good travelling companion?
You Can Share Data with Multiple People
One of my favourite feature of the Keepgo is the ability to share data with multiple people – it can connect up to 16 devices at one time. You can connect laptops, iPads, Android phones, iPhones, and tablets. In a nutshell one device, one plan, up to 16 devices simultaneously. Keep in mind, though, you are sharing the data plan and the signal strength amongst all the digital devices you have powered on and connected to the hotspot unit.
You Don't Need to Change your SIM Card
Another fabulous features with the Keepgo WiFi Hotspot vs individual SIM cards is that you don't have to swap out the SIM cards. Changing SIM cards is a real pain point for me quite frankly because I hate having to open my cellphone, pull out my "home" SIM Card and replace it with my "away" SIM Card when I leave and then, repeat the process on my way home.
With the push of a button on your Keepgo Hotspot, you can be connected to the Internet, while you're on the go – the SIM card is already installed and stays there permanently.
I don't know about you, but the less work I have to do, the better and there is no risk of losing the tiny SIM card when it is loose.
No Unsecure Network Issues
Have you ever tried to connect to WiFi and you only had access to unsecured networks? Travelling all over the world and keeping your personal information secure has never been more convenient than when you are carrying around a private Internet signal. With their password-protected encryption, Keepgo offers top-notch network and information security, and you no longer need to risk using the free WiFi at random coffee shops.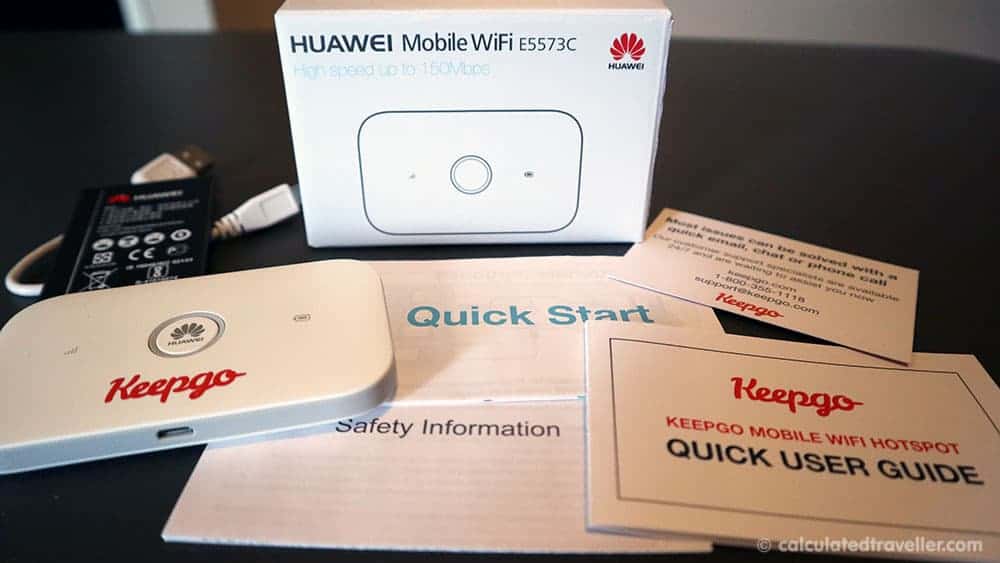 Features of the Keepgo 4G LTE Mobile WiFi Hotspot
Unthrottled 4G LTE.
If you're impatient like me, then you are going to love the international WiFi speed on this global mobile hotspot.
A full year to use your portable internet data.
No need to worry about daily, weekly or monthly data plans. Whichever amount you buy the only time limit you need to worry about is one year from the date of purchase! Each time you top up your data account, you reset the clock, and you have another year to use it up.
Should your data balance ever get low or you start running out of time on the one-year expiry date – you'll receive a reminder email to top up.
Think about it this way. If you buy a 3GB plan, you can use it on one trip or five trips throughout the year. Use it until it runs out, or top it up before the year is up and restart the clock. Easy!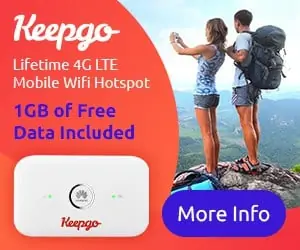 1GB of initial data included with purchase.
When you purchase the Keepgo, you don't need to go out and buy data separately; your account automatically comes with 1GB of data!
1GB of data doesn't seem like a lot when you are at home and are streaming YouTube, but when you are on the road travelling, it's quite substantial. To give you an idea – 1GB gives you approximately 150,000 text-only emails or 1,000 online page visits.
Coverage Area for Keepgo mobile hotspot
In terms of coverage, keep in mind that there are areas of each continent without coverage, but you can view full coverage details on the website.
In general, coverage is available in:
North America
South America
Oceania
Asia
Africa
Middle East
Europe
Keepgo provides service in 100+ countries by collaborating with over 500 major cellular carriers worldwide. But, keep in mind that in some remote parts of the world you may get weak or limited service, but for the most part this portable WiFi hotspot can travel the world with you.
As I said, I used it in Alaska and was quite surprised to have access to a signal amongst the trees of the wilderness!
What are the Data Refill Options?
Here are the following package options and rates (accurate at the time of publishing) for the Keepgo mobile WiFi.
500 MB – $14
1 GB – $26
3 GB – $61
5 GB – $88
10 GB – $165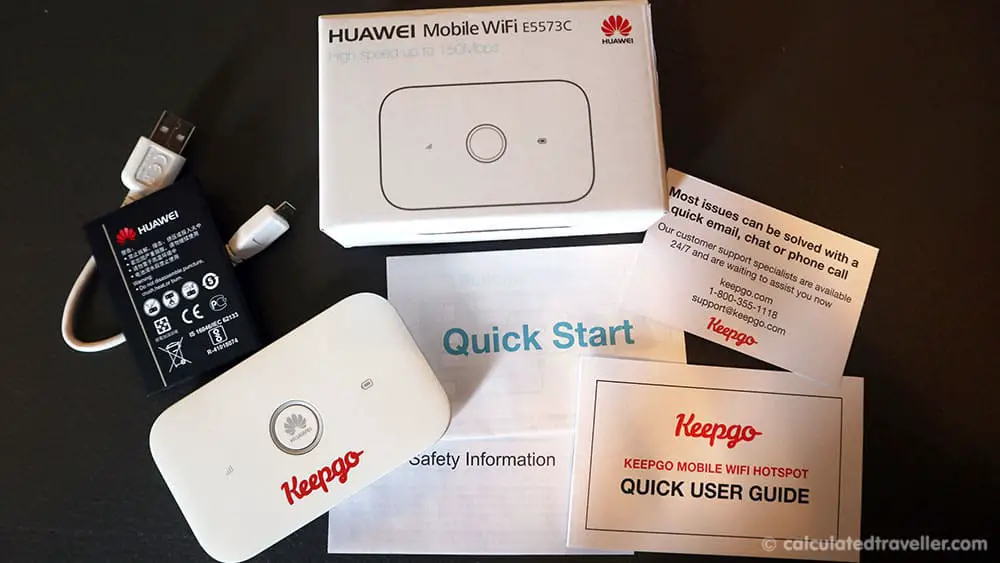 What comes in the package
USB to micro USB charging cable
Keepgo mobile hotspot unit
Keepgo Data SIM card pre-loaded with 1GB of data
Rechargeable Battery
User Guides
Quick Start Guides
Safety Information Guide
24/7 customer service contact information card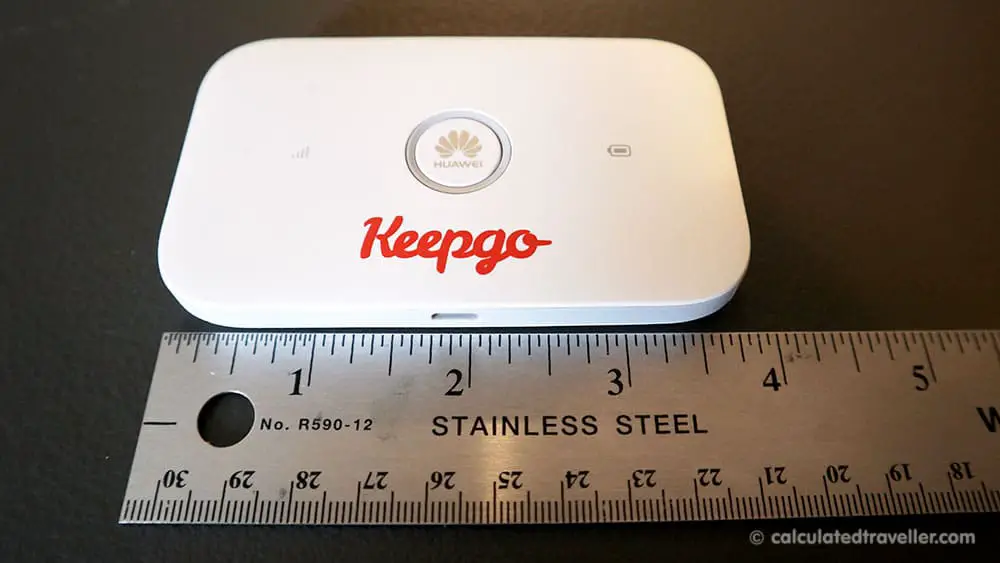 The hotspot unit is smaller and much lighter in weight than I thought it would be. You can stick the hotspot in your pocket and be on your way. Perfect for travelling on a plane, car, or bus.
Weight 2.64 oz (75 g)
Size 3.7 x 2.3 inches
According to the website, Keepgo says that their hotspot is "…the smallest WiFi international hotspot on the market. It allows you to travel lightly and easily, always be connected and never get lost."
Free shipping to 39 countries worldwide. In Canada, my package arrived within 24 hours, but you should allow for at least 48 hours
PRO TRAVEL TIP: How to save on your data
Keep in mind that the data packages last a year from the day you buy them! It's simple to refill your Keepgo Data account but here are some ways to conserve your data plan especially since the hotspot has up to 6 hours of battery time and over 300 hours of standby time (It's easy to get carried away and lose track).
avoid prolonged video streaming, online gaming, and large movie/torrent downloads.
Turn off auto system/cloud and app updates and set them for WiFi–only
Turn off photo synchronization
Time needed: 5 minutes.
How to set up your Keepgo Mobile Hotspot and connect to your device (i.e., your cell phone)
Power

Install the battery into the unit and make sure it's fully charged

Set-Up

Navigate to the Keepgo website and activate your SIM Card and set up your account

Check your data balance

You should see your initial 1GB already in your account and the date your data will expire

Add more data

Purchase additional data if desired

Find your SSID and Password

– Open the cover of the portable hotspot and look inside the cover for your SSID and WiFi Key
– The SSID is your WiFi network name and the WiFi Key is your password

Power up the hotspot

Press the power button for 3 seconds

Connect

– On your cell phone within the WiFi settings search for the matching SSID.
– Once your cell phone finds the matching SSID enter your WiFi Key.
I was connected and checking email within minutes.
Be careful, and don't lose your hotspot as your data plan and balance is tied to the unit itself and not to your account. It cannot be transferred to another hotspot.
Keepgo also offers individual data SIM cards if you really don't think you'll be sharing your mobile data with another device and/or you don't mind swapping your home SIM card with the Keepgo SIM card each time you travel. They also sell smartwatch SIM cards.
PRO TRAVEL TIP: you could use your cellphone as a hotspot but I find this isn't as convenient.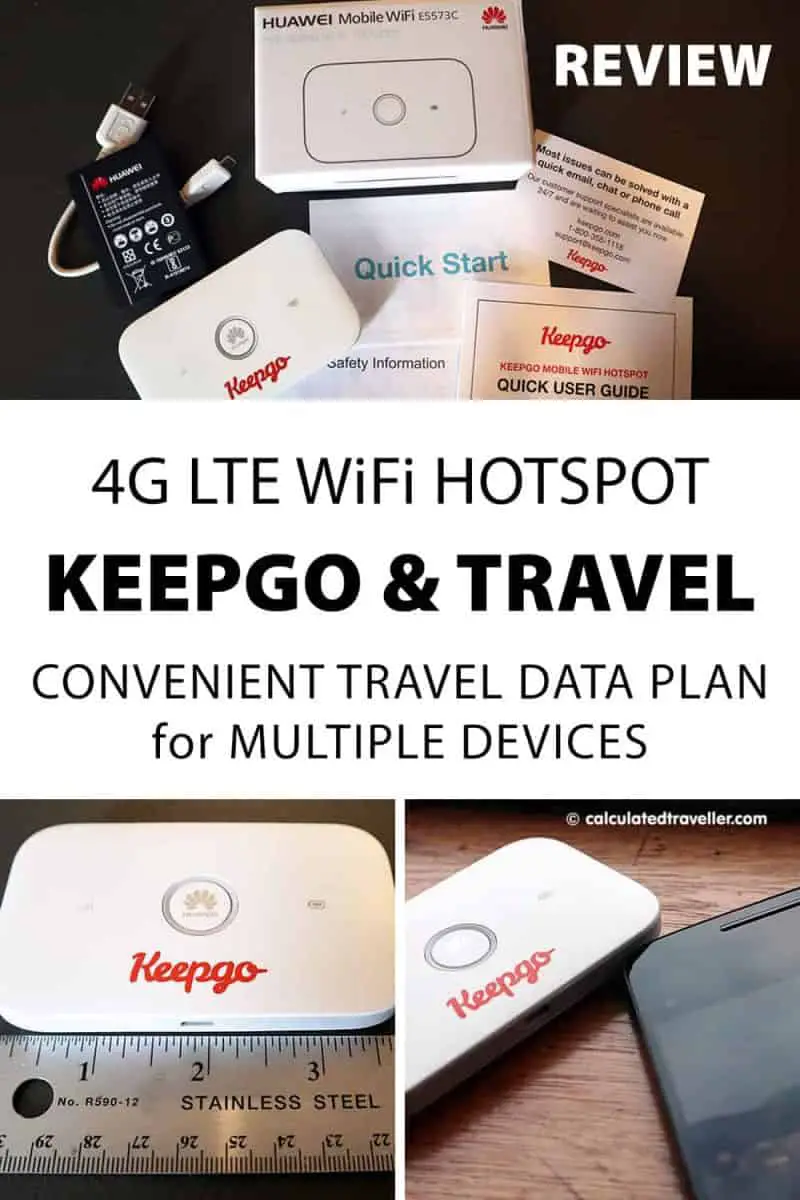 I honestly, found the Keepgo 4G LTE Mobile WiFi Hotspot to be very convenient, portable, affordable, flexible, and secure way of accessing the internet while I'm away from home. The hotspot has found a permanent place in my travel electronics tool kit. My favourite thing of all about the product is the ability to buy a bank of data and use it on multiple trips throughout the year and not worry that I am overbuying data for a trip or not buying enough!
Have you tried Keepgo Portable Mobile Data? Share your opinion in the comments below.
The author received product for review purposes only. All opinions are entirely our own.