It's hot in Amarillo, Texas. We are about to head out for an open range horseback riding experience along the rim of Palo Duro Canyon State Park with Cowgirls and Cowboys in the West. Our instructions for our trail ride adventure says to wear long pants and long sleeves. Ray is already complaining about having to wear jeans when it's high of 30ºC temperature, and it's still early in the morning.
We leave our hotel at the Country Inn & Suites after eating a hearty breakfast and make the drive southeast on I-40 towards the Palo Duro Riding Stables at the canyon and our awaiting American Quarter horses.
The 30-minute drive to Los Cedros Ranch is fast and once what were urban buildings, highways and people heading along the interstate to work quickly turns into fields of crops, farms, ranches and cattle.
You wouldn't think that there was green here in this hot and arid climate. But Amarillo Texas has a reported 14 million acres of agricultural land with crops of corn, wheat and cotton to name but a few.
We see the entrance to Los Cedros Ranch and drive the dirt road up towards the riding stables to see the horses are already being saddled. We meet our two guides and our fellow riders; two girls from the UK on a cross-country drive along historic Route 66. A remarkable journey, these two girls booked this horseback-riding adventure a month ago. So excited to ride horses in Amarillo Texas that they went shopping yesterday to get outfitted with cowboy hats and boots.
After signing the required legal waiver forms, we receive a "how to ride a horse lesson." Our mini-lesson comes complete with instructions on how to get our horse to stop/go, turn right/left, and how to signal for help.
We saddle up and set off to ride the rim of Palo Duro Canyon State Park.

What's open range horseback riding
Open range horseback riding is taking your horse on open terrain with no marked trails, no paved roads, and no fenced-in stable area.  From my experience, this is the only way to have an authentic horseback riding experience in the West.
Read about my experience open range horseback riding in upstate New York here.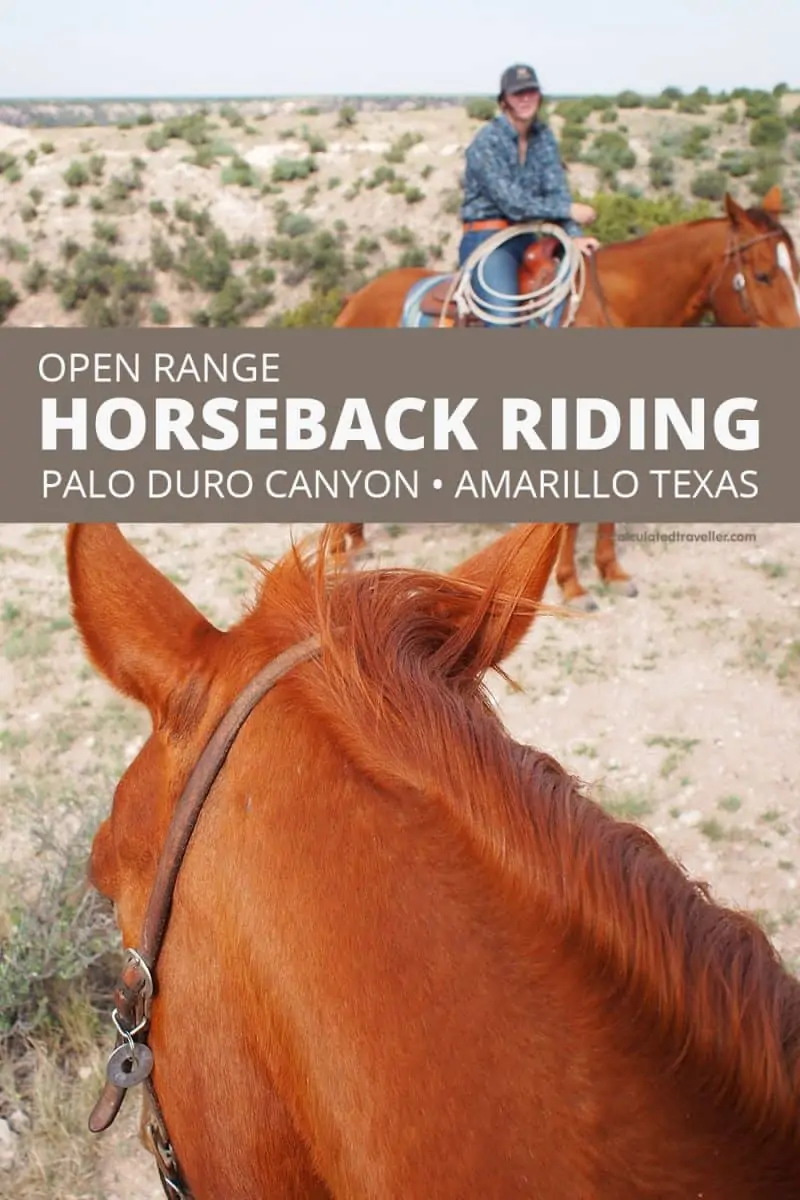 1-hour, 2-hour, 3-hour and sunset rides are available. We are booked for a 2-hour ride this morning.
Our two cowgirl guides and the horses that we are riding aren't just for us tourists. They are working cattle horses and cattle hands that wrangle the cows on the property. They guide tourists as a side-gig and as a result, are highly knowledgeable and experienced – they are the real deal!
The ranch offers stunning views and a variety of terrains so that you can learn skills suitable for your riding experience level.
We love every minute of our ride and forget about the heat…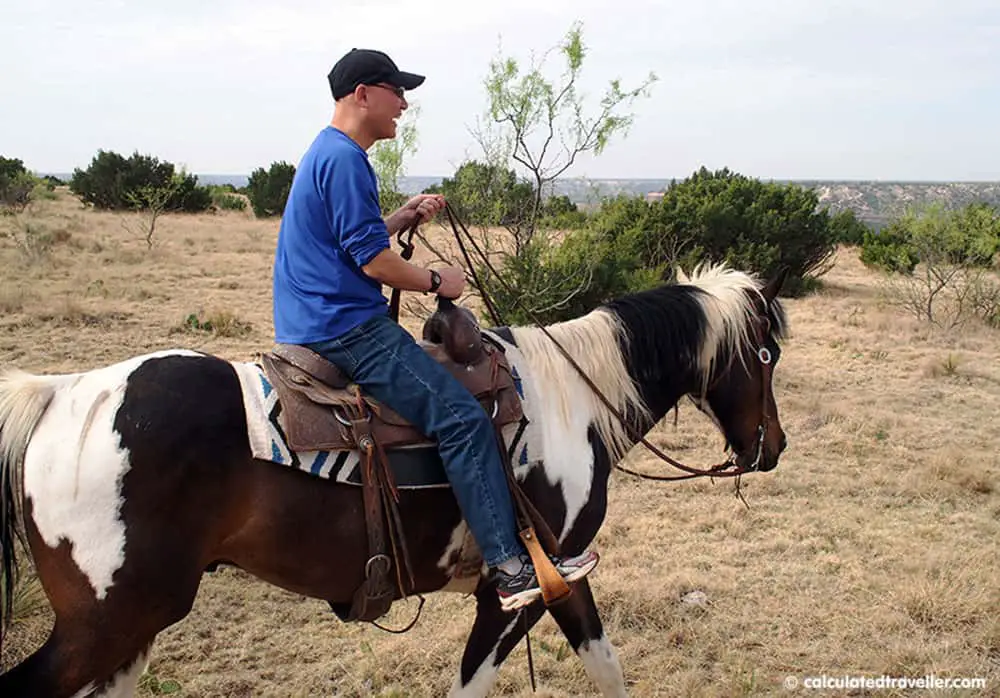 What to wear on your horseback riding adventure:
Leather soled boots are preferred, but you can wear tennis shoes with socks.
Long-sleeved, cotton shirts are preferred to protect your arms from sunburn and tree branches.
Denim jeans are preferred, again to protect you from the bushes and trees. No shorts!
Hat, sunglasses, and sunscreen.
Watch the weather as you may need a light jacket
TIP: Arrive early to fill out legal waivers and get matched to the appropriate horse. If you are late, they will not wait for you. There are no refunds.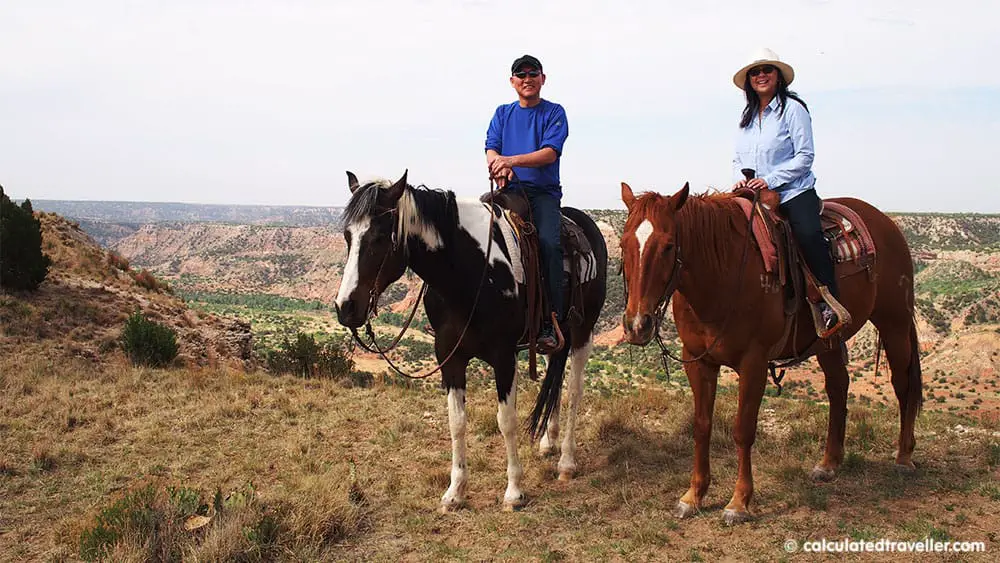 Cowgirls and Cowboys in the West is family owned and operated. They also provide special events in combination with horseback riding in Amarillo, Texas. With unique offerings and chuckwagon events such as cowboy breakfast, lunch or dinner, complete with roping skills demonstrations, cowboy music, and working cowboy history in the Old West it's a great way to experience working cowboy life and the area.
FAQ about Palo Duro Canyon
What is Palo Duro Canyon
Palo Duro Canyon is located in the Texas panhandle and is part of the Caprock Escarpment, a term used in west Texas to describe the change of terrain from the high plains of the Llano Estacado to rolling hills. Nicknamed the "Grand Canyon of Texas," Palo Duro Canyon is about 120 miles long, about six miles wide and drops to about 800 feet at its deepest point. The canyon offers beautiful views of painted rock, trees and bushes about 25 miles southeast of Amarillo.

The canyon was the site of the Red River War, which was a significant battle between the US Army and Comanche, Kiowa, Cheyenne and Arapahoe tribes in late 1874. The army launched a surprise attack, forcing Native Americans to seek protection in the hills. The battle lasted until early 1875 when tribes ran out of supplies and had to surrender. The war marked the end of Native Americans freely moving across Texas.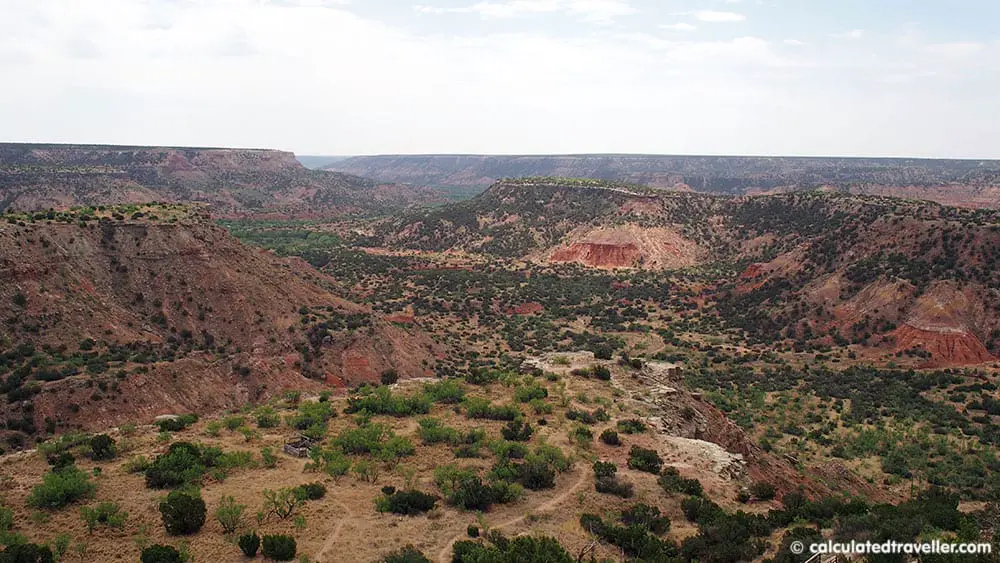 Where is Palo Duro Canyon located?
Situated in the Texas panhandle, Palo Duro Canyon State Park is about 25 miles southeast of Amarillo.
Is Palo Duro Canyon a national park?
Managed by the Texas Parks and Wildlife Department, Palo Duro Canyon is a state park. The Civilian Conservation Corps developed the park during the Great Depression and opened as a state park in 1934.
How was Palo Duro Canyon formed?
Palo Duro Canyon was formed through millions of years of erosion caused by the Red River's Prairie Dog Town fork and wind.
How deep is Palo Duro Canyon?
At its deepest point, the floor of Palo Duro Canyon reaches a depth of more than 800 feet.
Palo Duro Canyon Lodging. Can you camp? Are there cabins?
Palo Duro Canyon State Park offers campsites for both recreational vehicles/campers and tents. With more than 100 sites available for RVs/campers over four sites, they include electricity and water hookups, as well as restrooms with showers. Tent campers can set up at the Cactus or Fortress Cliff locations. The campgrounds have water onsite, but not at each tent site. Restrooms with showers are roughly half-mile to two miles away. A primitive campsite can hold up to 40 people, four at each site. Campgrounds are hike-in locations with no water, so you'll need to carry water to your site. Permits are issued on a first-come basis. Restrooms are about .25-mile from the trailhead.

The park has a few cabins, which are available to rent. Palo Duro Canyon Cabins include air conditioning, fireplace, beds and water. Most of the cabins also have a bathroom and shower. However, cabins at Cow Camp don't have restrooms or showers. But the facilities are located nearby.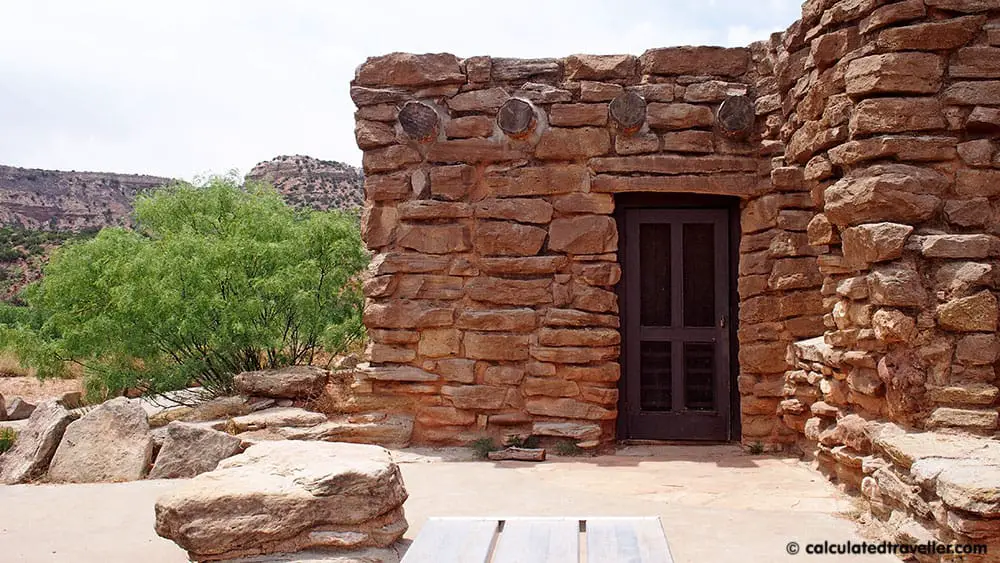 What are the Palo Duro Canyon State Park Hours?
Palo Duro Canyon State Park is open 7 am to 10 pm daily for day use.
When is the best time to visit Palo Duro Canyon?
While any time of the year is an excellent time to spend time at Palo Duro Canyon State Park, the most comfortable weather-wise would be spring and fall. With cooler temperatures, both seasons offer opportunities to experience nature in the best light. However, even though Texas summers can be among the warmest in the United States, who doesn't enjoy a summer getaway for a little camping? Winter in west Texas can be cold and challenging, but there are fans of winter camping.
What are other things to do in Palo Duro Canyon State Park?
With about 30 miles of trails, Palo Duro Canyon State Park is perfect for hiking and biking. It's a favourite spot for nature enthusiasts who enjoy the art of geocache (scavenger hunting using GPS to locate "hidden" treasures along with specific coordinates). The park is also a fabulous spot for bird watching, as well as exploring nature. You can also go horseback riding in Palo Duro Canyon. Horses are available for rent and tours are available.
Tip: Keep an eye out for Palo Duro Canyon Trail conditions before you venture out.

During the summer, the state park's Pioneer Amphitheater is the site of the "Texas Musical," a show highlighting the early years of Texas.

About 25 miles west of Palo Duro Canyon State Park, Buffalo Lake National Wildlife Refuge offers a chance to see hundreds of bird species as well as black-tailed prairie dog towns and burrowing owls, along with short grasslands.

Only a 15-minute drive from the state park, visitors can check out the Panhandle-Plains Historical Museum in Canyon. Situated on the campus of West Texas A&M University the Panhandle-Plains Historical Museum is dedicated to the history of the Texas Panhandle-Plains region. The museum also has some impressive permanent exhibits that include Southwestern Art, palaeontology, geology, and archaeology.

The museum's collections include a look at western life through paintings and artefacts, as well as a living history western town. We enjoyed touring the Pioneer Town exhibit which depicts the history of the locals in the area, and the Panhandle Petroleum industry exhibit with this massive oil drilling rig. The palaeontology exhibit specifically has some fabulous fossils and dinosaur displays.
It's no surprise that TripAdvisor lists trail riding with Cowgirls and Cowboys in the West as the number one thing to do in Amarillo Texas. You can read the other reviews here.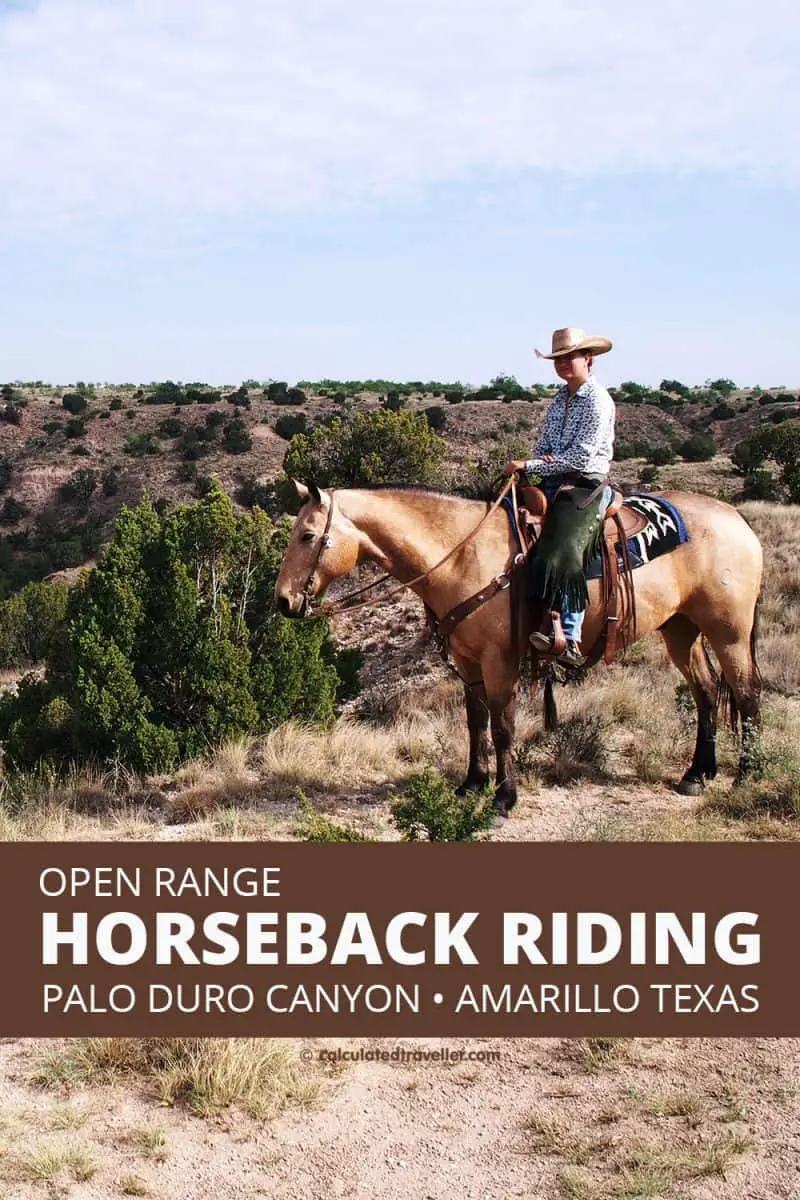 For other Calculated Traveller articles that explore Amarillo Texas, check out:
– Our experience eating Tex Mex at Braceros Mexican Grill and Bar on Historic Route 66
– Eating BIG at The Big Texan Steak Ranch
As mentioned earlier, we stayed at The Country Inn and Suites by Radisson Amarillo Texas and highly recommend it for it's Texas charm. It's located about 10-minute drive to Cadillac Ranch but also, close to downtown Amarillo and Palo Duro Canyon.
Travel assistance was provided by Visit Amarillo and Cowgirls and Cowboys of the West. All opinions are entirely my own.