Alaska has been nicknamed "The Last Frontier." And, it may be a fitting description of the United States' 49th state in North America. It would be easy to think you can practically roam anywhere about the state with so much space and find something exciting to do. The federal government owns or manages about 65 per cent of Alaska's land, and nearly half the population lives in the Anchorage area. While it may seem there isn't as much free space to roam and take in the beauty of Alaska, rest assured there are ample opportunities to explore the state and enjoy an outdoor adventure.
Hiking in Juneau, Alaska – Perseverance Trail
Perseverance Trail may be the best hiking trail to explore in Juneau during your Alaska vacation. Beginning downtown, hikers walk through town, eventually climbing into the hills and mountains overlooking Alaska's capital city. An out-and-back day trail, Perseverance Trail takes hikers on a 5.7-mile adventure to tour the Alaskan landscape. Take in the majestic nature views, as well as remains of old mine shafts. The trail eventually comes to a spot where the mountain trail dips to Gold Creek. Here, you can take other trails, including a 1.5-mile route to Mount Juneau, considered a tough climb. A second trail will take you to Ebner Falls. You can connect to other trails along the initial climb, including Flume, Silver Bow Ruins and Mount Roberts.
Mendenhall Glacier – Juneau
There are a few ways to visit Mendenhall Glacier, a 13-mile long glacier located about 12 miles from Juneau. You can drive to the US Forest Service's visitor's centre and view the glacier from there. Or, if you're interested in glacier hikes, you can take a helicopter tour from any of the nearby tour companies, which will include a hike atop the glacier. But, the best way to explore Mendenhall Glacier might be by taking a kayak tour from Juneau to Mendenhall Lake, where you can walk on the glacier, exploring the natural wonder for about 90 minutes. Then, kayak back to the city. The tour takes about 5.5 hours.
For more kayaking adventures check out these articles: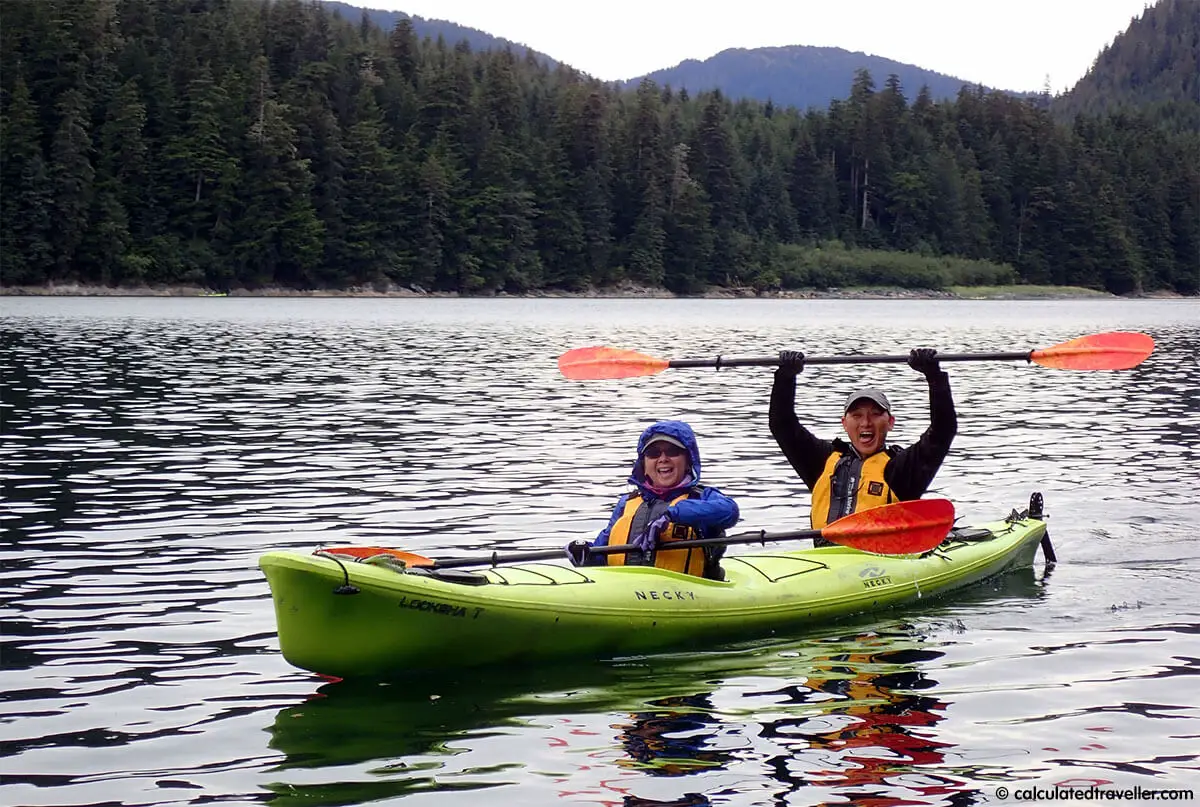 We had an amazing Alaska cruise adventure through the inside passage starting in Juneau and ending in Seattle. That two-week trip was full of outdoor activities, we went whale watching, explored hiking trails, kayaked in the fjords and inlets and toured Tongass National Forest, Olympic National Park, and gorgeous Glacier Bay National Park.
Wildlife Viewings in Ketchikan
Ketchikan is known for attracting visitors to watch black and brown bears as they attempt to catch salmon swimming upstream in the nearby river. You can take bear viewing tours that bring you to the bears and include other wildlife viewings and Alaska Native history. Ketchikan is accessible by floatplane or boat. Alaska outdoor adventure tours will take you through rain forests and eventually to a photo blind, next to the water, where you can view the sights of Alaska outdoors up-close. Another tour gives you a view of the salmon ladder, as the fish swim upstream, as well as Alaska Native totem poles and their stories.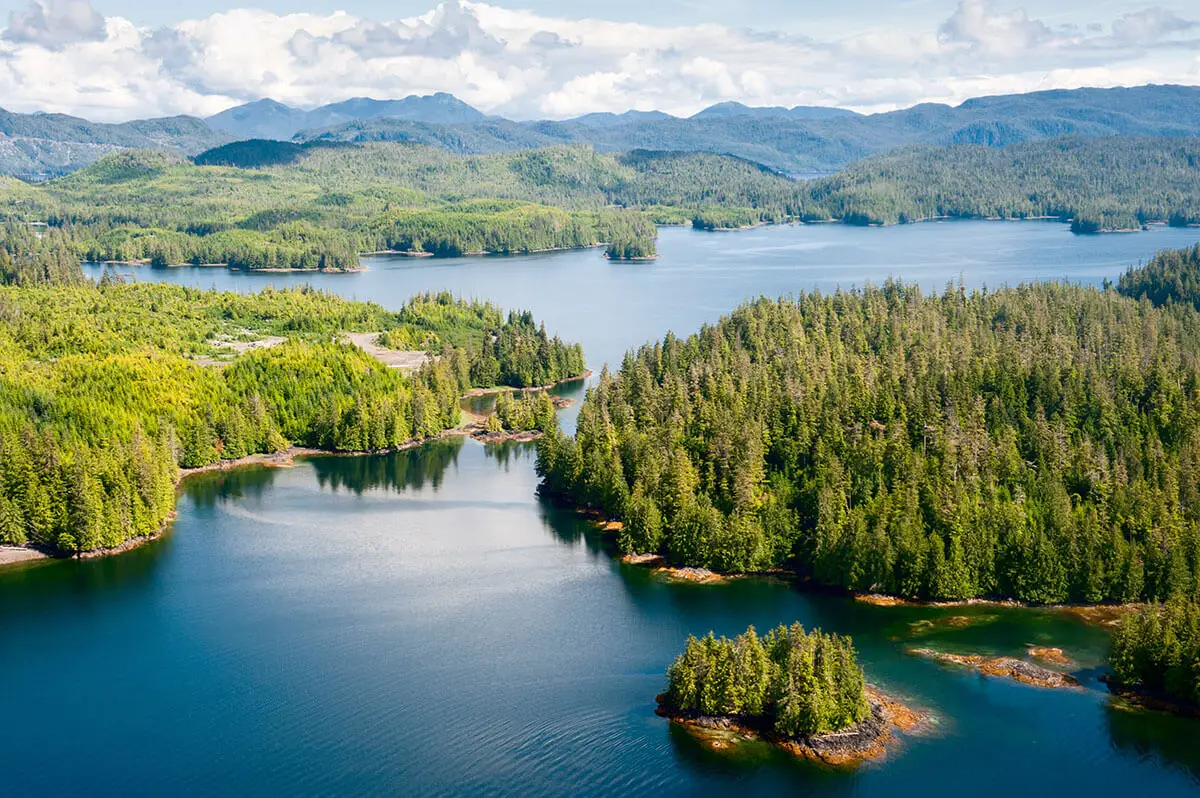 Hiking Denali National Park, Alaska
Are you interested in hiking for your outdoor adventure in Alaska? Denali National Park has plenty of space for your inner Alaskan outdoorsman to wander and discover. You can drive around 15 miles into Denali National Park before you are forced to turn around or take the buses into the park. So, deciding which part of Denali National Park to hike is pretty much left up to you. If you choose to travel farther into the national park in south-central Alaska, you can exit the bus at any stop and then get on any others when ready to return. Denali National Park doesn't maintain set trails, so you're relatively free to roam as you choose. Most hikers tend to follow the riverbed, which runs flat and shallow most of the time. The park's terrain is a unique and memorable experience for hikers, including walking along the tundra and "bobbling," described as walking on carpeted basketballs. As you hike Denali, ensure you leave it as if you were never there (clean up and don't leave a mess). If you're not prepared to hike Denali on your own, consider taking a guided tour. During your hike, you'll likely have come across opportunities to view wildlife, such as reindeer (caribou), black and brown bears, moose, Dall sheep, and more. Ensure you give the animals a safe distance of at least 25 yards (100 yards for moose and bears). Respect the animals.
For other US National Park adventures, check out:
Kayaking in Homer, Alaska
Homer is a unique community in Alaska. With the Homer Spit, a small strip of land extending from town to Kachemak Bay's edge, the area is one of the world's most beautiful places. Mountains, clear, blue water surround the area. Wildlife abounds as sea otters eat their meals while floating in the water, and eagles routinely patrol the rocky beaches, only a few feet from humans. All seems simpatico with nature. Explore another part of the area via a sea kayak tour. Paddling away from Homer, you can take a tour for only a few hours, and you'll have a chance to see Alaska's sea life from their viewpoint, water level.  Imagine coming across a rookery of puffins, maybe within an arm's length from sea otters and eagles flying overhead. You'll enjoy outdoor Alaska in a different way than you would be hiking mountain trails. A kayak tour can be both relaxing and exhilarating at the same time and might be one of the best bets for an Alaskan wildlife tour. Imagine the peaceful feeling of being on the water and taking in the majestic views of the seemingly endless water, tall mountains and fantastic wildlife.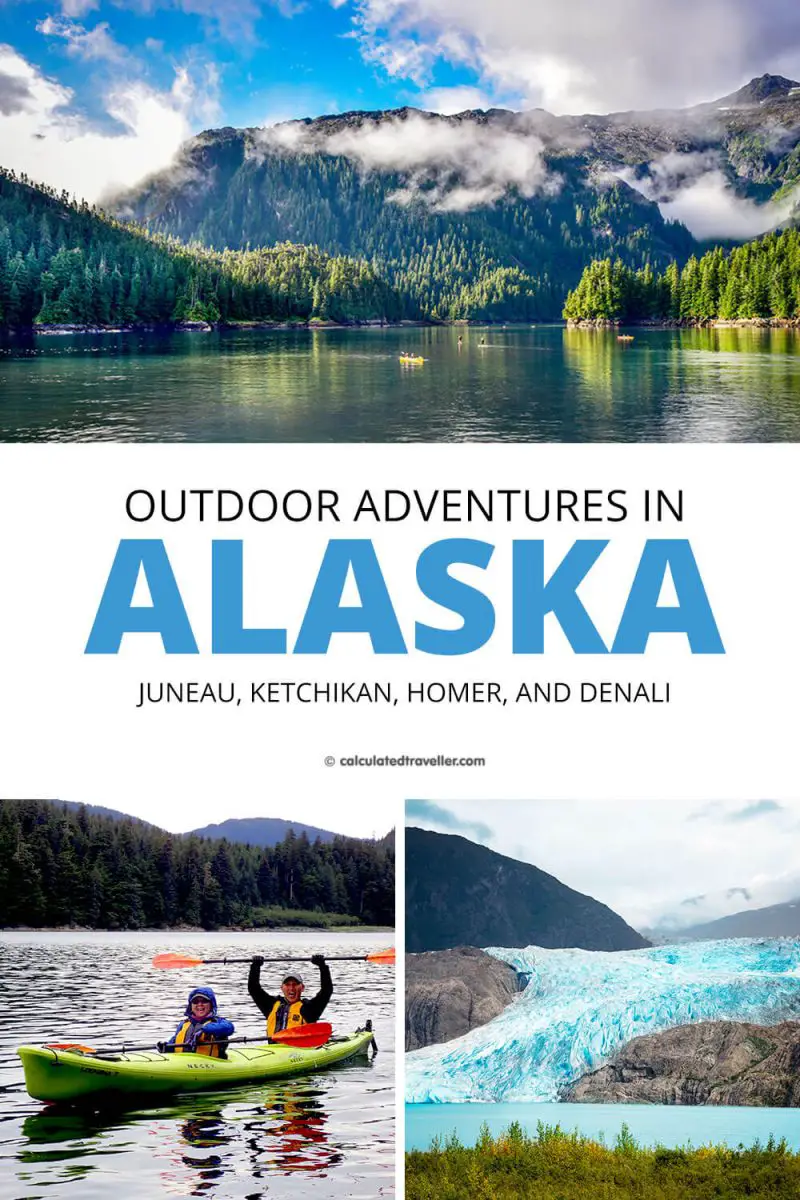 Visit a Glacier #1 Outdoor Adventure in Alaska
Alaska USA is a beautiful state and full of so many outdoor adventures. It's often difficult to choose one Alaska adventure over another, but with a limited time budget, sadly, that's what most people have to do. To take advantage of all that Alaska excursions and Alaska tours have to offer, sample a bit from Column A and Column B, with some hiking and water activity. But, ensure you visit a glacier. That is a must for any Alaskan adventure!
Looking for more adventures?