It's tough being a traveller. Sometimes you are thrown into stinky/sticky hot situations of the travelling kind! I found myself in just that scenario when I travelled from a comfortable 25C Toronto climate to a sweltering 40C Phoenix climate in early September!
Cold I like – Hot? Not so much.
Cold I like – you just layer on more clothes until you are comfy cosy.
But with the heat – you can only strip down so far before you run into trouble with the law!


 
I was speaking with the staff at Columbia Sportswear before the trip and they sent me a Zero Rules Short Sleeve Shirt made with Omni-Freeze Zero fabric to try while in Arizona. I knew that it was still summer there, but I didn't expect the temperature to be this high! Not only did I try out the shirt, but I also wore the dickens out of it – repeatedly choosing it OVER the other pieces of moisture-wicking clothing that I had in my suitcase.
Here's the reason why. Moisture-wicking clothing is primarily clothes made from microfiber, polyester fabric that is breathable; thereby transferring any moisture (sweat) to the outside of the fabric away from your skin. It's made by various manufacturers under various names and comes in different styles and price points. I'm a big fan of the fabric because it is perfect for hot climates and packs up tiny in your suitcase and isn't heavy.

Is Omni-Freeze Zero just moisture-wicking clothing with a fancy name?
What UP?
The UP is that Columbia's Omni-Freeze Zero fabric IS moisture-wicking, but it ALSO has "Sweat-Activated Cooling" these little blue rings (a cooling agent) all over the entire inside of the fabric. How the rings work is that as you sweat, the cooling agent lowers the temperature of the fabric down making the wicking process faster and at the same time cooling the whole shirt down.
It's like moisture-wicking clothing on steroids.
Really? Yes Really!
If you watch their video on their website introducing the shirt it shows this hunk of a man running through the desert huffing, puffing and sweating and then suddenly he runs into a snowstorm. I watched the video, and I was very sceptical but after wearing it an entire day, it did make me feel cooler. It wasn't snowstorm cold, but I did feel more comfortable in the Zero Rules Short Sleeve Shirt versus my other shirts. So comfortable in the shirt that I wore it 4 out of 7 days of the trip.
By the way, National Geographic Adventure awarded Omni-Freeze Zero Shirts the 2013 Gear of the Year.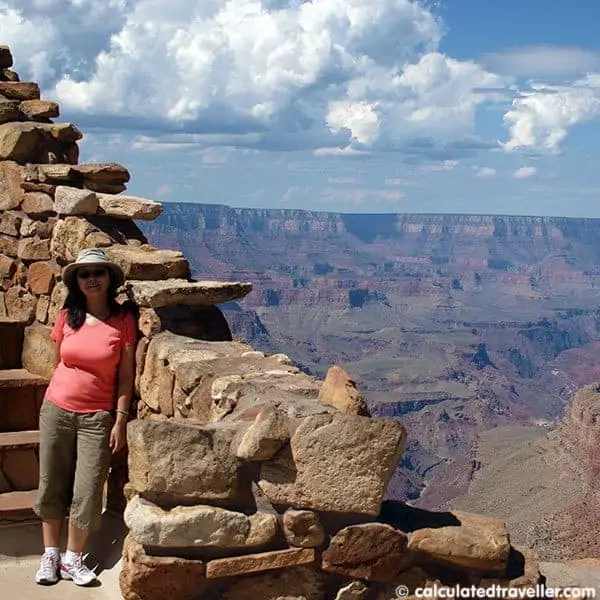 Pros
Super fast drying time. Because I was wearing the shirt so often, I was washing the shirt out in the sink at night and within a few hours, it was dry. Fast drying clothing is a big pro for me as a one-bag carry-on only traveller.
Speaking of washing, stains came out easily. I somehow got a black stain on the front of the shirt either from leaning on the railing at the Grand Canyon or from the ink of a brochure. It wouldn't come out with plain water but after washing in the sink with just a plain bar of soap the stain came right out.
UPF50 rating. Built-in sun protection is a good thing.
Colour is a nice orange/peach (810 Hot Coral). Looks great on a lot of skin tones and coordinates well with multiple colours.
Worked well as a base layer. It got a bit chilly in Flagstaff, Arizona at night due to the high elevation and I just threw a long-sleeved top over my short sleeve top. The collar peaked out a bit, but I was still colour coordinated (Hey I'm a girl – I can't help but want to look good at all times!)
Anti-microbial. Always a good thing when sweat is involved.

Cons
"Performance Fit" is a bit snug for my liking. I prefer to wear looser fitting tops because to be truthful, sometimes my "performance" and my abs aren't where they should be. (Know what I mean?) But the entire point of the shirt is that it is supposed to touch your skin to work. If anything, this top will make me do more crunches at the gym. (Perhaps this is a pro and not a con?)
I typically prefer long sleeves to have more sun protection. I have sensitive skin and try to stay covered as much as possible. Again, this is more personal preference, but for short sleeves I found the sleeves to be a little too short for my liking. Same goes for the length of the shirt – it would ride up a little at times.
Price point for a short-sleeved shirt may seem a little high on the onset in my opinion, but when you think about the practicality and the quality of the product I think it's totally worth the price and I plan on buying more but with long sleeves.
Overall I loved the Zero Rules Short Sleeve Shirt and highly recommend it to anyone who needs to stay cool whether for travel or fitness.
Here are the details:
Product Name: Zero Rules Short Sleeve Shirt (1533571)
Available Colours: 650 Groovy Pink, 732 Geyser, 754 Tippet, 501 Whitened Violet, 612 Laser Red, 810 Hot Coral, 100 White, 010 Black
Fabric: Contains Omni Freeze Zero and is available in short sleeve, tank tops, shorts, skorts, long sleeve shirts, travel shirts, polo's and accessories such as neck gaiters and arm sleeves
Here's another Omni-Freeze review – from the MAN's Perspective!
How do you stay cool in sticky, hot situations?
 
I received this item from Columbia Sportswear for review purposes. This had no bearing on my review. As always, all my opinions are my own.
Read more about Arizona:
– An Arizona Road Trip Adventure along Route 66
– Photo Essay – Old Town Scottsdale, Arizona
Read more Columbia reviews:
– Packable Down versus Omni-Heat Columbia Jacket
– Columbia Sportswear Omni-Heat Heavyweight ½ Zip Base Layer – Review