If there was a contest for the 'most incredible view of a city you HAVE to see before you die', Manhattan from the Empire State Building would surely be the typical winner – 10-20 years ago. Heck, it's featured in movies more than enough – like Tom Hanks and Meg Ryan's romantic meetup in Sleepless in Seattle. Nowadays, that unobstructed view (i.e. the huge-ass fence surrounding the entire rooftop) makes it almost impossible to actually get yourself into a photo with a breath-taking view of Manhattan. Really, the only option left is a sky-high penthouse with huge floor-to-ceiling windows – and even still that awful reflection off the window will cause some trouble.
The best view? How about from the world's longest elevated (infinity edge) swimming pool, 191 metres above the ground.
If you ever pop by Singapore, one of the newest and most popular sites to visit now is the Marina Bay Sands Resort. In my opinion, this full panoramic view with NO obstructions (not even a glass rail!) beats the NYC view any day – AND its poolside! How amazing is that! Check out some amazing photos from the engineering team of the building here.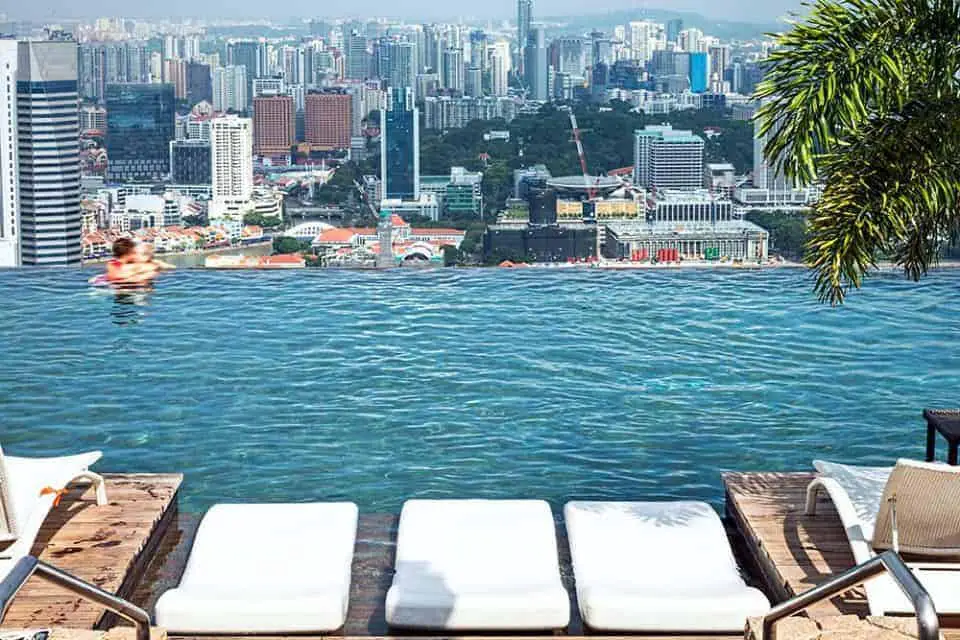 This building truly redefines the term 'massive', as the megastructure encompasses a theatre (in the shape of a water-lily) below and three 55-storey luxury hotels acting as support to another integrated resort structure spanning across the hotel legs. Marina Bay Sands really offers a mini-city experience, housing a shopping centre, casino and convention centre, in addition to the hotel and amazing view. Designed by CANADIAN architect Moshe Safdie – whom I mentioned back in my post about Ottawa architecture – the building has received international acclaim, and the SkyPark – which was designed to look like it's floating atop playing cards – has drawn millions from around the world to take a photo poolside with the view of Singapore as a backdrop. And not to worry about heights from that pool deck – that's just an infinity pool, with a wrap-around deck below it.
So if ever in Asia, and have a pit stop in Singapore, be sure to check out the Marina Bay Sands Resort. Amazing piece of architecture, and an even better view from the top SkyPark. Definitely worth the trip to see this unique view of the whole of Singapore.
OR if you're up for a virtual tour…here's an awesome 360 panoramic view from the pool deck. Check it out!
 
Know of any other amazing picture-perfect spots to visit around the world? I would love to hear about them!
 
For more articles about Asia, read:
– 5 Places in Vietnam You Must See With Your Own Eyes
– Extraordinary Ordinations in Myanmar