Sunday Afternoons Clear Creek Boonie Hat is the perfect accessory for outdoor enthusiasts who love to explore nature. Whether hiking, fishing, or camping, this stylish hat provides optimal sun protection and comfort all day. Made with high-quality materials, the Clear Creek Boonie Hat style is designed to fit any head size comfortably. It's a must-have if you want to enjoy the great outdoors while staying cool and protected from harmful UV rays. This article examines the features of the Sunday Afternoons Clear Creek Boonie Hat and why it should be an essential part of your outdoor travel gear collection.
Sunday Afternoons Motto:
"Sunday Afternoons was born in the Great Northwest–Home to freedom seekers, outdoor lovers, free spirits, and the young at heart. As lovers of the great outdoors, we believe experience is the fuel that powers a rich life. That's why, for over 25 years, our family has been creating the perfect hats to cover just about any adventure."
Well, that's a lot of experience!
I've been a fan of Sunday Afternoons hats for a few years now and own quite a few of their hats and caps.
Their hats are stylish, functional and are always made of quality materials. Another great feature to be aware of is the lifetime guarantee on all their products. They call this their "Hold on to your hat guarantee." "We stand behind our hats for as long as you stand under them. Materials and workmanship are guaranteed for life."
My go-to hat on an adventure is the Sun Tripper Cap because it packs up small, and I can keep it in my pocket, purse, or backpack. The only issue is that it only provides sun protection on my face since it's a cap.
I also love the Havana Hat – it's stylish and provides more sun protection, but it's white, not washable and not water-resistant. Plus, I worry that I will crush it into a distorted mess in my suitcase, and I love it so much that I don't want to ruin it. The Havana Hat stays home for outings in the city or road trips where it can travel safely on the back dash.
Luckily, when I reached out to Sunday Afternoons, telling them that I needed a packable hot weather hat that provided sun protection, they recommended I check out the Clear Creek Boonie Hat, and this one fit the bill.
Looking for a waterproof version? Read the article: Sunday Afternoons Ultra Storm Bucket Hat Review
Key Features of the Sunday Afternoons Clear Creek Boonie Hat
88% Nylon and 12% Polyester
UPF 50+ Sun Rating
3″ Crushable Brim
Inside-out reversible colours with two colour options.
Colours available Eucalyptus/pumice, jade/pumice, lavender/pumice, Wild Orchid/Cinder
Crushable and packs easily for travel
Removable Chinstrap
Adjustable Sizing
Weight: 3.1 ounces/87.9 grams
Hand wash cold, line dry. Do not bleach, iron, or dry clean.
Sunday Afternoons Clear Creek Boonie Hat Rated UPF 50+
The hat's tag says, "A rating of UPF50+ is the highest sun protective rating achievable and means only 2% or less of UV rays are able to pass through, allowing you to diminish the sun, not the fun!"
This high UPF rating was helpful when I took it on three sunny cruise holidays in the Caribbean cruises.
The tag says in fine print, "To maintain the UPF protection of this hat, follow all recommended washing instructions. If washing is admissible, 30 washes is the maximum number of cycles recommended."
I haven't washed my hat yet because even though I brought it on three-week-long hot weather adventures, the colour and fabric are very forgiving, and the hat doesn't look (or feel) dirty.
Hold on to your Hat Guarantee – Indeed!
One feature that came in hand more than once during those trips was the removable chin strap.
On the island of Bonaire, we rented a golf cart to tour the island for the day. Being exposed to the sun (Bonaire is 12 degrees north of the equator), I kept my new favourite UV protective jacket zipped up and my Clear Creek Boonie Hat tightly tied to my head.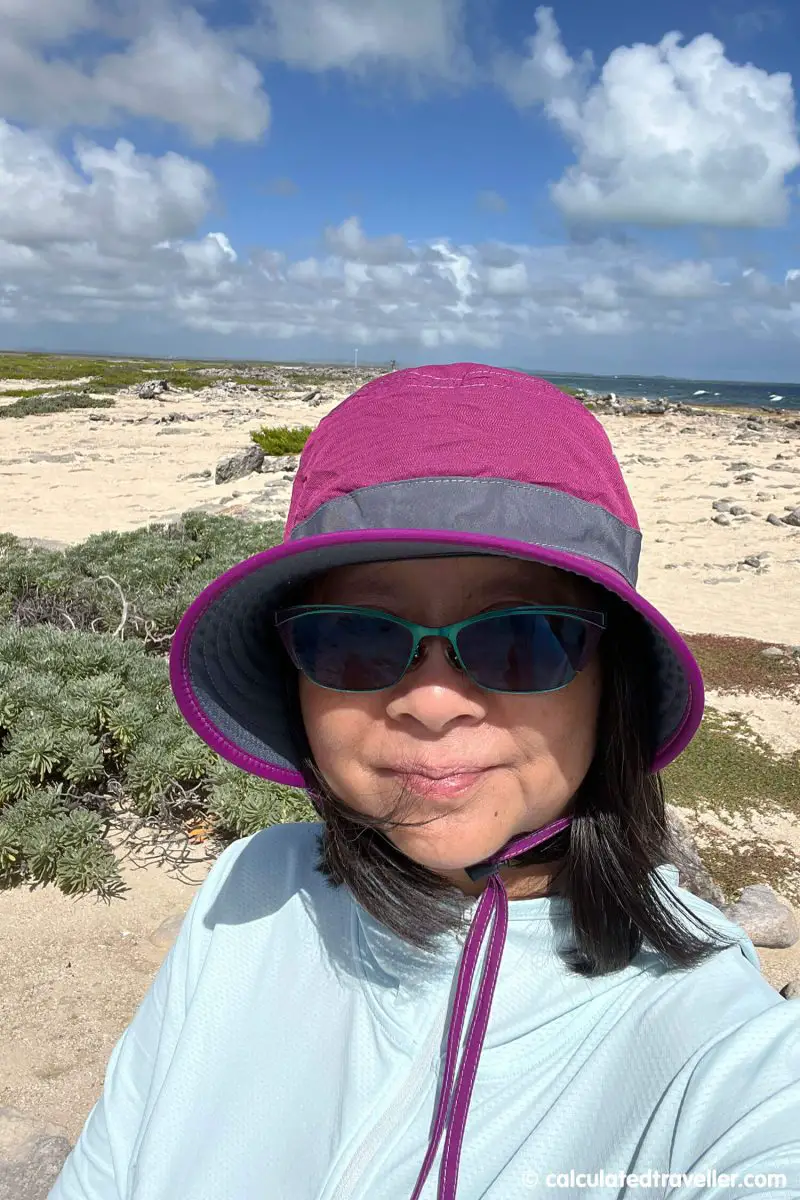 Bonaire is always windy, with a steady wind blowing from the East most of the year.
Attach the chin strap when it's windy, remove it and keep it in your bag when it's calm.
Sunday Afternoon Clear Creek Boonie Hat – Stylish and Versatile
Another great feature of the Clear Creek Boonie Hat is that it is reversible. I chose the Wild Orchid and Cinder colourway and loved that if the pink orchid clashed with my outfit, I could flip it inside out and wear the cinder grey outside instead.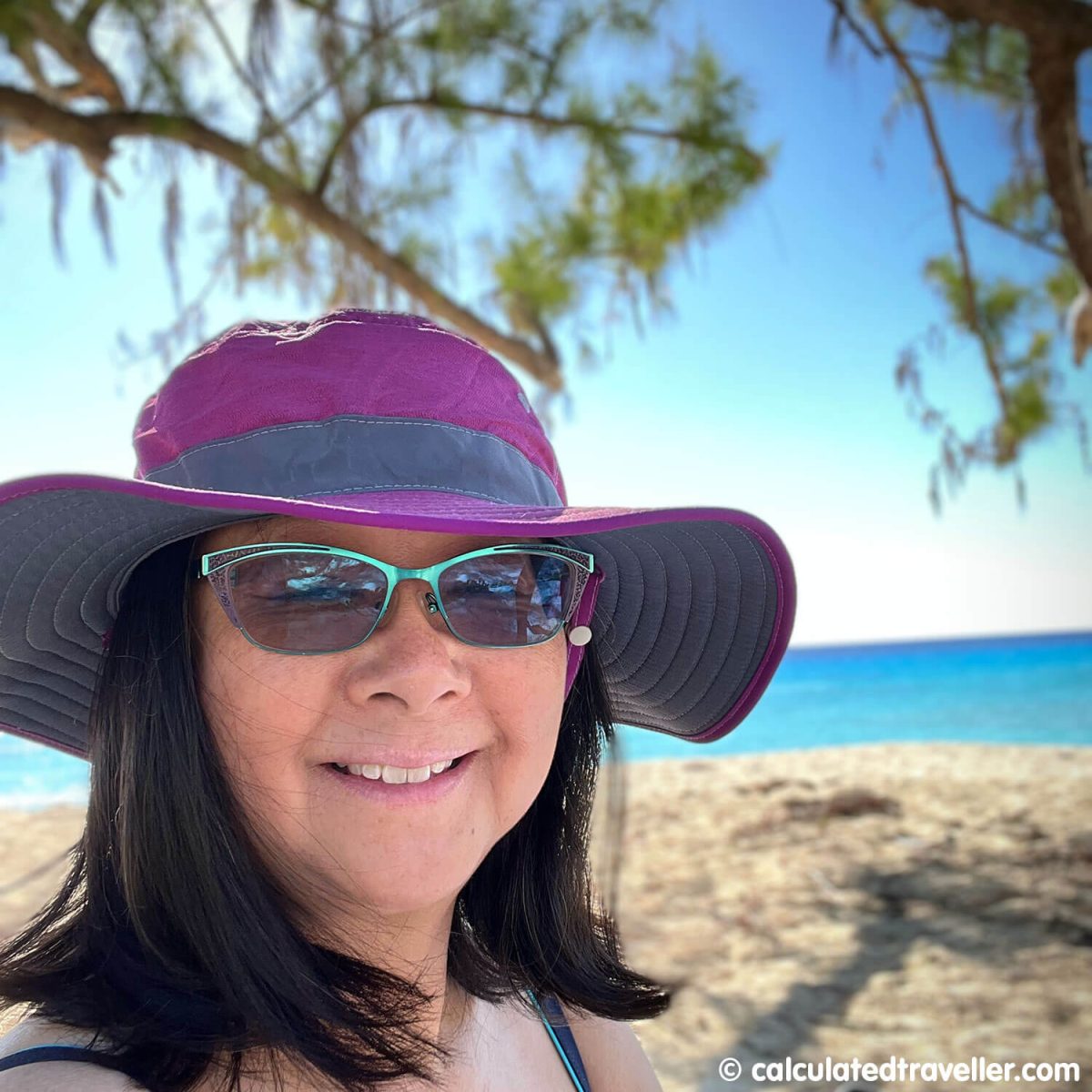 In conclusion, the Sunday Afternoons Clear Creek Boonie Hat is an excellent choice for a versatile and durable hat. The Boonie hat protects you from the sun's harmful UV rays and keeps you cool and comfortable. The adjustable sizing system ensures it fits perfectly on any head size, making it suitable for all ages. The hat's lightweight design makes it easy to carry around without feeling bulky or heavy. This hat is perfect for any outdoor adventure, with features like moisture-wicking technology and a chinstrap to keep it secure during windy days. Overall, the Sunday Afternoons Clear Creek Boonie Hat is a great buy that will last you many years!
I received these items from Sunday Afternoons for review purposes only and received no additional compensation. All opinions are entirely my own.