Welcome to Puerto Rico, where tropical paradise meets vibrant culture and unforgettable adventures! 
Puerto Rico offers a wide variety of things to do for visitors of all ages and interests, from exploring lush tropical rainforests to soaking up the sun on pristine beaches.
Prepare to be swept away by the intoxicating rhythm of salsa music, enticed by the aromas of delicious cuisine and captivated by the warmth of the locals' smiles. 
In this post, I'll reveal the top 10 best things to do in Puerto Rico (in no particular order), ensuring you make the most of every waking moment on this captivating island.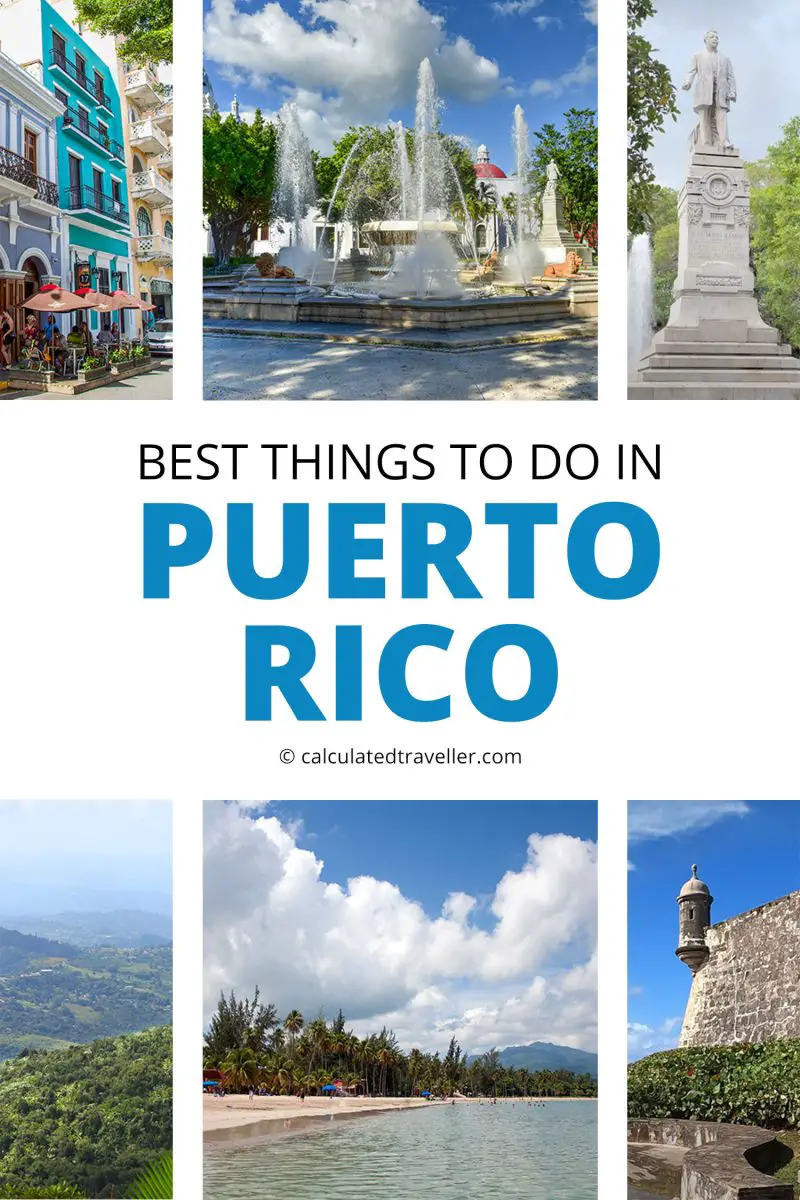 1. Stroll Through Old San Juan
Old San Juan is the perfect destination if you're looking for a charming and historic area to explore in Puerto Rico. This vibrant neighbourhood is full of cobblestoned narrow streets, colourful buildings and stunning architecture that will transport you back in time.
One of the best ways to experience your time in Old San Juan is simply by strolling through its streets and soaking up the atmosphere. Walking along the cobblestone streets, you'll come across lively squares, beautiful architecture and stunning Spanish tile work.
Read this article: A Walking Tour Itinerary for One Day in San Juan, Puerto Rico
Be sure to visit some of the neighbourhood's top landmarks, like the Castillo San Felipe del Morro and the Castillo de San Cristóbal. These massive fortresses have guarded the walled city of San Juan for centuries and offer stunning coastline views from their many viewpoints.
As you wander through Old San Juan, you'll also come across plenty of shops, restaurants and cafes serving various tasty treats. I'd recommend stopping by La Bombonera, which is a local restaurant that has been serving up delicious pastries and coffee since 1902.
If you're interested in history, then you can also visit the Museo de las Américas which features exhibits on the history and culture of the Americas. And if you're looking for a bit of green space, head over to Parque de las Palomas, a small park home to dozens of friendly pigeons.
2. Visit El Morro Fort
One of the top things to do in San Juan that has to make it onto your itinerary is a trip to the El Morro Fort. This impressive citadel, also known as Castillo San Felipe del Morro, is part of the San Juan National Historic Site and is a UNESCO World Heritage Site. 
Here's what you need to know before you go:
History
The Spanish initially built El Morro Fort in the 16th century to protect the city of San Juan from attacks by sea. It played a crucial role in defending Puerto Rico for centuries and withstood the English, Dutch and American invasions. Today you can explore the fort's walls, tunnels and barracks to learn about its history.
What to See at El Morro Fort
There's plenty to see at El Morro Fort. Some highlights include:
The Sentry Boxes: These structures were used by soldiers to keep watch over the sea and warn of incoming attacks.
The Garita del Diablo: This iconic sentry box is said to be haunted by the ghost of a soldier who died in a tragic accident.
The Cannon Gallery: This underground tunnel was used to store cannons and ammunition and played a vital role in the fort's defence.
The Lighthouse: The lighthouse at the top of the fort offers stunning views of the ocean and San Juan.
3. Tour the Bacardi Rum Distillery
If you're a fan of rum – who isn't? – then you won't want to miss the chance to tour Casa Bacardi, which is Bacardi's rum distillery. This world-renowned distillery produces most of the Bacardi rum that is consumed all over the world.
You'll be greeted with a welcome cocktail when you arrive at the distillery. You can choose from one of several exciting tours, including the mixology class, a rum tasting or a historical tour. Each tour offers a unique experience and provides an opportunity to learn about the history and production of Bacardi rum.
The Mixology Class is my personal favourite as it features a hands-on experience where you can create your own Bacardi cocktails. You'll also learn about Bacardi's history and visit the museum.
4. Experience the Bioluminescent Bay in Vieques
If you're looking for a unique and unforgettable experience in Puerto Rico, you can't miss the Bioluminescent Bay in Vieques. This natural wonder is a must-see attraction that will leave you in awe of nature's beauty.
The Bioluminescent Bay, also known as Mosquito Bay, is a body of water that glows at night due to the presence of millions of tiny organisms. When these organisms are disturbed, they emit a bright blue light that illuminates the water, creating a truly breathtaking effect.
You can get out onto the water yourself by taking a guided tour. These tours usually involve kayaking or boating through the mangrove channels of the bay, allowing you to get up close and personal with the glowing water.
You can visit Vieques on a day trip from Puerto Rico. It's a small island, a short ferry ride from the mainland. While on Vieques, you can also explore its pristine beaches and untouched nature.
5. Visit El Yunque National Forest
El Yunque National Forest is a tropical rainforest that is home to a wide variety of flora and fauna.
Some popular trails are La Mina Falls, El Yunque Trail, and Mount Britton Trail. Some popular trails are La Mina Falls, El Yunque Trail, and Mount Britton Trail.
If you're not up for hiking, you can still enjoy the beauty of El Yunque by taking a scenic drive. The paved road through the forest takes you to several lookout points where you can stop and take in the views. Be sure to stop at the Yokahu Tower, which offers panoramic views of the forest and the coastline.
Another popular activity in El Yunque is swimming in the natural pools. The water is cool and refreshing, making it the perfect way to cool off after a hike. Several pools are along the hiking trails, including the famous La Mina Falls.
6. Visit Flamenco Beach
Flamenco Beach is a must-visit destination in Puerto Rico, often rated as one of the world's most beautiful beaches. Located on the small island of Culebra, Flamenco Beach is known for its crystal clear turquoise waters, soft white sand and stunning natural beauty.
To get to Flamenco Beach, you can take a ferry from Fajardo or fly to the nearby Culebra Airport. Once you arrive, rent a golf cart or take a taxi to the beach. The beach is open daily from sunrise to sunset, with a small entrance fee of $2.
Flamenco Beach is perfect for swimming, sunbathing and snorkelling, and as the water is shallow and calm, it's ideal for families with children. You can also rent snorkelling gear and explore the vibrant marine life in the area, including sea turtles, colourful fish and coral reefs. It's one of the best places to swim with turtles in Puerto Rico!
If you're feeling adventurous, you can also hike up to the nearby Flamenco Point for a panoramic view of the beach and surrounding area. There are also several old military tanks to explore that were left behind by the US Navy.
7. Relax on Luquillo Beach
Luquillo Beach is the perfect destination to relax and soak up the sun. This stunning beach is known for its clear turquoise waters, soft sand and palm tree vibes. It's also located near El Yunque, making it an excellent spot for a day trip.
When you arrive at Luquillo Beach, you'll find plenty of amenities, including restrooms, showers and food vendors, so you can stay all day without worrying about a thing.
One of the best things about Luquillo Beach is its quietness. You can easily find a spot to lay out your towel and relax without feeling like you're on top of other beachgoers. Plus, the water is super calm and perfect for swimming or snorkelling.
You can also rent a kayak or paddleboard to explore the coastline, or if you're looking for a more relaxing activity, you can book a massage or yoga class on the beach.
Luquillo Beach is also one of the best places to go horseback riding in Puerto Rico. You can join a horse-riding tour along the beach, into the water and through the nearby forest.
8. Attend a Salsa Dancing Class
What better way to immerse yourself in the vibrant culture of Puerto Rico than by attending a salsa dancing class?
Salsa is a super popular dancing style in Puerto Rico, and it's easy to see why. The music is lively, the movements are energetic, and the atmosphere is electric. Even if you've never danced before, you'll still have a great time learning the basics of salsa dancing.
Many options for salsa dancing classes are available, including private lessons and group classes. Private lessons are a great choice if you want one-on-one attention from an experienced instructor, whereas group classes are better for socializing and meeting new people.
One of the best classes available is the Salsa Dance Workshop offered by Across Caribe. This one-hour class takes place in an outdoor park and includes some history of salsa dancing in Puerto Rico. This class is ideal for beginners as the professional instructors will teach you all of the basic steps and turns.
9. Explore Ponce
Ponce is one of Puerto Rico's hidden gems that few people know about. It's a charming southern city known as the "Pearl of the South" by the locals. As you wander through the city's picturesque streets, you'll encounter stunning Spanish colonial architecture, colourful buildings adorned with intricate facades and quaint plazas bustling with life.
Here are some of the top things to do in Ponce, Puerto Rico:
Visit Museo Castillo Serralles
One of the top attractions in Ponce is the Museo Castillo Serralles. This historic site is like stepping back in time and experiencing the life of the Serralles family as they built the Puerto Rican rum industry. The castle's architecture is stunning, and the gardens are also incredible. You can also learn about the family's history and see their antique furniture, art and photographs.
Explore Parque de Bombas
Parque de Bombas is a unique museum that was once a fire station. It's now a colourful and lively attraction that showcases the history of Ponce's fire department. You can learn about the equipment, uniforms and vehicles used by firefighters throughout the years.
Stroll Through Plaza Las Delicias
Plaza Las Delicias is in the heart of Ponce's downtown area. It's a beautiful and lively town square that's perfect for strolling, people-watching and enjoying the local culture. You can see the historic fountain, Fuente de los Leones, and the iconic red and black striped firehouse, Parque de Bombas.
Tour Museo de Arte de Ponce
The Museo de Arte de Ponce is the largest art museum in the Caribbean and home to more than 4,500 works of art, including paintings and sculptures. The museum's collection includes works by European masters like Rubens, El Greco and Velazquez and many Puerto Rican artists like Francisco Oller and Myrna Baez.
Visit Caja de Muertos Island
If you're looking for a day trip from Ponce, Caja de Muertos Island is a must-visit destination. This uninhabited island is a nature lover's paradise with pristine beaches, hiking trails and wildlife. You can also see the historic lighthouse and picnic on the beach.
10. Try Mofongo
And finally, the last thing you should do while in Puerto Rico is try mofongo!
Mofongo is a traditional Puerto Rican dish made from mashed plantains that are fried and combined with various ingredients like garlic, olive oil, pork cracklings and seafood. It is a popular and filling dish often served as a side or main course.
When ordering mofongo, you will typically have a choice of meat or seafood to have it stuffed with. Mofongo is often served with rice and beans and a salad.
Many restaurants in Puerto Rico serve delicious mofongo. Some of the best spots to try mofongo include:
Café Puerto Rico: This restaurant is located in Old San Juan and is known for its delicious mofongo. They offer various options, including mofongo with shrimp, chicken or pork.
Raices: Raices is another popular restaurant in Old San Juan that serves excellent mofongo. They offer a variety of fillings, including seafood, chicken or beef.
El Jibarito: El Jibarito is a casual restaurant in Old San Juan known for its traditional Puerto Rican food. Their mofongo is a must-try and comes stuffed with your choice of meat or seafood.
Los Pinos Café: This 24-hour restaurant is located in Miramar and offers many mofongo options. They are well known for their large portions and delicious flavours.
And that's it for this post on the best things to do in Puerto Rico. I hope you're feeling inspired and eager to explore this incredible island.
If you're looking to extend your trip to Puerto Rico, then you may find this two-week Puerto Rico itinerary useful.
Read: In Search of Empanadas in Old San Juan
Where to Stay in Puerto Rico
Safe travels, and ¡hasta pronto! (See you soon!)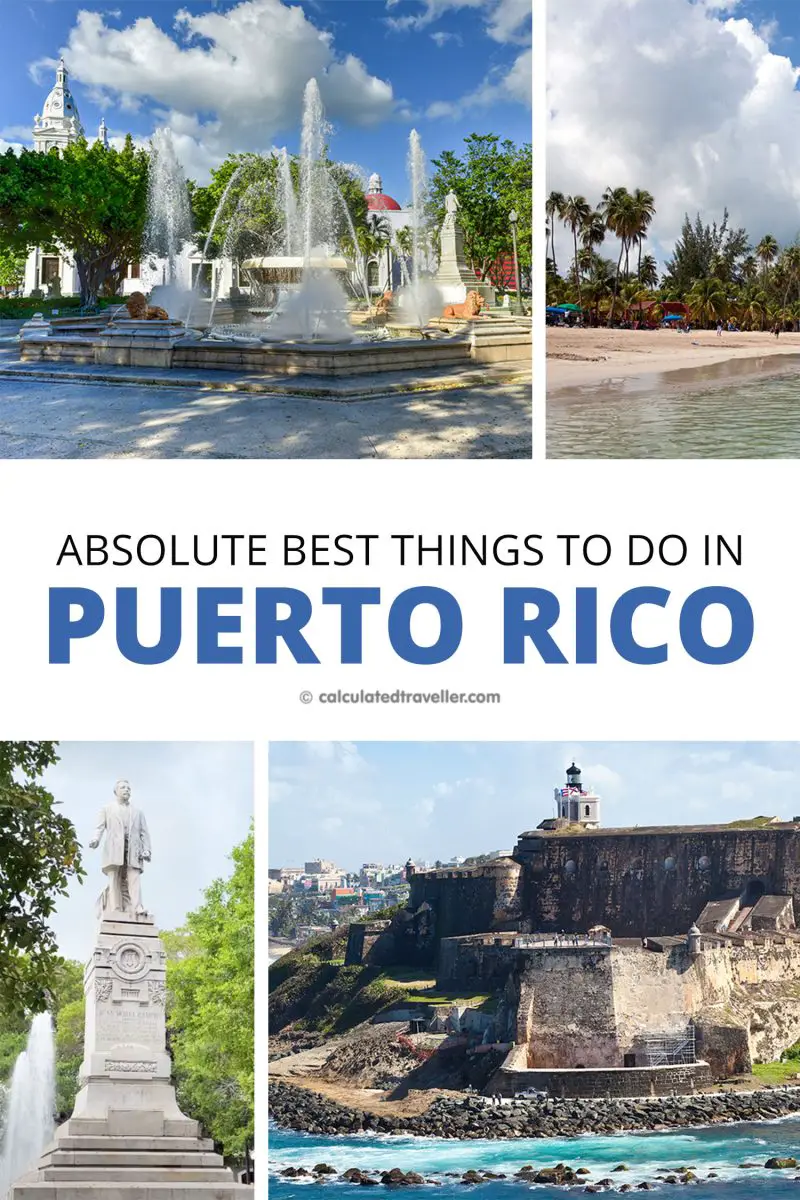 Guest Author Megan Jones is a travel expert and founder of Traveller's Elixir who has been travelling the world full-time since 2021. Megan's travel tips have been featured in numerous media outlets, including Metro, Timeout, Thrillist, etc.