With the Sunday Afternoons Sun Tripper Cap and Sunday Afternoons Eclipse Cap, the pain of travelling with a hat has disappeared!
Whether I'm travelling somewhere hot or somewhere cold, one thing that is always on my packing list is a hat for protection from the elements – sun, heat, cold, rain, snow.
But the problem when travelling with hats is what do you do with the cap when you aren't wearing it on the top of your head?!
How do you pack the hat in your suitcase without crushing it and ruining its shape?
You could wear the cap on the plane, train or automobile but what if you want to take it off and take a nap?
What do you do with your hat when you enter a museum or restaurant?
UGH.
With these pain points in mind, I contacted my friends over at Sunday Afternoons after discovering that they make a few caps that are both lightweight, and feature foldable brims allowing them to pack small enough to fit into your back pocket!

Sunday Afternoons Sun Tripper Cap

Colours: black, blue agate, cream, juniper, mesa red, mineral, timber
Weight: 2.6 oz
Fabric: Nylon and polyester
Hand wash cold, do not bleach, line dry, do not iron, do not dry clean.
Features of the Sunday Afternoons Sun Tripper hat
2.5-inch folding Clamshell Brim™
UPF 50+ Certified sun protection rating
Mesh ventilation
Sunglass lock
Water repellent
Stain resistant
Moisture-wicking sweatband
Hidden interior pocket in the crown
Size adjustable via bungee and cord lock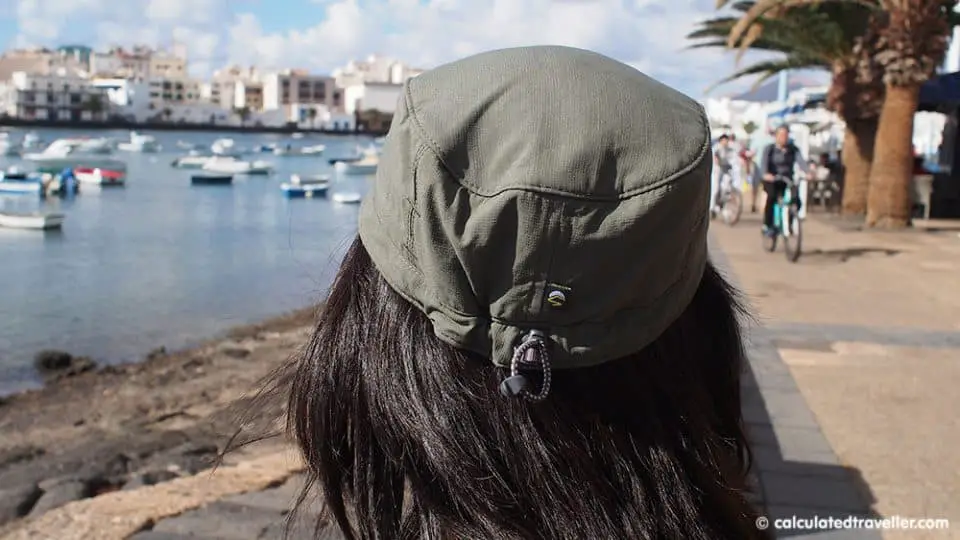 Nerd alert but I love reading the tags that come attached to clothing and hats to see what features are available especially when they are full of useful information.
One thing I learned when reading the tags on this sun cap is that a sun rating of UPF 50+ is the highest sun protective rating achievable. 50+ meaning that only 1/50th or less of UV rays can pass through the fabric. Of course, since this is a ball cap style and doesn't have a full brim that goes all the way around the hat like the Sunday Afternoons Havana Hat I reviewed here, your ears are still exposed to the sun.
Sunday Afternoons Trademarked Clamshell Brim™
One of the critical features of this hat and the reason I wanted to try it out was the foldable Clamshell Brim™. A perfect feature for travel, you can easily fold the clam shell hat — including the brim in half — and put it in your pocket.
This cap is an excellent addition to your packing list since it packs up small and light. I've already travelled with it throughout the Canary Islands, Rome Italy, Marrakesh Morocco.
The style is fabulous also because it's unisex, and the adjustable strap means that the cap looks great and fits both husband Ray and me.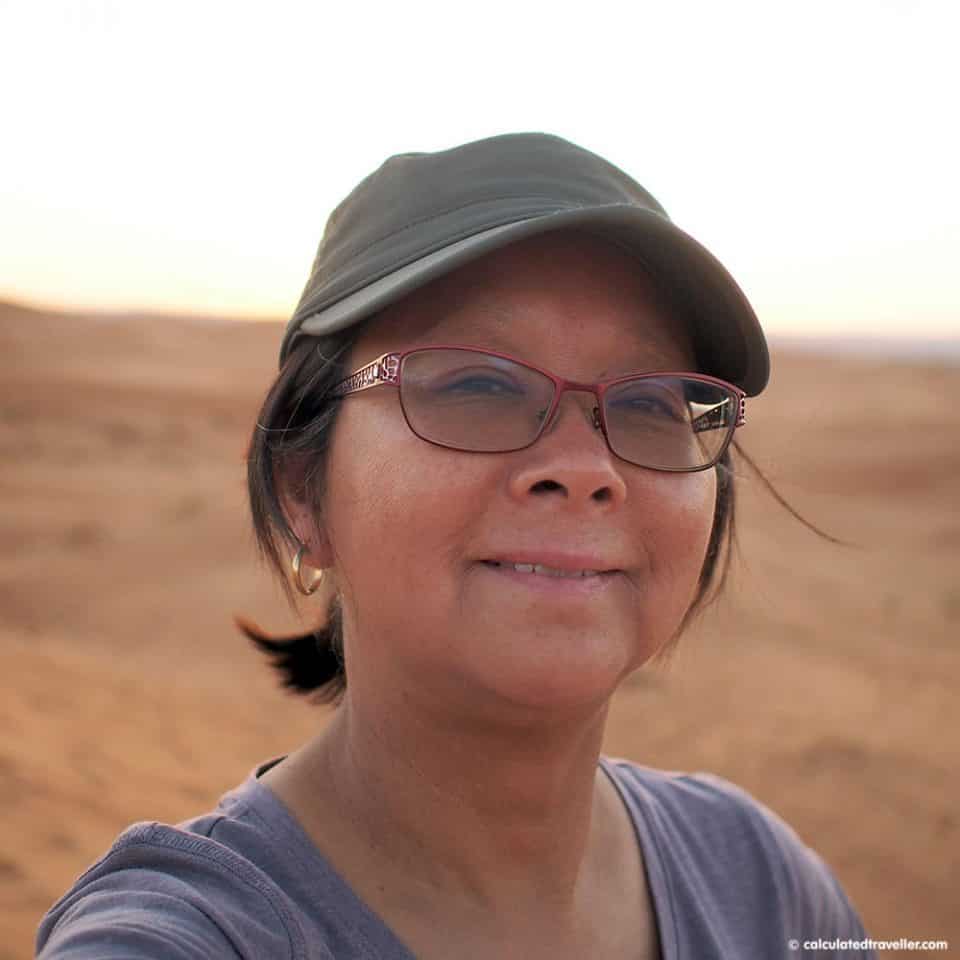 Sunglasses and Belongings Locked and Loaded
Sun Tripper Hat features two additional features that I want to point out.
First, there is a small pocket on the inside of the crown that closes shut with a piece of Velcro — it's a great little spot to stash some emergency money or a hotel key card. I did this quite often when I was exploring the city of Marrakesh and wanted to skip the purse.
Another great feature is the little slits on the exterior of the crown to allow you to tuck in the arms of your sunglasses so that they don't get knocked off your head.
Here's a video so that you can see the Sun Tripper Cap in action:
Sunday Afternoons Eclipse Cap
Featuring the same UPF 50+ sun protection and folding Clamshell Brim™ as the Sun Tripper Cap, the Eclipse hat has the addition of Convertible Ventilation™.
Sunday Afternoons Trademarked Convertible Ventilation™
Does your head heat up sometimes in the hot sun?
If your hands are way up in the air, then you are going to love Sunday Afternoons Convertible Ventilation™ feature that they include in many of their hats.
Essentially, a solid fabric flap over mesh fabric base; the Convertible Ventilation allows the wearer to fold the flaps up to let air to pass through the mesh fabric base. The flap is constructed and sewn so that it doesn't look unusual when it is folded up. Pretty cool eh? (pun intended).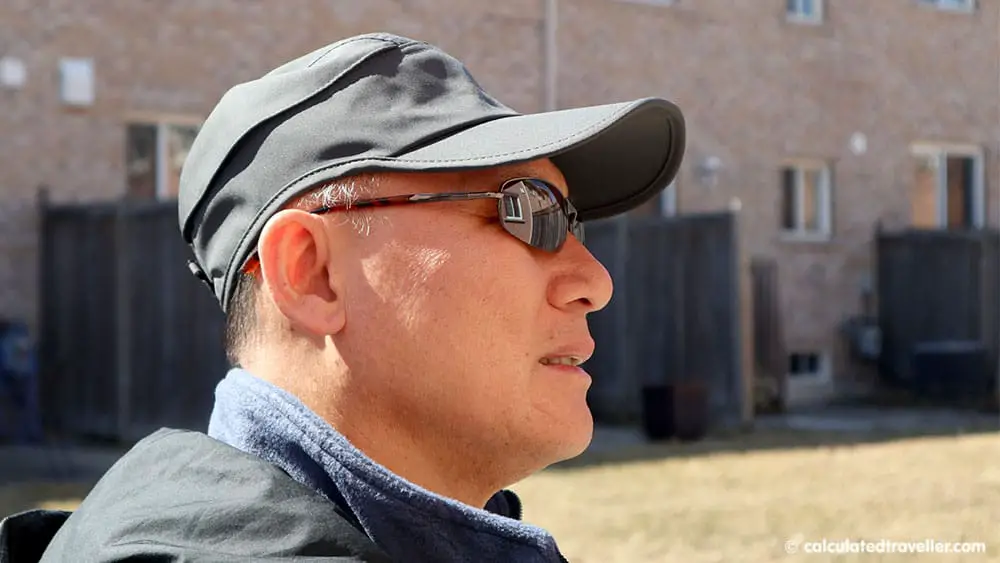 Exterior colours: slate, white, deep blue
Interior colour: grey
Weight: 2.2 oz
Fabric: Polyester
Hand wash cold with mild soap. Line dry. Do not iron.
Features of the Sunday Afternoons Eclipse Cap
3-inch folding Clamshell Brim™
UPF 50+ Certified sun protection rating
Mesh Convertible Ventilation™
High-performance moisture wicking microfiber
100% Recycled fabric
Wicking sweatband liner
Size adjustable via Velcro
Ear-friendly profile
What's up with the Ear-Friendly Profile on the Eclipse Cap?
A unique design feature of the Eclipse Cap is the ear-friendly profile.
If you look at most baseball cap styles, the side profile of the cap is a straight line from the brim to the back of the hat. On the Eclipse Cap, the side profile is sculpted into a wave — curving up slightly over the ears and then back down into the back.
Here's a video of the Eclipse Cap in action:
Again, the Eclipse Cap is unisex, but husband Ray has claimed this one as his own since he likes the more extended brim, the ear-friendly profile and the ventilation. The one thing that he says this hat is missing is the sunglass lock — that would make this hat perfect in Ray's eyes.
I don't mind though because I prefer the Sun Tripper Cap anyway with the inside pocket.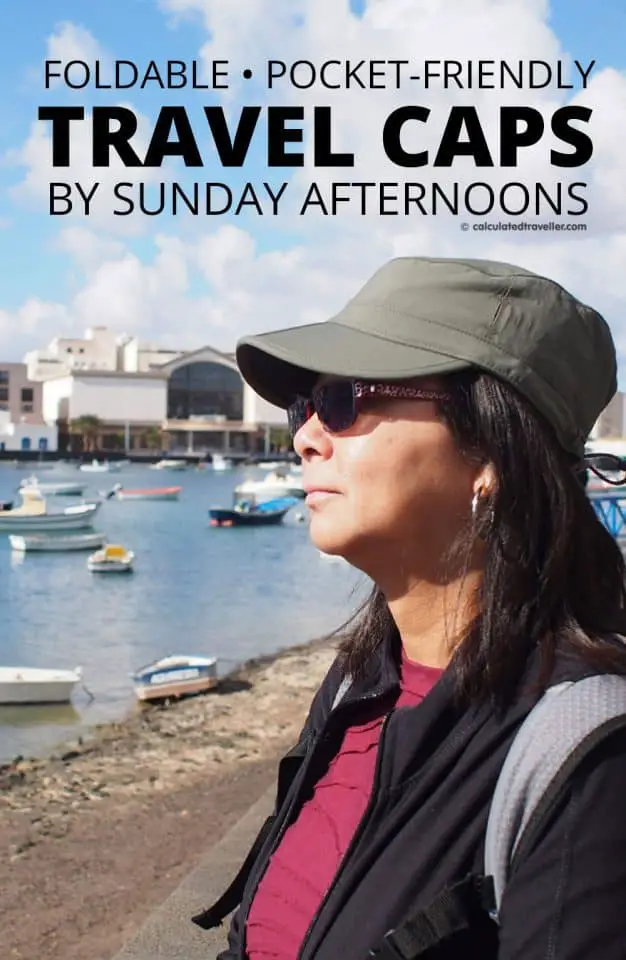 Do you wear Sunday Afternoon hats? Which of the many SPF sun hats is your favourite?
Product was provided for review purposes only. All opinions are entirely my own.
Looking for more reviews? Check out:
– Hydro Flask Review. Home-Life and Travel-Life Hydration
– Leatherman Tread Review for Travel
– Gear reviews on Calculated Traveller