In Japan, the destinations Tokyo, Kyoto, and Osaka are great, don't get me wrong. But there's something delightful about taking a day trip and getting out of the big city and exploring the smaller towns in the Japanese countryside that I absolutely love.
One of my favourite towns to visit in Japan is Gero Onsen, a town famous for hot springs located about 1.5 hours out of Nagoya in Gifu Prefecture.
It is accessible via hourly trains (the JR Hida line) from Nagoya station, which is a major stop on the bullet trains running between Tokyo and Osaka.
So, what's there to do in Gero Onsen? Let's find out!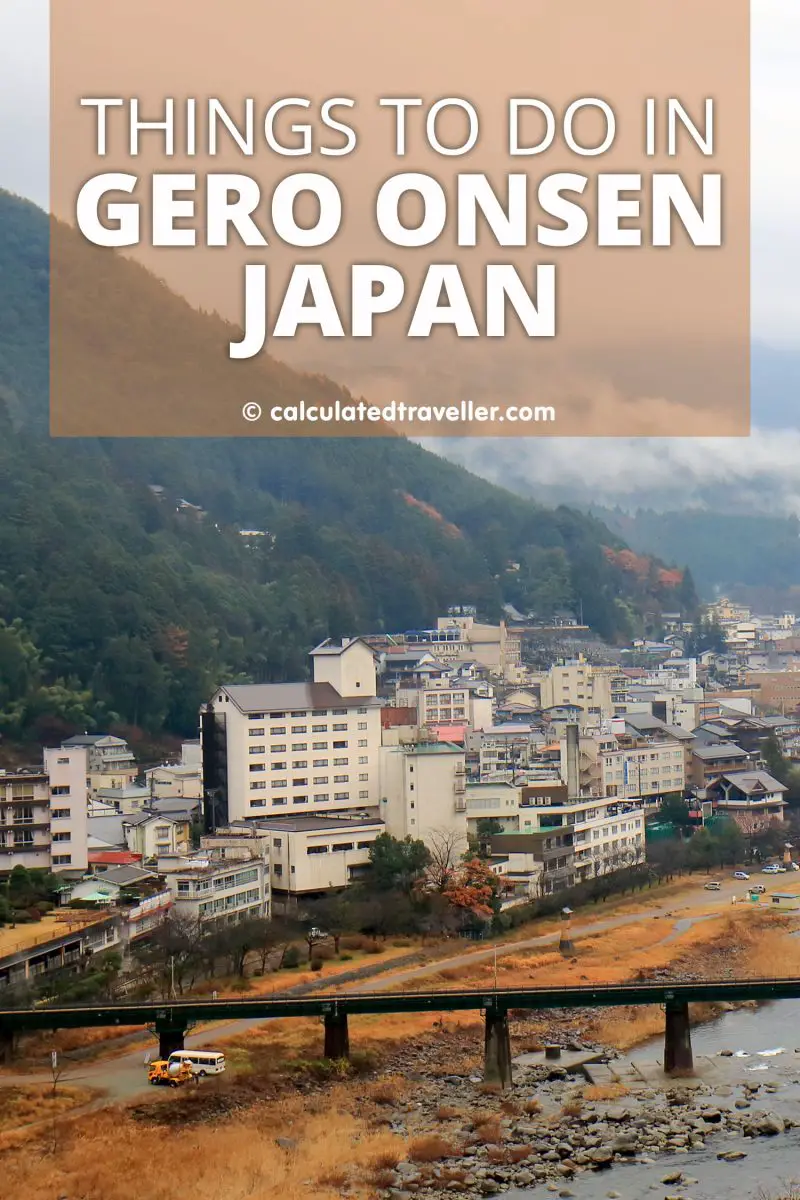 A Travel Guide for What To Do in Gero Onsen Japan
Where to stay in Gero Onsen
Take a soak in one of the best onsen towns in Japan
Soaking in an open-air onsen (hot spring) is probably the main reason that you came to Gero Onsen in the first place! The town is considered one of the 3 top onsens in Japan. Gero is the perfect place to soak in the natural hot waters and just relax for a while.
Unlike other onsen towns, there aren't any free public onsen (apart from the hot spring foot bath by the Gero Ohashi Bridge), but many private onsens are owned and operated by the various ryokan and hotels.
If you are staying overnight in a ryokan or hotel, you can use the onsen there for free; otherwise, you will have to pay an entry fee ranging from ¥500 – ¥1,500 depending on how fancy the hotel is.
Keep in mind that while the fancy hotels will charge a lot for their onsen, they usually aren't better than the cheaper options.
You can also purchase a pass which allows you to use any three onsens in the town for a flat fee of ¥1,200. The pass can be purchased from your accommodation or the souvenir stores on the main street.
Walk around the peaceful town of Gero Onsen
The town of Gero Onsen itself is delightful. A perfect walking town, Gero Onsen is very compact, making it easy to get everywhere on foot, yet it is still big enough to give you plenty of things to do.
The historic walking area of town is located right on the Hida River, which you can get a great view of the Gero Ohashi Bridge.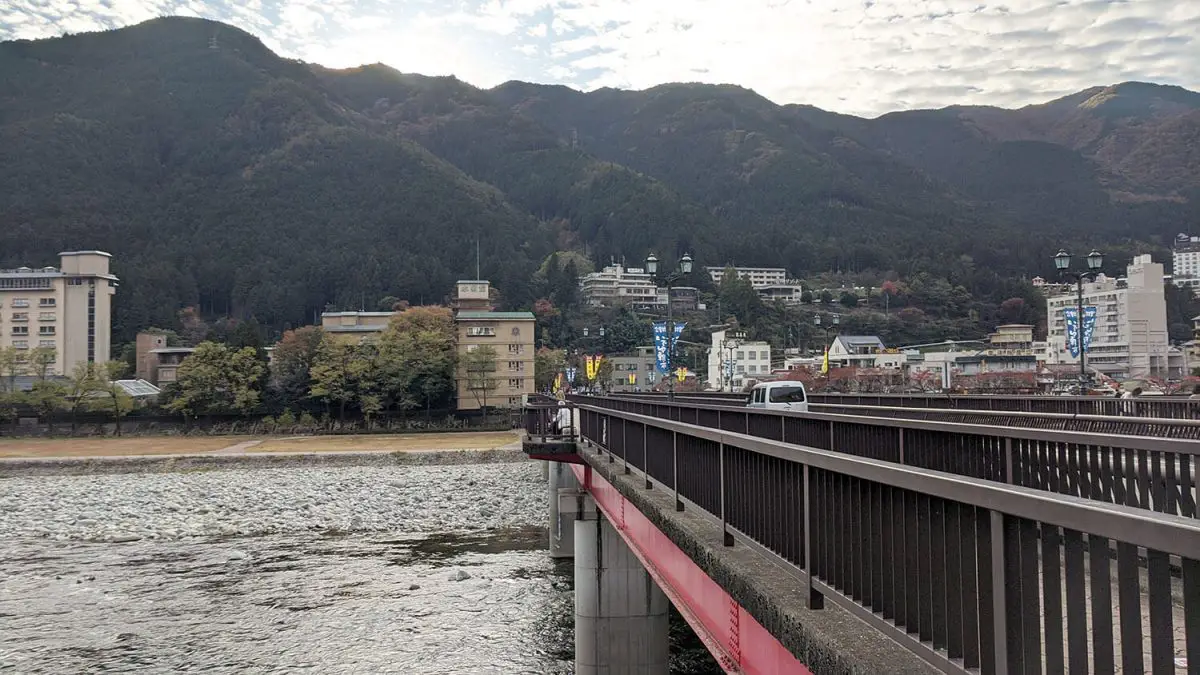 A small stream runs along the town's main street, which feeds into the Hida River. This main street is beautifully decorated with lamps and has trees on both sides, making it an excellent spot for a walk.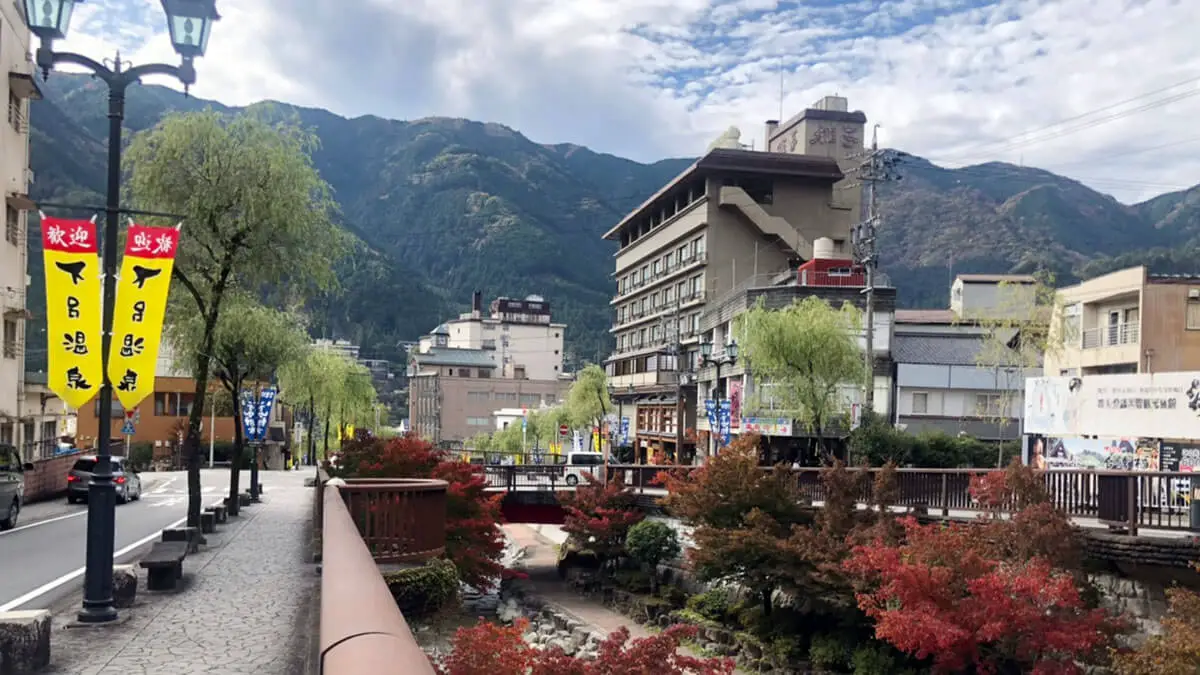 The town is surrounded by steep mountains, making for incredible scenery no matter which direction you turn.
There is a free hot spring foot bath on the western edge of the main bridge where you can warm your feet – heavenly on a cold day!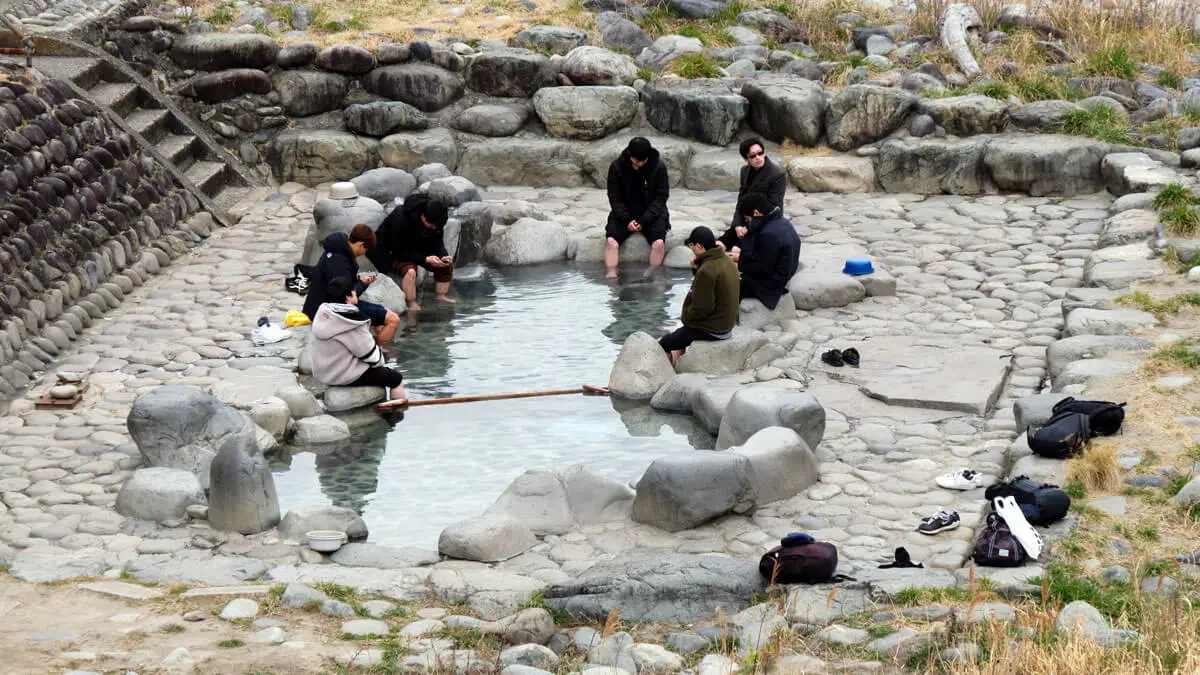 Try a Gero Onsen egg soft serve
OK, I know this sounds like a strange one, but bear with me. There's a cute dessert shop on the main street called Yuami-ya, famous for the onsen egg ice cream.
They very lightly boil an egg at about 65-68°C (similar to the onsen water at the source), colouring the whites yet leaving them and the yolk soft. This egg is then served in a cup on top of cereal flakes and soft-serve ice cream!
It sounds crazy, but it is delicious! However, if this isn't your cup of tea, you can try one of their tasty puddings instead.
You can enjoy their treats while dipping your feet into the hot springs pool attached to their store.
Check out the Gero Onsen Gassho Village
Located on a hillside on the eastern end of town is the gassho-mura, a museum dedicated to traditional Japanese life and the famous thatched roof houses that are the main attraction of nearby Shirakawa-go.
All the Gassho Village Museum buildings are original thatched roof houses moved here from the surrounding area.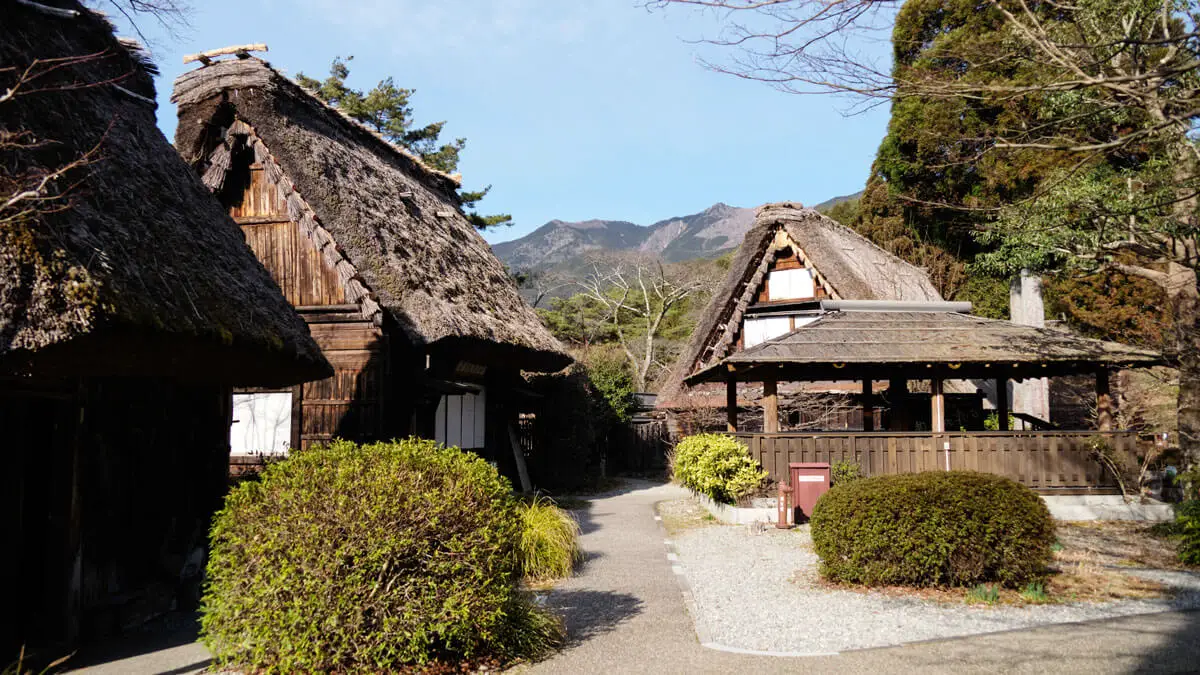 Each house has exhibits that help you understand what life was like for the early inhabitants of villages like Gero Onsen.
The exhibits provide you with a sense of what life was like for the local people, such as construction, rice farming, tea preparation, cooking and fabric/cloth making.
There are even some good exhibits that discuss the construction process for the thatched-roof houses themselves. When making a new house, the whole village would typically spend a few days to a week working together to construct a new roof for the home.
In winter, you can see the snow pile up on the thatched roofs, which is a magical sight.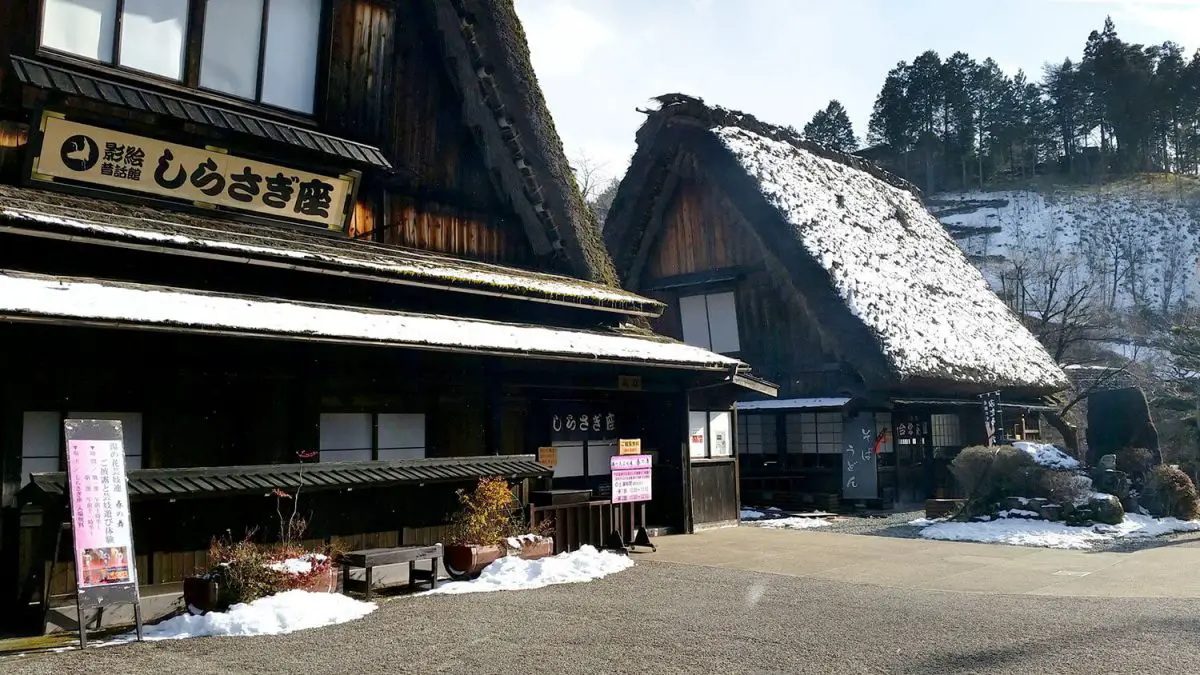 Once you've had enough of the museum, either take a rest at yet another hot spring foot bath or walk to the top of the nearby hill and enjoy sliding back down to the entrance.
The Gassho Village is easily accessed on foot from the centre of town (it's about a 15-minute walk up a gentle incline), and entry costs ¥800 for adults. However, you can often purchase a ticket from your accommodation for a slight discount (if you stay overnight in Gero Onsen).
Sample some local food and drink
Once you've worked up a hunger, try some of the great food that this area is famous for and head back on down to town.
This region is famous for beef, known as hida-gyu, and if you want to try this inexpensively, get some beef sushi nigiri (served on rice crackers) from one of the street food shops dotted around the town.
Kei chan is another local specialty. It's a hearty meal of chicken and vegetables. It's very filling and the perfect fuel on a cold day.
The nearby liquor shop, called Kashikawa, serves a variety of interesting and unique alcohols, including the local Gero beer.
They also provide sake tastings. You can try out two different types of expensive sake, and they will even give you a sake cup to keep as a souvenir. Not bad for just ¥100!
Check out Onsenji Temple
The hot spring water that flows through this town is so important to the locals that they have a temple dedicated to it.
Specifically, the temple was created for Buddha, who is thought to have re-established the flow of hot spring water after it stopped following an earthquake.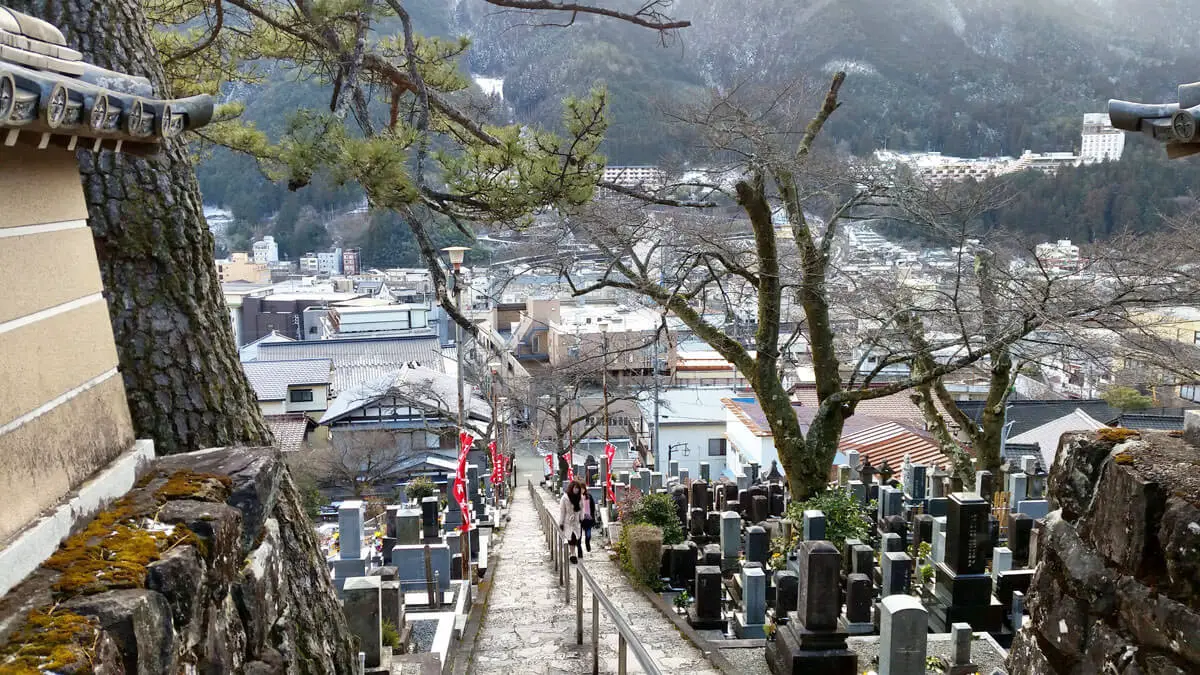 The temple is small yet beautifully designed and provides an excellent vantage point over the town of Gero and beyond.
Visit the Ideyu Morning Market
Run daily from around 8 am to 12 pm, the morning market here in Gero is an excellent spot to pick up some souvenirs, local produce, or goods such as sake and miso paste.
Ideyu is a reasonably small market, so there's not much to see, but it's worth a short visit if you are searching for something to do in the morning.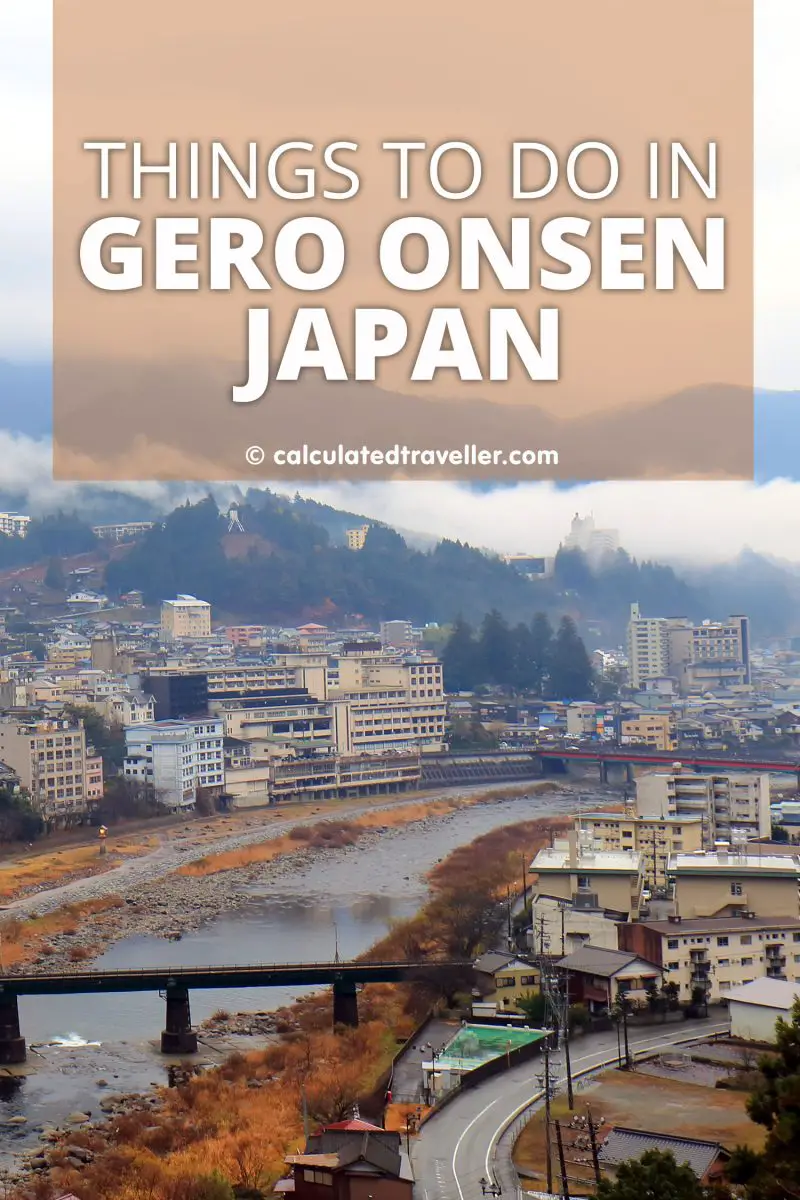 Finishing up…
Gero Onsen is a beautiful, small town in the Japanese countryside that has a lot to offer. There's plenty to enjoy, from hot springs to a traditional Gassho Village Museum to egg ice cream.
If you're on a busy schedule racing through Japan to see all the sights, a Gero Onsen day trip from Nagoya is an excellent way to take a break, stop and relax for a day or two in a peaceful town.
I hope you enjoy it as much as I do!
---
Guest writer, Louis, is an outdoors enthusiast from Australia. He writes all about camping and hiking over at his site, Outdoor Explorer.
For more articles about Japan, check out:
– Fascinating and Modern Japan: 10 Things You Need to Know
– Nine Unique Experiences Found In Japan
– Mountain Views and Shinto Shrines in Miyajima, Japan
– Urban Adventures Tokyo Made in Japan Shopping Tour Review
– MOS Burger: A Japanese Fast Food Dining Review