I firmly believe that every single country in the world offers that unique "something-something" that makes it stand out from all the other countries in the world. Well, I found nine things unique to Japan on a recent adventure through Asia that will forever make this country memorable and one of the high points in my travel life.
Here are the nine unique experiences that I found in Japan
Ordering from a Vending Machine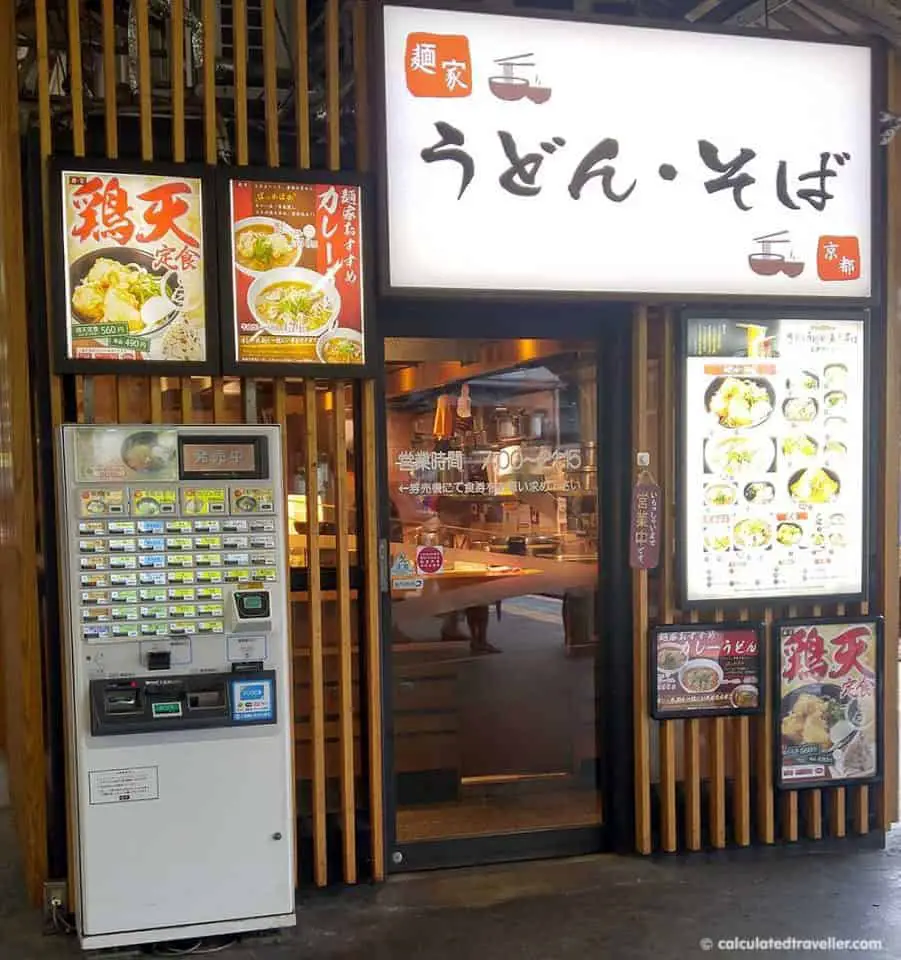 Ordering food at a vending machine isn't unique in North America. You've likely done this in desperation at an institution like a hospital or bus station. I have many memories of powdery tasting hot chocolate from the vending machine at the ice skating rink!
In Japan, vending machine ordering is a way to bypass the need for a cashier. It's efficient and easy to do – just match the photo of the dish you wish to order with the corresponding number on the machine.
Choose your selection at the machine
Pay for your order and take your ticket
Sit down at the counter, present your ticket to the server and they'll deliver your meal when it's ready
Eat, and leave
Some restaurants don't even have serving staff; they just have a pass-through directly to the kitchen!
TIP: Don't switch seats after you've presented your ticket or the server won't be able to find you! Also, gratuities aren't customary in Japan, so no extra yen is required.
Complimentary amenities in your hotel room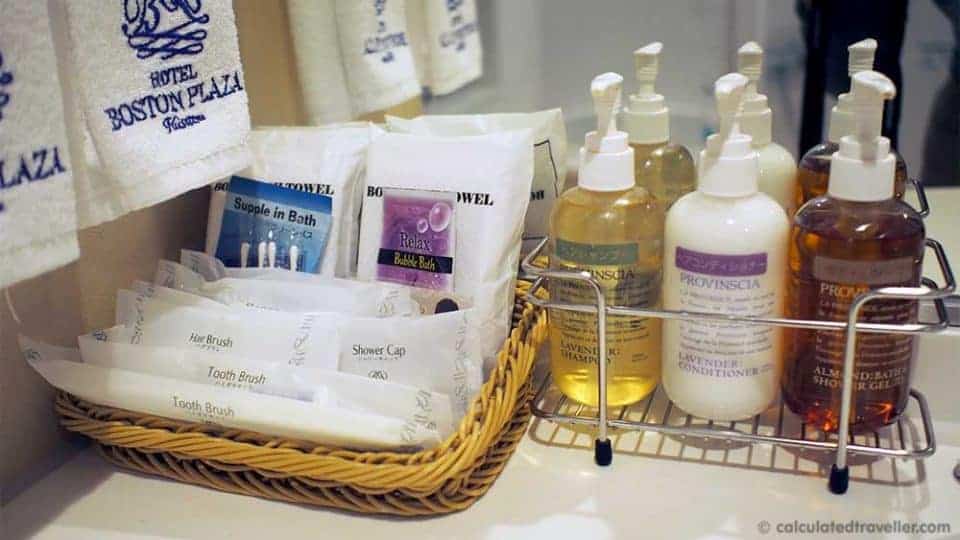 In North America, hotels provide the usual tiny bar of soap, shampoo/conditioner, and lotion. In higher-end hotels, you'll get complimentary shower caps, shoe shine cloths and in some, you'll even receive linen sprays or aromatherapy relaxation kits. In Japan, you get the works — loaner pyjamas, slippers, hair brush/comb, toothbrush/toothpaste, razor, bath salts, body washes, bath sponge, hair bands, makeup remover, fancy face creams, the list of complimentary items goes on and on. It doesn't matter what level of hotel you are staying at either; budget hotels provide the same amenities.
One of the hotels I stayed at had an additional "menu" of complimentary amenities that included a facial steamer.
Fancy Toilets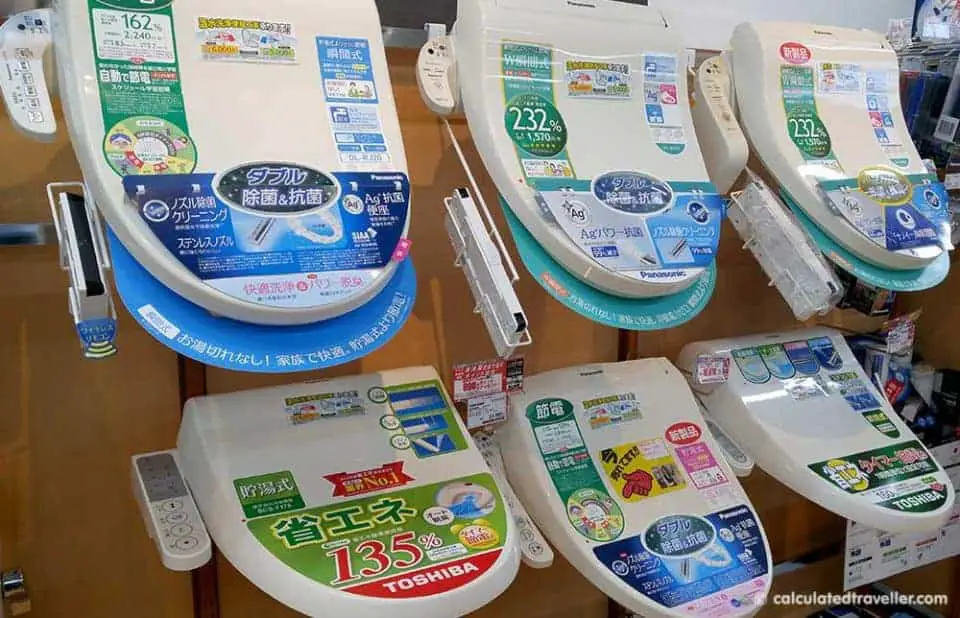 Be it in your hotel room or the public restroom on the subway you'll find varying levels of the "fancy toilet". With heated seats (to take the chill off your bottom during your nightly trip) to bidets, to warm water jets that gently spray your bottom, some even have water sounds to get you in the mood or to disguise what you are doing. Once you've tried a Japanese toilet seat, your bottom will never be the same again.
Politeness
Never have I experienced so many polite people before in my life and I'm born and raised in Toronto Canada where we have a worldwide reputation of being polite. In Japan everyone lines up in an orderly manner, no one is loud or noisy, it's all very civilised.
Punctuality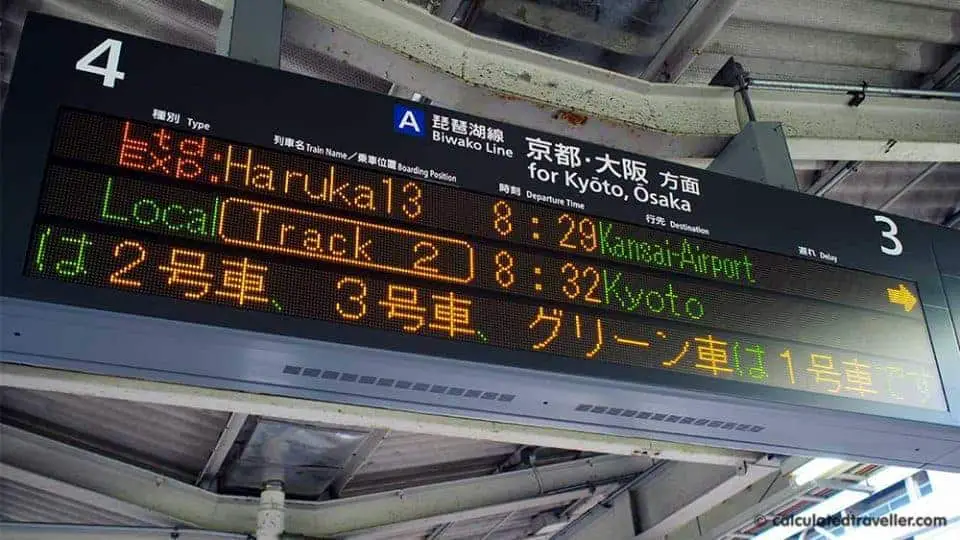 If the schedule says 2:08, believe me when I tell you that the train will leave promptly at 2:08. So, if you arrive on the platform for the train in Japan be it a Shinkansen Bullet Train, local train, or a bus and it doesn't arrive, you best check your watch because it isn't working properly and you've already missed your train.
If you are tourists take advantage of the JR Rail JR Pass! Here's a great article all about it.
Food glorious food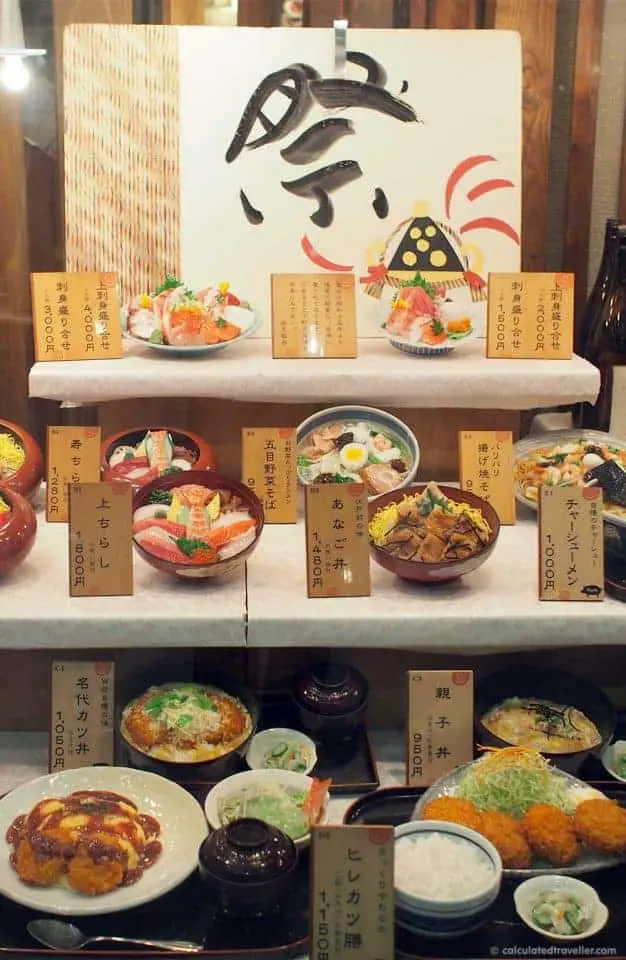 Sushi, sashimi, Izakaya, teppanyaki, udon, ramen, tempura, okonomiyaki — try it all! Don't worry if you don't read or speak the language, just point at the photos or the plastic food in the window. If you want a real treat, splurge on a Kaiseki traditional multi-course Chef's Tasting dinner!
No smoking or eating while walking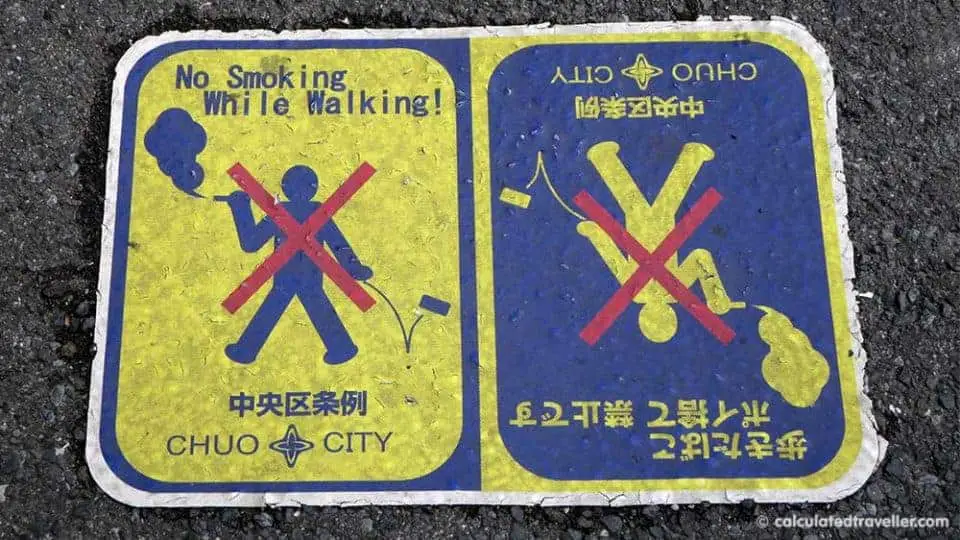 Buy a canned drink from a vending machine, and be expected to drink it all at once at that moment and then discard the can in the receptacle. The same rule applies to buying street food – you have to eat it right next to the food stand directly after purchase. I was offered a ramen noodle sample in a fancy department store, and I had to slurp my noodles right then and there in the aisle!
When it comes to smoking, look out for designated smoking areas on the street and inside buildings but you aren't permitted to walk and smoke.
Garbage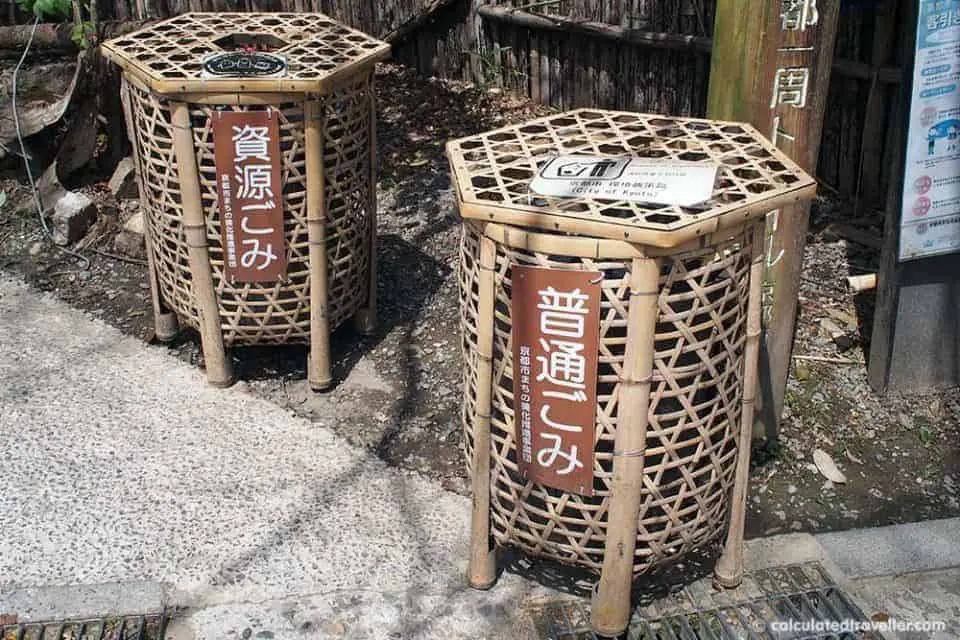 In North America, garbage cans are readily available on street corners and outside of buildings but spend one single day in Japan, and you'll quickly notice that you can't find any garbage cans on the street. You'll also notice, littering is non-existent! So, where does all that trash go? Everyone takes it home with them for disposal. The only "public" garbage cans I found was where the tourists were.
No Graffiti
I spent two weeks in various cities in Japan and I never once saw a bit of graffiti! Any street art that I did see such as this image from a wall in Tokyo was government approved.
These are a few of the things that I found unique about Japan during my two-week visit. There is so much more to discover and worthy of a return visit.
What unique experience found in Japan did I miss? Share in the comments below…
Looking for more articles about Japan? Check out:
– MOS Burger: A Japanese Fast Food Dining Review
– Urban Adventures and Cultural Curiosities in Tokyo Japan
– Kariya Park – A little bit of Japan in the suburbs of Toronto
– The Four Best Travel Destinations for Pop Culture Fandom