The great Torii gate beckoned me as I planned my first trip to Japan, especially after I completed a few introductory Japanese language courses and became excited to immerse myself in a different culture. Whether you are interested in nature, culture or cuisine, Miyajima is fascinating, especially these five highlights for a day trip:
1. Experience the great Torii of Miyajima
As the ferry approached the Miyajima Pier, I watched the Torii (16.6 metres) rising from the Seto Inland Sea. The bold orange pillars are intended to ward off evil spirits, according to the Shinto Faith. At high tide, you can view this icon in the sea from many vantage points, including paddling up for a closer look. At low tide, you can walk out onto the beach and touch the pillars, feeling their history, strength and spirituality in your hands.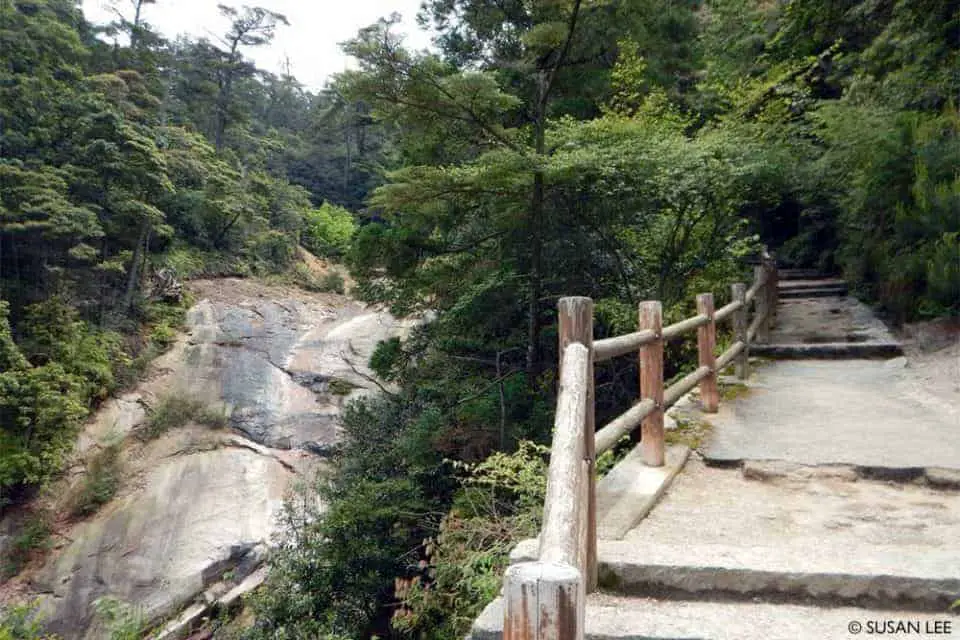 2. Hike Mount Misen
Mount Misen offers spectacular views of Miyajima, the Seto Inland Sea, and Hiroshima from 535 metres. You can walk one of three trails, take the ropeway, or combine the two options. I hiked one of the 2.5 km well-marked trails, along uneven paths and hundreds of stone steps. Tasting the cold, clear water from a natural stream is a refreshing way to hydrate. Enjoy splashing yourself to cool down your body even more. The other two trails, which also reach the top of Mount Misen, are a little longer at 3 – 3.2 km and are options for another visit.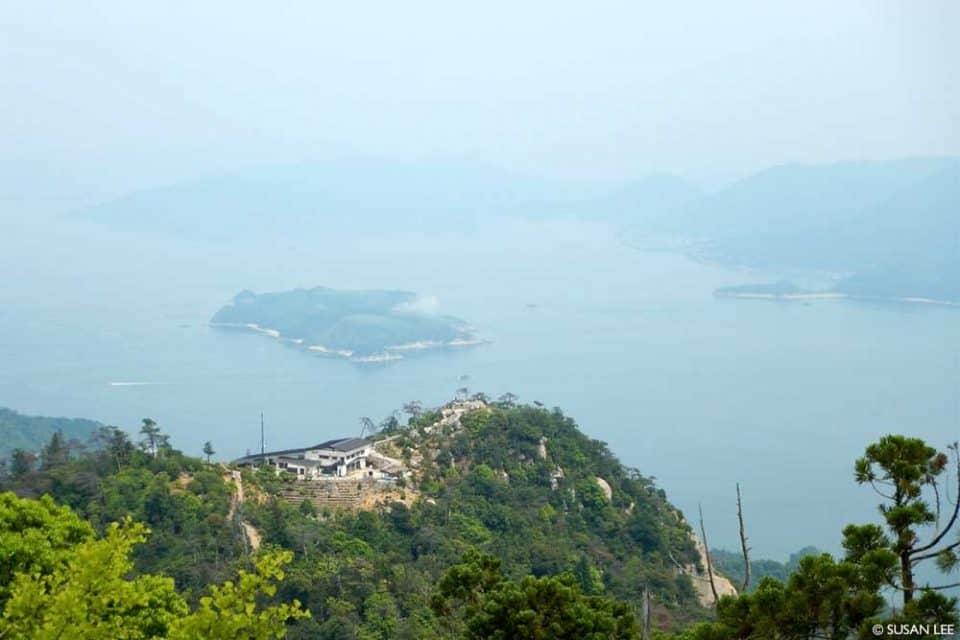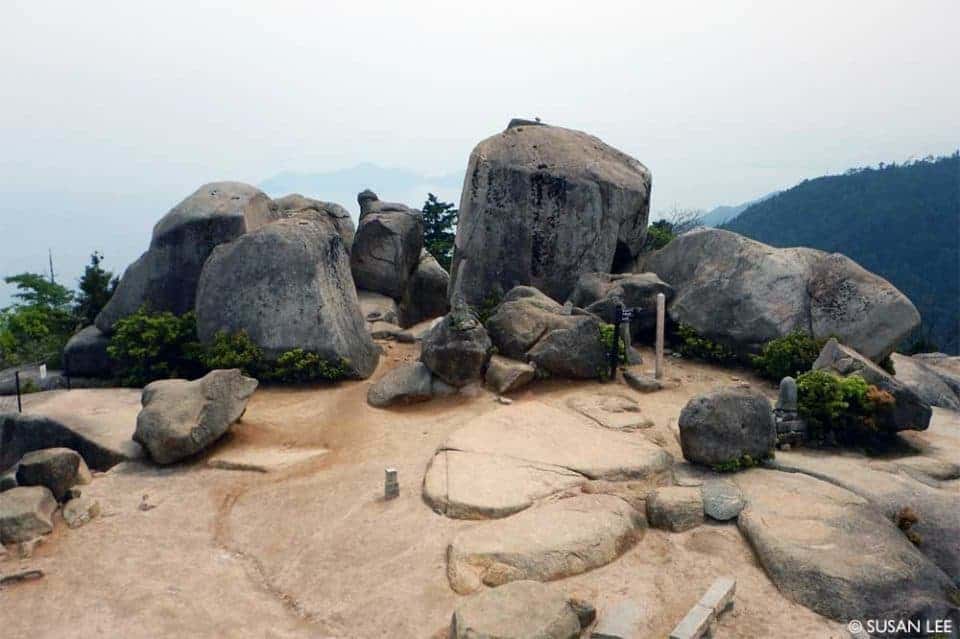 At the peak, you are rewarded for your physical efforts with a breathtaking 360-degree view of the nearby forests, islands and sea. By climbing the steps to the observatory for a view of the summit, you'll also find a shaded place to refuel and breathe in the mountain air.
My legs deserved a break having trekked to the summit. Like I did, you can choose a relaxing 10-minute mountain descent on the ropeway, with ample time to take a few more photos from a bird's eye view.
3. Wander along Omotesando Street
Along Omotesando Street, which is the one main shopping street on Miyajima, you'll find many restaurants, bakeries, and souvenir shops selling wall hangings, rice scoops, green teas, replica swords, and local delicacies. Omotesando Street is named after the famous upscale shopping area in Tokyo but is much more affordable for all here.
After scanning the menus and peeking into the eateries, I decided on the local speciality – okonomiyaki – to sample. This savoury crepe – piled high with layers of cabbage, tempura, green onions, bean sprouts, pork, egg and special sauce – sizzled to perfection as the chefs cooked in an open kitchen for the hungry tourists in this family-owned eatery.
The fresh pastries, Momiji Manju, are unique to Miyajima. These double-layered maple leaf shaped cakes filled with different flavours including chocolate, matcha, cheese, or red bean paste – a great choice for a sweet snack or edible souvenir. My taste buds enjoyed sampling the moist cakes, with their variety of sweet fillings from various bakeries on the island.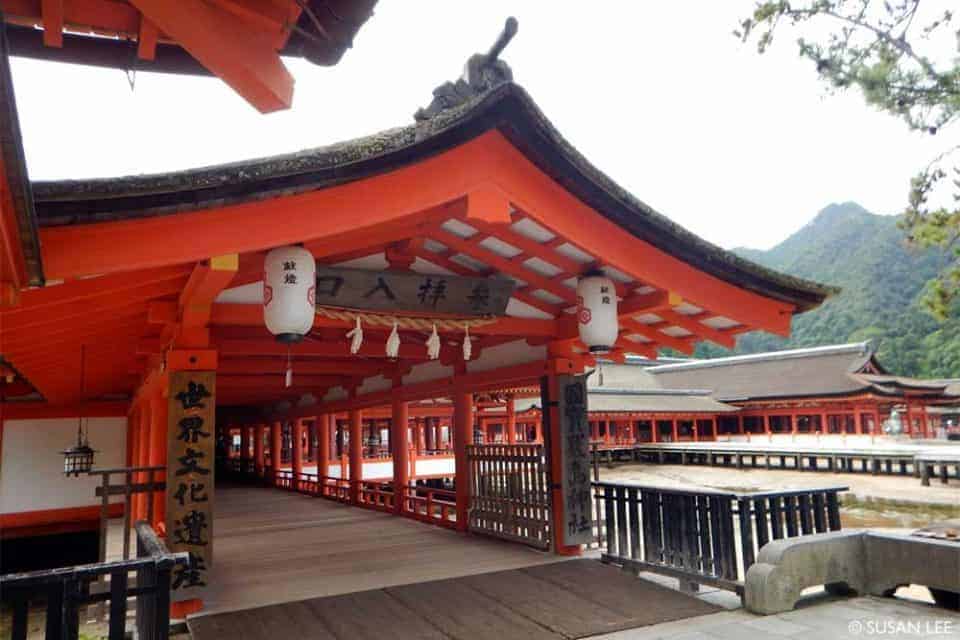 4. Observe a Shinto ceremony
As a UNESCO World Heritage Site, the Itsukushima Shrine is recognised for its architecture, history, and culture. As a contemporary site of religious significance, couples may choose a Shinto ceremony for their nuptials.
I watched a wedding procession and ceremony conducted by a Shinto priest in the Main Shrine. The shrine offered an open view for tourists to watch the entire event behind a waist-high wooden fence or just to take a peek at the passing procession. If you are keen to witness a Shinto ceremony, check at the shrine's entrance for the daily schedule of events. Remember to stay a respectful distance from the wedding procession. Otherwise, you may be tapped on the shoulder by a family member or the official photographer to step to the side.
5. Marvel at the architecture
The five-story pagoda or Gojunoto, built in 1407, honours the Buddha of Medicine. The pagoda standing 27.6 metres in height, has strong influences from Japanese and Chinese architecture. This structure is fascinating, both up close with its leek and lotus flower carvings and striking rafters, and from a distance, as the upper stories rise above the rooftops of the old district shops. Both vantage points offer great opportunities to point and shoot your camera, again and again.
Pro Travel Tips for visiting Miyajima Japan
Miyajima is 20 km from central Hiroshima and is reachable via the JR train and ferry. JR passes are sold to visitors outside of Japan and are available in durations of 1, 2, and 3-week timeframes.
Check the tide levels to determine the best times for a visit, especially if you would like to see the great Torii submerged in the water.
If you are planning to do some hiking, increase your physical activity levels before the trip.
Bring a daypack filled with water and snacks, if you intend on hiking Mount Misen.
My first visit to Miyajima, Japan captured my heart and soul on so many levels. From mountain views to Shinto shrines, Miyajima touches all the senses for a top-rated travel destination, with its mix of natural beauty, cultural heritage and delicious cuisine.
For more articles about Japan, read:
– Nine Unique Experiences Found In Japan
– MOS Burger: A Japanese Fast Food Dining Review
– Things To Do in Gero Onsen Japan
Sources:
http://visit-miyajima-japan.com/en/
http://www.tsurugaoka-hachimangu.jp/shinto_is/shinto_wedding.html
---
Susan Lee is a professional personal trainer (www.cptn.com), wellness educator and freelance writer based in Toronto Canada. She fuses her passion for people, places, culture, fitness and travel into her professional and personal adventures.