When thinking about Japanese food, one often pictures fresh sushi, saucy teriyaki and crispy tempura. After all, delicious food in Japan is one of the most revered attractions in the land of the rising sun. Japanese fast-food, on the other hand, is a cuisine that is still unknown to most people. During our stay in Japan, we decided that we would pursue some authentic and flavoursome Japanese fast-food.
One of my favourite things to do when travelling around the world is to try North American fast-food brands to see how they're regionalized. For example, This is how McDonald's serves different menus across the globe:
McDonald's in Hong Kong offers macaroni noodles, and in Japan, they provide a shrimp burger on their menu.
McDonald's in Germany will offer you a glass of beer to go along with your meal.
A Taiwanese McDonald's will gladly freshen your senses with some corn soup.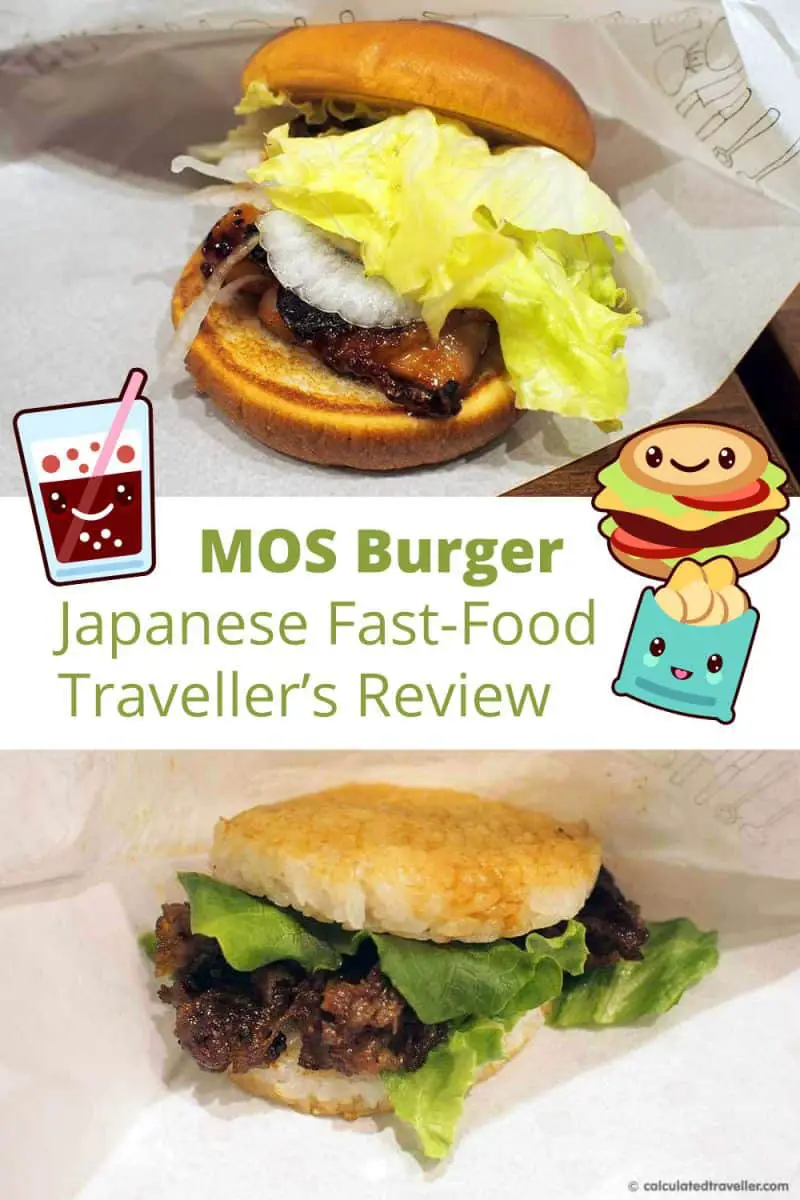 How to make a fast-food Japanese burger?
We checked out MOS Burger in Japan. A famous Japanese fast-food chain of restaurants with numerous outlets and one conveniently placed across the street from our hotel in Kusatsu outside Kyoto.
MOS Burger appears as a typical North American fast food joint with bright lights, generic-looking tables and posters of specials pasted across their windows. The MOS Burger menu was also quite the cliché of a North American fast food shack with french fries, onion rings, hot dogs, and hamburgers. But, if you take a closer look, you'll start to notice some differences.
The MOS in MOS Burger, according to the corporate website, is an acronym for Mountain, Ocean, and Sun.
Mountain: To stand tall and firm like a mountain.
Ocean: To have a heart that is broad and deep as the ocean.
Sun: To have a passion like a sun that never burns out.
MOS Burger is Japan's second-largest fast-food franchise after McDonald's Japan. With around 1,300 outlets throughout Japan, the company also plays a significant role in the Asia-Pacific region. There are about 370 outlets of MOS Burger in places such as Hong Kong, Indonesia, Australia, Taiwan, Korea, China, Australia, and Singapore.
Founded by Satoshi Sakurada, the franchise embodies the very principles of sustainability practised by its founder. Everything is made fresh to order. Nothing is precooked. According to the MOS Burger website, "The vegetables used by MOS BURGER are all sourced domestically and freshly supplied by a network of 3,000 farmers across Japan. "
PRO TRAVEL TIP: The menu is also available in English, ask your server if they don't immediately offer one. After placing your order at the counter, staff will give you a placard to display at your table and deliver your order to you when it's ready.
Teriyaki Chicken Burger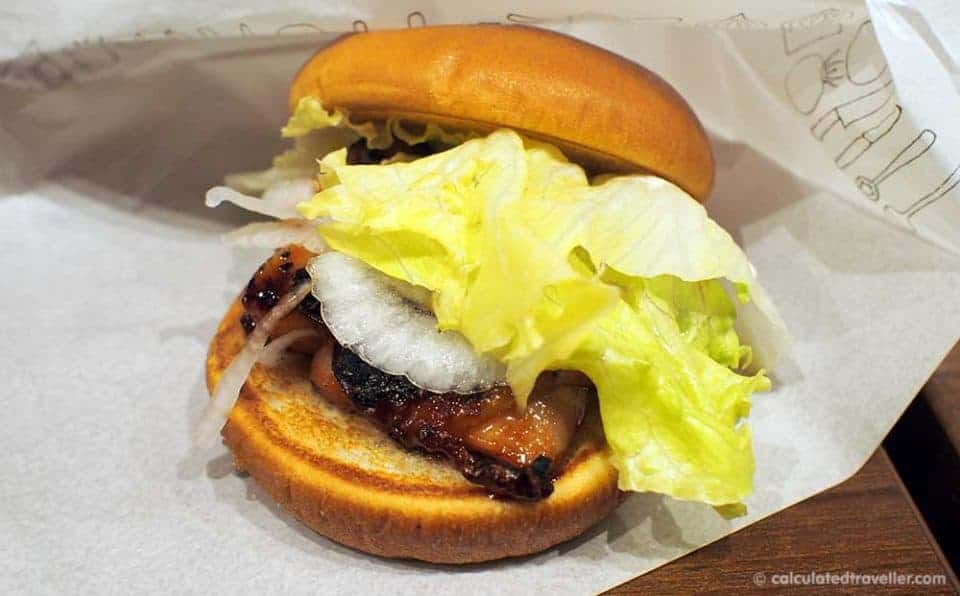 Price: 334 Yen

– Featuring a tender-grilled chicken with teriyaki sauce, lettuce, onions, and mayonnaise on a regular hamburger bun. The Japanese love mayo, but this was too much for my liking, and I had to scrape some off. However, the meat was flavourful, and the lettuce was very fresh.
MOS Rice Burger Yakiniku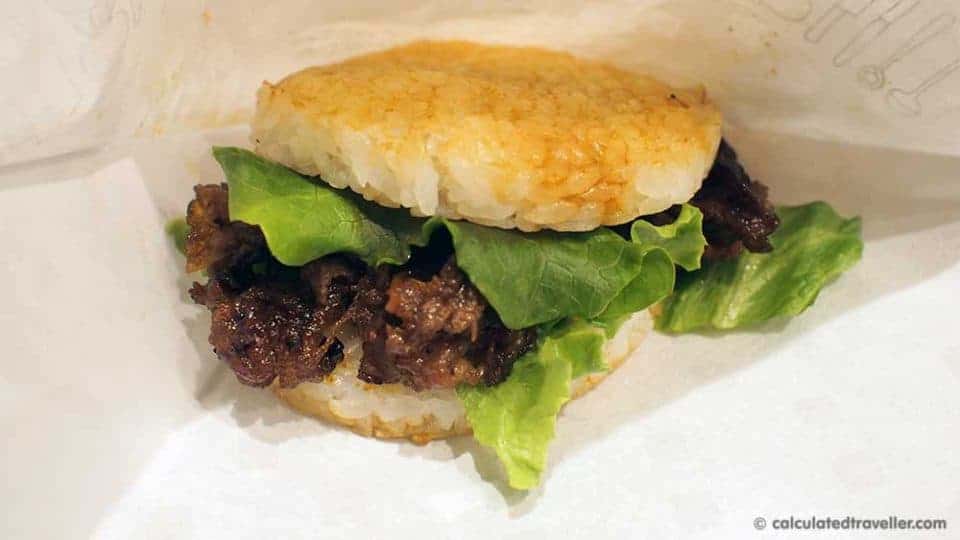 Price: 362 Yen

The Yakiniku is the reason you come to MOS Burger. The strips of grilled marinated beef on a sticky rice bun will heal every part of your soul.
The meat is well seasoned with a sweet and slightly salty taste. It was delicious, but I wished for more of the tasty meat and less of the bun. Because the "bun" fell apart in my hands making a mess. I'm uncertain if it was because of the way the bun of rice, barley and millet is prepared or because of my unfamiliarity with the etiquette involved in consuming this burger.
PRO TRAVEL TIP: The company does have a three-step process for customers on how to devour a burger without causing a significant amount of collateral damage. So if you're having trouble keeping your burger in one piece, this could be helpful.
Don't take the burger out of the wrapper
Rotate your burger while eating to dress the sauce in the wrap
After you finish eating your burger, dip your fries in the wrapper and take advantage of any remaining sauce that dripped out.
Onion Potato
Price: 232 Yen
The Onion Potato was a pretty standard french fries and onion ring combo. The one exception is that neither do they salt or pepper their dishes before serving it, nor is salt and pepper offered on the table. I also noticed that the fries and rings were very lightly deep-fried and not a dark golden brown as the ones available in the United States.
One of the franchise's most exciting aspects is that it offers a menu for people who have sensitive allergies. Examples include a pork burger made with a bun that doesn't contain gluten. For dessert, you can indulge yourself in a strawberry mousse cake that is dairy and gluten-free. Although the low-allergen menu may not offer nearly as many delicacies as the regular menu, it does provide a nice switch for people with allergies from their typical cuisine.
Would I eat at MOS Burger in Japan again?
Sure, we would eat here again if there was nothing else nearby. The food was tasty and very fresh, the service was fabulous, and the dining environment was bright and clean. However, this wasn't a budget-friendly meal as the portions were a bit small and considering that I could order a more filling large bowl of rice with grilled and marinated beef, sauteed onions, miso soup, and a hot tea for 600 yen. But for those travellers who like to experiment and try something a little different from the usual, MOS Burger is a great Japanese fast-food alternative.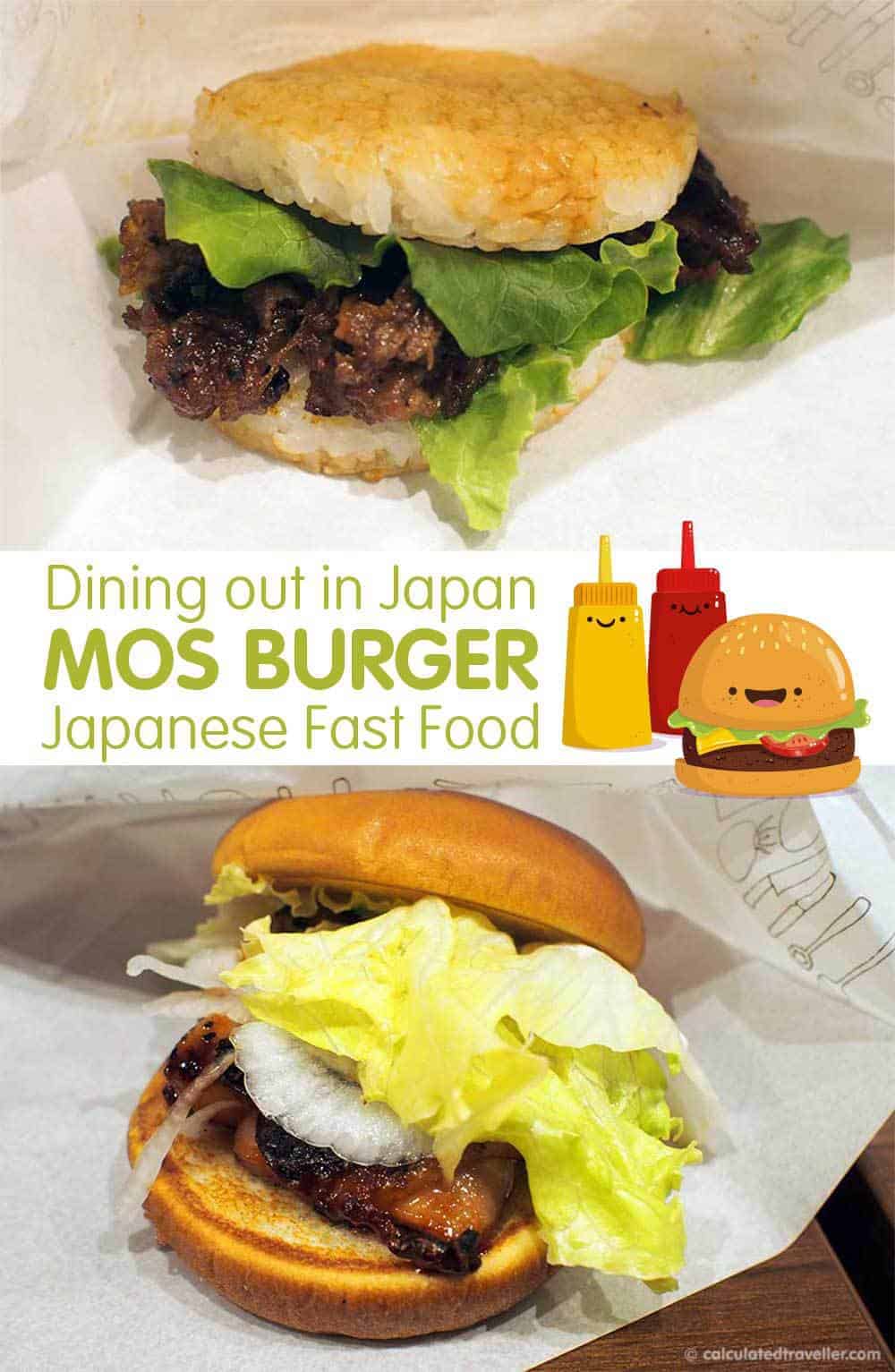 Have you eaten at MOS Burger before? How was your Japanese fast food experience?
Check out:
– Nine Unique Experiences Found In Japan
– Urban Adventures and Cultural Curiosities in Tokyo Japan
– Fascinating and Modern Japan: 10 Things you Need to Know