The beach town of Ocho Rios, Jamaica is chock full of adventure for the lucky Caribbean cruise ship passengers who pull into port here. The small town offers up activities for the nature explorer, the beach lover, the culture fan, the foodie, and the adrenaline junkie alike.
As a local, here are my suggestions on things to do when you have limited time on this famous Caribbean island.
The Best Beaches in Ocho Rios Jamaica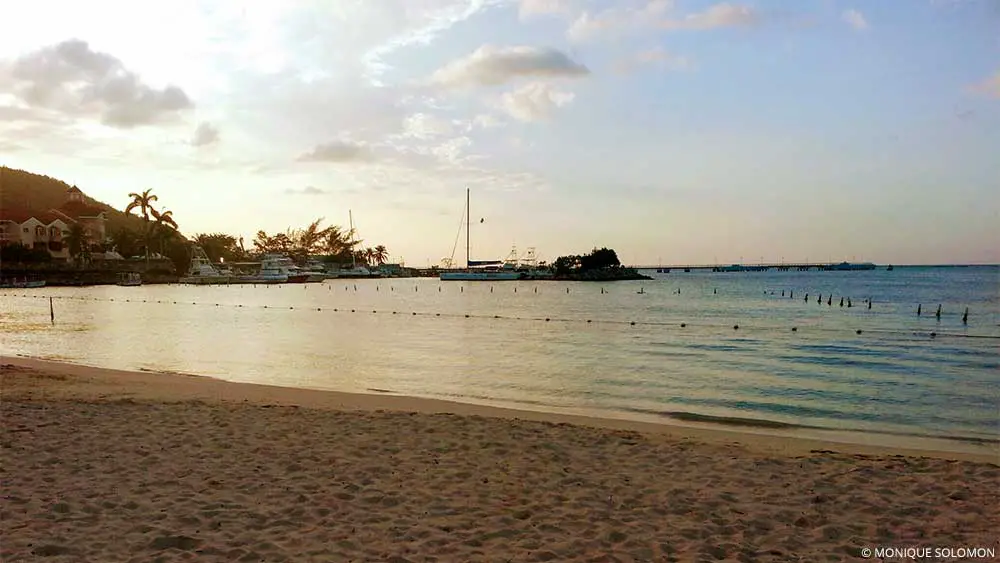 Ocho Rios Bay Beach aka Turtle Beach is a pristine white sand beach right in the town of Ocho Rios; a quick walk away from the cruise port and a favourite for locals as well as visitors. Here, the water is calm and shallow enough for families to play. The amenities are well kept and include picnic spots, lounge chairs and some water sports.
James Bond Beach is so named as it neighbours the luxury Goldeneye property, where Ian Fleming penned the famous 007 books. This beach can be seen in the Bond film Dr. No and is breathtaking with turquoise blue waters set against the backdrop of the hills above the town. Here you can also indulge in fresh fish and lobster brought in daily by fishermen and prepared right on the beach. It's a seafood delight that you absolutely must try.
Margaritaville is a popular sports bar chain owned by American musician Jimmy Buffet and also serves up a beautiful beach backdrop. Here you can grab a burger, a slice or two of pizza and the usual sports bar fare while catching a game on the TVs or jamming to popular music blaring from speakers. Several large floats are anchored just offshore, bringing fun to the beach for big and little kids to enjoy.
At night, Margaritaville comes alive as party central with local and international DJs spinning the latest music. Party patrons flock here especially on the weekends to enjoy the beats and cocktails and have a good time.

Bob Marley Nine Miles Tour in Ocho Rios
If you're a fan of reggae icon Bob Marley and love cultural tours, consider joining a trip to Nine Mile in St. Ann where the music legend is buried. Bob Marley was born here and though you'll miss out on visiting the museum in his honour in Kingston, Nine Mile offers up a similar treat. Plus, you'll get a chance to see the final resting place of the singer and his mother.
It's an enjoyable little journey up on some of our rough and bumpy country roads, but it's a must-see for any fan of the icon.
Climb the Dunn's River Falls or Visit Blue Hole Jamaica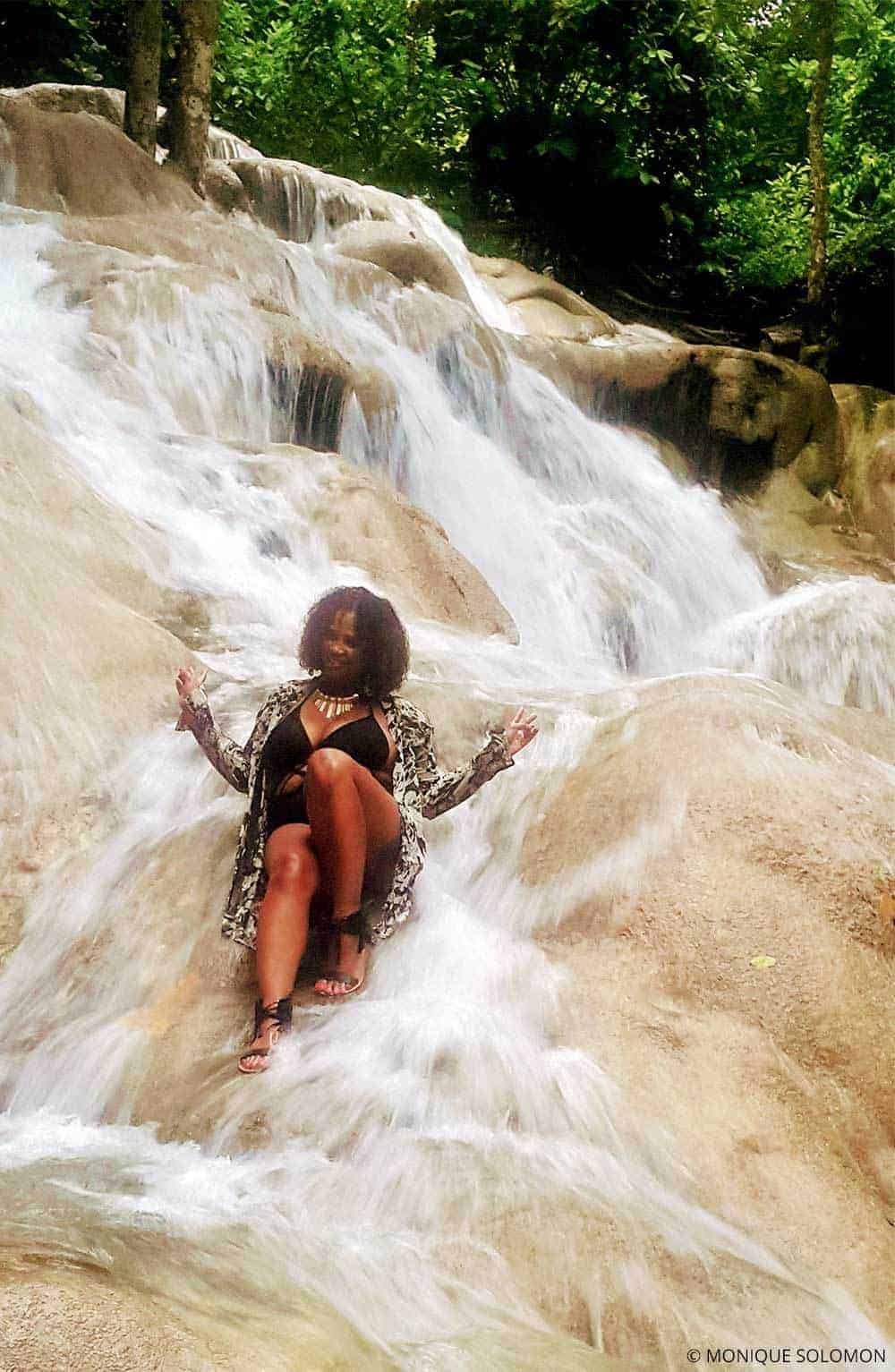 Ask the question, "what to do in Ocho Rios" and the answer will most likely be to climb Dunn's River Falls. Climbing the falls is perhaps one of the most popular attractions in Ocho Rios. It's a gently cascading waterfall that can be climbed quickly from the beach down below. You have the option of climbing with a tour guide at the attraction or going it alone, just be sure to grab water shoes for the adventure to prevent a slip. There's also a children's splash pad and adventure park on property and a vast craft market for souvenir shopping.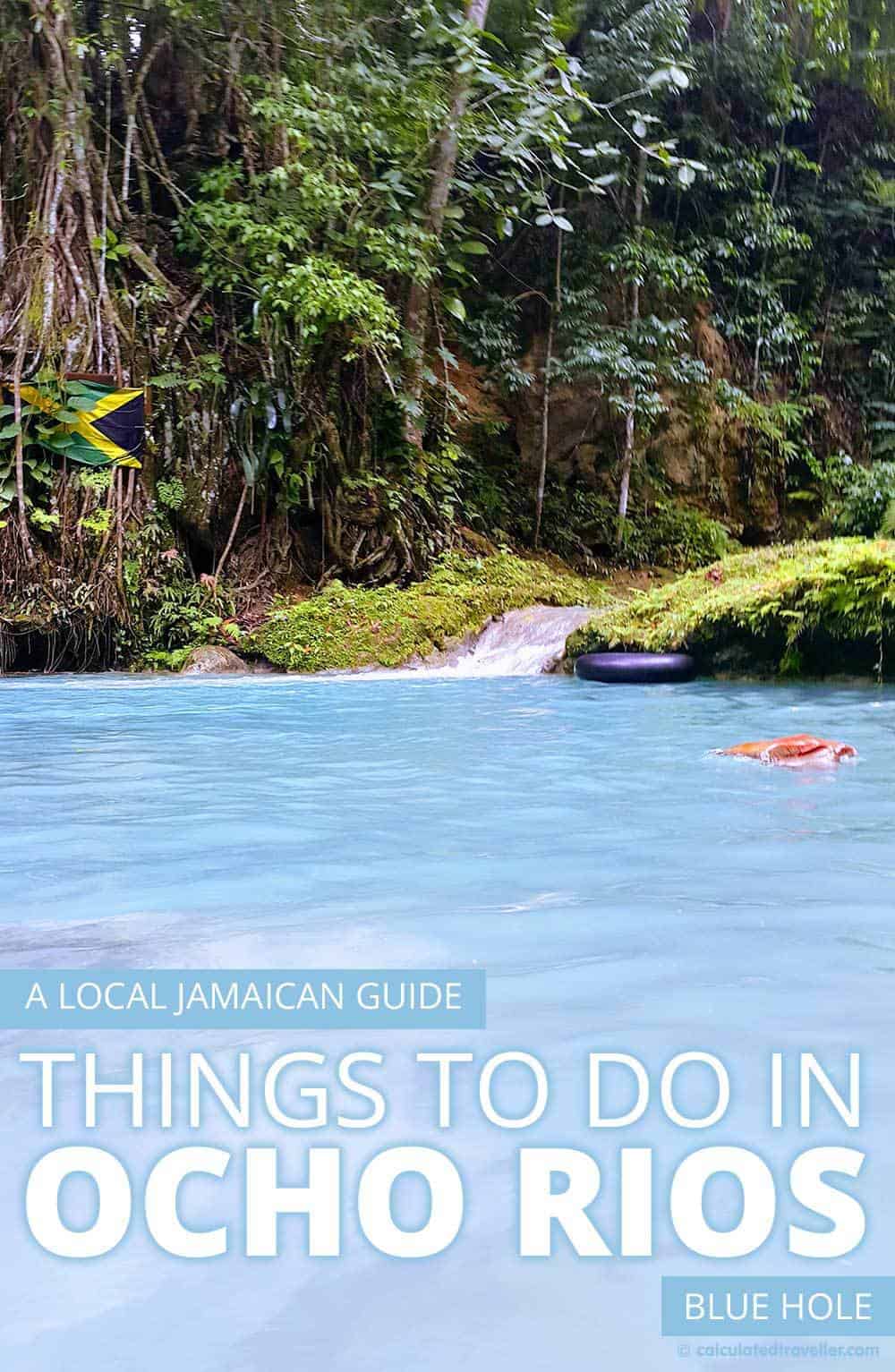 Blue Hole is another favourite spot just outside of Ocho Rios. It is an amazingly beautiful natural attraction with its own waterfalls to jump from, swing over and climb through. It isn't as touristy as Dunn's River but is as gorgeous with the azure water providing picturesque entertainment for a smaller fee than the other attraction.
Read Calculated Traveller Kim's adventure at the Falmouth's Blue Hole.
Tour guides here will help you to navigate the path, showing you the best spots to take advantage of and those you may want to avoid. Bring water shoes and a towel. It's a lively spot with more of the beat of the Jamaican people since it isn't a closed-off tourist attraction but instead, a favourite for locals to visit.
What to Eat in Ocho Rios – Sample the Best of Jamaican Cuisine
When it comes to what to eat in Ocho Rios, you really must go local and sample the best of authentic Jamaican cuisine.
You can pull up to Scotchies in Ocho Rios and treat yourself to a delicious authentic jerk experience. They will have fish, chicken and pork on hand with side dishes such as bammy, festival and roasted sweet potato. Bammy is a bread-like side made from cassava root that is baked and then fried or steamed as desired. It is denser than regular bread and delicious with fried or steamed fish at the beach. Festival is a slightly sweet Johnny Cake also available with seafood at our beaches.
Miss T's Kitchen in the heart of Ocho Rios serves up memorable Jamaican meals like oxtails, brown stew chicken and pork and curried goat with rice and peas. It's a must-try for a truly authentic homestyle dinner.
For a fancier treat, stop by Evita's in the hills above Ocho Rios for Italian eats or Hermosa Cove, a boutique hotel with gorgeous art and architecture right on the beach just outside of town. Hermosa Cove will offer up delightful steaks, lobster when in season and other fancier dishes on the menu.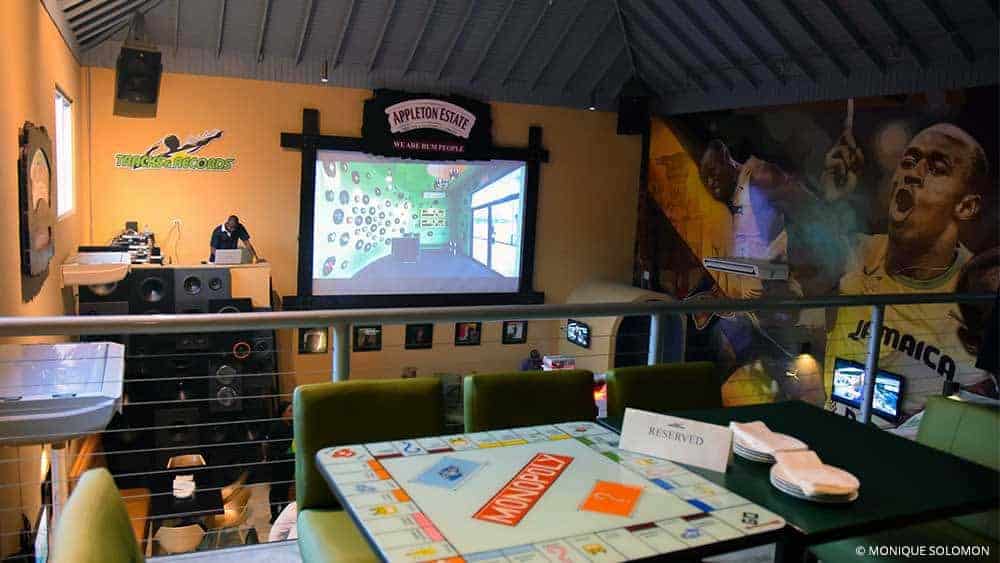 Usain Bolt's Tracks and Records on the old main road is the sports bar chain by the famous Jamaican sprinter who currently holds the record as the fastest man in the world. The restaurant is decorated with memorabilia and art honouring the three-time Olympic champion as well as other cultural icons of Jamaican music. It's a laid-back sports bar vibe with huge TV screens showing the latest games and serving up Jamaican fusion cuisine. Here, you'll be able to sample jerk burgers, jerk chicken spring rolls and pasta, fish cooked beach style, curried shrimp and stewed beef served in mini dutch pots plus other local Jamaican eats.
Best things to do in Ocho Rios? How about an Adventure Tour…
Adrenaline fans will appreciate the many different ways to get your fix in Ocho Rios. Try out bobsledding and ziplining through the jungle-like terrain of the hills above the town at Mystic Mountain. Here the ride up the mountain begins in an air-tram with spectacular views of the Ocho Rios Bay. Viator (see below) has a great selection of tours.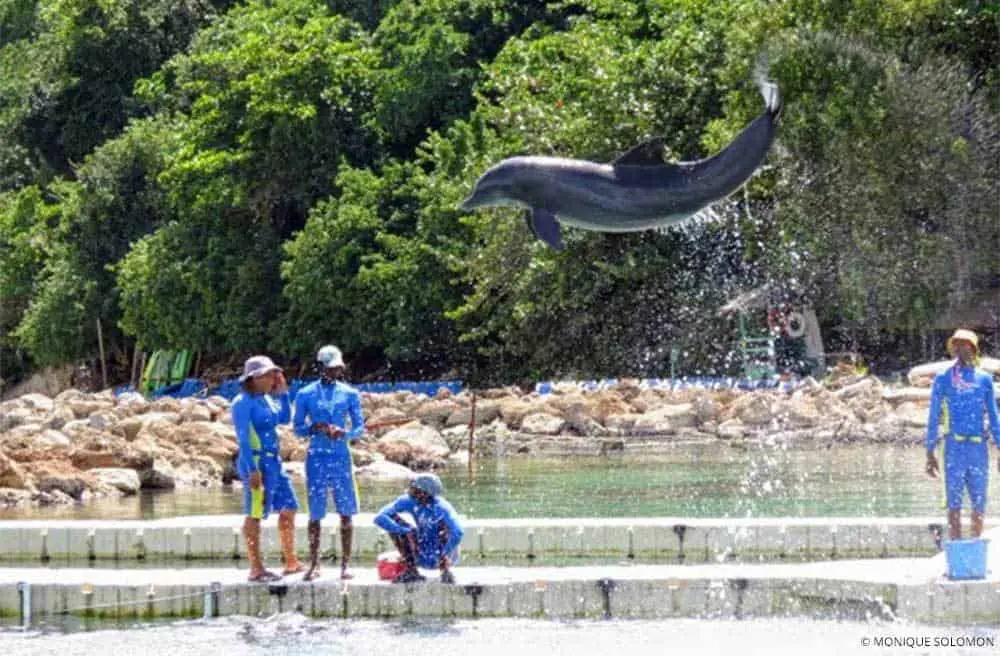 Visit the dolphins at Dolphin Cove and swim with them or allow them to push you out the water and flying through the air. Then, take a leisurely walk through the animal trail to see different species of birds, starfish and conch, iguanas and parrots and other reptiles. Here you'll be able to take a boat out to see Dunn's River Falls as well, just in case you opted out of the tour, and the Goldeneye property mentioned above. Then grab a bite to eat while lazing by the beach. They've got burgers, hot dogs, jerk chicken and the usual sports bar foods available here.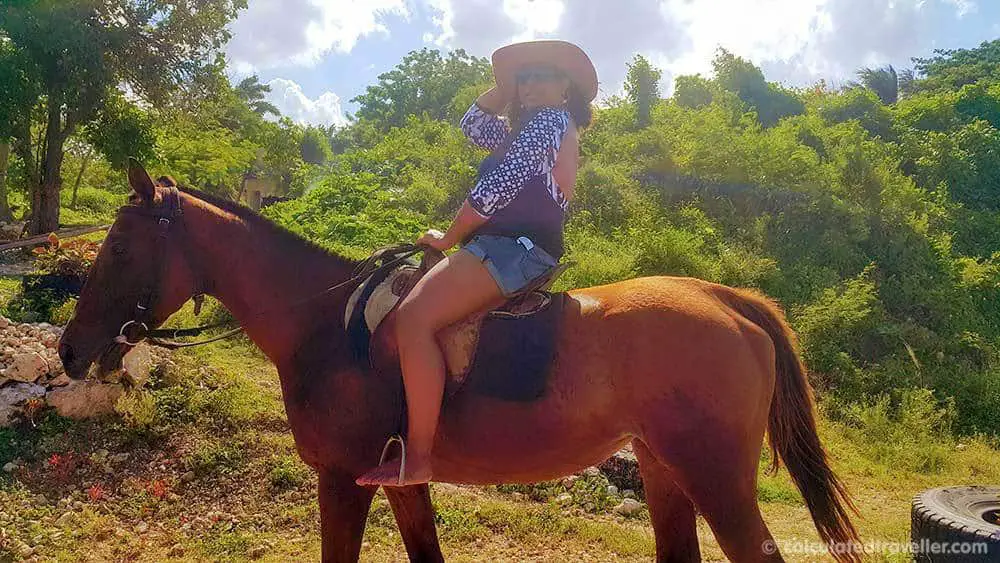 Chukka Tours offers several exciting options as well. Booking a tour with them will see you zip lining, river tubing, riding an ATV through an adventurous terrain or horseback riding into the sea. They also operate a catamaran cruise that's a great big party at sea with live DJs and flowing alcoholic beverages.
Natural Environmental Tours
For those who seek an eco-tour adventure, Ocho Rios delivers a handful of experiences. The Firewater Mineral Healing Spring in St. Ann's Bay is a little out the way in a very rural area. It's isn't developed at all and will be difficult to find. Your best bet is to go with a local, but you can also ask a local Juta tour taxi driver to take you there as they will know the way. You'll feel as if you're being taken to no man's land, don't despair, it adds to the authenticity of the experience.
My best tip: Be smart about your surroundings if you go alone. A few people have experienced some amount of haggling there which can be avoided by inquiring about costs etc. beforehand. These incidences are few, and generally, it is well worth the experience. Here's more general advice about visiting Jamaica, what you can expect and how to keep safe.
The water is rich in sulfur and minerals allowing it to be ignited on fire. The residents nearby claim that it has healing powers for various skin ailments if you're able to spend time soaking in the water. Visitors claim this to be true, and scientists from all over the world have visited the area to study the water's properties according to the resident tour guide. If nothing else, you'll be able to show your friends the cool "water on fire" magic trick from your travels to Jamaica.
The Green Grotto Cave is also a little way out of Ocho Rios and offers up a limestone caving experience that is an eco-loving adventurer's dream. Trek through the vast caves underground and stop at the belly of the grotto with an underground lake supplied by a natural freshwater resource. If terms like stalactites, stalagmites and little bat eyes staring back at you from overhead caverns excite you, this is your type of tour.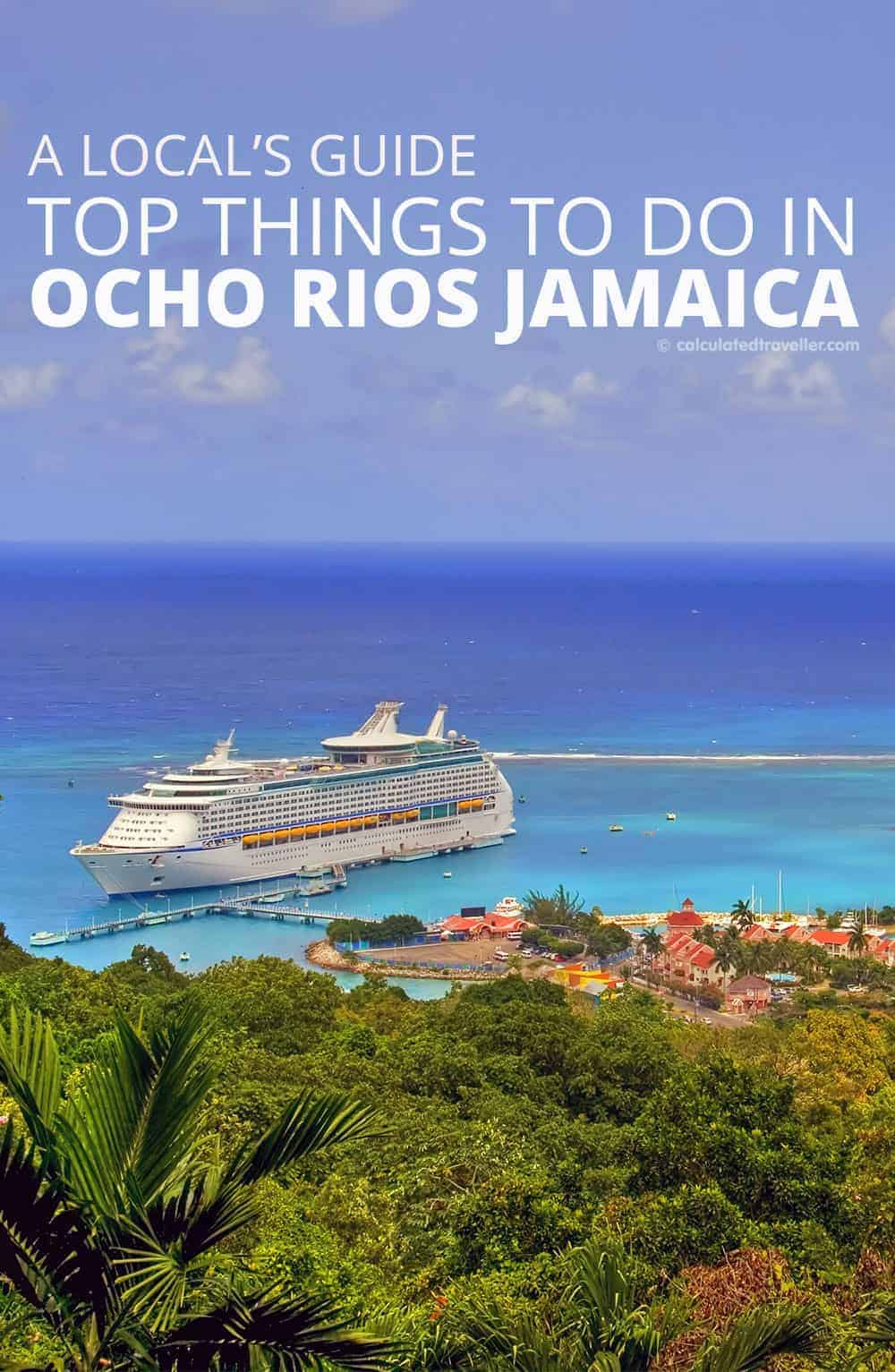 So, you see, there's a whole list of options when it comes to things to do in Ocho Rios to satisfy any traveller stopping by on a cruise. Even if you chose to simply take a stroll through the town stopping to buy wares on the hip strip and sampling street eats, chances are you'll have a fabulous time in Jamaica.
---
Guest writer Monique Solomon is a Jamaican lifestyle blogger at www.iriediva.com where she shares the best of her tropical island paradise with her readers. She's into DIY beauty, fashion, health and wellness and shares her take on these topics over on her blog and social media channel.