"Bush is the word we use to mean nature," explains Jason, one of our tour guides for our trip with Liberty Tours at the Irie Blue Hole in Ocho Rios, Jamaica, as he waves us on down a twisting series of rocky steps, lined with wooden rails. (Pointing to the blackbirds circling overhead), "Listen, they are saying: 'Welcome to the Blue Hole!' laughs Jason. At the bottom of the steps, caps from Red Stripe beer bottles form a welcome mat that echoes the sentiment, spelling out WELCOME in the dirt.
"Where have you been so far on your trip?" asks Carlton, our tour guide and driver for our adventure. We went to Royal Caribbean's private island in Labadee, Haiti and were booked for a stop in Cozumel, Mexico. Departing from the port in Colonial Falmouth, Jamaica, coined "The Caribbean's Georgian-Style Gem", and one of Jamaica's largest sugar-producing parishes, Carlton promises that this will "by far, your favourite port."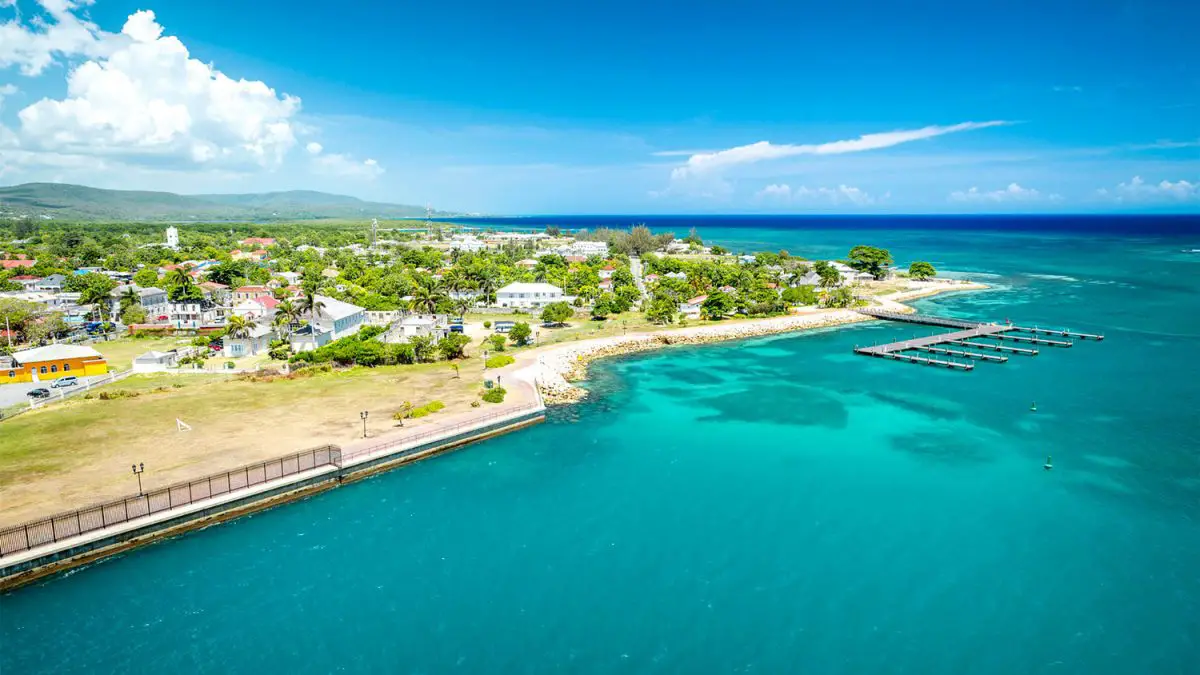 The drive to the Jamaica Blue Hole, up into the mountains and through the plush Jamaican rainforest, took just over an hour from the port in Falmouth. Carlton filled the time by teaching us a bit of the area's language, culture, and history, starting with an introduction to the patois language (Pronounced: "Pat-wa").
Although the official language of Jamaica is English, explains Carlton, Patois—which is a mixture of English, Spanish, Portuguese, African phrases and Jamaican slang—is the everyday dialect. Patois was ingeniously developed during the 17th century by slaves from West and Central Africa who combined forms of English spoken by their masters, so they could have a language they only understood.

Peeking out the windows of our van, we could see historical sites flashing by, such as Discovery Bay, originally named Puerto Seco (which means Dry Harbor) by Christopher Columbus when he landed there in 1494. He named it "Dry Harbor" because, in contrast to the nearby Rio Bueno Bay, no permanent rivers are flowing into it, and perhaps as importantly, at least to him, he had difficulty finding fresh drinking water.
We also see a bauxite manufacturing plant. The Jamaican bauxite is a major export of Jamaica, along with sugar.
On the other side of the road that we are travelling, we see the large ship that is used to ship the bauxite to England, where it is manufactured into aluminum. These waterways have a history too. In the 18th and 19th century ships would arrive with slaves as others filled with sugar and rum would leave for Britain.
Although Emancipation occurred in 1840, many of the wooden houses of the era still line the streets today, and "this day is celebrated every August 1," and "everyone, regardless of your background or colour, is invited."
Carlton talked about Marcus Garvey, a Jamaican political leader and staunch proponent of the Black nationalism and Pan-Africanism movements, pointing to his name on one of the nearby schools that we pass by and how in 1944, the first elections under universal adult suffrage were held. Fourteen years later, in 1958, Jamaica then joined nine other UK territories in the Federation of the West Indies but reconsidered, and in 1961, after a referendum in which voters chose independence, the nation withdrew from the federation. Then, finally, on August 6, 1962, Jamaica gained independence; this day is celebrated every August 6.
Ocho Rios was a former fishing village on the north coast of Jamaica. Now a resort, the harbour is filled with cruise ships and the busy beach is lined with hotels. In addition to the Blue Hole Ochos Rios, the surrounding parish is home to rainforest, rivers and waterfalls.
Read more about Ocho Rios in the article: A Local Jamaican Guide to the Top Things to do in Ocho Rios
The trip doesn't lack for any humour or spirit either. "The adventure is about to begin," says Carlton, "so hold on tight; you are about to get a deep tissue massage," laughs Carlton. As we turn onto an unpaved road filled with potholes and slowly begin the bumpy descent, we know why.
Irie Blue Hole
We've been told of the beautiful colour of the waters in the Blue Hole in Ocho Rios, but seeing is believing. The Irie Blue Hole gets its name from the deep azure hue of the water. The hole is a natural limestone sinkhole secluded within the tropical mountains of Jamaica with untouched falls near Ocho Rios. Travellers make the trip to the hole to swim, cliff dive, and hike. Amongst the stunning views, there are several blue lagoons to swim in and a cave to spelunk.
At the Jamaica Blue Hole, Carlton tells us that the legend said that the waters will make you look ten years younger." "I'm in!"
We follow our fearless guides up the waterways, to where they carefully guide us through pathways toward the Blue Hole, where we can jump into the cool waters. Halfway through our adventure, watch Jason perform a disappearing act, climbing in different rock formations under the waterfalls only to comically come out another hole and wave to us. With his carefree Jamaican attitude, we then watch him climb a nearby towering tree, only to jump into the beautiful Jamaica Blue Hole below. Other locals join him at the very steep of the hill, by running at full speed, then diving fearlessly into the waters below.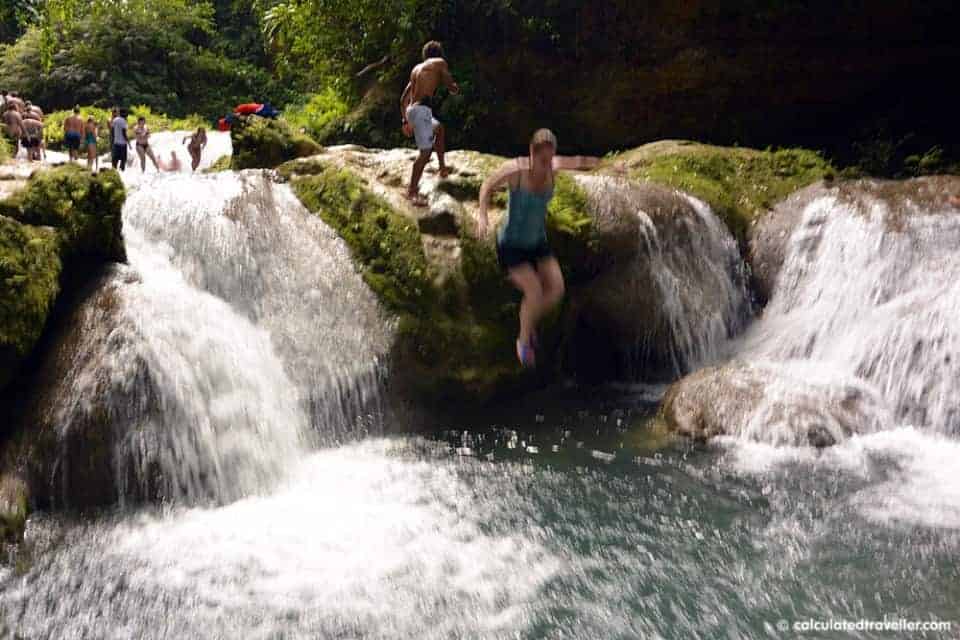 The Jamaican enthusiasm is contagious and it's nearly impossible not to just soak it all in.
After a brief stop at a local shop where we could purchase local wares, we head to Scotchies for authentic jerk chicken for lunch.
Our drive back is subdued, listening to the sounds of Reggae music, and knowing that everything is gonna be alright. "Ya Mon."
---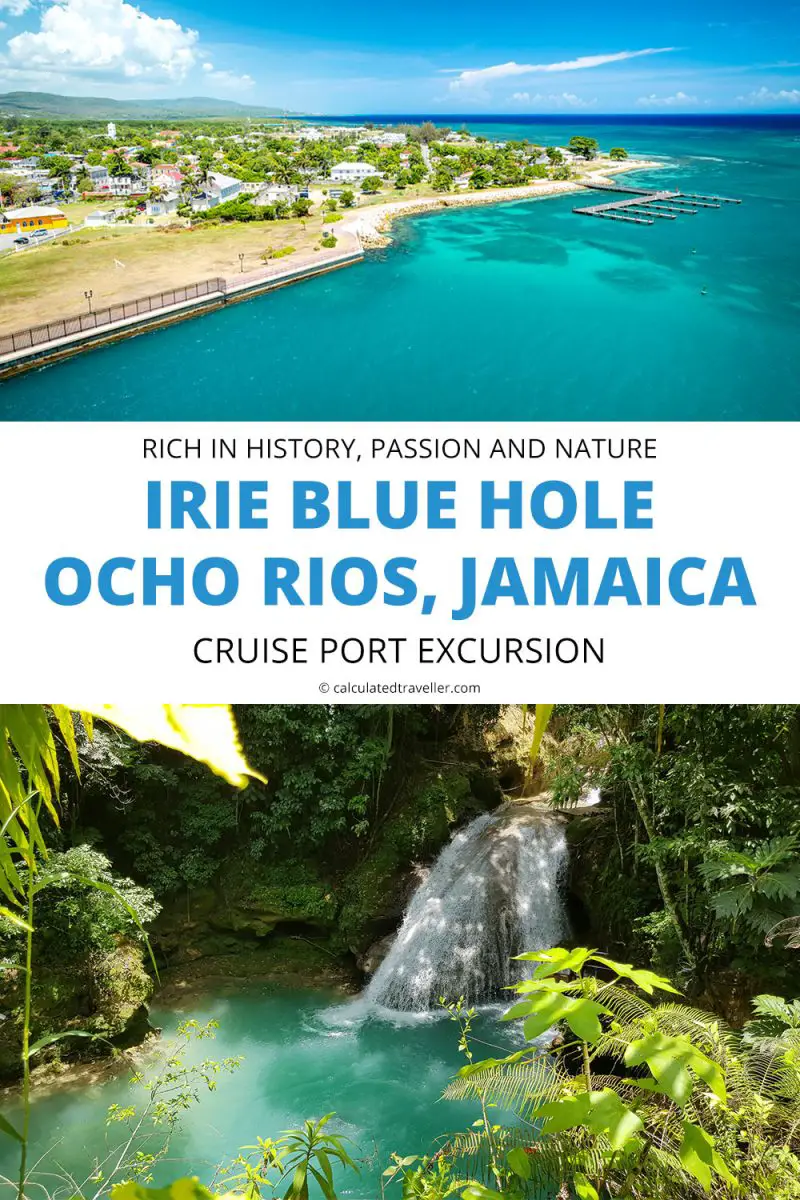 What adventures have you discovered in Jamaica?
Cruising? Check these articles…
– A Day at the Beach in Nassau Bahamas
– A Cruise Guide to Mahogany Bay Roatan Honduras
– Cruise the Caribbean: The Best Way to See the Islands