ZealSound HDE-100 Headphones. In-ear Noise-isolating Genuine Wood Headphones with Mic and Fiber Cable
"The Stunning wood housing of the ZealSound HDE-100 Headphones provides warm, rich sound, extreme detail, and pounding bass; elegant design with beautiful wood grain that brings you closer to nature."
Recently, I had the opportunity to spend a few hours carefully listening to the ZealSound HDE-100 headphones on my Sansa mp3 player. The unique feature of these in-ear noise-isolating headphones is that real wood is used for the housing and not the usual plastic found on other earbuds.
I found that the medium brown coloured wood gave the earbuds a graceful look of warmth and calm. Elegant simplicity best describe these earbuds with its wooden housing and a brushed metal like earpiece to attach the black silicon tips. The black braided cord and plastic Mic piece further enhance its attractiveness and function. There is an inconspicuous small company logo found on each of the wooden housings along with the "Zealsound" company name on the Mic housing.
In keeping with the understated elegance of the ZealSound HDE-100 Headphones, these earbuds don't scream out with bold markings, bling or bright colours often associated with many other brands. For me, I found the understated design best suited my "Zen" personality. No judgement, but if you're a type of person who enjoys the display of colours and labels, these earbuds may not wear well with you.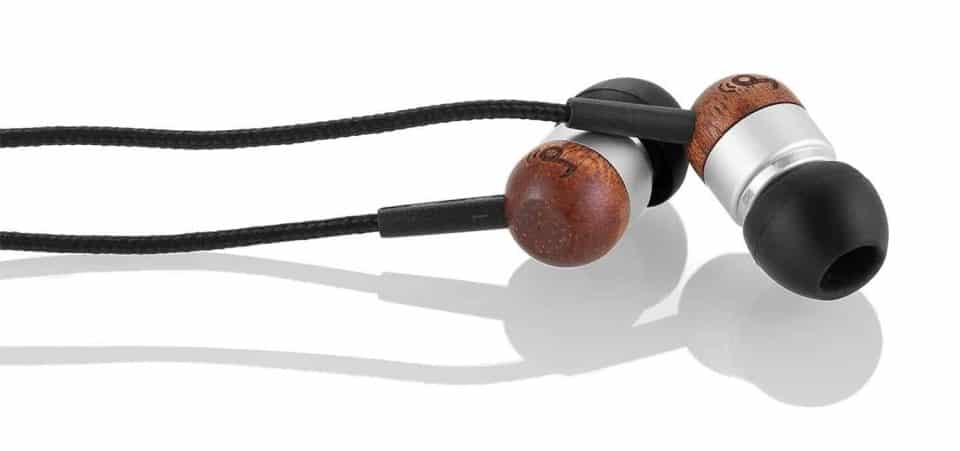 ZealSound HDE-100 Headphones Package Includes:
ZealSound In-Ear Headphones HDE-100
3 pairs ear tips (S/M/L)
Cord clip
Carrying pouch
User manual
The ZealSound HDE-100 headphones appeared to be well constructed and should withstand the usual wear and tear of most users. I also appreciated the fit and comfort in my ears especially over a few hours of continuous listening. The fabric braided cord was another welcome feature because it prevented the cord from becoming a tangled mess – a welcome feature for any trip near or far.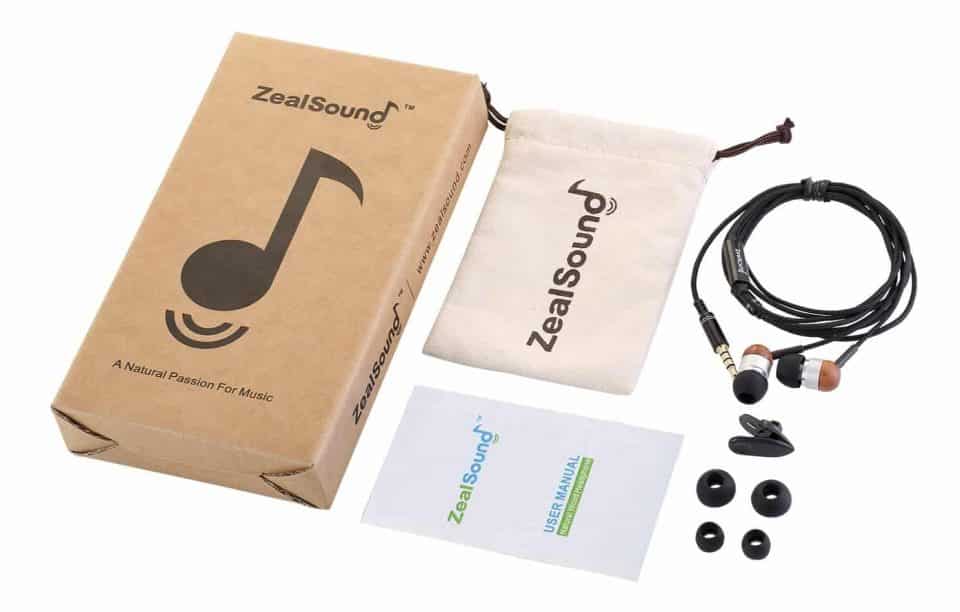 ZealSound HDE-100 Headphones Specifications
Model: HDE-100
Driver unit: Dynamic 10mm Neodymium
Frequency response: 20Hz-20kHz
Maximum input power: 10mW
Sensitivity: 99dB±3dB
Impedance: 16Ω
Connection: 3.5mm gold-plated jack
Cable length: 53 " / 1.35m
I sampled a broad range of music with these earbuds and found the sound quality to be very good and well balanced. The high and mid-range vocals were spaciously clear while the some of the low bass tones had some audible distortion at high volume levels. Overall, these earbuds performed quite well and should be suitable for any music. Be mindful of the acoustic limitations when using these earbuds when compared with the larger over the ear headphones.
There is also a standard On/Off Mic feature attached to the cord for hands-free communication on your cell phone. I tested this feature on my mobile phone without any issues.
Does the "Wood" housing enhance the sound quality?
Overall, if I was asked to sample different earbuds in a blind listening test, I doubt that I could confidently identify the wood housing feature found on the ZealSound HDE-100 earbuds.
Let's cut out the "noise" and focus on the most important criteria. How do they sound?
The sound quality of the earbuds is very good with crisp vocals and spacious music at most listening levels. Understated elegance at an affordable price.
Checkout these other ZealSound products on Amazon.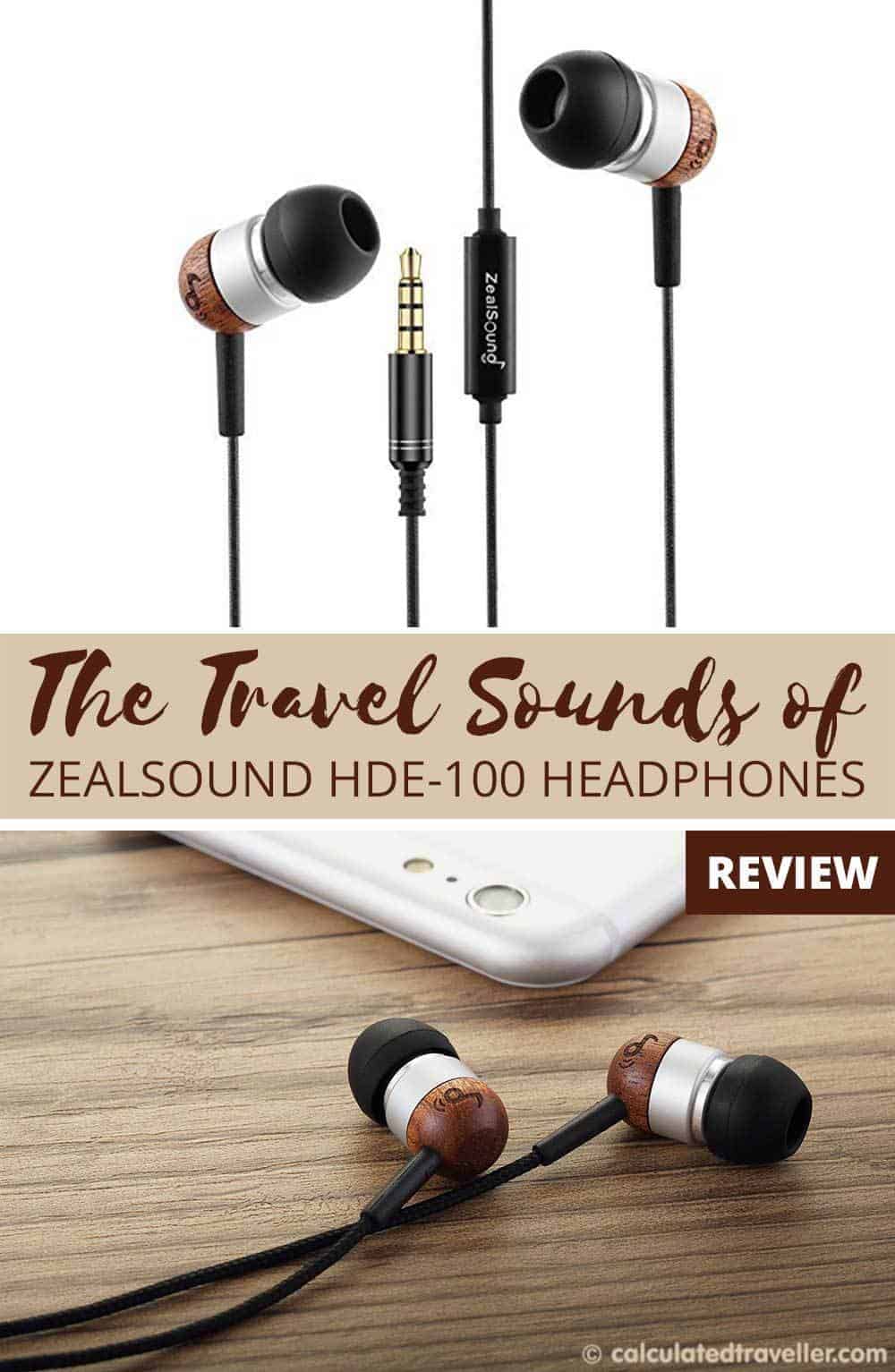 My ZealSound HDE-100 Headphones was provided by ZealSound for review purposes. I was not financially compensated for this review. My opinions, as always are entirely my own.
Looking for more audio reviews by Calculated Traveller?
– Sudio Vasa Bla Bluetooth Earphone Review
– Search iClever IC-BTS02 Bluetooth Wireless Speaker Review
– iHome Crystal Tunes Portable Speaker – Review