It's with a heavy heart that I write this MSC Divina cruise ship dining review.
I'm a big "cruiser" and have sailed on about 30 cruise holidays and rarely do I have a terrible food experience.
As a matter of fact, my first sailing on the MSC Divina was in April 2014 and I found the food and service to be quite different from this experience and I am shocked and saddened that things have changed so dramatically in just 1.5 years.
Read the 2014 article: 7 Divine Dinners. A MSC Divina Food Review & Photo Essay
I was disappointed.
But, as always, I try to make the most of things and not let problems stew and ruin a vacation. There is always a silver lining and a bright side and that is the same for this trip. The weather was fabulous, the Caribbean ports were beautiful, the waters were very calm and it was Christmas with my honey — which makes every trip great.

MSC Divina Cruise Ship Dining Review: What was great
All the pasta is fresh made on board the ship
Antipasto section in the buffet is fresh and plentiful
5 different types of pizza available throughout the day
4 different types of pasta available on the buffet
Fresh fruit is plentiful and choice goes beyond the usual citrus and melon
Hot milk is available at every drink station all day
A large variety of fruit juices are available at breakfast
There is an International food section in the buffet at lunch
They make really good Tiramisu
The decor is lovely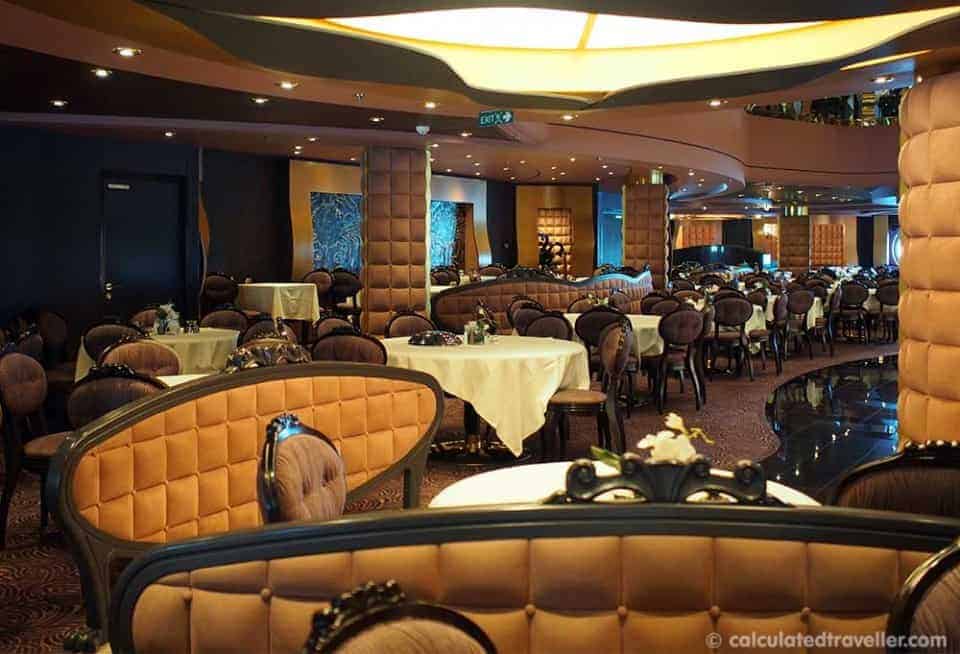 MSC Divina Cruise Ship Dining Review: What was disappointing.
I'm a little surprised at how the plates are presented in the dining room. Quite frankly, the cuisine is advertised as being fine dining yet the plates are not wiped or presented cleanly. A cruise ship serves thousands of dishes over the course of 1 meal service and it is never truly "fine dining" when you compare it to restaurants on land, but being at sea is no excuse to serve dishes repeatedly with drip marks and dribbles all over the plate. I know that meals are plated in an assembly line fashion but on most cruise ships you would never know it – Here you do and it makes one feel like they don't care.
There is no effort made in the presentation. For example white pasta / white sauce / white plate that could easily be enhanced for the eyes with just a splash of green basil.
The plating, in general, is inconsistent. It's as if food is coming out of different kitchens. For example, we both ordered Caesar salad and they were on served on two different styles of plates – one plate had shaved parmesan and the other plate had grated parmesan and they weren't the same portion size.
Dining room service was lacking and very uneven.
Much of the food needed seasoning.
There is no variety to the food in the buffet. The same dishes are served every single day for every single meal.
The menu creation is odd and not consistent. On one dining seating, our menu choices were Chinese Spring rolls, Mediterranean falafel and then Prime Rib. Most menus I've experienced on cruise ships involve a theme so that you "match" your appetiser to your entrée etc.
The desserts (dining room and buffet area) were very underwhelming to the point where I either ate the same dessert repeatedly or I just skipped dessert.
Here's a daily account of what we ate during the week.
MSC Divina Day 1
Shrimp Cocktail
Fettuccine All'Alfredo
Creamy Parmesan sauce, cracked black pepper
Dijon & Herb Crusted Rack of Lamb
Rosemary reduction, roast potatoes, French ratatouille
Grilled Beef Striploin
Béarnaise or green peppercorn sauce, baked Idaho potato, grilled tomato
Toffee Cheesecake
(note the "chunk" missing from my slice of cake)
Italian Cannoli
MSC Divina Day 2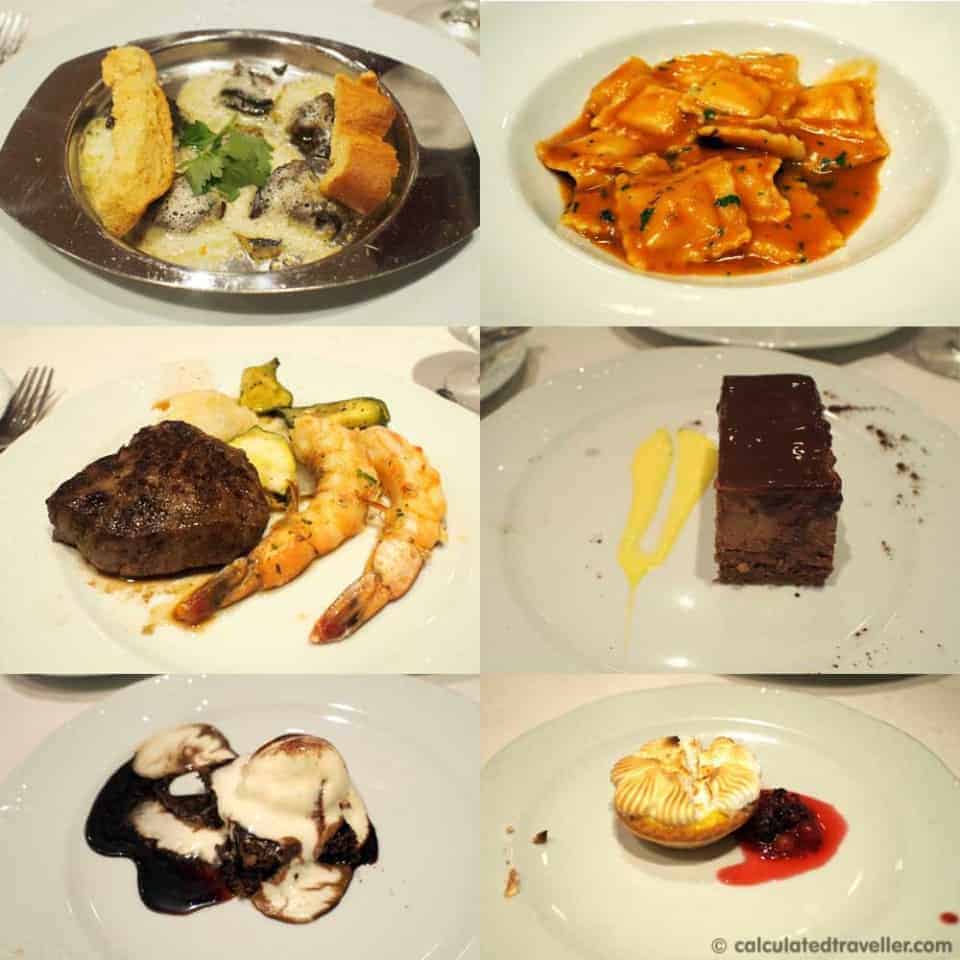 Escargots Bourguignonne
Garlic Butter glazed, seasoned bread points
Ravioli di Gamberi
Shrimp filling, shellfish bisque sauce, brandy, Swiss chard
Surf & Turf
Filet mignon & king prawns, savoyarde potatoes, crookneck and pattypan squash
CroustiChoc
Crunchy praline, chocolate mousse, vanilla anglaise
Warm Chocolate Brownie à la Mode
(Was served to me melted)
Lemon Tart
Italian meringue, raspberry sauce
MSC Divina Day 3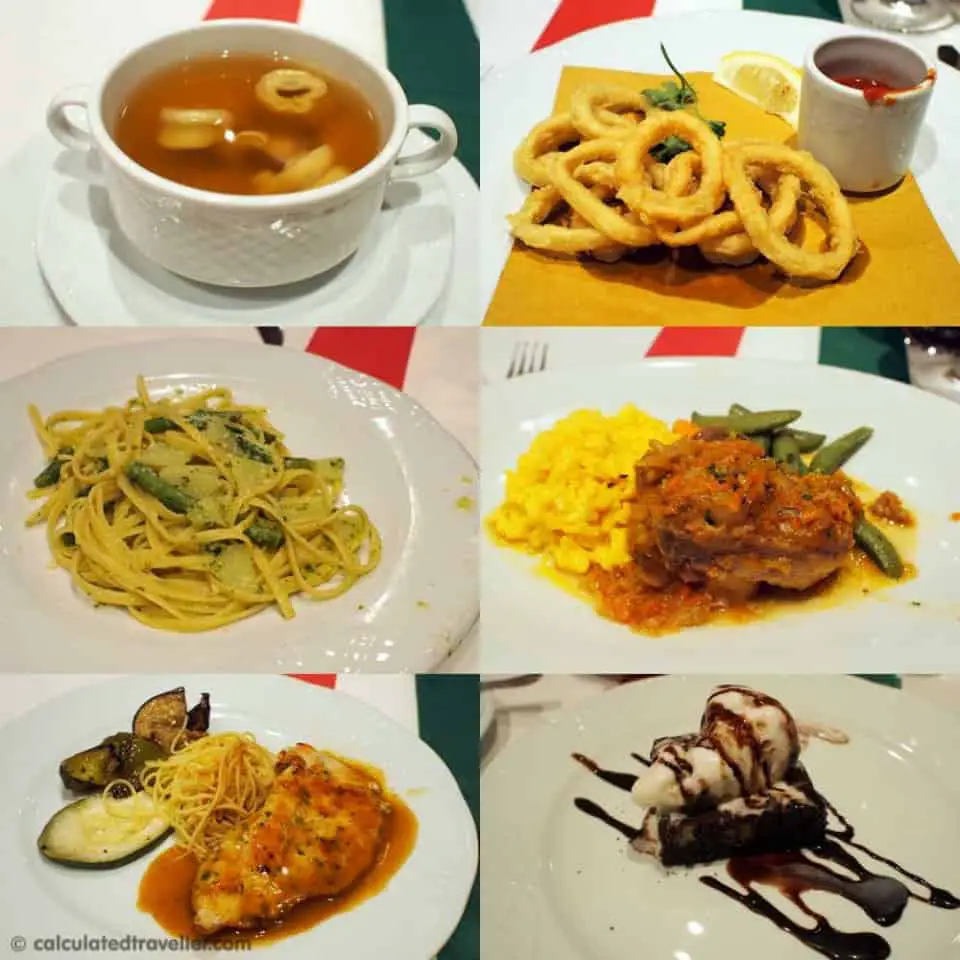 Tortellini in Brodo
Meat-stuffed pasta, chicken broth, Italian parsley
Calamari Fritti
Marinara dipping sauce, caramelised lemon
(Very greasy and reminded me of calamari found in the frozen food aisle of the grocery store)
Trenette alla Portofino
Noodles, basil pesto, green beans, potatoes
Ossobuco Gremolata
Braised veal shank Milanese style, saffron risotto, carrots and sugar snap peas
This was the best tasting entrée of the entire week
Scalloppine di pollo al marsala
Chicken scaloppini, marsala wine reduction, angel hair, roasted vegetables
Warm Chocolate Brownie à la Mode
(This is how the brownie on Day 2 should have been served)
MSC Divina Day 4
Cardini's Caesar Salad
Authentic classic or with chicken fillets
Grilled New York Cut Sirloin Steak, Green Peppercorn Sauce
Country fries, haricots verts, fried onion rings
(The steak was an odd shape considering that it was called "New York Cut" – there was a lot of gristle)
We skipped dessert…
MSC Divina Day 5
Crispy Vegetable Spring Rolls
Soy-ginger dipping sauce, Asian slaw
Surimi Mac 'n' Cheese
Cheddar & Gruyere, breadcrumb & shallot crumble
(Our waiter said that "Surimi" was crab when, in reality, it's ground fish made to look like crab)
Prime Rib of Beef, Shallot Red Wine Essence
Horseradish sauce, loaded baked Idaho potato, almond broccoli, carrot batons
(We had sent our first plate of prime rib back to the kitchen as it was well-done when it was served and we had ordered medium-rare)
Blueberry Cheese Cake
Coconut Ice Cream
MSC Divina Day 6 – Christmas Eve Dinner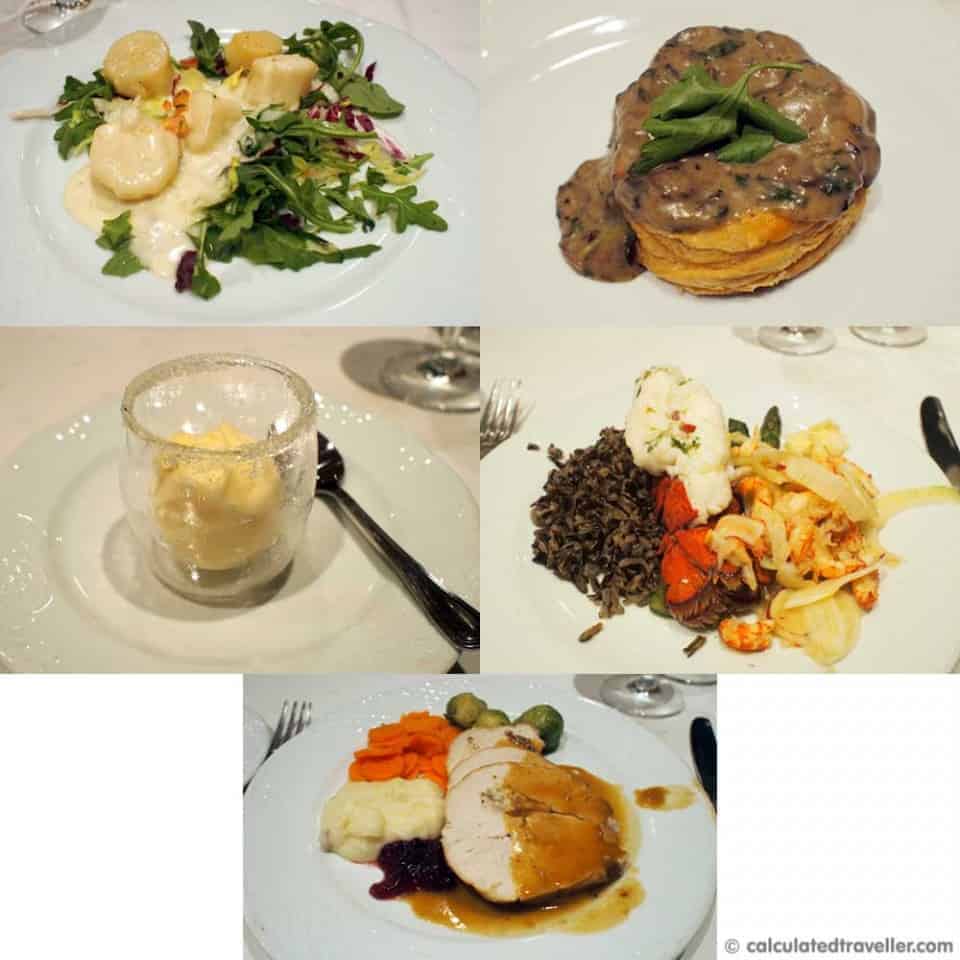 Pan-seared Diver Scallops with Champagne truffle cream and wilted butter lettuce
(The scallops were missing the "sear" and seemed almost boiled)
Wild Mushroom, Spinach & Goat Cheese Vol-au-vent with pimento cream
Refreshing Tangerine Orange Sorbet with Candied zest
Duo of Lobster & Crayfish
Broiled lobster tail and crayfish-fennel-radish salad, lemon-butter fondue, wild rice pilaf, grilled asparagus
Traditional Christmas Turkey
Bread-onion-sage-stuffing, giblet gravy, cranberry relish, holiday mash, Brussels sprouts, glazed carrots
(This was a turkey roll and not a whole roasted turkey as I would have expected)
MSC Divina Day 7 – Christmas Day
Minestrone alla Milanese
Zucchini, red kidney beans, peas, tomato, spinach, rice
Orecchiette al ragù di salsiccia
Ear-shaped pasta, luganega sausage, broccoli, tomato
While Roasted Tom Turkey with all the trimmings
Giblet gravy, cranberry sauce, chestnut stuffing, potato mash, succotash
(This was the same exact turkey roll as I was served on Day 6 and not a whole roasted Tom turkey)
Apple Pie "à la mode" with French vanilla bean ice cream
Cherry Clafoutis
Baked custard with dark cherries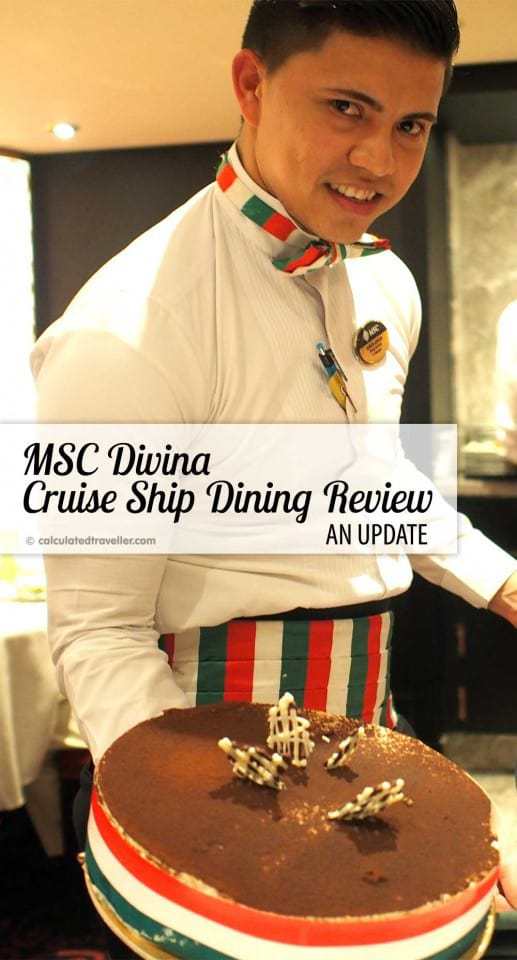 Would I sail MSC Divina again?
I'm not one to totally say never to anything.
I would truly like to experience a European MSC Cruise to see if perhaps the issue is in their American product. Also, according to the Cruise Director in 2016 MSC Cruises will be adding another cruise ship to the Port of Miami, MSC Seaside, and another ship is expected for 2018, so time will tell when my next sailing on MSC Cruises will be.
The ship is beautiful and the entertainment is outstanding, I'm just sad to say that during Christmas week 2015 on board MSC Divina, my dining experience was lacking to what I have come to expect on any cruise ship.