I'm a huge Cruise ship traveller and encourage people to try it at least once. Like your mum used to say about Lima beans "you can't say you don't like it until you try it."
Here are my ten reasons why you should try a cruise.
1. You only have to unpack once.
I find cruise holidays to be very easy and stress-free. It's like a road trip but instead of you driving from place to place – it's your hotel that's moving. You will have the same cabin steward for the length of your trip, and they'll remember if you like an extra blanket or pillow on only YOUR side of the bed. If you chose set dining, you would have the same waiter and assistant waiter for dinner every night, and they will remember if you prefer tea or coffee with your dessert or whether you like lemon with your water.

2. Each day is a NEW place and a NEW adventure.
You could be in Venice, Italy visiting Saint Mark's Basilica (photo on the left) on Monday and then be in Dubrovnik, Croatia eating Börek by the shore on Tuesday.
The great thing about this is if you don't like a city, island, or country for whatever reason – you aren't stuck – because tomorrow you'll be in an entirely different location.
People often say to me that they aren't given enough time to learn about a place, and I have to agree with them for some places. A cruise gives you an introduction… it helps you decide whether you need to go back another time to explore further and how much time you would need. Think of it as a scouting mission.
3. Clean, safe, high security environment.
Cruise ships operate like airplanes. Each time you board the ship, you pass through a metal detector and your bags/belongings go through x-ray machines.
You have a shipboard ID card that acts as your onboard "credit card", and cabin key. The barcode on your ID gets scanned each time you come on and off the ship. So, the ship staff will know if you don't return after being ashore.
All cruise ships take part in the Vessel Sanitation Program (VSP) at the Centers for Disease Control and Prevention (CDC). Ships get inspected regularly, you can see the inspection reports at the CDC website http://wwwn.cdc.gov/InspectionQueryTool/InspectionSearch.aspx
4. Very accommodating for food allergies, specialty diets.
A vegetarian option is always available. If you have a food allergy, you are given the menu the night before so that you can make any alterations to your chosen meal. They will then prepare your meal separately to prevent cross-contamination.
5. No need to go looking for food/restaurants.
When I'm travelling on land, I find I'm always wondering if that restaurant is good? Is it expensive? Is it clean?
On a cruise ship, you have options and top-notch, high-quality food. You can visit the grill for a burger, visit the pizzeria, eat at the buffet, eat in the dining room or dine at the speciality restaurant. Most of these options are complimentary or cost a small fee.
Check out these cruise dining articles:
– 5 Days 5 Dinners — Caribbean Princess Dining Review
– Cruise Ship Specialty Dining – Caribbean Princess Crown Grill
This photo is the main dining room on the Royal Caribbean Voyager of the Seas.
6. Medical staff.
Board Certified Doctor and other medical staff are on board every ship with monitoring equipment, diagnostic testing, and prescription medication in case of emergency. Sad to say I have had to visit the ship's doctor a few times. Your bill for a visit gets added to your cruise ship tab.
7. Great for all ages, there's something for everyone.
Daycare and children's programs are available as well as babysitting services. There are also teen programs including a teen disco, Video arcade, library, disco, ballroom dance classes, bridge/card games, internet and WiFi.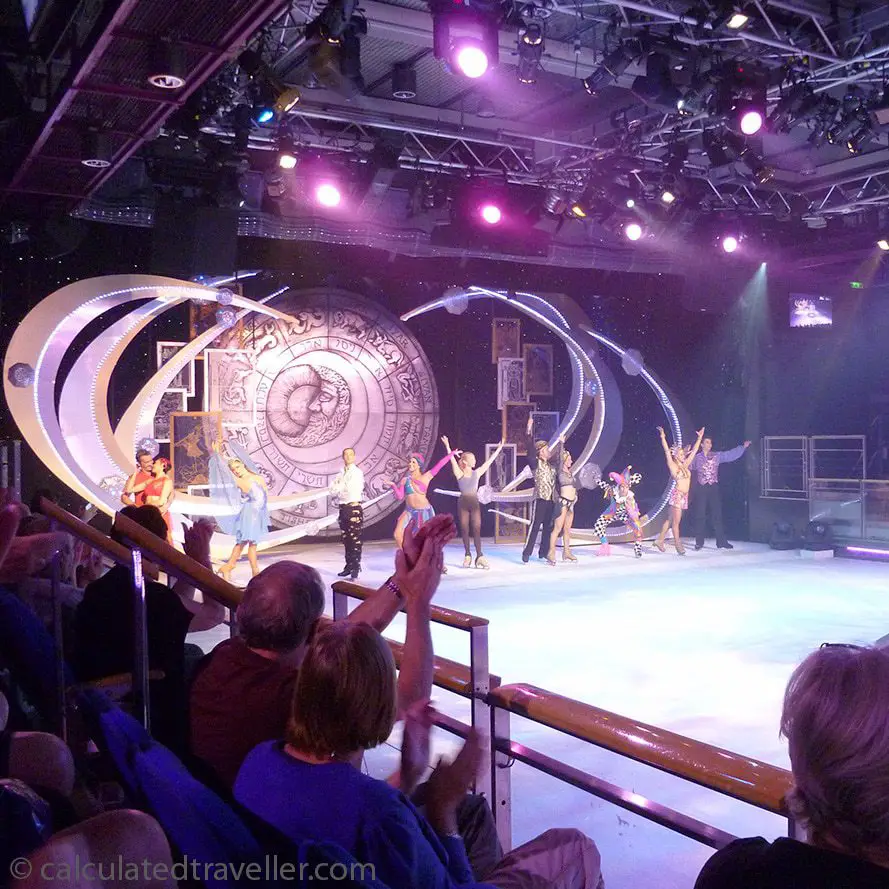 8. Variety of entertainment.
It's difficult sometimes to decide what to see. Hmm, comedian? Musical act? Illusionist? Movie Under the Stars? Broadway show? Ice Skating performance? Maybe you should skip it all and go to the casino or the jazz club or the country bar?
9. The Captain will try to avoid inclement weather.
If the seas are rough, the ship will change course slightly to avoid the storm and make for calmer waters. Although, if the waves are too high and the ship can't dock you will miss your port. (I missed out on a day in Florence, Italy due to rough seas). If it's storming outside, the cruise director staff will put on extra indoor activities to help keep you occupied.
True story, one day I was reading on the lower sun deck. The skies turned dark very quickly, and it started to rain. Suddenly, an announcement came over the speaker system for everyone to immediately clear off the top sun deck. I looked around to see what was going on and I could feel the ship turn. People started to scramble and shout and run down the stairs and as I looked up to see what all the commotion was all about, I saw a small funnel cloud coming down from the sky from the site that we were just at.
10. Fitness and Spa.
Full gym facilities are available with treadmills, weights, etc. and classes such as spinning, yoga, health and wellness. After you are done working out, you can go to the sauna, get a massage, facial or manicure or even get your hair done.
(I'd show you a picture of the gym…but truthfully, I never visit the gym because it gets in the way of my eating haha!)
I'm sure I can come up with more reasons, but I think that's plenty to convince you to give a cruise a try…
Perhaps our article with 19 Reasons Why you Shouldn't Cruise (but we hope you will) might be more persuasive?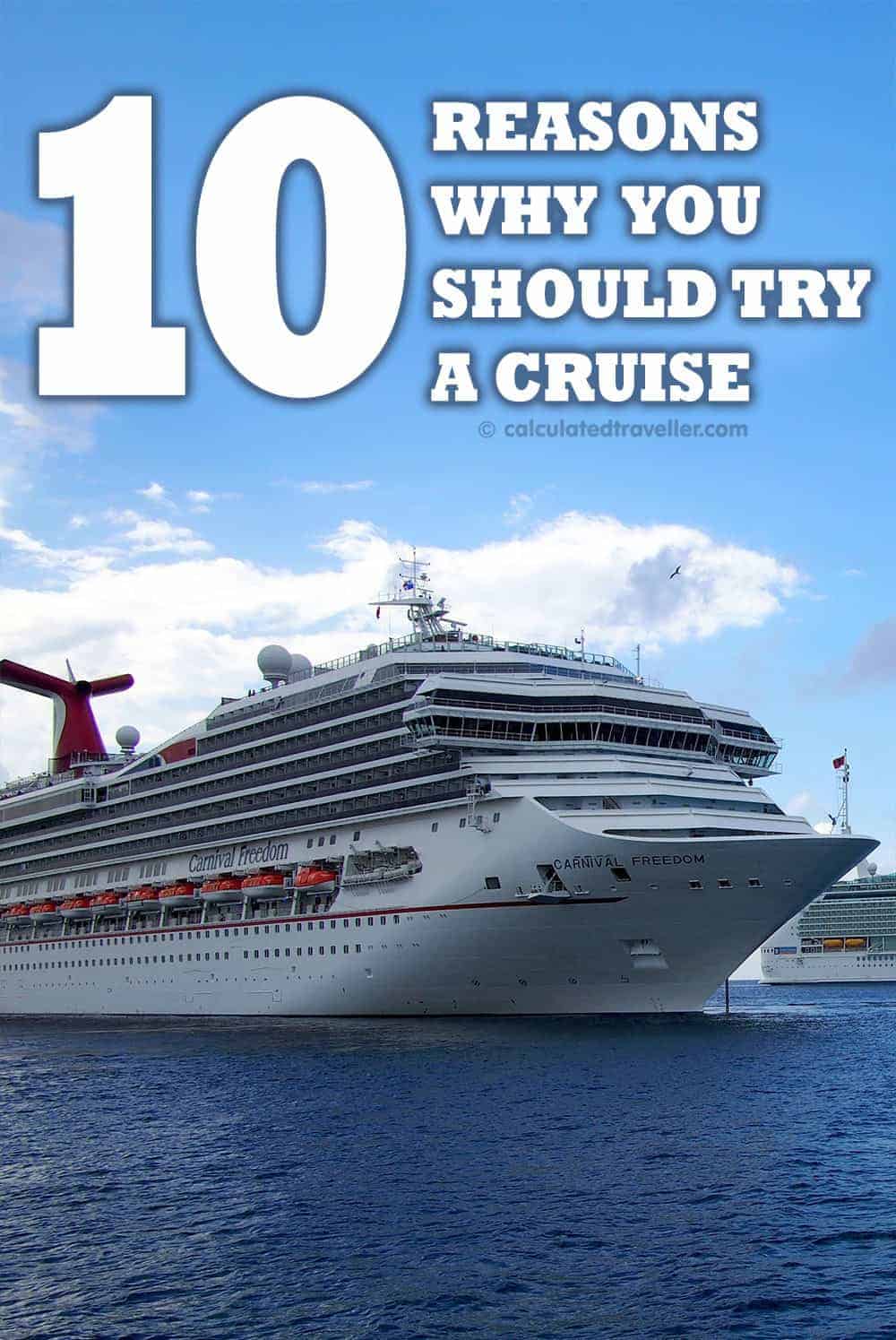 If you are a cruiser what do you like most? Join the discussion and add to this list.