Dining on a cruise ship is always something to look forward to especially when you are sailing on a cruise line such as Princess Cruises known for its excellent cuisine and service. There are lots of dining options with multiple food venues available all included in your cruise fare.
There's the Café Caribe, Horizon Court Buffet, the International Café in the Atrium, the Palm, Coral and Island dining rooms, Prego Pizzeria, and the Trident Grill. If that weren't enough, there is old reliable 24-hour Room Service.
Read our dining review:
5 Days 5 Dinners — Caribbean Princess Dining Review
Read our cruise ship review:
Princess Cruises — A Caribbean Princess Review
Princess Cruises has three speciality dining venues onboard their ships — Crab Shack, Crown Grill Steak House and Sabatini's Italian.
It's worth the extra treat (and the additional surcharge of $29/person) to dine at one of the speciality restaurants, whether it is a special celebration or "just because".

Indulge yourself at the Caribbean Princess Crown Grill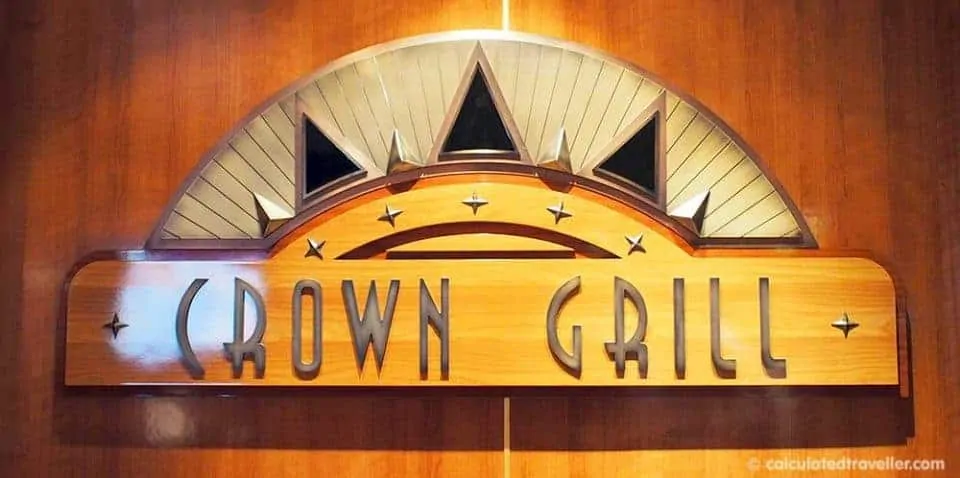 With walls of dark wood panelling and booths of leather, the décor inside the Crown Grill speaks to the fact that it is a traditional steakhouse. Imagine men in business suits, sitting in high back leather chairs reading the financial section of the newspaper — smoking cigars, drinking cognac and making fortunes.
Not to worry suits are not required, and the Crown Grill is not stuffy. Personally, I would dress as I would dress for the dining room but I was a little surprised that on our visit for dinner, the gentleman sitting next to us was wearing shorts, t-shirt and baseball cap.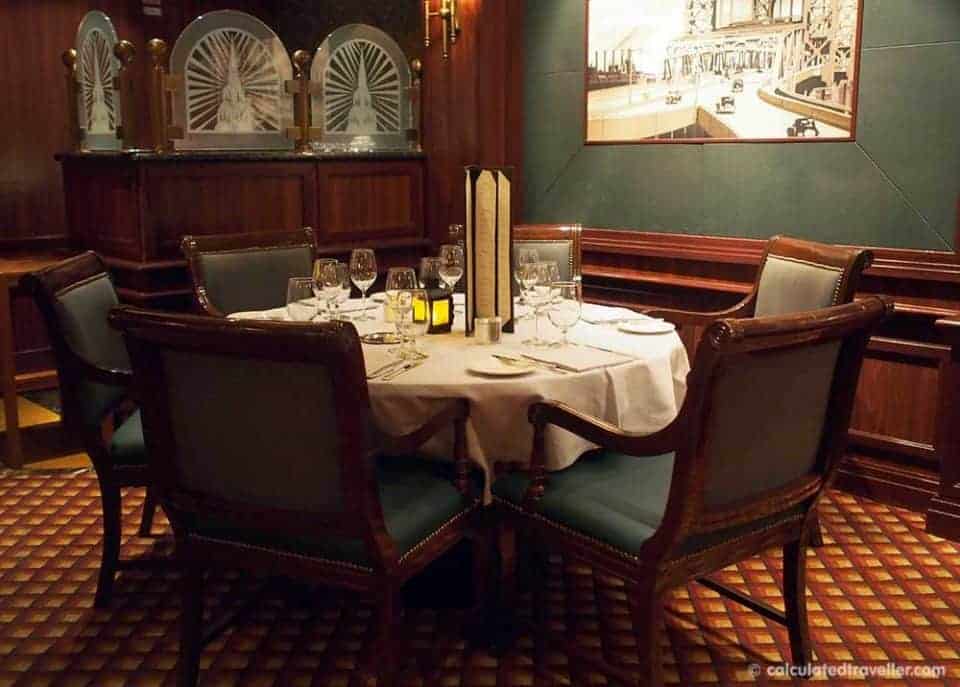 Here's what we ate at the Caribbean Princess Crown Grill
Bread Basket
We were presented with a speciality breadbasket that was entirely different from what is typically served in the other dining rooms, but I was disappointed that there weren't speciality butter or condiments on offer.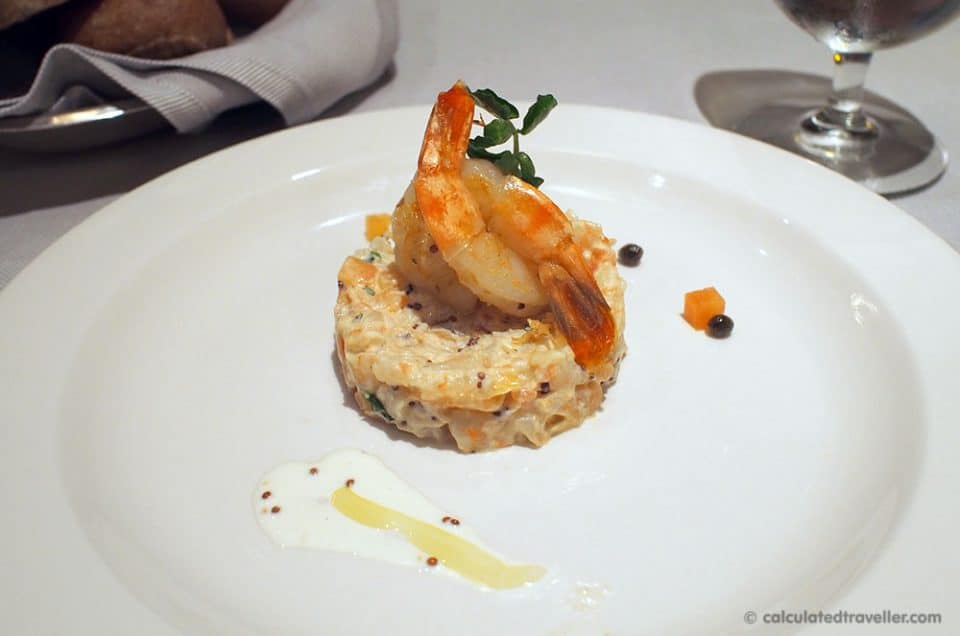 Black Tiger Prawn and Papaya Salpicon

Served with a mustard seed aioli; the shrimp on top was warm in contrast to the salad underneath that was cold. Delicious, so much so that I didn't want to share.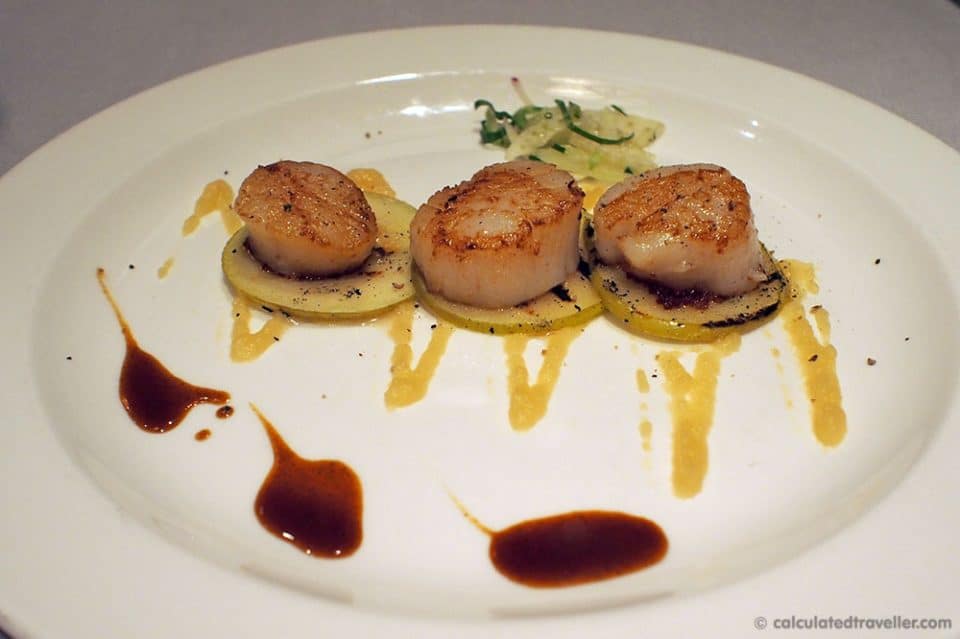 Pan-Seared Pacific Scallops

Fennel, celery and spring onion slaw, golden delicious dressing and Moroccan glaze
3 perfectly seared golden scallops with a pink center — simply delicious.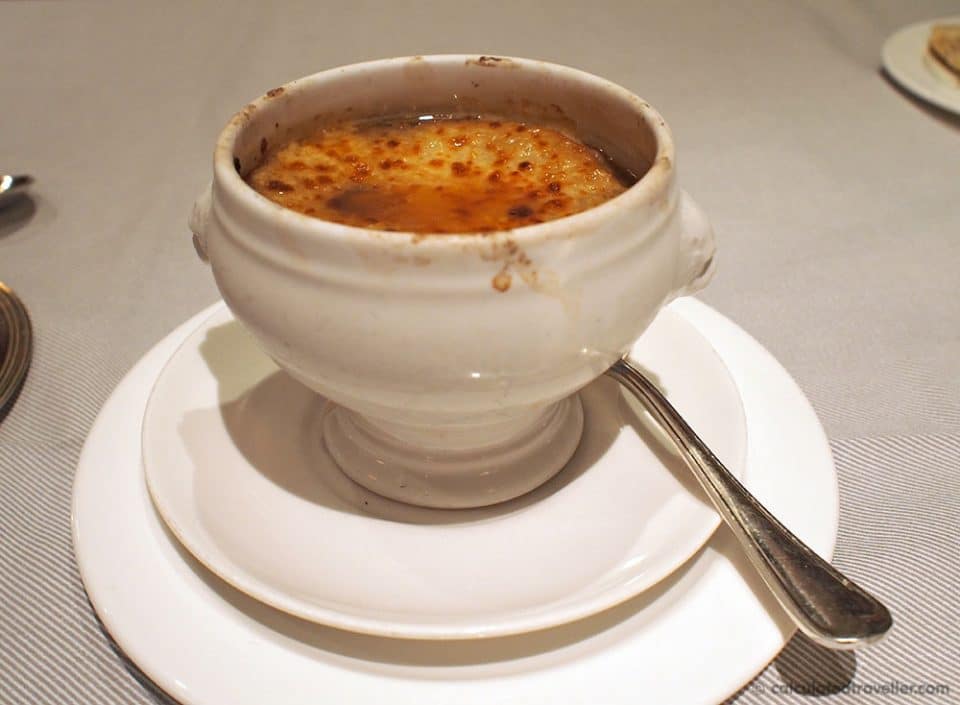 Black and Blue Onion Soup

Flavoured with fresh thyme and Jack Daniels, the broth was light with tender onions. It was a modest change from the regular French onion soup served in the dining room, but the blue cheese Roquefort crust made it a bit overly salty for our taste.
Shrimp and Pancetta Bisque

Not my favourite as I found it a bit watery in texture (I prefer a thicker, creamier bisque) although it did have good flavour. Served with Chickpea Croutons.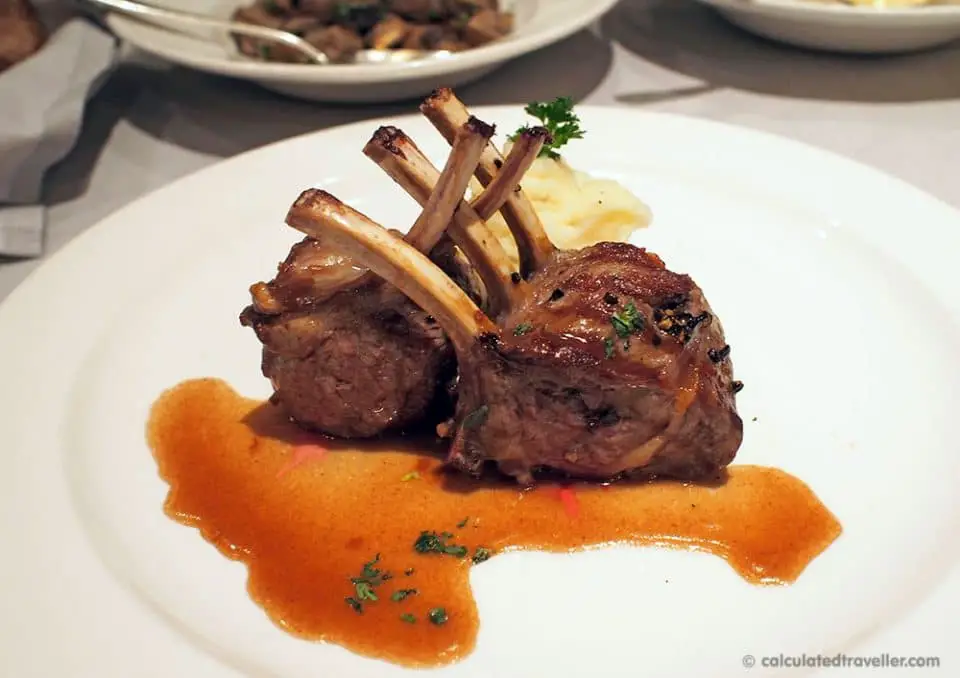 New Zealand Double Lamb Chops with Rosemary Essence

Again, this was not my favourite lamb chop as I've had better in the main dining room. Next time, I'll order the steak, which is their speciality. Served with your choice of potato and fresh vegetables.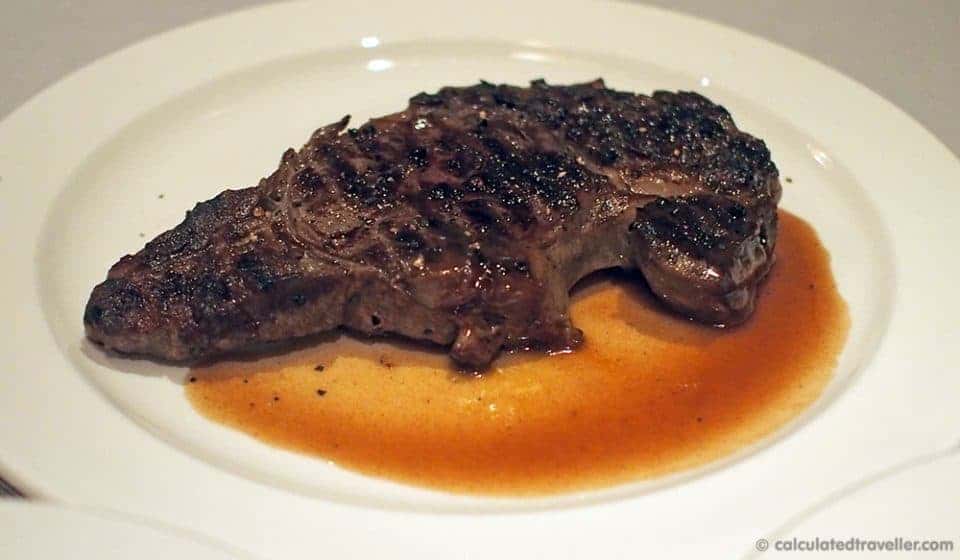 New York Strip Steak

"Featuring the Finest Center Cuts from Sterling Silver Corn Fed Beef"
Deliciously tender and moist with a perfect caramelised charred crust on the outside. Served with your choice of potato and fresh vegetables.
Crown Grill Gourmet Salt Selection
The addition of the gourmet salt selection was unique and made the entire experience very special.
The three salts — Himalayan Mountain Pink Salt, Hawaiian Black Salt (Hiwa Kai), and Smoked Applewood Salt (Yakima) all enhanced and altered the taste of the meat.
Our waiter BeBe provided us with a sample of all three salts to try with our meal. My preference was for the pink salt; finding the smoked salt too strong and the black salt too mild.
Dessert — The Crown Dependence
Leave room for dessert. It's hard to choose from the four choices on the menu but rest assured there is a sampler named "The Crown Dependence".
– Molten Dutch Chocolate Fudge Obsession
– Lemon Meringue Pudding Tart
– Seven Layer S'mores Stack
– Milk Chocolate Peanut Butter Bar (Princess Cruises exclusive dessert by master chocolatier and pastry chef Norman Love)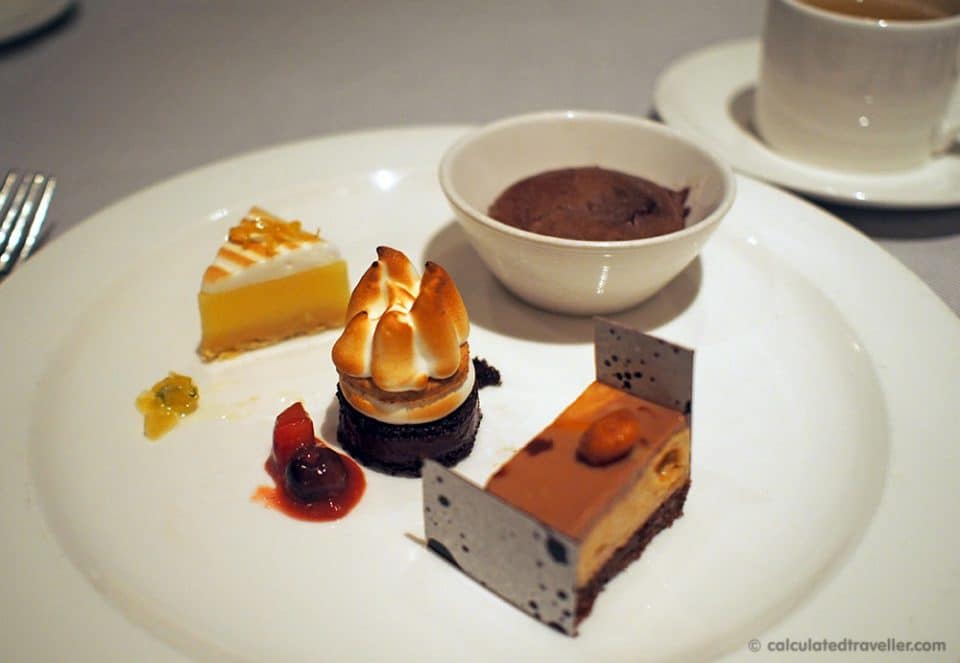 Of the four desserts presented; Hubby and I both preferred the lemon meringue and the molten lava cake. All beautifully plated.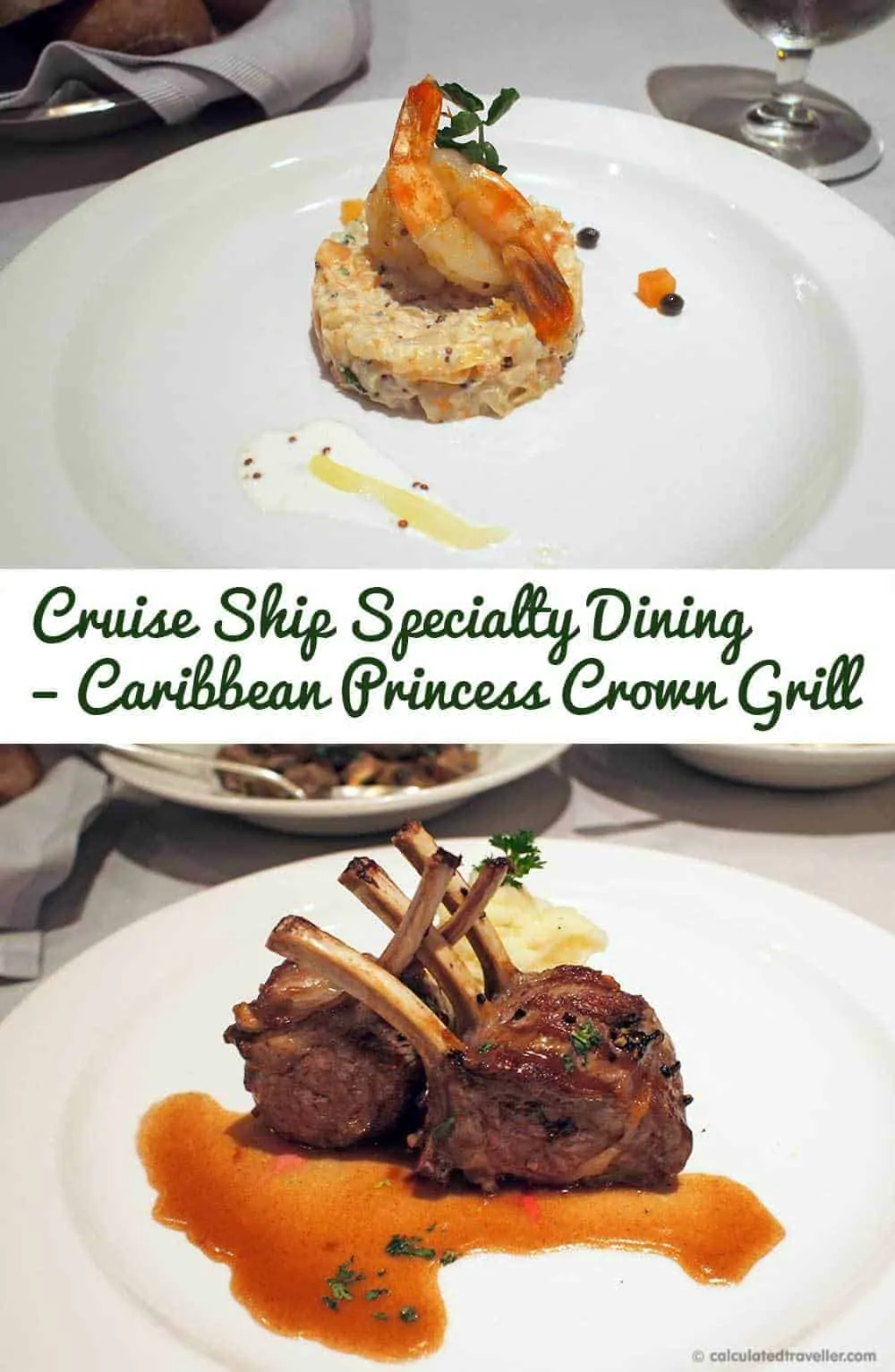 I would positively recommend trying out the Crown Grill if you are looking for a good steakhouse experience onboard Princess Cruise Lines. The service was fabulous, and they have an extensive wine list on offer.
When you cruise, do you dine in the speciality restaurants?
For more Caribbean content, check out these articles: