It's hard not to fall in love with Thailand. Sure, it's wildly touristic, which makes getting off the beaten track a little more challenging. But once you visit this South East Asian country, you can understand why people flock here in such droves! Having visited Thailand a few times in my teens, I recently went back to spend three weeks in Thailand. I had an absolute ball.
I mean, it's cheap, full of cool things to see and do, the food's epic, and the natural beauty on display is insanely gorgeous. Also, thanks to its popularity as a tourist hotspot, the infrastructure's in place to make travelling in Thailand safe and straight-forward. It's as if this incredible country's been purpose-built for travellers.
Do you have a three week trip to Thailand to plan? Well, with limited time at your disposal and endless attractions to choose between, deciding where to go can be a challenge. If you're running short on ideas, keep reading for 9 top stops that must end up on your 3 weeks in Thailand itinerary!
Top Stops for a 3 Week Itinerary in Thailand
One fact about travelling is that it's better when things aren't planned to a tee. It leaves room for flexibility, which helps you go with the flow when you're actually in the country. In that spirit, I'm not going to suggest a specific day-to-day run-through of how to spend your time in Thailand. Instead, I want to point out a selection of top spots to consider including in your itinerary.
Just know that visiting some, or all, of these places in your three weeks in Thailand would make for an epic experience.
Krabi and Ao Nang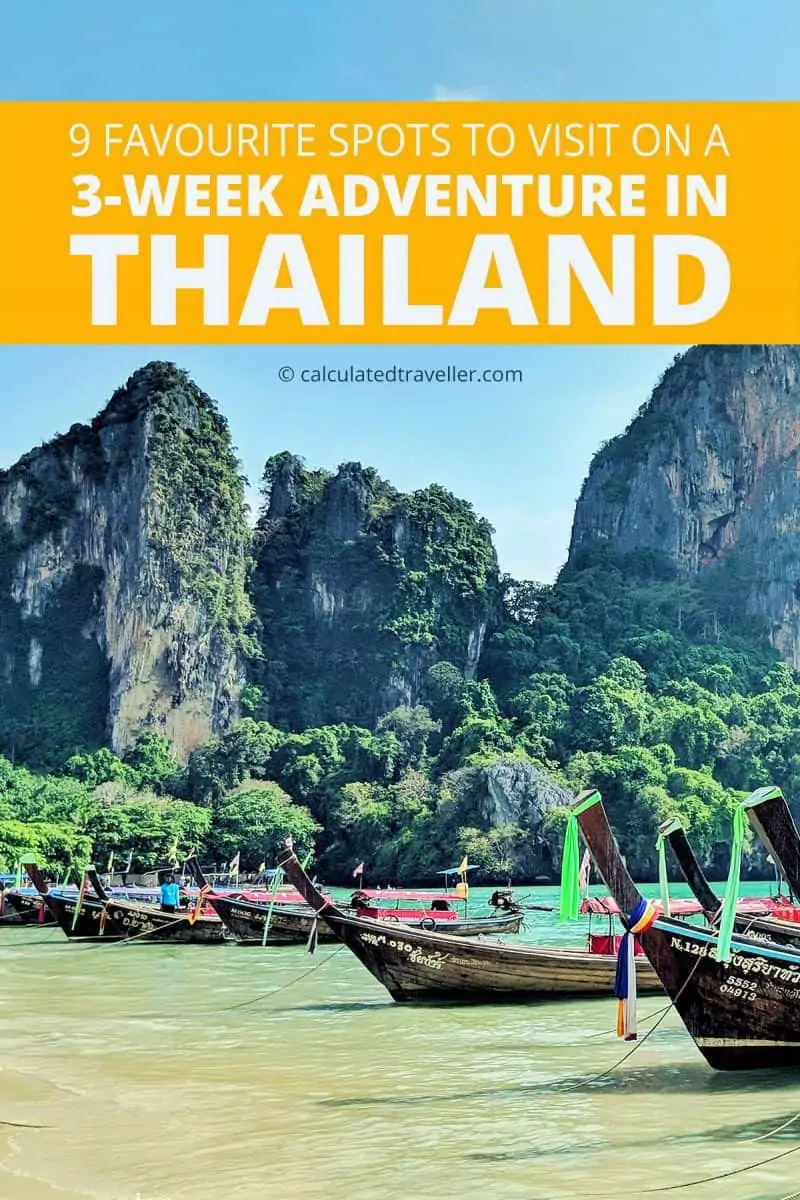 Honestly, you could spend your entire three weeks in and around Krabi. There's just a huge amount to do here. It was also the first place I visited and one of my favourite places I experienced on my trip.
Located on the southwestern side of Thailand, Krabi itself is a province that encompasses an expansive area. This can lead to significant distances between attractions, but don't be put off! Everywhere you go is stunning and has more Instagram opportunities than you can imagine (try these attitude captions for Instagram photos you take), making the journey itself part of the appeal.
Among the plethora of things to do here, Krabi's also a gateway to many of Thailand's famous islands. For that reason, I'd make it a go-to place on your three week Thailand itinerary.
6 Awesome Things to Do in Krabi:
1. Chill on the beach
The beaches in Krabi are nothing short of stunning (as they are all over the country). With amazing stretches of sand right on your doorstep, you should definitely spend some time checking them out. The food is pricier at the beach than in other places, but you pay for the location. Get down to the beach in time for sunset, grab a beer at one of the bars, and enjoy watching the night draw in!
2. Visit Ao Nang
Ao Nang is a buzzing little tourist town in Krabi Province, with another epic beach and access to the islands. Check it out for a lively atmosphere, shops and market stalls, good nightlife, and a quality beach to chill out on. You can also access the islands from here and embark on a wide variety of tours into the surrounding area.
3. Take an Island Tour
One of my favourite days in Thailand was spent touring the nearby little islands. Pay for a local tour guide to take you and a few friends out to them – there are masses to visit, but most tours visit 4 of the most popular islands.
An island tour is unquestionably one of the most touristic things to do here, but it's hard to overstate how beautiful the islands are! Spend the day exploring what can only be described as paradise.
4. Swim at the Emerald Pools (AKA the Crystal Lagoon)
The Crystal Lagoon is one of the must-do things in Krabi. Otherwise known as the Emerald Pool, the water here is as clear as you'd expect from the name making it ideal for a swim on a hot day. Hang out with the masses of tourists and locals who head here to enjoy a refreshing dip in truly stunning surroundings.
5. Check Out the Krabi Hot Springs
The hot springs are pretty close to the Emerald pools, making for a quality Krabi day trip if you combine the two. These hot pools (called the Klong Thom hot springs) are situated in beautiful lush rainforest, making for an epic backdrop as you soak in the warm water. Thailand's not exactly cold, so if you start to overheat, hop into the freshwater stream nearby to cool off! 
6. Visit Wat Tham Suea Temple (Tiger Cave Temple)
If you fancy working up a sweat, then head to Wat Tham Suea by first entering through an impressive set of caves and then hiking up a leg-burning 1,237 steps to take you up to the temple itself. The Wat is an impressive sight to behold in its own right, but your efforts are rewarded even further by epic panoramic views over the surrounding area.
Koh Lanta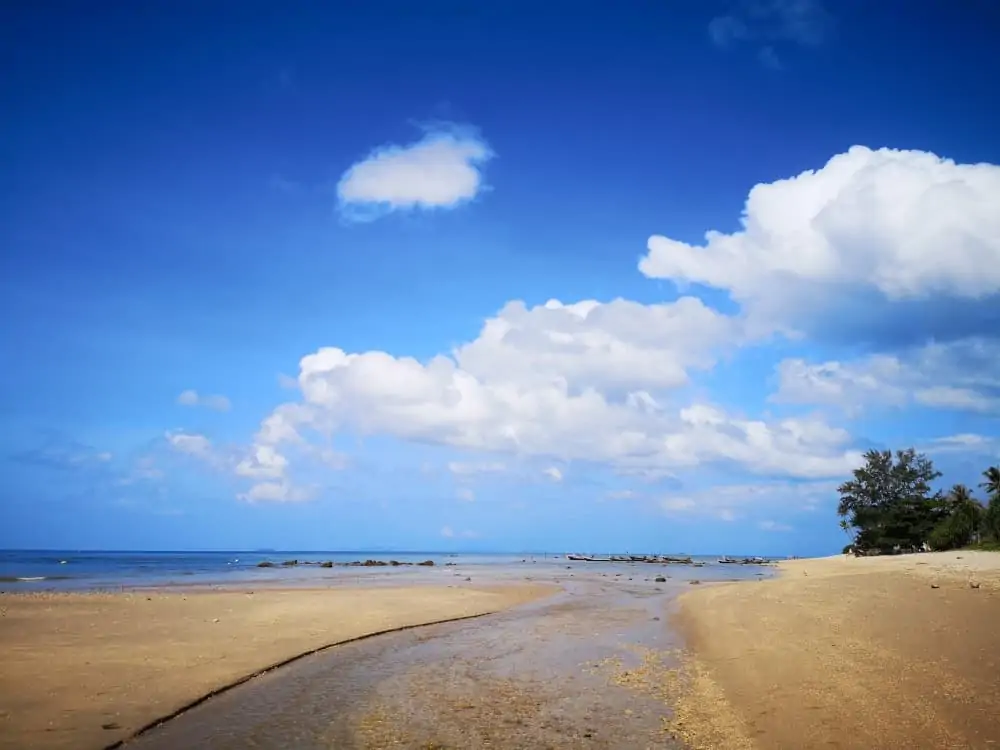 Koh Lanta was the first island I visited on my way out of Krabi. It's a lovely 2-hour ferry ride away and one of the most chilled out islands I visited during my trip. Expect endless expanses of sand, insane sunsets that paint the sky red, and a bunch of quirky local attractions to enjoy.
You can also dive here, visit the lighthouse, and check out the dog rescue shelter, where you can look after a dog for the day!
There's no shortage of places to grab food and drink in Koh Lanta. However, be sure to visit Mr Pad Thai. It's just a tiny street food stall (run by Mr Pad Thai himself) that parks up at the far end of Long Beach (just next door to Aleena Minimart- where you go to buy your beers first). He serves one meal only: Pad Thai (although he can do vegan and vegetarian versions). It's by far the best Pad Thai I had in Thailand, and it only sets you back 80 TBH per portion. I recommend visiting him.
Koh Phi Phi
Views over Phi Phi! Don't be fooled by the chilled out appearance of it – this place is wild. If you're looking for a good night out as part of your three week trip to Thailand, be sure to head to Phi Phi.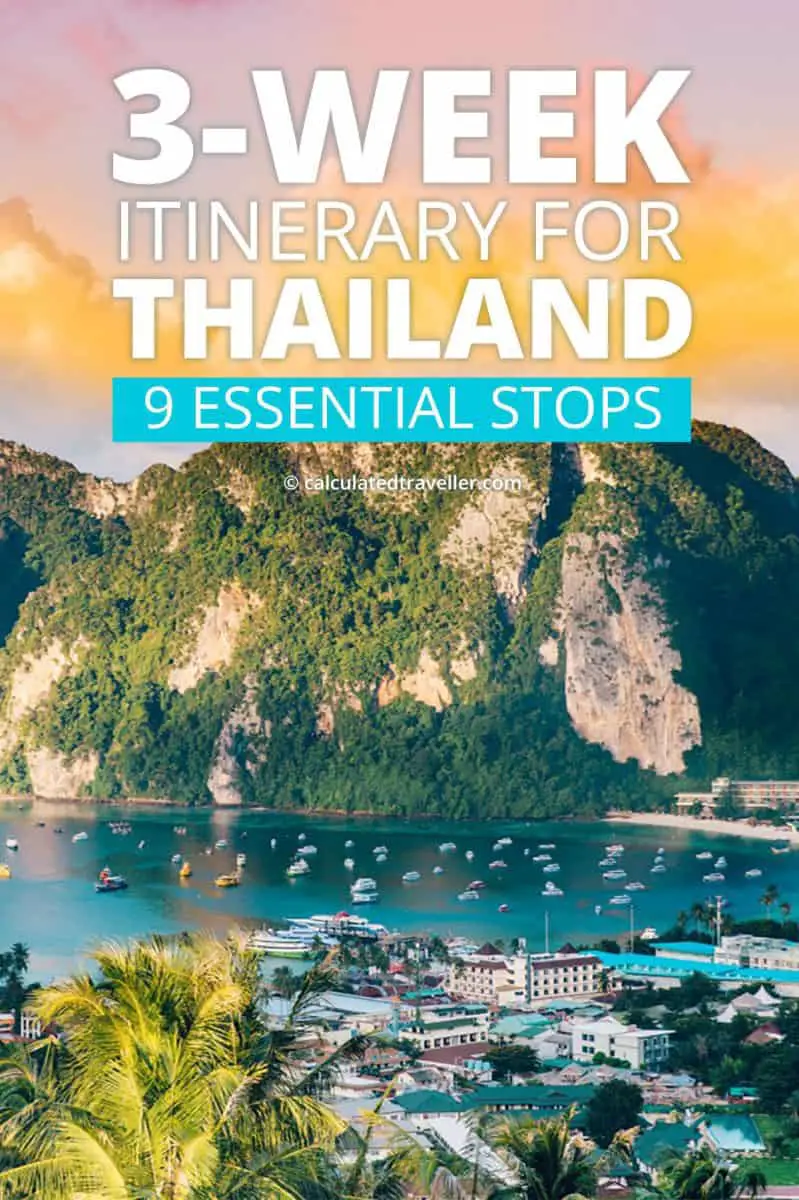 I went from the chilled-out beaches of Koh Lanta to the madness of Koh Phi Phi. This place is a whole new ball game. Phi Phi is wild!
Anybody in Thailand looking for a crazy night out comes to Phi Phi, and you can't ask for a more beautiful setting to get blindingly drunk. There's nothing quaint about the centre of this island. It has a reputation for being sunburnt drunken tourist-central and was somewhere I thought I'd hate.
I nearly didn't go. But then I did.
And I ended up having a fantastic 24 hours there! Phi Phi lives up to its reputation and is a lot of fun. It's not for the faint-hearted, though, or for any travellers looking for an authentic Thai experience. If you've got some money to burn and want to let off some steam, though, then Koh Phi Phi's the place to go.
Nicely, you can find some quieter spots there as well, located outside of the main town. A nice trail across the island takes you over to this haven away from the chaos of Phi Phi's centre. Be sure to check these beaches out if you need a break from the bars and buzz. Don't forget to go up to the lookout for sunset as well. It's the best view in town by far and a scenic place to soak up the Phi Phi beauty (remember to take some cash to cover the entry fee).
The coastal walk on Koh Tao is just one of the fantastic things to do here. A stopover here is well worth it for any three-week itinerary in Thailand.
Koh Tao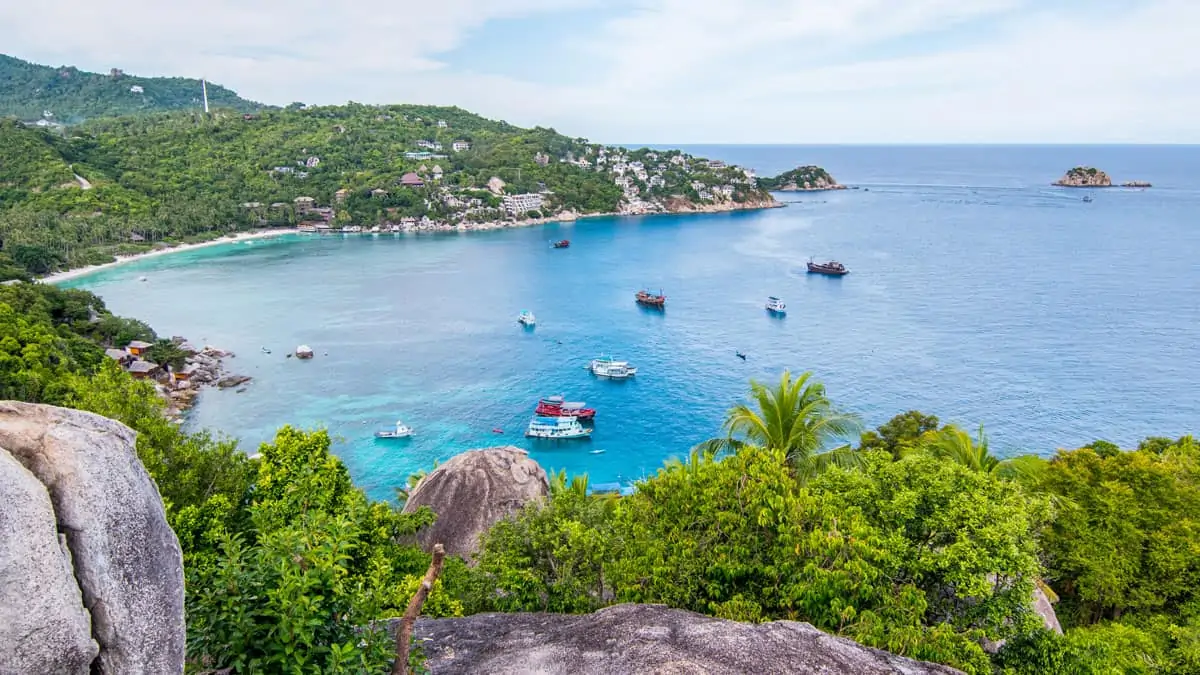 From Phi Phi, I went on an epic (aka stupidly long and arduous) journey around to Koh Tao. I was travelling for about 18 hours, took two boat trips (one of them overnight) and multiple buses. Was it worth the effort?
All things considered, yes. Koh Tao's an incredible place, with a lot going for it. Koh Tao's another touristy destination, but the island handles it well and offers a nice mixture of attractions to keep you occupied. Koh Tao is one cool, bustling island with a more chilled out atmosphere to Phi Phi. It's also dive central, so if you want to learn to dive or add to your logbook, then Koh Tao's the place to come. It's also stunning and enjoys a different vibe to other islands on your Thailand travel itinerary.
Be a bit careful here, though; I heard some worrying rumours about the island's connections with Thai gangs. Quite a few people have gone missing here, which is never fun to hear when you're looking to explore it. Personally, I never saw any evidence of it, but I did speak with one or two other travellers backpacking Thailand who'd had some dodgy things happen. Like anywhere in the world, though, if you keep your wits about yourself and choose your company wisely, then you should be fine.
Top things to do in Koh Tao (other than diving) include:
A wonderful coastal hike from Mae Haad to Chalok
Visiting the numerous lookouts for superb ocean views
Renting a scooter to explore places that are further afield
Taking a Muay Thai boxing class
Grabbing a beer in town and catching the sunset
Views like this make me sad that I didn't fit Koh Samui into my trip! You can see why it would be another epic stop for a three week trip to Thailand.
Koh Samui and/or Koh Pha Ngan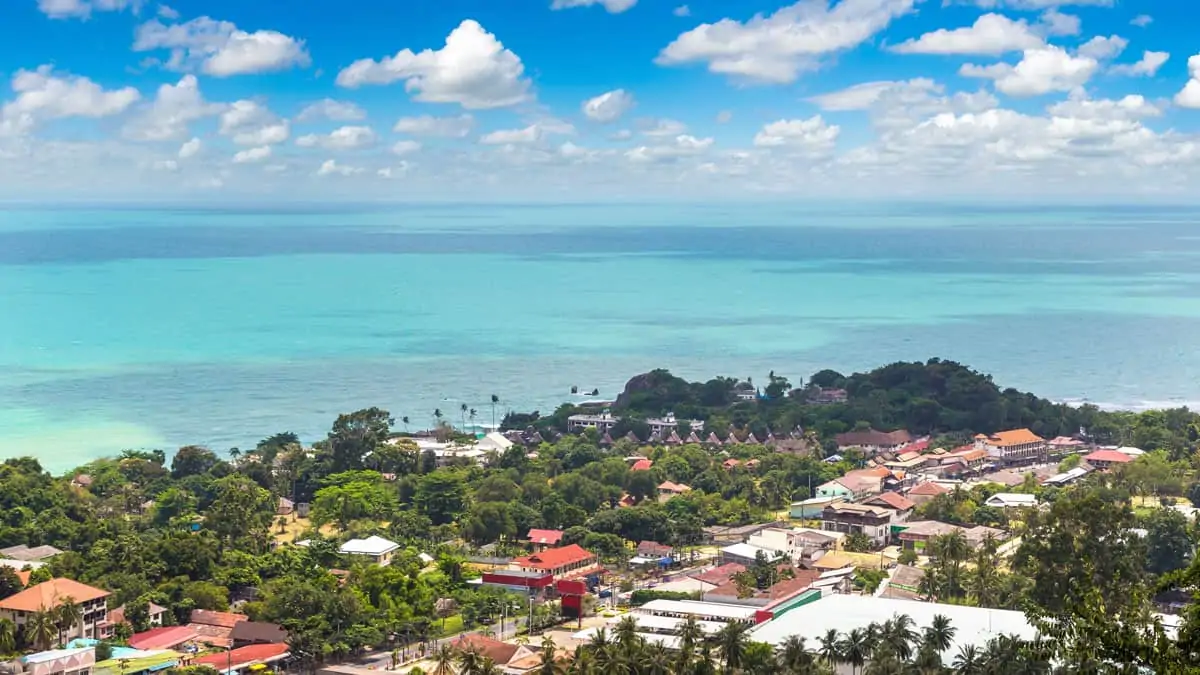 Koh Samui and Koh Pha Ngan are both a stone's throw from Koh Tao.
Now, I didn't go to either of them on my trip. But I heard dozens of people raving about them and, from what I gather, they're well worth a visit. They're super touristy but offer more of those famous Thai beaches and clear blue waters.
The nightlife's meant to be another main allure of these two islands. For example, Koh Pha Ngan is host to the notorious Full Moon Party (book ahead of time if you're coming for the Full Moon Party, and expect all accommodation to require minimum stays of 4 days or so). There's also a place called Mushroom Mountain. Anyone keen to experience a special kind of 'trip' can probably guess what's growing in abundance there…
These islands sound like lots of fun, but if you are all partied out, short on time, getting tired of all the beaches, or looking for something different, think about skipping ahead instead.
Chiang Mai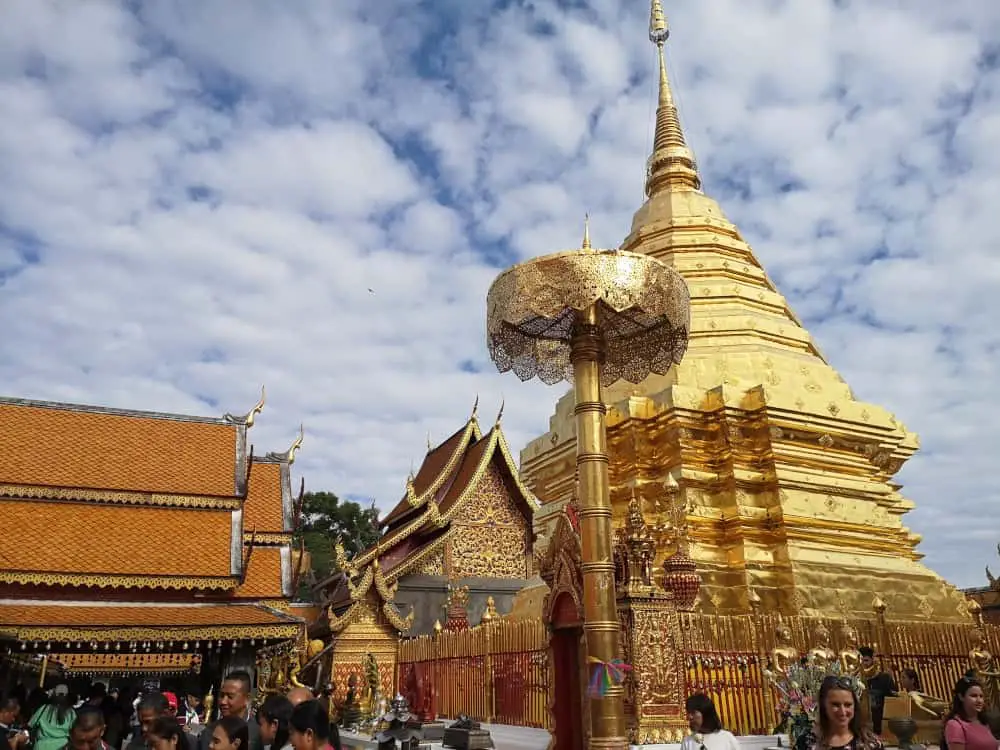 I liked Chiang Mai a lot. It's a hell of a long way from all of the islands, though. So, with limited time available, it's worth booking a flight there (either from Krabi or Bangkok, depending on where you find yourself).
Chiang Mai's a big city, but (from what I saw) it lacks the chaos and disorder of other South-East Asian cities. It was a nice blend of the ordinary and the exotic, a Thai experience with a European twist.
I felt at home there almost instantly. There are heaps to see and do in Chiang Mai, too, so give yourself a few days here to experience the best of it – you have 3 weeks in Thailand after all.
Here's a selection of things to do in Chiang Mai:
1. Visit the Temples
Chiang Mai is temple central. There's more than 300 of them scattered across the city! Take a bit of cash with you (some of the main ones have a small entry fee) and set about exploring. Around every corner, there's another beautiful ancient temple. Feel free to plan the ones you want to visit, or take my approach and just set out to see what you stumble upon!
2. Visit Doi Suthep Temple
Doi Suthep's another Thai temple, but this one is unique. It's one of the major tourist attractions in Chiang Mai and well worth the effort of getting there. 12km out of the city (and up a pretty steep hill), you'll need some transport to get there. Rent a scooter, hop on a tuk-tuk or take the famous Chiang Mai 'red car' taxi (go in a group to share the expense).
The views from the top are spectacular. However, the main event is the temple itself. With its enormous golden Buddha and white elephant shrine, this is a special place set with a scenic backdrop.
3. See the Hmong Tribe Village
While you're at Doi Suthep, be sure to go the extra mile (almost literally) to visit the Hmong Tribe village. It's in the temple's vicinity and turned into one of my favourite places in Chiang Mai. I suppose it counts as another tourist trap (expect lots of stalls selling Thai trinkets), but, thankfully, it's managed to maintain a degree of authenticity.
High up in the hills, the view on a clear day would be spectacular (it was cloudy when I was there!). But the village itself is cool to explore too. It feels like you've stepped back in time, with streets and buildings that seem straight out of the history books.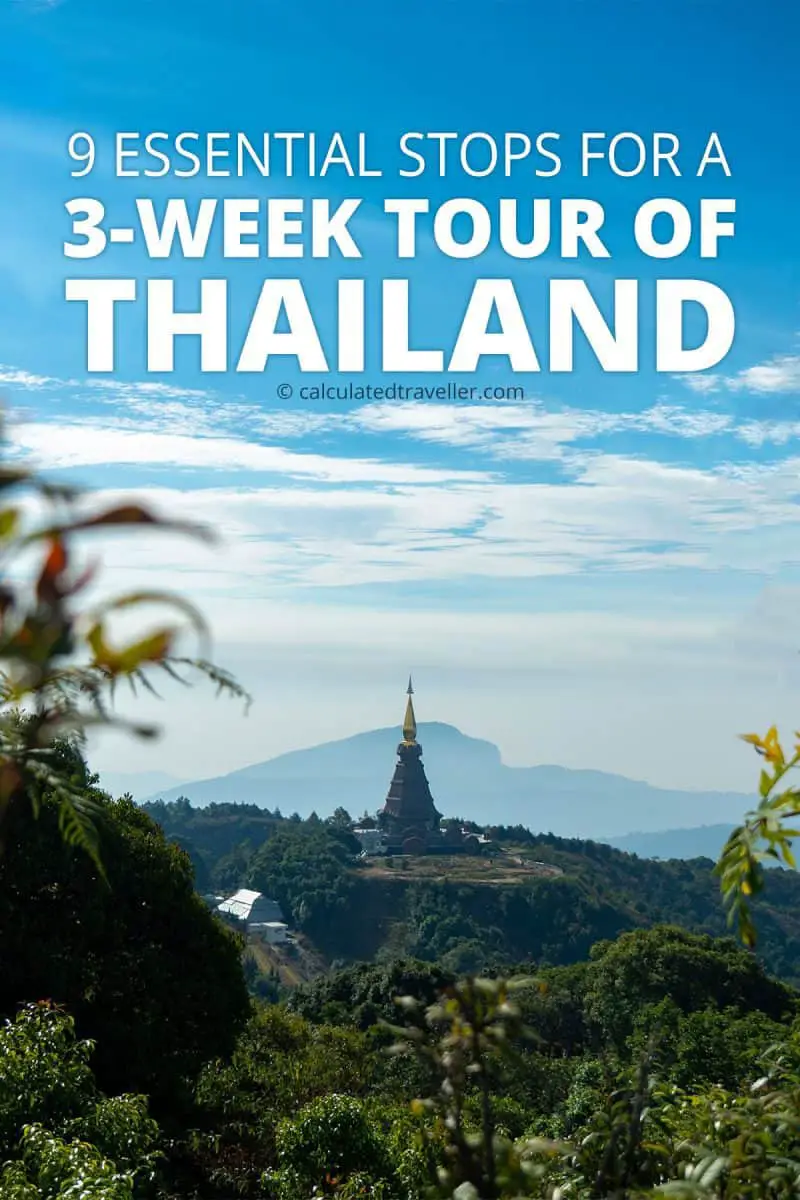 4. Take a Day Trip to Doi Inthanon National Park
I was gutted that I didn't make it out to Doi Inthanon National Park (pictured above). It's a reasonable distance from Chiang Mai but is supposedly another attraction that's well worth the effort of getting there. You only have to look at pictures of it to understand why. Home to the country's highest mountain, you'll witness all sorts of wildlife, another temple to see, and stunning grounds to wander through.
5. Enjoy the Nightlife
Chiang Mai enjoys a reputation for substantial nightlife too. You won't struggle to find a good night out here!
6. Visit the Grand Canyon
Don't forget the Grand Canyon either. What was once an old quarry has steadily filled with rainwater, providing a surprisingly impressive artificial 'canyon'. I didn't go, but it looks and sounds like a lot of fun- especially on a hot day. Swim in the water, dive off the rocks, paddle in kayaks, and do all sorts of other fun activities in this novel Thai environment.
7. Do Some Work
For digital nomads out there, this city should be on your radar as a great place to stop and get some work done too. 
Pai
The White Buddha in Pai! It's an epic place to catch the sunset when you're spending three weeks in Thailand.
Pai (pronounced 'pie') is this lovely bohemian oasis located a couple of hours north of Chiang Mai. It's up in the hills and surrounded by rainforest, providing a dream-like quality to this relaxed, charming and exceptionally chilled out place. I'd never even heard about it until I got to Thailand. Once there, though, everyone I met started filling my ears with tales of a long and winding road with this spiritual wonderland at the end of it.
Pai lives up to much of its reputation. It is, indeed, a little haven that's unlike anywhere else I went in the country. But I would have preferred it 20 years ago when I imagine people first started going here.
These days tourism has started to catch up with it. But you should still go! Despite the tourist buzz, it was still one of my favourite places in Thailand.
Heads up, with a crazy 762 bends in the road, the journey to Pai can get a little nauseating (some people literally throw up). Don't sweat it, though! You'll be fine, and it's worth the effort- Pai's the sort of place that's hard to leave.
Here are some things to do in Pai:
Go to the night market for a bright and atmospheric evening full of excellent food to try.
Walk up to the White Buddha for an epic place to watch the sunset.
Hire a scooter to explore the surrounding area, which is jam-packed with walks, canyons and waterfalls to visit.
Relax in the laid-back bars and restaurants that are all over the place to enjoy.
Chiang Rai
I was super sad that I didn't make it this far north on my trip. However, I heard fantastic things about Chiang Rai, which made me decide to include it here anyway. With three weeks to play with, you can make it up here. Ironically, this provincial town's charm in the far north seems to be how far away it is from everything else. Simply, far fewer tourists make it here.
The result is a far more relaxed atmosphere compared to other places. You'll enjoy its sleepy nature, with rivers to boat down, a jazz festival to enjoy, and a night bazaar for entertainment.  Like most places in Thailand, expect more amazing temples to visit as well. Art lovers will also enjoy the art scene in Chiang Rai and its reputation for quality food and music.
Bangkok
Last but not least is the Capital City, Bangkok. I'm not going to lie; I wasn't blown away by it. But, you know, it's Bangkok! You can't come to Thailand for 3 weeks and not spend a day or two here.
I spent my final 36 hours in Bangkok and wiled away the time walking the streets and visiting a few of the many temples here. There are a bunch of markets (including floating markets) and some excellent street food to enjoy.
PRO TRAVEL TIP: If you are in Bangkok on a Saturday or Sunday, make plans to visit Chatuchak Weekend Market. You won't be disappointed with over 15,000 market stalls on 35 acres of land.
You may also be interested in Khao San Road. It's meant to be one of the most famous streets in Thailand, featured in The Beach, with Leonardo DiCaprio. It's worth checking out if you're in the area. The mass of tourists that go there creates a definite buzz. But, in all honesty, it's just a big, busy, touristy street!
Read our article: Eating Out in Bangkok Thailand
Other than that, I'd use Bangkok as another gateway destination for your three week Thailand itinerary. You could start or finish your trip here and use the easy transport links to escape north to Chiang Mai or south to the Islands.
Time to Plan your 3 Week Thailand Itinerary!
A 3 week trip to Thailand is an ideal length of time to explore this beautiful country. It's long enough to see many of the main attractions without becoming exasperated by mass tourism in evidence here. For the food, weather, beaches, beauty, friendly locals, and ease of travel, Thailand is sure to capture the hearts of any traveller lucky enough to pay it a visit.
If you're heading there soon, I hope the Thailand 3 week itinerary suggestions above will help you decide where to go!
Guest Author Danny Newman is currently writing and travelling his way around the world in a bid to figure out precisely what he's doing with his life. He'd love you to follow along with his journey over at What's Danny Doing.
You may find these articles interesting: