Whenever I travel, the memory of the sights, sounds, and tastes all mingle into one big pot of goodness. One of my most memorable trips was a three-week adventure through Asia — Hong Kong, Singapore, and Thailand — and a feast for the eyes and the tongue.
It's easy to decide on a great hotel in Bangkok with access to local transit and the major sights to see in Bangkok, but deciding where to eat in Thailand is an adventure in itself. The freshest of fruits, vegetables, and seafood available in the markets set the stage for tantalizing street eats, local deliciousness, and upscale gastronomic affairs. Get ready, because Bangkok offers lots of options!
Read our article: 9 Essential Stops for 3-Week Thailand Itinerary
Street Eats in Bangkok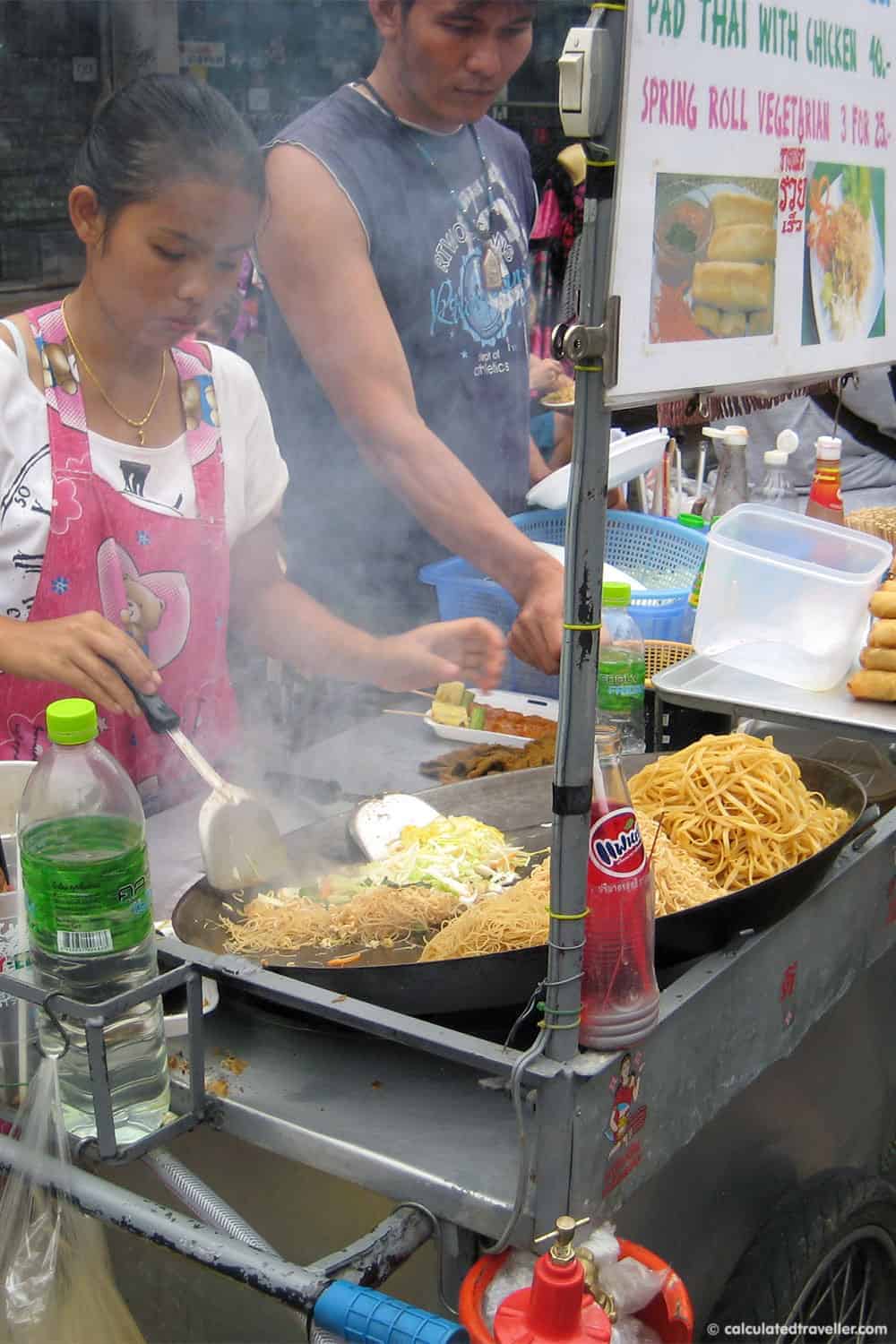 On every street in Bangkok, you'll find food carts. Unlike food carts in North America, which limit themselves to handheld portable snacks like hot dogs, food carts in Bangkok go the distance and serve grilled fish, pad thai, fried rice, soups, and curries. Street eats can be found any time day or night, but note that during the day on Monday you'll have to look indoors for food, as it's official street cleaning day.
Street Food Safety Tip: Choose busy stalls and watch them to see how they prepare and cook the dishes before you order. Ensure your food is fully cooked and served hot.
Chatuchak Market
Chatuchak Market, also known as JJ Market, isn't your ordinary market. This is the largest market in Thailand, and with more than 15,000 stalls, you can find everything from trinkets to clothing, housewares, and antiques. It's no surprise that food stalls are in abundance to feed the crowds that shop here on the weekend. Do as we do — take your feast to Chatuchak Park next door in order to escape the heat and crowds. See one of the vendors in the park to rent a mat, or come prepared with your own and have a picnic in the shade of one of the trees.
Taling Chan Floating Market
Nothing says fresh seafood like eating it on the water. But what makes seafood at one of the many floating markets — such as Taling Chan Floating Market, which is a quick bus ride from downtown Bangkok — unique is that chefs cook the food on floating barges. Diners sit on the dock cross-legged at low tables to eat, while the smell of the food cooking and the noise of the crowds shopping surrounds you.
Shooting for the Michelin Stars in Bangkok
Image via Tom Fakler
Paste Thai Restaurant is located across from Erawan shrine and is next door to the Intercontinental Hotel in Ratchaprasong district. With one Michelin Star, Paste Thai serves a seasonal menu of locally sourced delicacies from Thailand. Don't look for simple Pad Thai here. Look for traditional dishes with a twist, like Massaman lamb curry with young Mhon Thong durian, Thai cardamom, and dried coconut apple prepared with meticulous care and skill.
Once you're back home, try your hand at making traditional Thai Curry with these great recipes.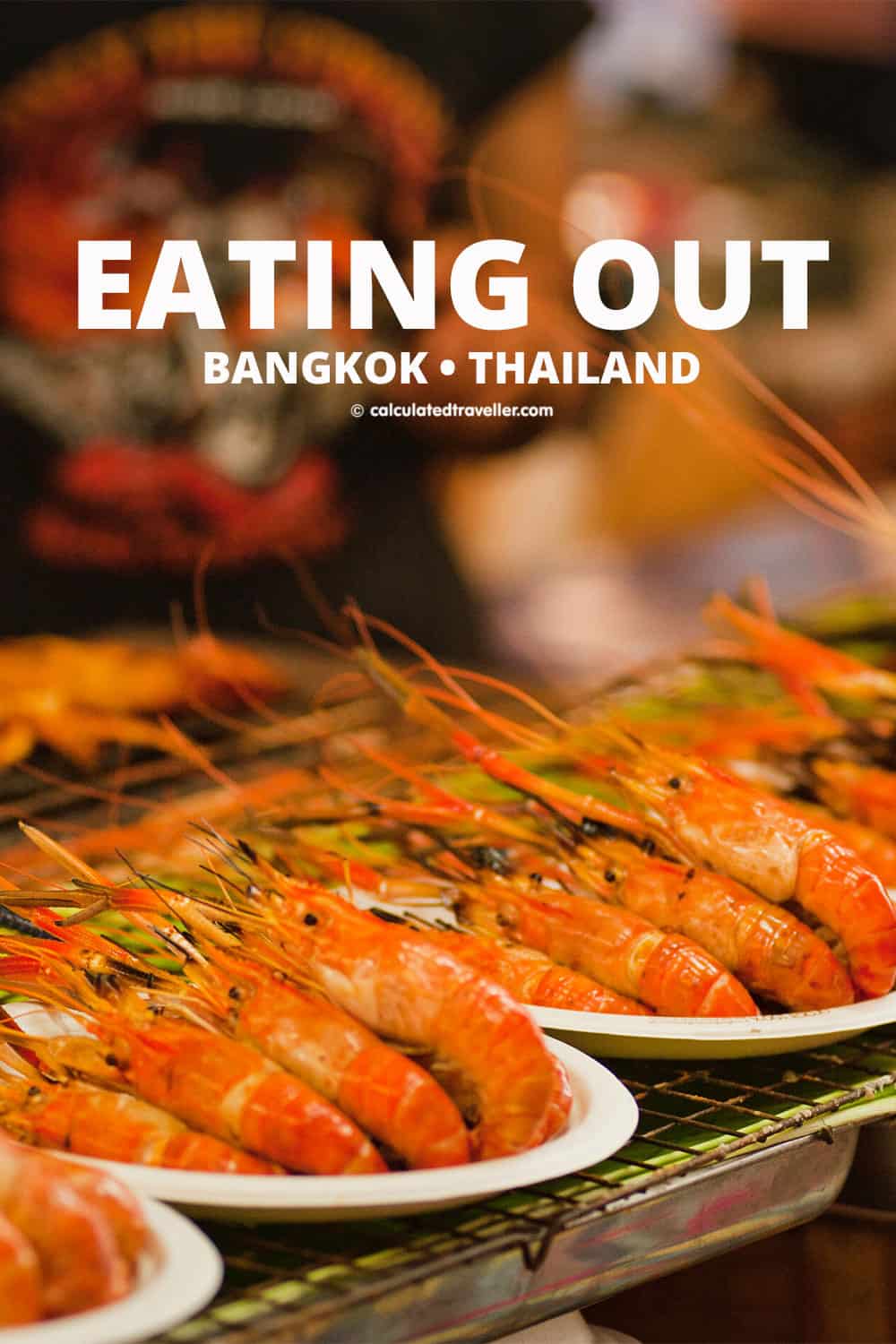 So, what are your favourite Thai eats and where did you find them?
Looking for more International Cuisine? Check out these articles: