I love the idea of Bangkok – the temples, the floating markets, the food, the culture – but sometimes the ideal doesn't match the realism. When we visited Bangkok for 1 week we both unintentionally morphed into Scully and Mulder of the TV show the X-Files – we became 2 people who started to "trust no one".
We were so looking forward to our adventure in Bangkok, Thailand. We had planned our itinerary so very carefully and we left no room for errors – or so we thought. We wanted to see it all…and see it all we did.
And so it begins…
It began as soon as we left the Bangkok Suvarnabhumi airport. We were arriving on a late flight having just spent 1 week in Hong Kong, it was dark outside and we were so very tired that we did not notice the meter ticking and ticking and ticking… We were getting the extended tour and we didn't notice until we arrived at our destination. The ride to the hotel was much more costly than we had originally anticipated. We paid the fare because we had no choice due to the late hour. Thankfully, due to the exchange rate, it wasn't that horrible but it was the start of more lessons to come.
Touts Everywhere
It didn't matter where we were going or what we were planning to do but everywhere we went we were told by locals that either the street was closed / the mall was closed / hotel was under construction or even burned by fire. They were always helpful though and suggested an alternate _____________ instead, even providing a tuk-tuk nearby that arrived at a snap of the fingers (wink). We quickly learned to ignore them and just kept walking…
I especially liked the hotel closed and under construction phrase, because they were referring to the hotel that we were already happily staying at.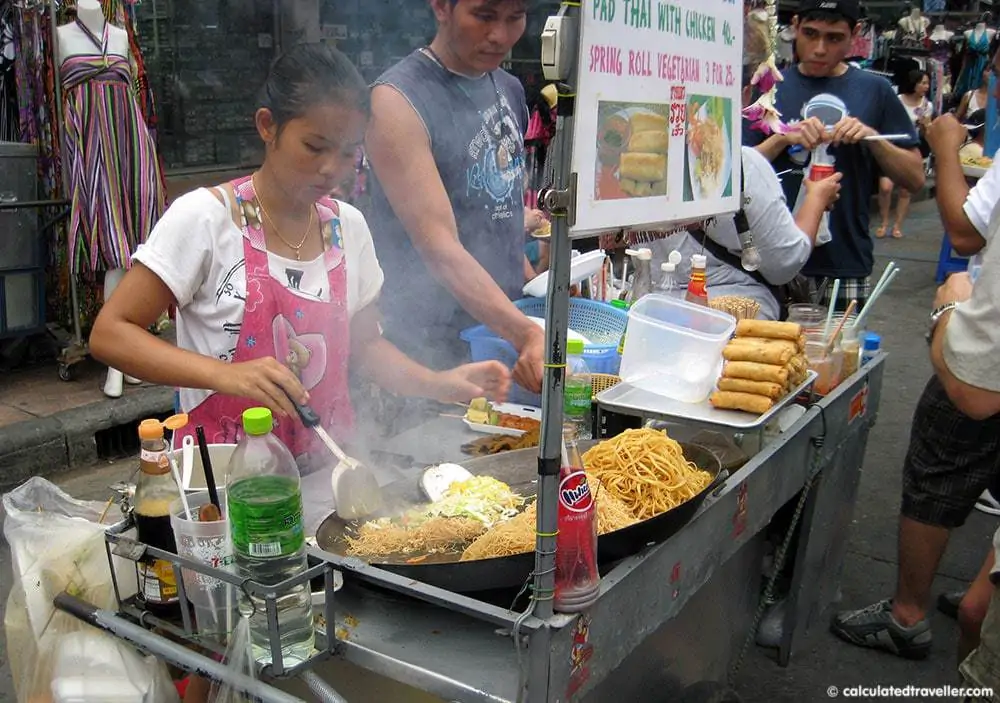 It's Always Chicken
No matter which restaurant we ate at we would order pad Thai. Sure we are fans of the noodle dish but we don't love it so much that we would want to eat it 7 days in a row! We ordered it to prove a point and for a laugh.
It didn't matter what type of pad Thai we would order because we would always receive chicken.
Order shrimp – we get chicken
Order beef – we get chicken
Order pork – we get chicken
I'm not sure if it was because chicken is an inexpensive protein compared to beef or if they thought we would forget what we ordered but there was never a comment or explanation from the waiter. We never did send it back or complain because the dish was still super tasty but I just wonder why they even bother to list the other varieties of pad Thai on the menu if they aren't going to serve it.
Setting the Bait
Maps on public walls are abundant in many large cities to aid travelers in finding their way around. This surely was the original intention when the Bangkok government erected the signs, but we quickly found that maps on walls and corner signs in Bangkok were used more like bait.
Consult a map or pull out your own personal map and you instantly give off an "I'm lost" signal. No worries though, because seconds later you'll find someone offering their "personal assistance" with a ride in a tuk-tuk to a shop that you hadn't planned on visiting.
Official help that's not that helpful
Asking shopkeepers and security guards for directions seems like a smart thing to do if you can't consult a map or trust a person standing on the street. But this quickly proved to be like a game of balderdash – you have to decide if they are telling the truth, intentionally lying or just making it up as they go along to get rid of you. Asking multiple people hoping to get a consensus was almost impossible.
The highly documented "Gem Scam"
Now you would've thought that after these days in Bangkok that we would've truly become "Scully and Mulder" but no, sadly we hadn't bought full on into the conspiracy theory yet and we fell for this hook, line, and sinker.
We were walking towards the Chao Phraya River when a voice from behind tapped hubby's shoulder and said: "you are very tall for an Asian".
The next thing you know we are engaged in conversation and told that since we are Chinese, we should visit this Chinese Temple in Chinatown where they are holding a special ceremony today in honour of the king. If we hurry we can still catch the start of it. Minutes later we are riding in the back of a tuk-tuk on our way to the temple.
We arrived to the Temple to find no one in sight except for one gentleman meditating. He quickly turned as we entered and welcomed us, so I asked when the ceremony was to begin or whether we had missed it. He had no idea what I was talking about but instead, encouraged us to visit a gem shop nearby where for today only the prices would be marked down to an unbelievably low price.
It was a struggle with words to get out of there and to get our tuk-tuk driver to take us to MBK mall. He begrudgingly agreed for fear of us getting into another tuk-tuk and losing his fare. Even as we were leaving the temple the driver kept trying to get us to go to the gem shop as we convinced him that yes we still wanted to go to MBK instead even though it had "burned down last week".
A short time later – he dropped us off among the crowds of shoppers at the mall…that obviously had not "burned down".
If you are a fan of the TV show "Scam City" on the Travel + Escape Channel, you may have seen this scam in an episode – well, it's the exact same Black Buddha Temple AND the exact same gentleman that we met. The temple was lovely though (photo is at the top of the article).
Will "Scully and Mulder" ever return to Bangkok?
Absolutely we would return to Bangkok in a heartbeat because it's such a beautiful country and please don't misunderstand, there were other warm and helpful people that we met on our trip. But on our NEXT trip, we will just return wiser, more alert, more cautious and more "Scully and Mulder" – trusting no one.
Have you had similar experiences travelling? Do you agree or disagree? I'd love to hear your stories…
You may find these articles interesting: