Food glorious food!…It always brings back tasty travel memories for me.
We eat to survive, we eat to have fun, we eat to socialize and enjoy life, we even eat to forget…
But, I eat to remember!
With every bite, I remember whom I was with (usually my hubby), the place, the time, the weather and the occasion.
The Taste of Egg Tarts
Egg tarts remind me of Hong Kong and the tarts fresh and still warm from the oven. There was no shortage of bakeries near our hotel on Nathan Road. We would buy them daily and eating just one was never enough. They were so hard to resist because you could buy them from the street through a glass pass through – you didn't even have to step inside the shop to complete the transaction.
(technically, that's a coconut bun I'm eating…the egg tarts I was eating never quite lasted long enough for me to snap a photo!)
Check out this food tour in Hong Kong.
The Taste of Pad Thai
Pad Thai reminds me of Bangkok probably because we ate it every single day for 7 days straight. It didn't matter whether we were in a restaurant or even at Chatuchak Weekend Market (shown here), we would always order the same thing. We never got tired of it though. Funny thing I remember is that no matter what form of Pad Thai – shrimp, tofu, beef – that we ordered we were always served chicken for some reason!
(Note: the ubiquitous ever appearing toilet paper dispenser on the table)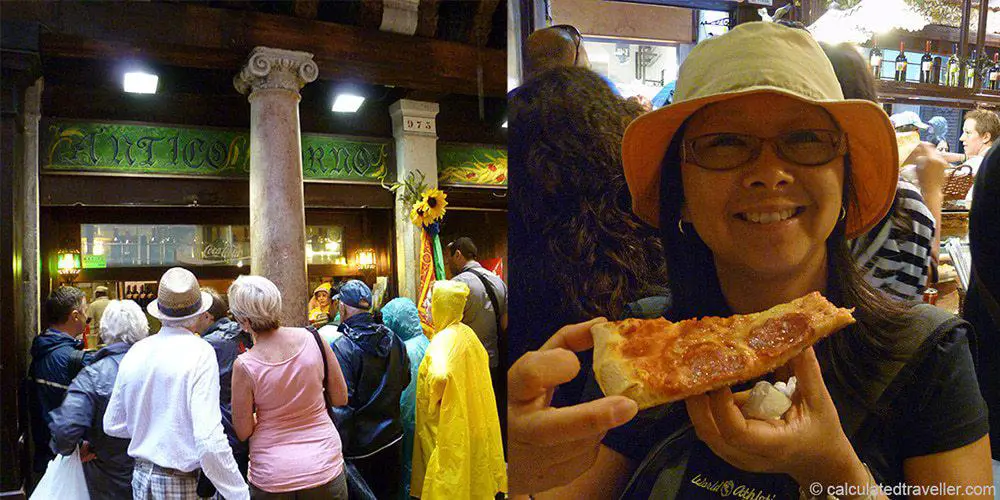 The Taste of Pizza
Pizza reminds me of Venice. It was pouring rain. We were doing back-to-back cruises and we left our rain gear back on board the cruise ship. As we were walking through the streets shivering from the cold drizzle we saw this huge crowd outside the pizzeria. With a crowd like this trying to buy a slice of pizza we just knew it had to taste great. The aroma drifting out the open windows was so enticing…We looked at each other and had to get in on the action!
The Taste of Empanadas
Empanadas remind me of San Juan. Latin music played on a sound system blaring in Plaza de Colon, cobblestone streets and my favorite bench in Old San Juan. I have a soft spot in my heart for Empanadas. No trip to San Juan is complete without 1 (or 2) empanandas!
The Taste of Meat Patties
Meat patties remind me of the 2 weeks we spent with our best friends on the island of Tortola, British Virgin Islands. It was our first big trip anywhere as a couple and our first trip travelling with other people. We would walk along the main street and stop into Maria's Bakery and buy a different flavour of patty each time we passed by the shop. We've been back a few times since and Maria's is long gone but the memory is still fresh in my mind.
I'd include a photo of it but…I wasn't a very Calculated Traveller back then and my camera was lost (stolen?) somewhere between the airport in BVI and home. Yes, you read correctly – on the way HOME. This was back before digital cameras and of course, I had the rolls of film in the camera case with the camera.
The Taste of Barbecue
Barbecue reminds me of Tennessee. We spent a week in Nashville and Memphis on a quest to see the King -> Elvis and experience the birthplace of soul, R&B and country music. Nashville and Memphis were a real surprise to us because we really aren't Country music fans but we had the best time!
Now, It doesn't matter if I'm eating ribs, beef brisket or pulled pork…I always think of Tennessee.
---
Whenever I have the urge to go on a trip and I can't take the time off work (or afford the cash) I head off to my favourite eatery and order something exotic! I'm lucky because living in big city like Toronto we have such a diverse population that you can find every kind of exotic food to tempt and tease your taste buds.
It doesn't matter if it is especially good or if it tastes even remotely close to the "real" thing. Because, nothing really compares to that first bite, that first taste when that memory got etched into that big scrapbook in your brain.
Here's my lunch a few weeks ago of Oxtail, rice/peas and a cold bottle of Ting.
The weather was unseasonably warm and the sun was bright and I just had a craving for the Caribbean…
Do you have a specific food that takes you back in time to a travel memory? I'd love to hear about it!