Toronto's Festival of Beer invited me to hang out in their social lounge and enjoy the excitement that was the great beer, food, music, and company!
I took a lot more selfies than expected, but made sure there was plenty of time to walk around Bandshell Park at Exhibition Place and experience the festival first hand.
After overseeing the whole grounds and sampling a satisfying amount of beer and food, my partner in crime, Chris, and I reflected on the top 5 reasons why Toronto's Festival of Beer is an event you can't miss! Check out our list, and hopefully, we'll see you there next year!
Number 1 Reason – Drinks
Brewskie. Cerveza. Pint. Un-water.
Whatever you call it, beer was everywhere in Bandshell Park and the main reason why all of the thousands of people gathered over the weekend. Whether celebrating a special occasion or just another weekend, there was a beer for every taste bud!
I was lucky enough to try out a handful of samples and came up with my top-three:
Crabbie's Raspberry Ginger Beer (Scotland)
The Brickwork's Ciderhouse Cider (Toronto)
Delirium Tremens Golden Ale (Belgium)
A lot of the vendors were fantastic at getting our attention with the various decorations, contests, swag, and entertainment. Some had dancers on the bar to attract the male audience, while others proved clean fun is here to stay. I played a game of giant Jenga with Twisted Tea, and others dabbled in the sport of lassoing a bull's head attached to a haystack!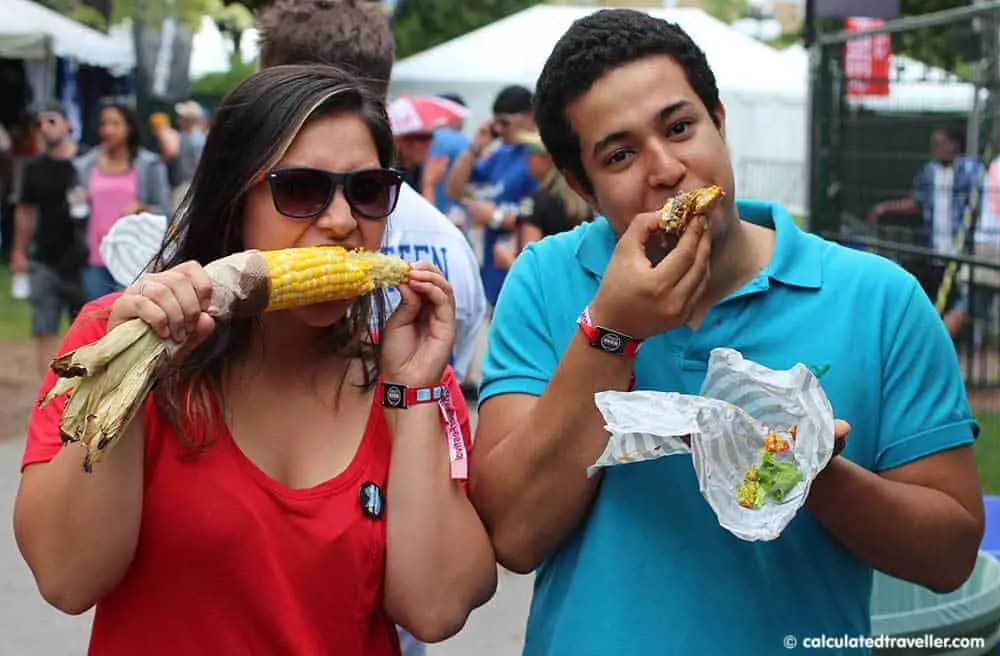 Number 2 Reason – Food
There's just something about drinks pairing well with delicious late-night food. Maybe it's because you need something in your belly to absorb the delicious beer. Or maybe it's because you love poutine, hot dogs, burgers, gyros, ribs, and corn on the cob, and so on. And how about gourmet sushi and sandwiches being made right in front of your eyes?! Seriously though, the aromas teased me all day. But if my stomach could handle it, I would try it all, no question!
Number 3 Reason – Music
Good music is my soundtrack to everyday life, and when I'm out with my friends, there is no exception. I thought the live music on the main stage was the cherry on top at Toronto's Festival of Beer.
No matter which drinks or food stall you walked up to, there were always fantastic tunes in the background. And throughout the day, the local talent shared their sets, such as Aukland, an alternative rock band that just loves performing on stage!
Chris and I enjoyed listening to all of these artists. However, the star of the evening was The Trews! The acoustic versions of their singles and latest songs were so much fun to listen to live, and it was evident they were feeding off of the energy from the highly enthusiastic, not-so-sober crowd. The day before, K-OS was the headliner, and on Sunday, Matthew Good took the stage. By inviting big-name musicians to the festival, Toronto's Festival of Beer obviously cares about the entertainment factor and does a stand-up job doing it.
Number 4 Reason – People
Honestly, if you're going to hang out with your buddies, Toronto's Festival of Beer is the place to do it. Not only are you going to bond over trying the latest craft beers and ciders, but the people watching is also mighty fine, too. I couldn't imagine a beer festival without loud and sociable people scrambling around to as many vendors as possible. I was fortunate enough to chat with a wide variety of groups, couples, and singles throughout the grounds and was surprised to see how diverse the demographics were. It impressed me that so many people made it out to the festival from university students to couples and large families to seniors.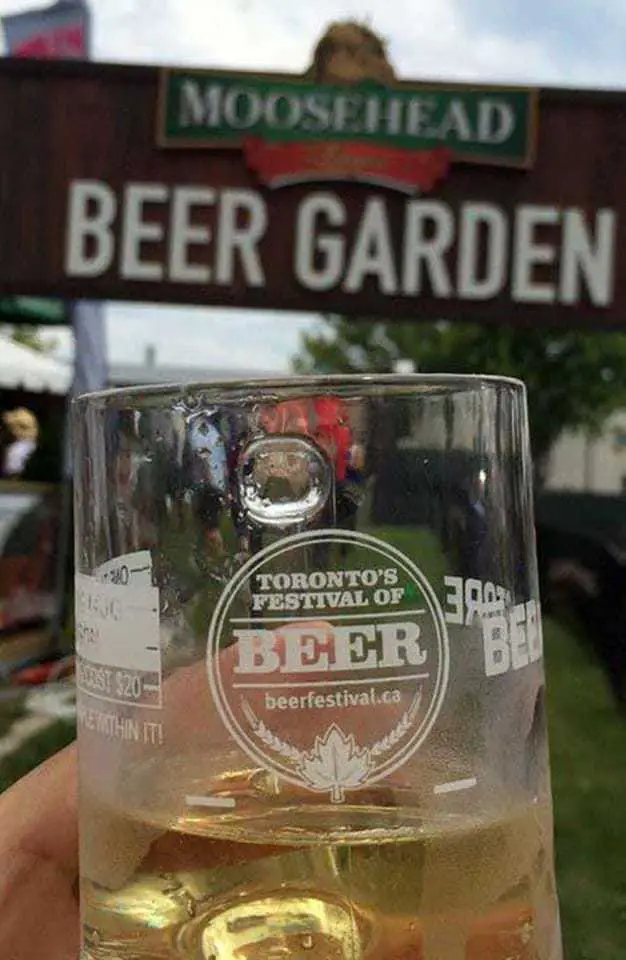 Number 5 Reason – Swag
I brought a backpack to the Exhibition Place and walked away with a stuffed bag full of gadgets and gizmos a plenty!
Five pairs of sunglasses, handfuls of bottle openers, coasters, coupons for food and taxis, t-shirts, picture-ops and who could forget about the Jack Link's beef jerky and Neal Brothers gourmet chips floating around the grounds?! Steam Whistle also did an excellent job of reconstructing their recycled boxes into various–shaped hats from animals to ships! And I'm certainly keeping my beer mug as a souvenir. There is no explanation except Who doesn't like free swag?
Just remember to bring cash with you for the beer tokens. $1=1 token
To read about Calculated Traveller Kim's experience at the 2013 Festival of Beer check out:
I am a Woman, and I Love Beer – Toronto Festival of Beer
For more information and admission prices etc. visit the Beer Festival website at www.beerfestival.ca
Looking for more beer? Read:
– Beer and Wine in Buffalo Niagara USA