I'm a woman and I love beer.
Not a Coors Light or a Budweiser, sorry boys.
My expectations are high.
I expect the type of beer that wows me with its overwhelmingly bitter taste, has the super flashy label and a funny saying underneath the bottle cap…a beer that makes me laugh out loud. As I said, I like beer—and I am a woman. So, when I heard the Toronto Festival of Beer had over 200 options in beers, I jumped at the opportunity for some suds. I was ready to be wooed.
200 beers are tempting but I wouldn't go to just any random, stuffy bar for them either. Location is important. Luckily, for 2013, the annual festival held in July was outside, at the Exhibition Place in Toronto. Easily accessible for me with public transportation, and on grounds that I usually enjoy because of the unique architecture and well-designed lawns, the location worked for me too.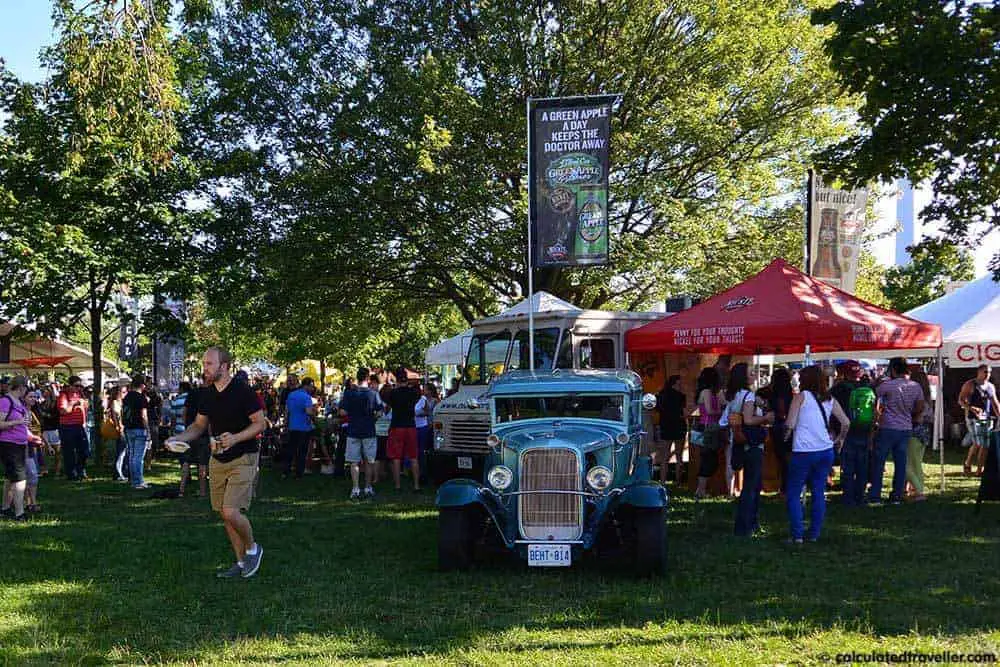 "An empty stomach is not a good political advisor"
Einstein was a smart man. He must have enjoyed beer. OK, I am growing beer muscles and really can't confirm this, but it only seems to make sense…He said that "an empty stomach is not a good political advisor". And, even if there is overflowing beer, a girl still needs to eat. Luckily there were food trucks on hand…
What goes with beer? Wings, sure. But they are messy, and I may have dropped my mug, so I headed straight for the pizza. I am generally disappointed with the quality of pizza in Toronto. So, when I ordered an $8 Margarita Pizza from Pizzeria Libretto, I had my doubts of not only the price but the taste of the pizza. I have to say, I was pleasantly surprised. This pizza proved me wrong — for the first time ever — about pizza from Toronto!
With a belly full of pizza, I continued on. There is always more room for chips, so I headed over to Frank's RedHot stand and sampled over 7 different types of sauces on nachos. And, after spinning their wheel, I left with a sample bottle of their original Cayenne Pepper Sauce, which I will enjoy another night over beer — and maybe some oysters.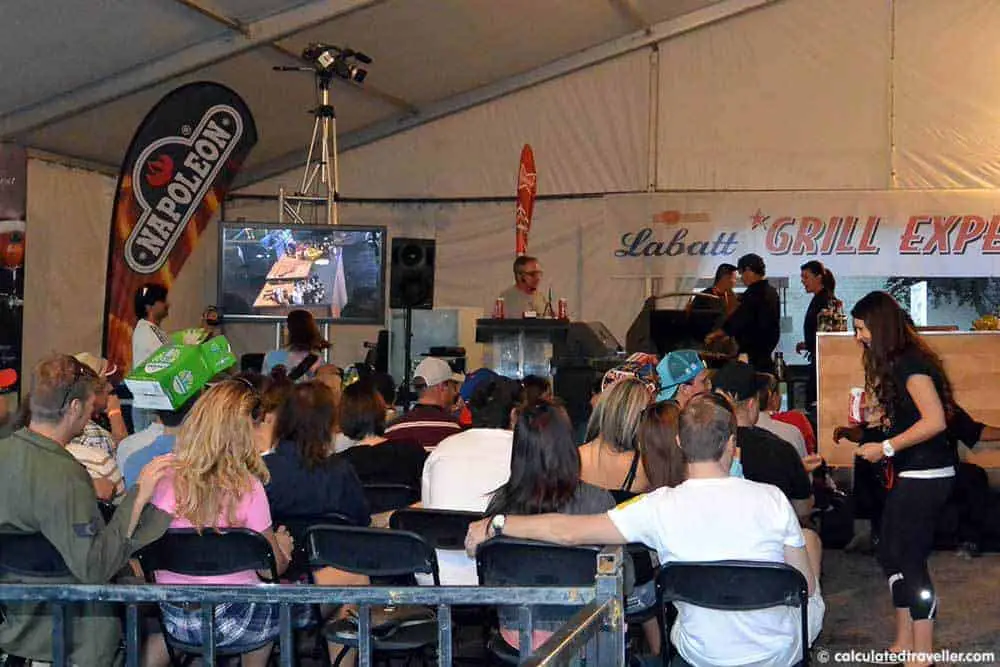 Where the Barbecue Kings and Queens Meet
Recognizing that most of us that enjoy beer also believe that we are the barbecue Kings and Queens of our castles, the festival also included sessions on how to perfect our already seasoned skills by featuring grilling experts such as Celebrity Chef Ted Reader, Matt Dean Pettit, Owner of Rock Lobster Food Company, and Top Chef Canada Season 3 Competitor Rory White at the Grilling tent. Carrying on the tradition started in 2012, the Brewmaster's Series Pavillion, created in partnership with The Niagara College Teaching Brewery, Canada's first teaching brewery, also included sessions with international brewmasters and experts from across the world.
The Festival also included a World of Beer Pavilion. The pavilion features a host town, region or country each year. This year, the featured area was West Coast North America and included select beers from British Columbia, Washington State, California and Oregon.
One of my favourite areas was the area called Local, for obvious reasons. This area included local Toronto-area beers and was a tip of the hat to the local breweries and some of my favourites such as Flying Monkeys, Hop City, and Great Lakes Brewery.
Located next to the main stage, beer-goers could sample these local brews while listening to the sounds of the bands, including De La Soul and Spin Doctors, while enjoying these local suds.
The Festival also included some of the best barrel-aged brews from Nickel Brook Brewery, Flying Monkeys Craft Brewery, Great Lakes Brewery, Sawdust City Brewing Co., and Beau's All Natural Brewing. If you are from the Greater Toronto Area and listen to the radio station 99.9, you may have heard DJ Maura Grierson suggest that you start with some of these more expensive brews, then travel around the world. That's exactly what I did.
A token for your beer thoughts
Tokens can be purchased at the festival for $1 a token. Generally, it costs 1 token for a half of a (very small) glass of beer, so you can consider and choose whichever beers you want to enjoy. In my opinion, this works out well because it allows you to sample a variety of beers at a low-cost. Overall, my favourites after all of the sampling included: 
Hops and Robbers by Double Trouble Brewing
Matilda by Goose Island
Hoptical Illusion by Flying Monkeys
Tankhouse Ale by Millstreet Brewery
Boston Lager by Samuel Adams
Red Racer by Central City Brewing
Everyone loves free sh#t (excuse me, that's the beer talking)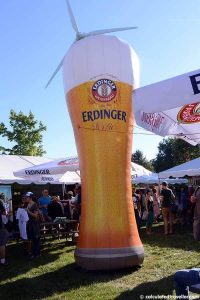 Like most people, I love free sh#t. Sorry, that's the beer talking….naah it's not. I love free stuff! I arrived at the Toronto Festival of Beer wearing a backpack containing only a bottle of water and a sweatshirt and left with a heavy load that I was happy to carry. Some of my loot included a free t-shirt from Smirnoff, a bottle of Cascade Hop Sauce from Alexander Keith's, Beef Jerky from Jack Links, and hot sauce from Frank's Red Hot.
Heading home on local transit, like a responsible beer-goer, I left, happy with the beer selection. This girl is also not exactly in her 20s anymore, so I left around 9:00 p.m. when the crowds started getting louder and more people showed up.
I had a great evening, with lots of fun, but with the crowds growing larger and the lines to the porta-potties getting longer, by 9:00, I handed the beer torch over to the younger, 20-somethings, to keep the beer flowing, while I headed home to gulp down a very large glass of water.
Pricing
Prices and options for admission vary from General Admission, which included 5 sample tokens & a Toronto Festival of Beer Sampling Cup to $600 for the VIP Package.
To read about Calculated Traveller Lea's experience at the 2014 Festival of Beer check out:
5 Reasons to Check Out Toronto's Festival of Beer
Have you been to the Toronto Festival of Beer? What about other beer festivals around the world?
Cheers!