A Gentleman's Adventure in Toronto
The term "gentleman" is something that is constantly being redefined.
Whether it refers to a code of behaviour (like chivalry), grooming standards or social expectation, most people agree that it is a concept men should aspire to.
In a generation where the traditional roles and representation of men and women are becoming more and more blurry, I feel it is important for both genders to continually redefine themselves without objectifying the other.
This article will examine how to sharpen your skills as a man in the ever-dynamic Toronto landscape by taking traditional "male" activities and updating them for the contemporary modern man.
I feel in order for a man to be a "gentleman" in the strictest sense he needs to be well groomed, well dressed and have a broad knowledge of what to drink. I understand these tenets may seem shallow, but if one does not feel good about oneself how will they feel good about others?
Follow me on an adventure through Toronto and see what my city has to offer the modern man!
A Gentleman's Hair
I remember as a boy in Toronto my journey for the perfect haircut went through many stages. As a child, like many other of the Italian Diasporas in my area, I got my hair cut by the local Italian barber. The place smelled of coffee and aftershave, the walls were plastered with bikini-clad women or topless Brazilian beauties, and most people were there to escape their wives instead of getting a haircut.
As I entered my late teens and early 20s, I, like other men, moved into a salon where I would experiment with new cuts and listen to the stylist talk about the difference between wax and gel. Now that I am in my late 20s, I have realised that I like the "all male" environment of a barbershop, but want the variety of styles and knowledge of a hair salon.
In my search for a perfect hair adventure, I have had many experiences, ranging from luxury salons in Tokyo to classrooms in Tajikistan. Few places, however, have offered a gentleman's experience like Crows Nest barber shop. Located in the heart of Kensington Market, this barber shop has become essential to the dapper people in the area.
When I contacted owner Jon Roth about visiting his shop, I could tell I was in for an experience. On meeting Jon for the first time, I was immediately struck by his well-groomed exterior and striking tattoos. He put me in the capable hands of Joel Cumby, the shop's newest apprentice. A former Hamilton resident, he decided to change careers from tool and dye technician to barber. Joel was pleasant to chat with and had many interesting things to say during my time with him. For instance, he suggested that the recent resurgence of barber shops could be attributed to one simple thing: men stopped growing their hair long. From the 1960s to early 2000s, everyone was a hippie, rocker, or Nirvana fan – contributing to the popularity of long hair and less demand for barbers or stylists. Now, with a resurgence of fashion from the 50's and a desire for shorter hair in general, men have recreated a demand for these shops.
When Joel was finished with my haircut, I looked like I could give Jon Hamm a run for his money as the lead of the TV-show Mad Men, not to mention the great job he did to my beard. Though, I have to admit what I enjoyed most about my time at Crow's Nest was the conversation. It felt like a bunch of guys hanging out. Good music was playing, and we talked about baseball and rock and roll without a woman in sight – even on the walls. There is nothing objectifying about the place, just a group of guys shooting the breeze and trying to look good.
A Gentleman's Attitude
I think for the most part going to a "spa" is not up there for adventures of adventures, but sometimes we forget that stress kills and taking the time to relax is important.
With this said I have always had a strange relationship with relaxation. I have visited Japanese "onsen," or hot springs, Korean baths, and Russian-inspired banya, but few have gotten it as right as the Ritz Carlton in Toronto and their "Gentlemen's Power Hour." This is a spa session devoted to the busy man. With options like massage, eye treatment, and power naps, they offer all the modern man needs to feel rejuvenated.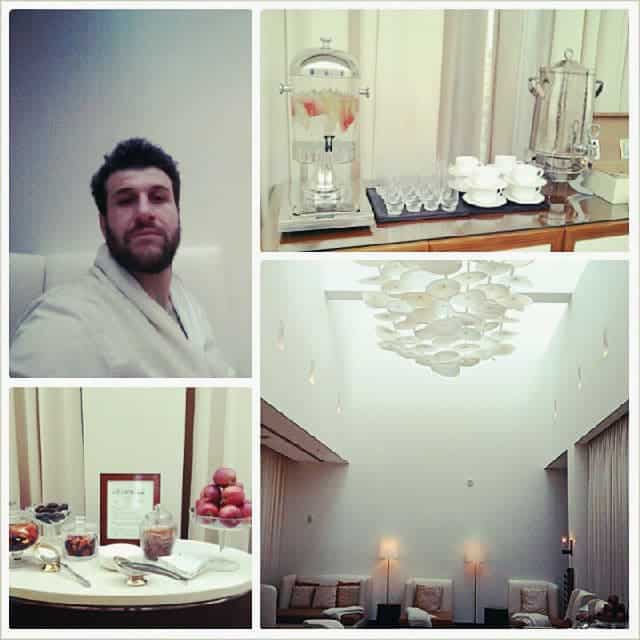 I chose a facial, foot massage and nail buff. From start to finish it was like being in heaven. The staff in the spa is polite and professional, and the treatment is sublime.
It all started with a stop in the change room where I was given a comfortable Ritz Robe and then escorted into the male-only lounge (there was an option to go into the co-ed lounge). Here, delicious hot tea and healthy snacks were waiting. The attendant soon after called me into a room playing relaxing music, and then the facial began. To be honest, all I remember is the soothing scent of lotus oil and the sensation of cold towels caressing my face. I was in a blissful trance, and then the beautician began massaging my feet – I was so relaxed I almost fell asleep. When it was over, I felt not only stress-free, but my face looked incredible!
The nail buff was an experience all to itself. I have had a manicure or two in the past but never a nail buff. As the beautician did her magic on my nails, we spoke about everything from meeting women to Romania under communism. The social aspect of my spa treatment was as warm as the oil being placed on my fingernails.
For $170, I will admit the "Gentlemen's Power Hour" is not cheap, but trust me it is worth every penny. The spa has thought about it all, giving visitors the option of having their suits pressed or packing a power lunch to go at a little extra charge. A small price for a clear head and relaxed muscles, getting you ready to face the day, or week, ahead.
A Gentleman's Body
I know tattoos can be a contentious subject and many of my more mature readers may associate them with sailors and jailbirds, but one cannot deny they have become more and more the norm in today's society.
Tattoos have always been associated with the "manly man," but I feel the modern gentleman can have a tasteful ink as a form of expression. I should disclose that I do have a tattoo and it is new. It took me ten years to find the right artist and right image, but I have no regrets.
In Toronto, this process can be daunting because parlours are a dime-a-dozen nowadays. Although there are other famous tattoo places in the city, I ended up at Lucky 13 on Ossington and Bloor. This is a long story involving a beautiful Cuban artist and Instagram, but to make a long story short, the balance between talented artists and a well-organized shop made this great experience.
Lucky 13 Tattoos was the perfect atmosphere for one's first tattoo. With funky tunes blaring over speakers, great conversation from the shop's eclectic boss, and clean studio environment, I had no qualms about being there.
A Gentleman's Drink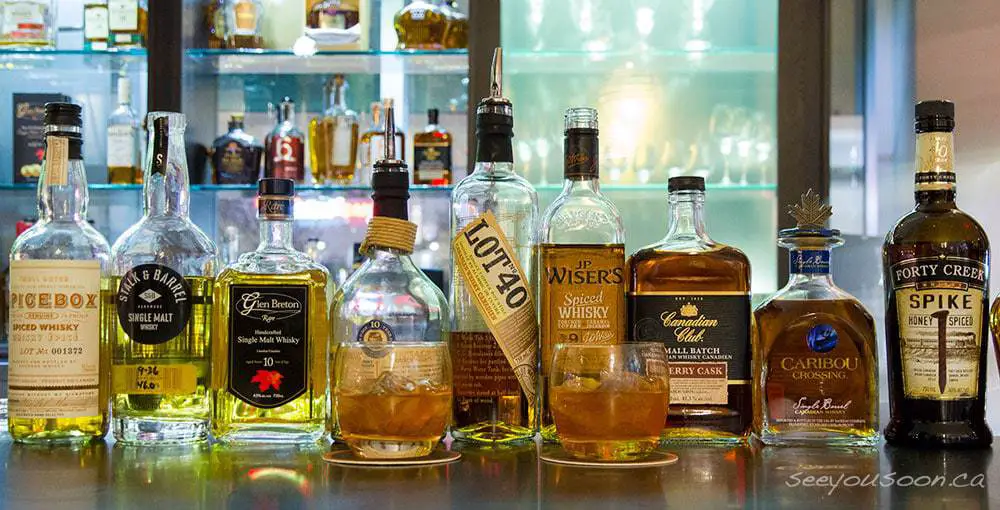 Whether you are a connoisseur of craft beer, fine wines, or cocktails, few men would argue what they order when they hit the bar is a big part of their identity. However, few drinks get the reverence that whisky does for being the true drink of the enlightened man! It should be noted that I am a huge bourbon and whisky fan.
Ok, with all joking aside – in all my travels to various themed bars and hidden speakeasies, nothing has impressed me as much as the Char No. 5 Whisky Bar in the new Delta Hotel located on Simcoe Street right next to Union Station.
What makes this place so spectacular is a series of complementary factors. First off, the hotel is brand new and the bar even newer! Second, this hotel screams of Canadiana that can be seen in its white oak panelling, mural by Canadian artist Adrian Forrow showcasing an across-Canada journey, and hockey inspired art next to the elevator. Lastly, with indoor connections to Union Station and the soon-to-be-built train to Pearson Airport, accessibility is not an issue!
Part of what makes the hotel location better is the spectacular view. From most floors, you get a great look at the CN Tower, Rogers Center, and Lake Ontario, and a special treat for anyone with a corner room on any of the hotel's 46 floors.
The hotel was great, but the bar was fantastic. The reason for the name "Char No. 5" is essentially all whisky has to be aged in charred barrels. These barrels are graded on a seven-point scale with five being the perfect grade for whisky ageing. Since the bar specialises in Canadian whisky, what better name screams perfection?
I was fortunate enough to have Jason and Graeme as my guides to the wide world of Canadian whisky. The tradition of whisky distillation came essentially from the influx of European immigrants, specifically Ireland and Scotland, who brought the tradition from their home countries. After these Europeans had improved the distillation process, rye was then added to the batch, which led to Canadian whisky sometimes being called "rye." The most important factor for whisky is its age; the brew must be aged three years or more to be considered whisky in Canada.
One of the most interesting things I learned was the difference between a Canadian and Scotch whisky. Often Scotch whisky's flavours are described in terms such as "peat", as in the moss, whereas Canadian whisky uses words like "caramel" and "sweetness". Also, it has become popular to add honey and other spices to finished Canadian whiskies giving them an entirely different depth.
James admits that most of the guests that visit the bar are new to whisky and speaks with exceptional pleasure about helping expand their palate. Since I am a cocktail drinker, they made me one of the bar's signature drinks called "Harvest Moon," an adaptation of an Old Fashioned (my favourite drink) with just the right hints of citrus and sweetness.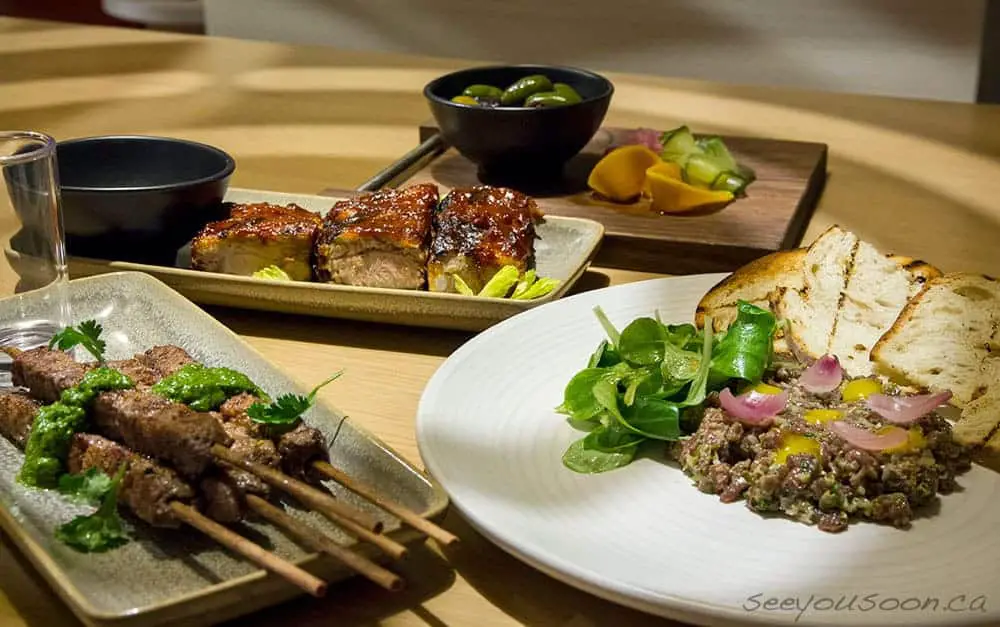 Since the bar is new, a whisky flight or sample set is being created with food pairings. While I was there, I sampled some items from the bar's menu. Mouth watering pork ribs, hand cut bison tartar, lamb speducci with mint sauce and some marinated smoked olives were not only perfect with my cocktail, but a guiltless reason to break my diet! For dessert, I was treated to Crown Royal's XR whisky. With notes of coffee and caramel, it was a luxurious end to a sumptuous meal.
What made Char No. 5 Whisky Bar impressive to me was the exclusive feeling I had at the bar. I felt the bartenders cared as much about me understanding what I was drinking as being pleased by it. Their knowledge and atmosphere created by the bar and food presentation make this a "must stop" on any gentleman's adventure!
Gentleman's Dress
To be honest, I don't mind telling men where to drink or get a haircut, but giving fashion advice, I always feel leads to crossing an imaginary line. So to avoid telling my fellow gentleman how to dress, I will send out a couple of suggestions for cool places to get some even cooler duds.
For me, the apex of coolness is found in Queen Street West and the Kensington Market.
Since many of my male role models dress like Frank Sinatra but act like Indiana Jones, my style is also diverse. With brand name shops like H & M and Club Monaco coexisting with vintage stores like Cabaret and my all-time favourite Kensington market spot "King of Kensington," you are spoiled for choices in finding your own style.
Two essential places for any gentleman in Kensington are the local cobbler at Sole Survivor Shop, doing anything from heel repair to custom shoe trees, and Tom's Place. Tom's has been a staple in Kensington Market for decades. With two floors of suites, ties and all your accessories needs – I love this place. Though what I love is the service. Sales people who take the time to measure your dimensions, talk you through the options and give you their honest time because they want to help you as much as make the sale.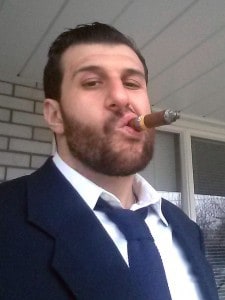 I hope in reading this article you were able to gain inspiration to have a gentleman's adventure in Toronto.
Being a gentleman is not merely about the clothes you wear or what you drink, but rather it is a feeling – being happy with oneself when in public. If you look good, are relaxed and know your personal tastes, your self-confidence will soar and you will be able to succeed in an ever-changing world. By using one of the experiences listed here, you can get one step closer to self-perfection, that idea of being a real gentleman!
Travel assistance was provided. However, all opinions are entirely our own.
Photo credit: Arienne Parzei See You Soon Travel
Read more adventures:
– A Gentleman's Adventure in Singapore
– A Gentleman's Adventure in Vancouver British Columbia
– A Gentleman's Adventure in Winnipeg Manitoba
– Irish Literature in Dublin Ireland – Words NOT Whiskey