The roads are narrow and snake through the little village of 7,000 people known as Umm Qais in northern Jordan. They are so tight that our tour bus has to park on the main street a short distance away from our destination, Beit Al Baraka Bed and Breakfast. Our luggage is transferred into pickup trucks to travel the remainder of the journey, while we make our way on foot.
As we walk the winding streets, at the sight of foreigners the neighbourhood children take a break from their game of street soccer and, like little birds, chase and flutter around us. They practise their English by repeatedly chirping, "Hello", "How are You?", "What's your name?" and squeal, laughing with delight when one of our party of travellers replies.
We have a busy day planned, and there is little time for this fun game with our adorable new friends — adventure awaits us.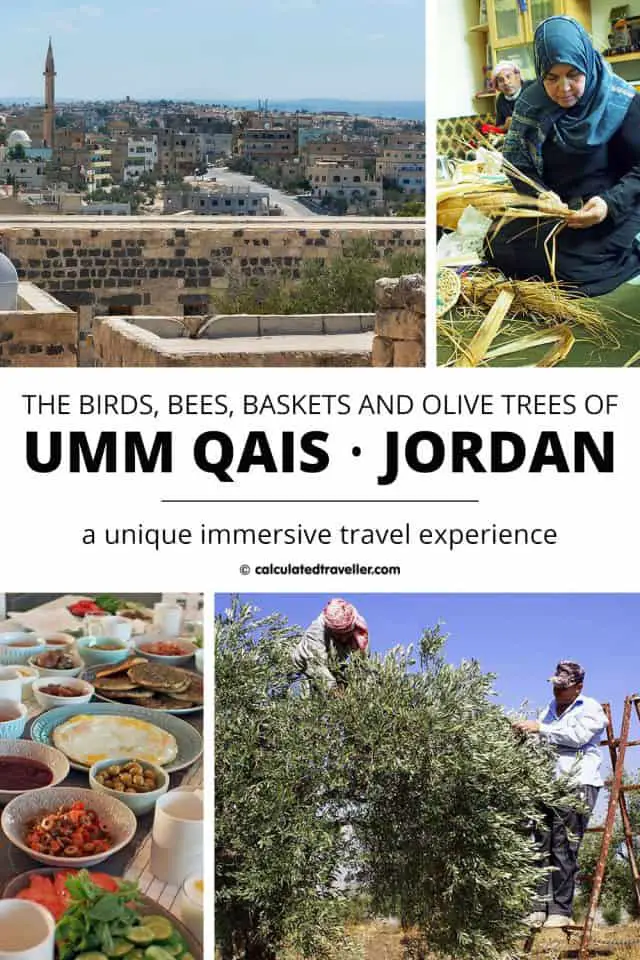 Beit Al Baraka Bed and Breakfast
Umm Qais, on Jordan's northern border, is not a usual spot for tourists but is worthy of a visit if you are seeking a unique immersive travel experience. Don't come for a day tour or day trip – stay a few days and explore.
Note: Umm Qais, also known as Um Qais, Umm Qays, or Om Qais is an approximately 6-hour drive north of Wadi Rum. It's a roughly 2-hour drive from Amman to Umm Qais.
Beit Al Baraka Bed and Breakfast is the first of its kind and the only guest house in the old Ottoman village. Operated by Baraka Destinations based 100 kilometres to the south in Amman, Jordan, the mission of the organisation is to "stimulate economic growth while conserving and protecting cultural heritage and natural resources." Specialising in sustainable tourism development, Baraka Destinations partners with local community members to establish businesses with them to connect tourists to the culture and living history of the region. As a result, guests staying at the bed and breakfast have access to many immersive Jordanian experiences such as basket weaving, cooking, foraging, beekeeping, cycling and hiking.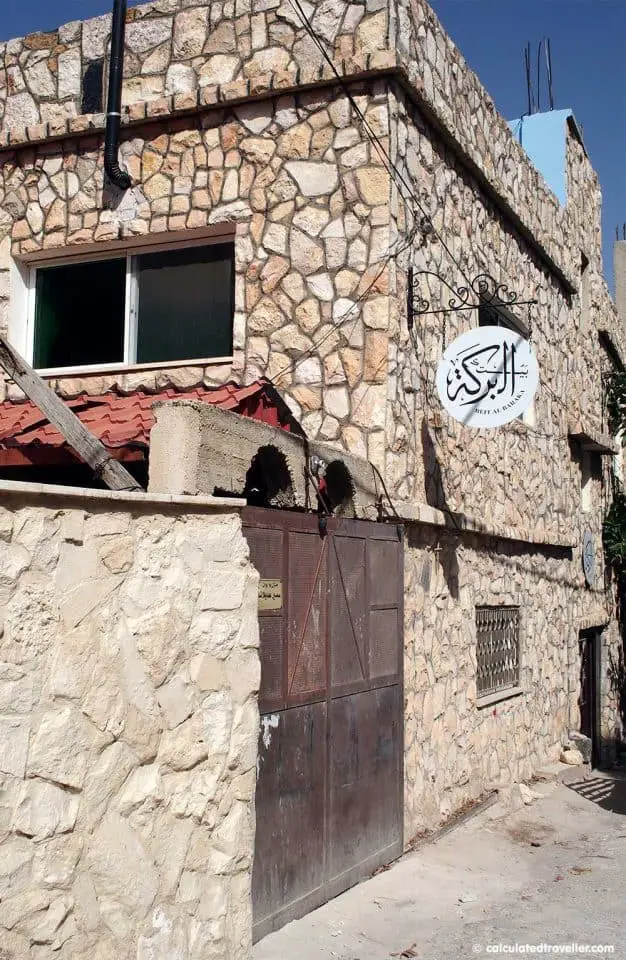 Before Baraka Destinations' involvement in the community, travellers would come for 2 hours, tour the archaeological site of the ancient Decapolis city of Gadara and leave. Now travellers tour the Greco-Roman ruins, visit the museum and stay a few days, and the community has flourished.
Our accommodations at Beit Al Baraka are lovely and comfortable with four bedrooms, three bathrooms, the main sitting room and dining room as well as an outdoor garden. It's shared accommodation, but I don't mind; it's peaceful here, and a homestay is a welcome change from the large hotels in Amman.
Creative touches fill the rooms. The overflowing fruit baskets that adorn the coffee table are by the local basket weaver who also skillfully wove the seats of the chairs in the dining room, a local woodworker handcrafted the furniture, and the local blacksmith forged the wrought iron bed frames.
Local and organic is what it's all about when it comes to the meals during our stay – honey, capers, pomegranates, citrus, papaya, herbs, bulgur, wheat, grains and olives are all harvested in Umm Qais.
The Honey Bees of Umm Qais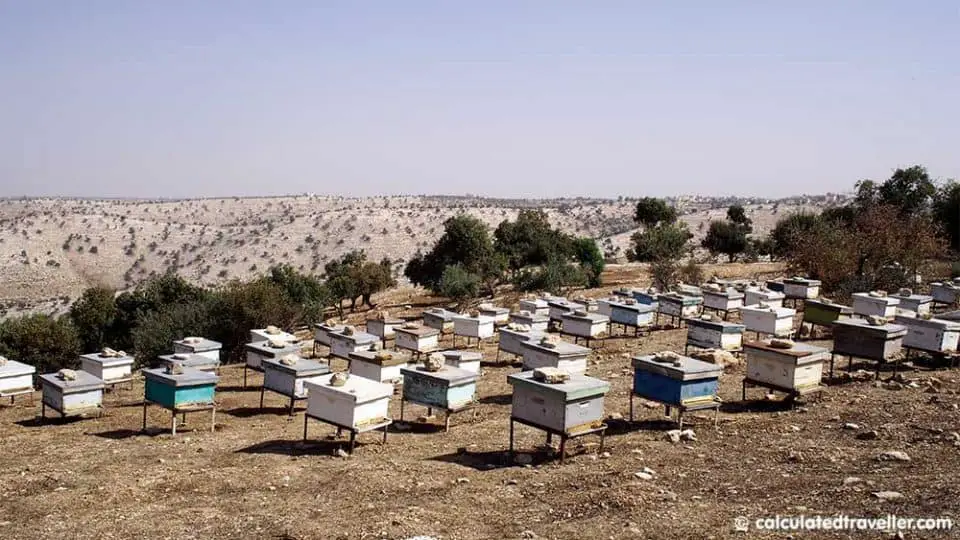 Beekeeper Yousef Adle Sayah's memorised speech is hesitant, and he starts over when he loses his way. He's quiet and reserved, and we all smile and nod with encouragement. He's just learned English a short while ago, courtesy of Umm Qais's resident English teacher Roddy — an expat from Scotland who came to Jordan to study Arabic and never left.
As we sit in the shade of the Yarmouk Forest Reserve and sip glasses of pomegranate juice sweetened with honey, Yousef passionately explains the ecological importance of bees to the environment, the pollination process, the hive infrastructure and the purpose of the queen bee. It's a challenging speech for someone new to English, and he does it well.
Yousef tells us the story of his love for bees, a love that began at the age of 12 when he would visit his uncle's beehive each day after school. He found the bees relaxing, and he would have a feeling of complete joy whenever he was watching them in their colony. After leaving the military 20 years ago, he immediately turned again to his first love. A solo entrepreneur, Yousef has 60 hives and produces an average six kilograms of carob-based organic honey each winter per hive with another harvest of honey in the summer after he moves his hives into the Jordan Valley.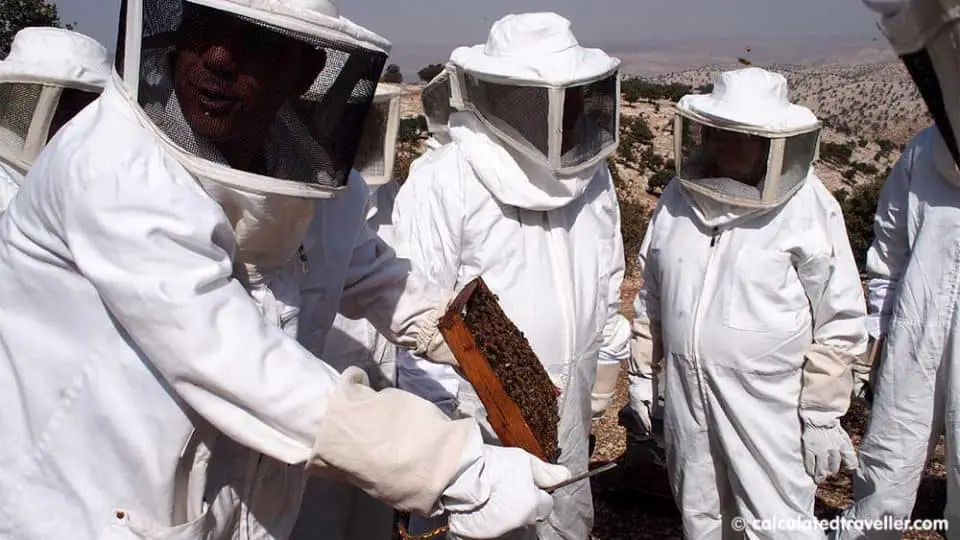 The best part of our visit with Yousef is when we don our protective suits and head out to the hives to witness the bees at work. The bees buzz and fuss around our group of beekeepers in training and Yousef uses smoke to calm them as we eagerly surround the hive for a closer look. It is hypnotic and meditative, and I can see how one can get lost amongst the world of order.
Basket Weaving with Alia
We visit with Alia, a master in the ancient art of weaving, in her home. Over cups of sage tea, she shares her craft. She has a shy smile as she spreads out the banana leaves and straw in the middle of the room. With a determined expression on her face, she demonstrates how to weave. A few volunteers in our group try to create a handcrafted reminder of our visit to Umm Qais while the others in our party are happy to sit back and relax on cushions, sip our tea, and watch the busy hands at work.
The shyness leaves Alia as she shows off the baskets on display that take hours to create, and with a big smile of pride, she points out the intricate patterns and the bright colours made from natural herb dyes that she, of course, forages and prepares herself.
She is truly a master – we have a lot to learn.
In Umm Qais Jordan, we Picnic Amongst the Olives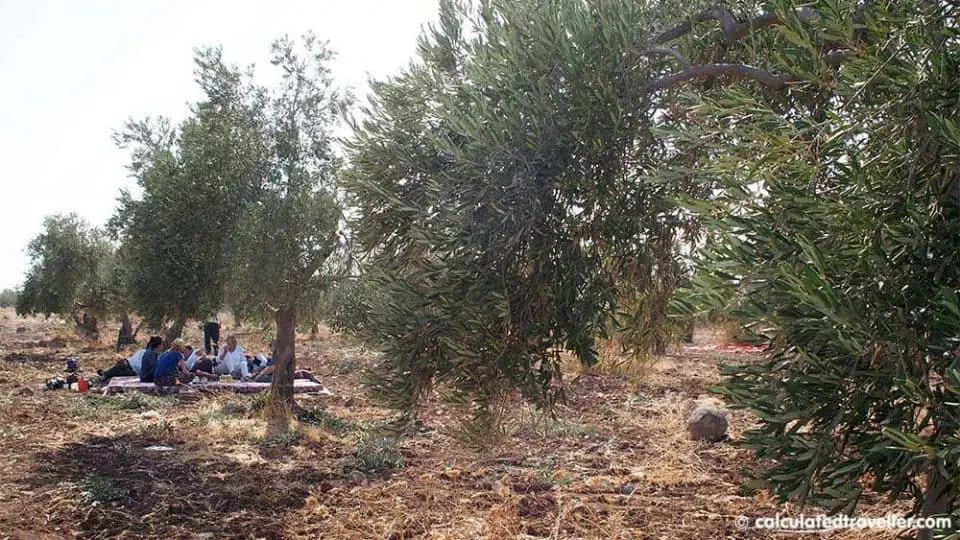 We sit on mats amongst the trees of the olive groves for a picnic lunch of tea flavoured with wild thyme and kishk, fried dumplings filled with cheese and sundried tomatoes. It's olive harvest season, and we aren't alone as other families picnic nearby.
After our meal, we join the harvest. It's labour intensive as it's all done by hand. A sheet on the ground under each tree catches the plump olives as the fruit is stripped off the branches. Our guide, Ahmed, tells us that green olives taste better than black olives, but the latter produces more oil. No part of the olive tree goes to waste as the olive pits and tree trimmings are used to burn as fuel.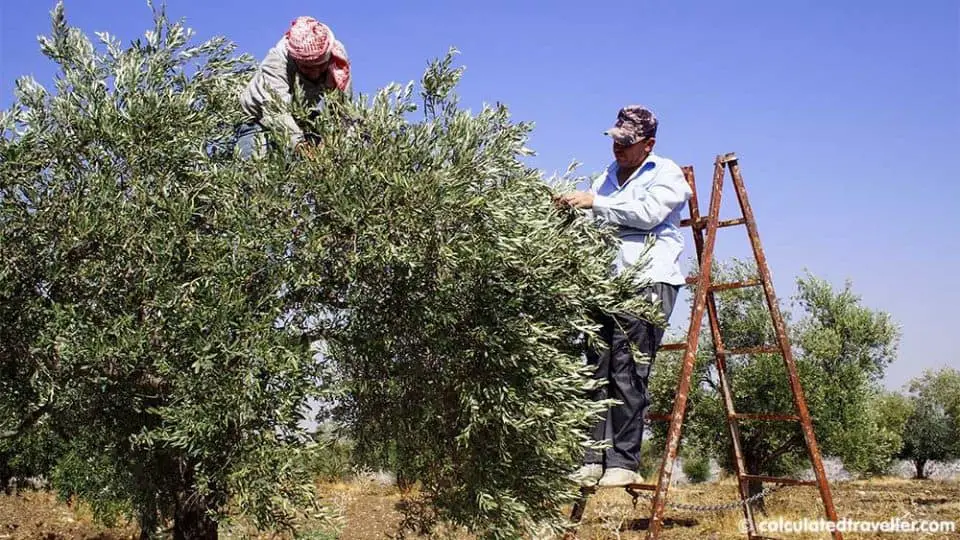 Later, we visit a nearby factory to watch the freshly picked olives as they go through the pressing process for oil and leave with two bottles of liquid gold for our cooking class.
Cooking with Um Sulaiman in Galsoum's Kitchen
Lastly, we meet Um Sulaiman and her family in her beautifully adorned home in the village of Umm Qais. She smiles with her eyes – it's infectious, warm and welcoming. Everyone I meet during my journey through Jordan is incredibly hospitable, always with an offer of sage-flavoured or thyme-flavoured tea, pomegranate juice or the most delicious blend of lemon mint juice.
The house smells fabulous, filled with the scent of our dinner cooking in the oven, makmoora, a traditional rural dish of layered dough, onions, chicken, spices and olive oil. I can't wait; the intoxicating aroma teases my taste buds.
We are there for a cooking class, and we get to work slicing and dicing green olives, peppers, lemons and carrots, Um Sulaiman gently correcting our technique as we go along. The chopping is done, the mixture is seasoned and scooped into little jars, and the luscious freshly pressed olive oil is poured over the top to preserve it. It's our tasty little gift of Jordan that we'll take home with us, and we all smile with our eyes just as Um Sulaiman did.
Jordanian bread is next on the list of things to do as we mix and knead the dough. Olive oil plays an active role in bread-making too as it's used both in the batter and to keep the mixture from sticking inside the grooves of the decoratively patterned wooden moulds.
As night falls, our group sits on cushions on the floor of Um Sulaiman's living room. The table is crowded with an array of platters and bowls of hummus, tabbouleh, fried bulgur and onions, and of course, the hearty makmoora as we all fill our plates and dig in.
We walk back to the guest house, our eyes heavy and our bellies full.
The next day, as the sun begins to rise over Umm Qais, I awake to the sound of birds chirping and Morning Prayer sung over the village loudspeaker. I lie in my comfortable handcrafted bed in my shared room of Beit Al Baraka reflecting on the adventures that brought me to this point in my Jordanian journey. For a brief moment, I wonder if this is part of a dream. Rubbing the sleep from my eyes, I hear my roommates begin to stir as I start to smell the aroma of breakfast cooking, I stretch my tired body and smile because this is reality.
Read other reviews of Beit Al Baraka Bed and Breakfast here.
For tours in Umm Qais and neighbouring parts of Jordan, check out:
In Umm Qais, I stayed at the B & B during a media trip with Jordan Tourism Board NA. My opinions are entirely my own.
This article was originally published in FWTMagazine.com. It is also the 2018 Third Place Winner of Best International Story, SATW Canada Chapter Writing Awards.
For more articles about the Kingdom of Jordan, read:
– Roman Ruins of Jerash Jordan
– Sustainable Jordan, Feynan Ecolodge