Miami Beach makes you think of art deco architecture, beaches, bars, nightclubs and parties. But no matter where I go I think of food…good food…But here's the thing, unless you are local – or have access to a local – you have no way of knowing where the good eats will be when you are travelling in unfamiliar surroundings.
I was super excited when Miami Culinary Tours invited me to try one of their tours. What better way to find out where the good eats will be along South Beach?
Let the South Beach Food Tour (and Eating) Begin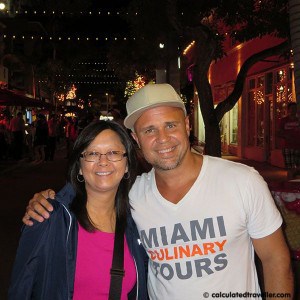 We met promptly at our assigned place incidentally NOT on South Beach's Ocean Drive but two blocks away. This location may seem odd, but out of all the restaurants we dined at that night, only one of them was actually on the famous Ocean Drive! Hey, I'm not disappointed at all – this is what I loved about the tour. Read on; I don't want to spoil it for you.
After meeting our tour guide Richie, and introducing ourselves to the other participants in our quest for good eats, we were all happy to discover that there would only be seven people total. Having a small group is perfect because you don't have to jostle for position to hear what the tour guide is saying and you get to spend some time getting to know your fellow travellers as you walk and eat.
Richie – A Miami Food Tour is Only as Good as the Tour Guide
I've said this before, and I'll repeat it. A private tour is only as good as the Tour Guide. Get a lacklustre guide, and you'll have a dull time but get an excellent guide, and you will stay interested and have fun. In the case of Richie, our guide from Miami Culinary Tours, he's one of the best. Not only did he remember each one of our names, but he remembered where we were from, addressed each one of us by name and tried to involve us in the tour by keeping us interested, entertained and educated. He's a guy full of energy!
Don't be thinking that the tour is ALL about good eats; it also covers the history, the art deco buildings, and stories about the lifestyles of the rich and famous both in the past and in the present. Richie shared who ate where, what movie was filmed where, and unfortunately who died here
Miami Culinary Tours – One Course at a Time
I'm not going to share everything we ate on our tour because you need and I do mean NEED to take this tour yourself. But here are some highlights.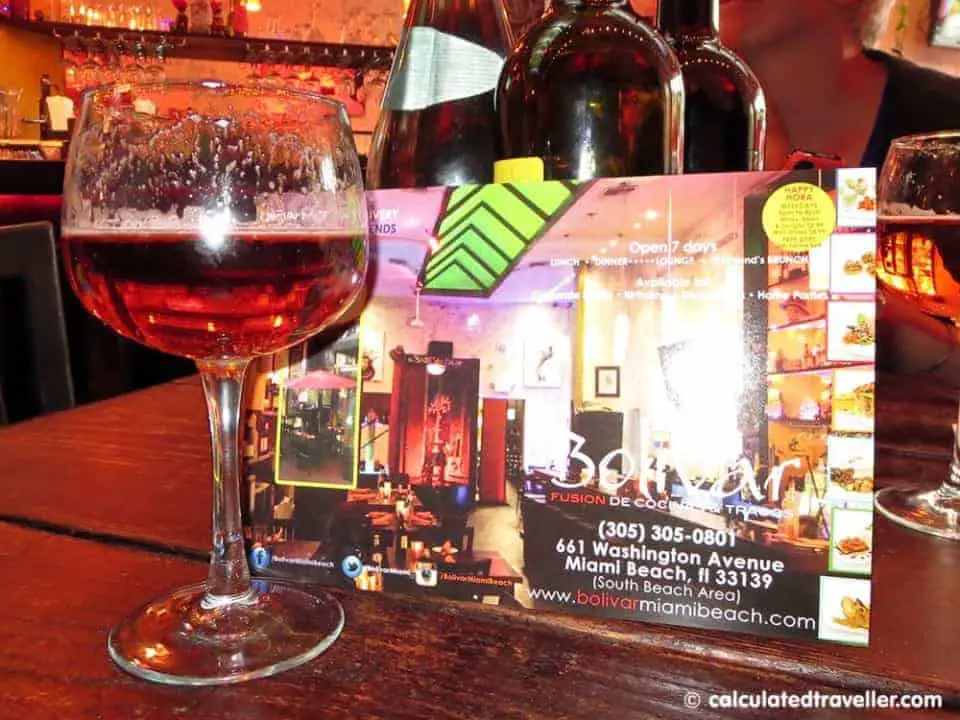 Our first stop was a "get to know you" stop with eats and drinks at Bolivar Restaurant.
The beer beverage is a mix of Colombian Soda and Aguila Beer. It had a cream soda beer taste to it and was tasty. I'm not a beer drinker generally, and I could have had more of this if I was spending the evening here. (wink)
If you are a follower of the site, you know my food obsession is the empanada. I'm on a quest to find tasty empanadas wherever I travel, and now I have MY place in Miami.
Charlotte Bakery – meat stuffed inside flaky, buttery dough with avocado cilantro sauce. Get here early because they sell out fast.

(I also learned that I've been pronouncing empanada wrong all my life. Thanks, Richie for correcting me!)
---
The Wall
There is a Chinese saying that translates to "My eyes are larger than my mouth", and I experienced just that on this tour.
As Richie says "there comes the point when you are going to hit the wall, and you can't eat anymore. Let me know, and I'll get you a doggy bag".
I "hit the wall" pretty early and started brown-bagging it. I think Richie has a six sense about the so-called "wall" and knows at what point it's about to occur because he started handing out bags before anyone asked.
This little morsel is what I had for lunch the next day – Sun Dried Hippie pocket from Blocks Pizza Deli. Sun-dried tomatoes, feta, baby spinach, basil pesto and kalamata olives – Warm, fresh, and crispy.
---
I did mention earlier that we ate at only one restaurant on Ocean Drive. That was at Larios On The Beach – owned by singer Gloria Estefan. We had Cuban style steak served with rice and black beans, deep-fried taro, and Cuban bread with mojo sauce.
Mojo sauce is a blend of garlic and citrus. Think of it as a tart garlic sauce that Richie says he uses on everything.
If you ever go here, get the mojito – they are supposed to be excellent.
All in all, we went to about six food stops, which added up to total one entire meal, including cocktails, appetizers, entrees, snacks, desserts, and even Cuban coffee. I won't say that hubby ever "hit the wall" as I did, but he was satisfied with the quantity and quality of what we ate and experienced.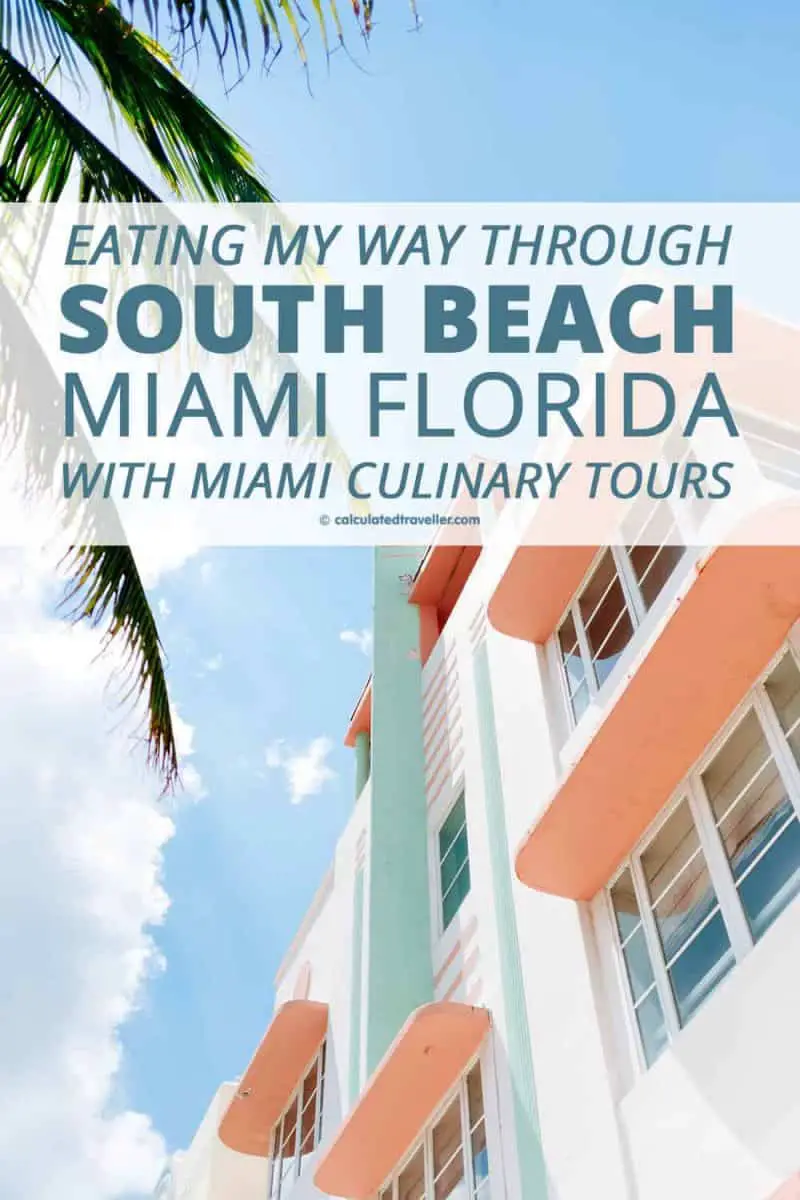 Final Verdict
I quite enjoyed the tour experience, meeting fellow travellers, and learning more about the food, culture, architecture, and lifestyle of Miami. Richie was fabulous, and they took into consideration various food allergies and made substitutions without any issue.
What I loved the most was that even though the walking tour is called the "South Beach Tour"; the restaurants that we visited were not on Ocean Drive, which is very touristy and quite frankly expensive to dine at every night.
Many of the places we visited were friendly Mom and Pop restaurants and cafes – places that I can see myself going to over and over again the next time I return to Miami.
You know what they say – "Give a man a fish, and you feed him for a day. Teach a man to fish, and you feed him for a lifetime."
Miami Culinary Tours has several walking tour offerings including a Little Havana Food Tour, Coconut Grove Food Tour, and a Wynwood Arts district walking tour – check their website for more information.
Note: I participated in this tour as a guest of Miami Culinary Tours. The opinions expressed, positive and/or negative, are entirely that of the author and are not a reflection of the compensation received.
Looking for more to do in the area?
– An Introduction to Little Havana Miami Florida
– Villa Vizcaya Museum & Gardens – Everything Italianate, Local to North America
– A One Day Key West Florida No Holds Barred Adventure!
Are you looking for other tours?