The capital of Malaysia, Kuala Lumpur, is a true melting pot with diverse cultures, languages and traditions. While the city comprises Malay, Indian and Chinese communities, it is home to many other nationalities worldwide. Many of the city's top tourist attractions are representative of its diverse ethnic makeup, which makes for a fun and educational trip.
If you plan to travel to Malaysia, starting your adventure in Kuala Lumpur, the country's largest city, is always a good idea.
Malaysia Currency
Malaysia's Currency is Malaysian Ringgit (MYR). Several currencies, such as the United States dollar, are also widely circulated. However, carrying local currency while travelling in Malaysia would be best if credit cards aren't accepted. Places such as food stalls and ethnic markets typically operate on cash.
Arriving in Kuala Lumpur
Kuala Lumpur International Airport is about 45 km south of the city. It is divided into KLIA 1, used by international carriers and Malaysian Airlines, and KLIA 2, which Air Asia and other budget airlines use for flights within Southeast Asia.
KLIA 1 and KLIA 2 are two different terminals far from each other, and inter-terminal transportation is available after you exit the arrival hall at KLIA 2.
To get to the city from the airport, take a KLIA Express train after purchasing a pass at one of the kiosks. While taking a train will take longer, it is more budget-friendly. Taking a taxi from Kuala Lumpur airport to the city will cost between 70-80 Ringgit depending on where you plan to go in Kuala Lumpur.
If you plan to take a taxi, a good option is to purchase a coupon inside the arrival hall that guarantees a fixed rate from the airport to the city. After paying for the voucher, hand it to a taxi driver and give the name of your destination.
Exploring nearby? Check out the following articles:
Where to stay in Kuala Lumpur
How to get around Kuala Lumpur
Kuala Lumpur is a sprawling city surrounded by suburbs and smaller cities, and getting to some of the famous landmarks sometimes requires taking a taxi. You can take one of the regular taxis or request a ride via Grab, a ride-sharing app widely used in Southeast Asia.
The city's public transportation includes buses and trains and will get you to most places within city limits. Remember that it operates only within certain hours, so a taxi is the only way to go to the airport or any other site during the wee hours.
Most visitors spend a few days in Kuala Lumpur before heading to other popular destinations in Southeast Asia. Here are some fun activities for your stay in the Malaysian capital.
Thean Hou Temple
This Chinese temple may differ from what most tourists picture when they think about Kuala Lumpur. Still, it has become one of the most popular tourist attractions in Kuala Lumpur over the last few years.
Thean Hou Temple is one of Southeast Asia's oldest and largest temples. This Buddhist temple dedicated to the Goddess of Heaven, Thean Hou Temple is used as a place for prayer and religious ceremonies. The temple is located in the area called Robson Heights and, thanks to its location on a steep hill, offers excellent views of the surrounding area.
The temple's intricate design features ornate carvings, bright lanterns, and a 6-tiered roof that offers fantastic opportunities for taking photos. But if you want to take pictures, arrive before 9 a.m., as the place gets crowded by noon.
How to get there: While getting to Thean Hou Temple by taxi is easier, public transportation is also available.
Mid Valley Station and Bangsar are the nearest train stations to Thean Hou Temple. You must walk about 2-3 km to the temple from either station. However, you might also catch a taxi up the steep hill that leads to the temple.
Petronas Twin Towers
No trip to Kuala Lumpur is complete without a visit to Kuala Lumpur's most recognizable landmark, Petronas Twin Towers.
You can enjoy the view of the world's tallest twin towers from the nearby KLCC Park, or you can also pay about 80 Ringgit (Around 17 USD) to walk the Skybridge that links these two towers and get on top of the Observation Deck to get a panoramic view of the city and the surrounding areas. You can purchase tickets on-site or online, which will help you skip the wait.
How to get there: To get to Petronas Towers, take Kelana Jaya Lane and exit at the KLCC station. A big shopping mall, Suria KLCC, is located underneath the towers, so it's pretty easy to find.
Batu Caves
Batu Caves has become one of the most popular tourist attractions in Kuala Lumpur and Malaysia due to its steep stairs painted in rainbow colours.
Batu Caves is a vast limestone hill with a 100-year-old Hindu Temple located inside the cave on top of it. To get to the cave, you have to climb a flight of steep stairs. One of the critical features of this place is the monkeys that climb the stairs and caves.
But before you start your climb, you might wonder what a vast golden statue outside the caves symbolizes. The statue of Lord Murugan was erected in 2006 to adorn the feet of the steps.
The place is incredibly popular with tourists and religious travellers, so it gets crowded quickly. The site is open from 7 a.m. to 9 p.m. daily, and if you plan on taking photos in Batu Caves, you should arrive as early as possible.
Make sure to cover your shoulders and legs before entering this religious site. Ladies, if you wear shorts or a skirt above the knees, you will be asked to pay a small fee for a sarong. There are no clothing requirements for men.
How to get there: You can reach Batu Caves by train if you take Port Klang Lane and exit at Batu Caves, the very last stop. Take a taxi or request a ride via Grab for a faster ride, as it will save you considerable time.
If a Batu Caves Tour is more your style, check these tours out
Federal Territory Mosque
Also known as Masjid Wilayah Persekutuan, Federal Territory Mosque is a prominent mosque in Kuala Lumpur. It's one of Malaysia's largest and most modern mosques that up to 17,000 worshippers can use simultaneously.
While the mosque, inspired by the Blue Mosque in Istanbul, Turkey, also incorporates elements of mosques in other countries such as Iran, Morocco and others.
When you enter a mosque, you will be taken on a tour by one of the helpful volunteers who will tell you about the history of the place, its architecture and answer your questions. The tours and entrance to the mosque are free of charge.
Upon entering the mosque, women must wear traditional clothing provided by the staff. The tranquil area in front of the mosque makes for a great photo opportunity.
How to get there: The easiest and fastest way to reach Federal Territory Mosque is to take a taxi or request a ride via Grab. Another option is to take a bus from Pasar Sen or KL Sentral.
Visiting a Mosque for the first time? Read the article 6 Travel Tips While Visiting a Mosque
Petaling Street Market (Jalan Petaling)
In the center of Kuala Lumpur's Chinatown, Petaling Street is a typical Asian street market where you will find anything from designer knock-offs to locally grown produce. It's an excellent place to get cheap electronics, try delicious snacks and stock up on souvenirs.
After visiting Petaling Street Market, stroll along some of the surrounding streets. Head toward Japan Tun H S Lee Street, home to Sri Mahamariamman Temple, the oldest Hindu Temple in Kuala Lumpur. This colourful temple will amaze you with its ornate statues, incredible smells and religious rituals.
Across the road from Sri Mahamariamman temple is the oldest Taoist Temple in Kuala Lumpur – Sin Sze Si Ya Temple. The temple serves as a cultural and spiritual center for the Chinese community in Kuala Lumpur and is especially popular during significant occasions such as Chinese New Year. It's located just a few minutes away from Petaling Street.
How to get there: The fastest and cheapest way to reach Kuala Lumpur's Chinatown is to take either Kelana Jaya Lane or Sungai Buloh – Kajang Line and exit Pasar Seni.
Little India
In Kuala Lumpur, Little India is one of my favourite places to have a delicious meal and buy authentic Indian goods. Whether vegan or vegetarian, you will find several restaurants serving delicious plant-based foods.
How to get there: You can take one of KLCC's many lines and exit at KL Sentral.
New to Indian Cuisine? Read the article A First-Time Travel Guide to the Most Popular Indian Food in the World.
Merdeka Square
Merdeka Square is one of Kuala Lumpur's best-known landmarks. It has the world's highest flagpole with a Malaysian flag, located in front of the Sultan Abdul Samad Building and near the Royal Selangor Club.
Merdeka Square is a great place to learn the history of Malaysia (Because that's where Malaysia proclaimed its independence in 1957), hear about its colonial past and get some insight into the country's culture.
Across the bridge from Merdeka Square sits Masjid Jamek Mosque, or Sultan Abdul Samad Jamek Mosque, one of the oldest mosques in Kuala Lumpur.
How to get there: Merdeka Square is just across the road from the Masjid Jamek Station. To get there, you must take one of the following three lines: Kelana Jaya Line, Sri Petaling Line or Ampang Line.
KL Eco Forest Park
Previously known as Bukit Nanas Forest Reserve, KL Eco Forest Park is a rainforest oasis located within the busy downtown of Kuala Lumpur. The park is now only 9 hectares, down from 17.5 hectares after urban development has taken away almost half of the park's territory.
Still, it remains one of Malaysia's oldest permanent forest reserves, providing visitors with unparalleled views of the surrounding trees and vegetation.
Here visitors can listen to chirping birds, observe monkeys jumping around and walk along the canopy walkway. The area also boasts several nature trails for jogging and hiking, an herbal garden, an activities area and a timber production gallery.
The park is relatively easy to find, located next to Kuala Lumpur Tower. As a matter, combine both attractions into one visit. There's no fee to enter the park.
Admission hours are from 7 a.m. to 7 p.m. daily.
How to get there: To reach KL Eco Forest Preserve, take the Monorail Line or Kelana Jaya Line and exit Bukit Nanas or Dang Wangi, respectively. It's still quite a walk toward the park entrance from the train station. Take a taxi from the station if you want to save time.
Kuala Lumpur Bird Park
Kuala Lumpur Bird Park is the world's largest free-flight aviary, popular with tourists and locals. Home to more than 3,000 birds worldwide, including many exotic species such as crowned pigeons and hornbills.
Some of the most popular activities within the park are bird watching and taking photos. Visitors can also observe birds feeding daily during designated hours. With tons of activities and several hiking trails around the park that connect different zones, Kuala Lumpur Bird Park is one of the best places to visit in the city.
How to get there: You can take a KTM commuter train and get off at the KTM Old Railway Kuala Lumpur Station, not far from the National Mosque. You can also take bus No. 115 from Kotaraya to Jalan Parlimen.
Looking for more adventures? How about a visit to the Kuala Lumpur Butterfly Park
Try some local Kuala Lumpur food
Kuala Lumpur boasts some fantastic food choices. Here you can find many different cuisines from Southeast Asian Countries and beyond that will treat your taste buds to a tremendous palette of flavours.
Aside from trying traditional street food in Bukit Bintang food street (below are some great street food tours), I recommend stopping for a meal at a restaurant in one of Kuala Lumpur's ethnic neighbourhoods, such as Little India or Chinatown. You will not be disappointed!
PRO TRAVEL TIP: make sure you visit the famous Jalan Alor Night Market and food street in Bukit Bintang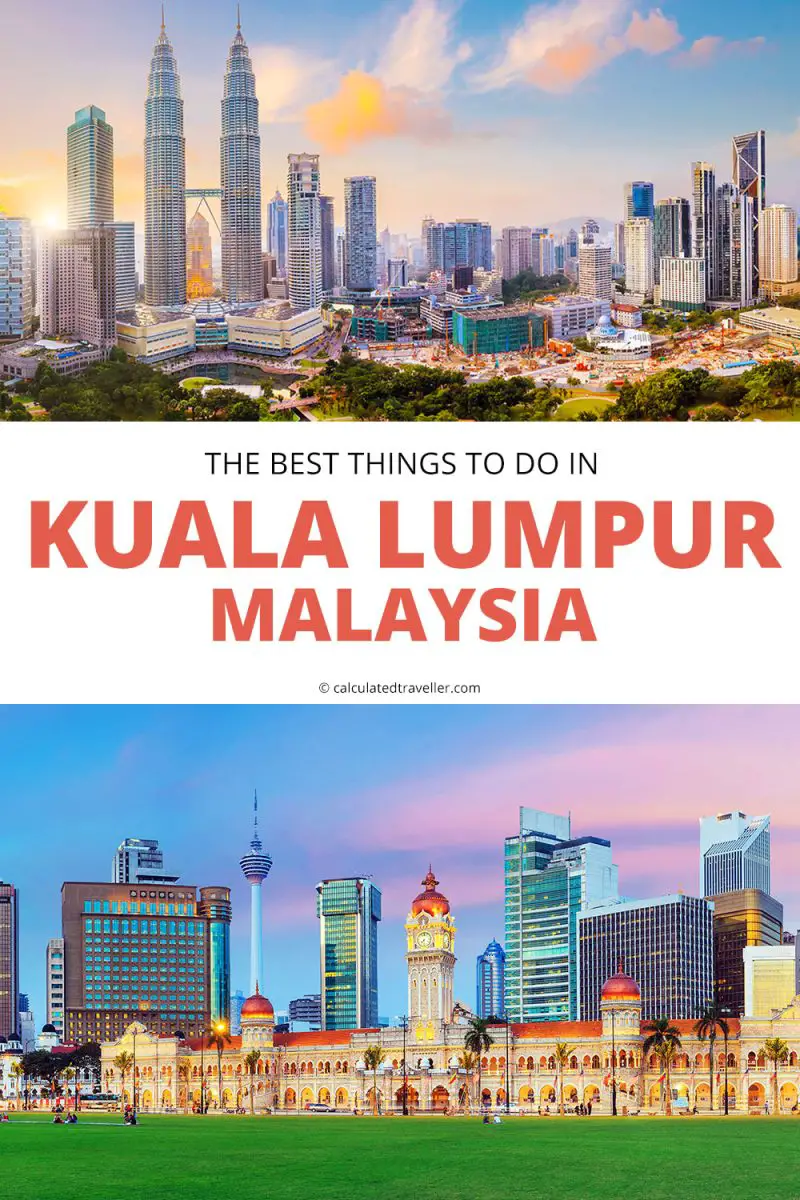 As a blend of many cultures, Kuala Lumpur city is a truly fantastic experience for someone who has travelled extensively in Southeast Asia and for some who have just started discovering it.
The best way to learn about the city and its culture is by interacting with locals and checking out some landmarks. While it's always convenient to take a taxi or hop on a train in a sprawling metropolis such as Kuala Lumpur Malaysia, walk around the town and observe everything around you.
---
Guest author Daria is an adventure travel blogger who writes about her adventures on DiscoveryNut.com and ExploreBajaCalifornia.com.