Even though I'm a seasoned traveller, there are still times that I suffer from nausea and motion sickness. I've noticed it's getting worse as I get older. So, I was super excited when Reliefband reached out to tell me about its latest tech product to combat this problem. I love testing/reviewing tech devices, and it was perfect timing since I have a few road trips coming up, and I need a wise solution to my nausea fast.
In a nutshell, Reliefband, similar to a watch in appearance, prevents feelings of nausea without side effects or the use of drugs.
In a study, Reliefband found that "nausea is epidemic in the United States, with 73% of Americans reporting that they suffer from nausea regularly." Rich Ransom, the CEO and President of Reliefband, understands how frustrating nausea can become. He commented, "Nausea symptoms are felt everywhere – the mouth, throat, chest, stomach, or throughout your entire body. This robs sufferers of motivation, productivity, and sleep. It also hinders plans and life experiences. Everyday activities become more complicated, and our research shows that individuals suffering from nausea avoid social gatherings, certain foods, and outdoor activities such as boating, fishing, and skiing."
With 20 years in clinical research, the FDA-cleared Reliefband is determined to help people get back to living their lives to the fullest. 
So, How Does Reliefband Work? 
The device should rest on the underside of your wrist—the location of your median nerve. When the band is active, it releases a pattern of pulses, which stimulates the median nerve. This stimulation sends a signal to the part of your brain that controls your nausea response (called the dorsal vagal complex). These pulses essentially "quiet" the nerve messages travelling along the vagus nerve, thus soothing any symptoms of nausea you may be feeling.

Reliefband also tackles nausea of any kind, whether caused by pregnancy/morning sickness, car/air/sea/train (motion) sickness, hangovers, anxiety, migraines, post-operative, chemotherapy, VR gaming, or amusement parks. They cover it all!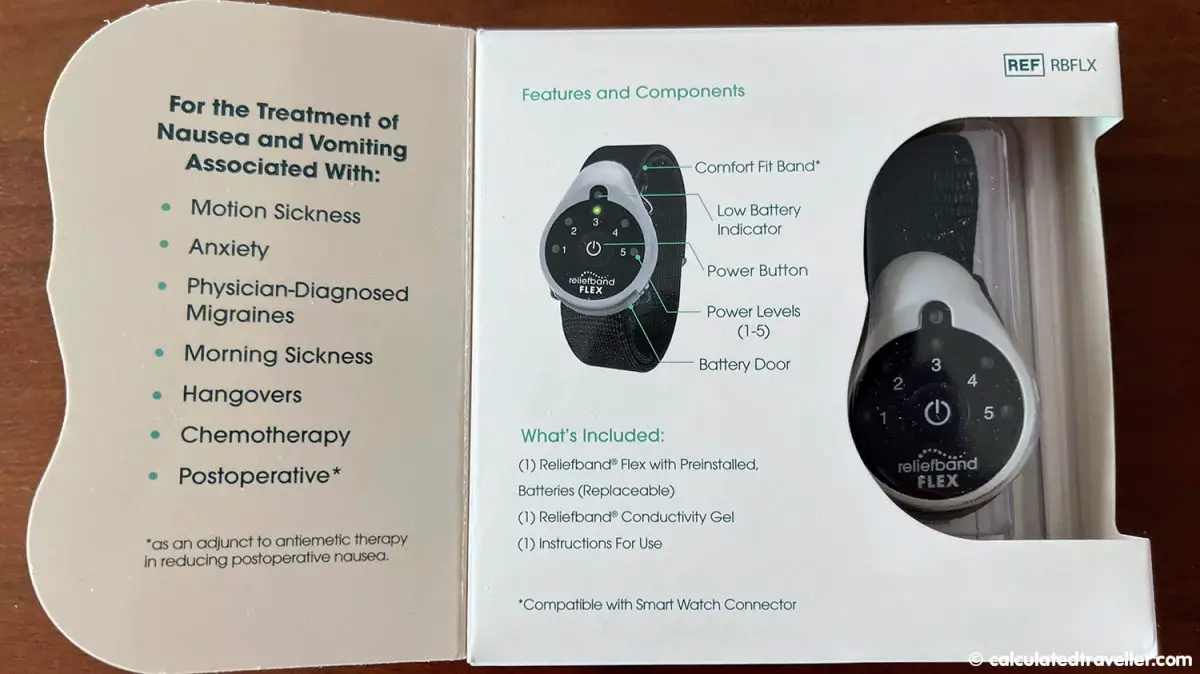 The bands are straightforward to use; with different settings, you can adjust the strength of the pulses according to your needs at the time. I kept mine on level 1 or 2 – the strongest being level 5. 
Originally developed for use in hospitals, Reliefband's transdermal neuromodulation technology has been FDA-cleared, and Reliefband has quickly become a world leader in such wearable technology. 
The Different Bands Available
There are various models of Reliefband devices to choose from. I was sent the ReliefbandFlex to try out, which has a comfort-fit band, is water resistant, and can deliver over 350 hours of use. Other models include the Reliefband Premier (pictured below), Reliefband Sport, Reliefband Classic (pictured above), and Reliefband 50 Hours. 
What each box contains varies slightly from each band. Nevertheless, each will have the Reliefband of your choice and one 7.5 mL tube (0.25 oz) of hypoallergenic conductivity gel. The inclusion of the gel is to ensure a more effective and comfortable experience while using your Reliefband. 
PRO TRAVEL TIP: I found that mine worked best when I used the conductivity gel.
Additionally, some bands offer varying colours and can include charging cables in their boxes. The one I tested, the Flex, uses a standard replaceable watch battery. 
If you are wondering which band to buy and need help deciding, Reliefband has an online quiz you can take that helps you figure out which band works best for you. By taking the quiz, you also get a 24-hour discount code!
Suppose you already wear an Apple or Samsung watch and don't want to wear a second band on your wrist. Luckily, Reliefband provides Apple and Samsung bundles, including an Apple and Samsung watch strap. This way, you can seamlessly attach your Reliefband to the same Apple or Samsung watch band. You can also buy replacement gel, straps, and chargers if needed.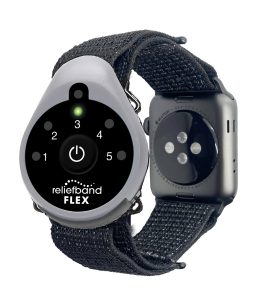 Reliefband Review – Calculated Traveller Results
I wore my Reliefband Flex on the 8-hour drive from Toronto, Ontario, to Fairfax, Virginia and back, and it worked for me. My symptoms of motion sickness are that I get a headache and find my brain wants to sleep, making me a boring (and snoring) travel companion. I also find I have to keep the window open slightly for fresh air to further prevent nausea, which is great in the summer but not when you are driving South to Florida in December. But wearing the Reliefband Flex on this 16-hour total drive, I stayed awake the whole ride with no symptoms of headache, sleepiness, or nausea. I was surprised at how fast-acting the results were and, more importantly, happy to know that it was entirely drug and side-effect-free.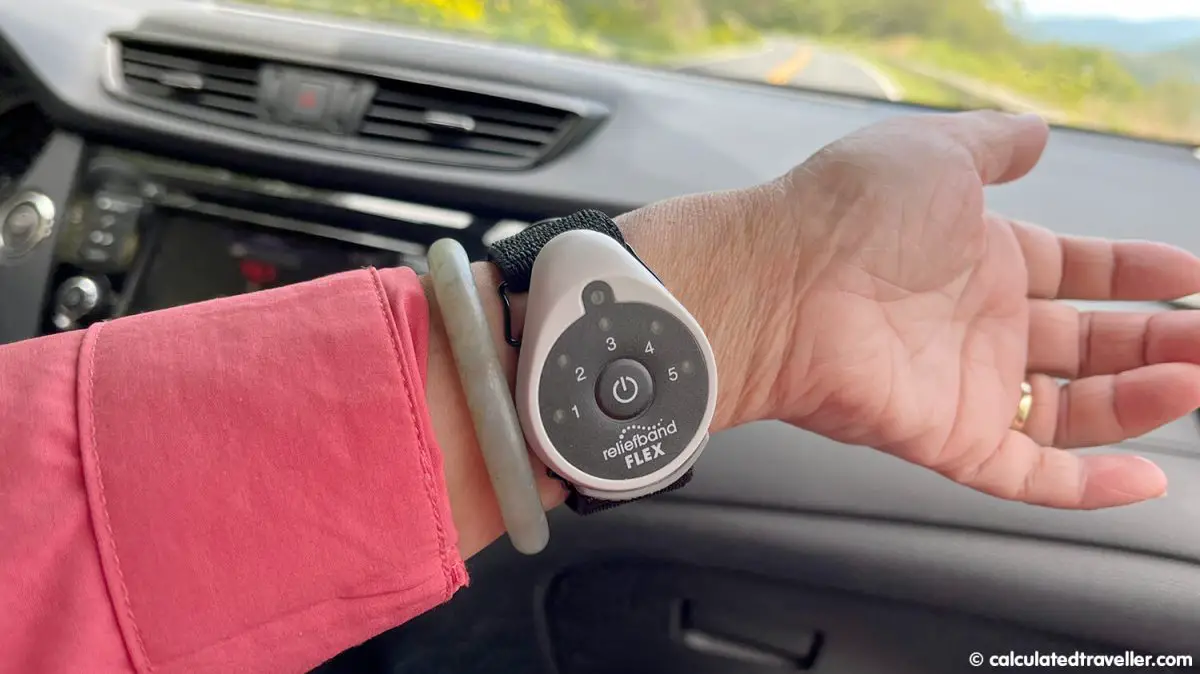 PRO TRAVEL TIP: You may need to adjust the band's location on your wrist to find the "sweet spot". As you can see in my photo, I have really small wrists, and I found the Reliefband worked best worn slightly off-centre. I also found that the "sweet spot" was different on my right side versus my left. Since the strap is velcro, I could easily adjust the band to fine-tune the position.
If you're interested in hearing from other people about their experiences with nausea before and after using the band, Reliefband's website has a testimonials page. 
In the event you're not satisfied with your Reliefband, the company promises a 14-day money-back guarantee when returning the product. 
Living a life with constant nausea can be incredibly frustrating; the Reliefband is an excellent clinically proven, drug-free therapeutic option to consider if you have yet to find a natural wearable solution. Road trip approved! No more motion sickness for me!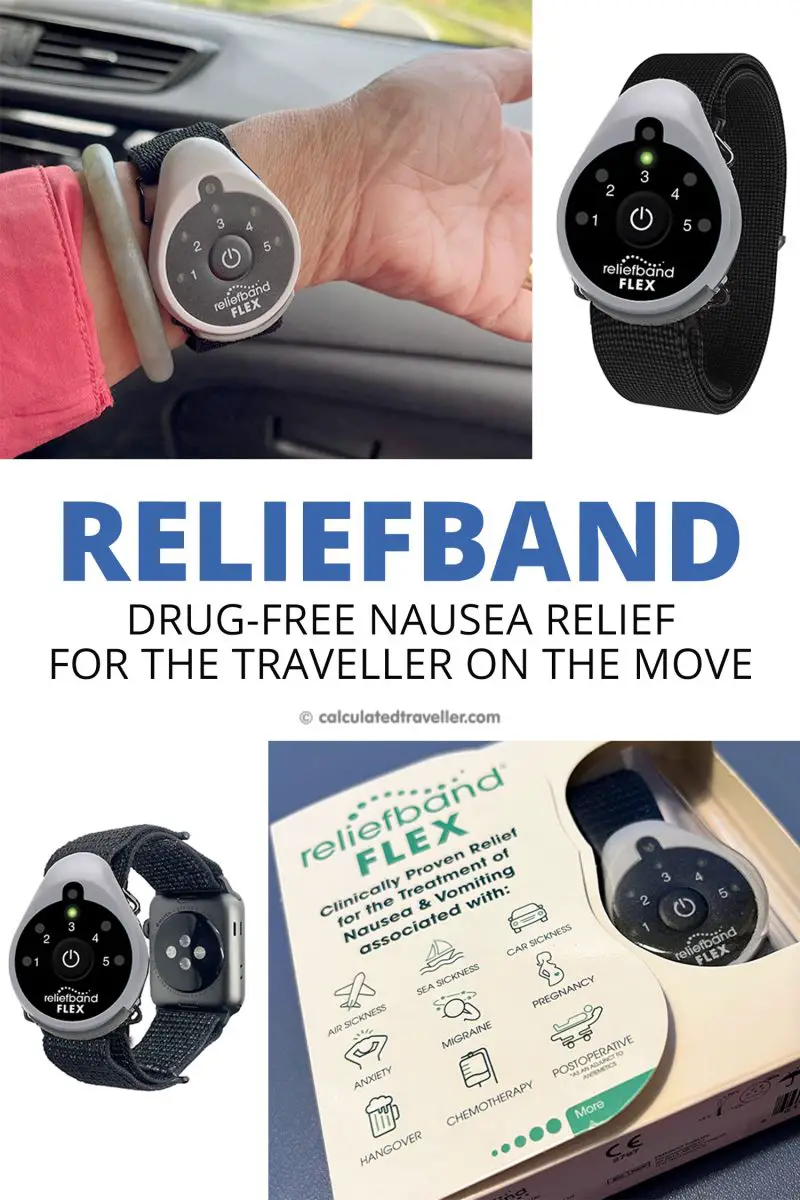 Let me know what common types of nausea you may feel and what Reliefband you think best fits you. 
Check out our Travel Health and Safety section for more related articles, such as:
I was provided with the Reliefband Flex for review purposes. All opinions are entirely my own.