On July 1st Canadian's everywhere will be celebrating Canada Day.
What exactly is Canada Day you ask?
It's Canada's Birthday!
I thought that in honour of Canada Day, I would also profile another Canadian – Tim Hortons.
Tim Hortons (or Timmies/Tim's to us Canadians) is a coffee and baked goods chain founded in Hamilton, Ontario in 1964 and is named for its founder Tim Horton, a Canadian Hockey player. There are more than 3,000 Tim Hortons restaurants in Canada.
You can get a Starbucks anywhere in the world but you can only get an original* Tim Hortons in Canada.
* I say original because in 1995, Tim Horton's merged with Wendy's International and is slowly moving into the United States with locations in the North Eastern States.
Tim Hortons is such a Canadian icon that it had a major role in the Canadian themed episode of the television show "How I Met Your Mother".
Sure we have other coffee chains in Canada like Second Cup, Timothy's and Coffee Time but for me, when I'm driving across the border into the United States I have to get my one last Timmie's fix before I get my passport stamped.
In honour of Canada Day and Tim Hortons I thought I'd ask my friends the following questions:
1. What's your Timmie's order
2. What are your plans for this Canada Day
---
How I like my Tims: Coffee – regular (1 milk/1 sugar)
Photo taken: chilling in the backyard, just after a 5k run
Plans for Canada Day: " No plans at this point. Probably sitting in our backyard watching fireworks. We can usually see at least 3 different displays from our backyard."
---
Alyssa R at 7 months old
How I like my Timmies: Coffee – Medium Double Double (2 milks/2 sugars)
(of course, it's really just water in a cup)
Photo taken: At lunchtime at her neighbourhood Tim's
Plans for Canada Day: "Visiting the tall ships in Hamilton, Ontario"
---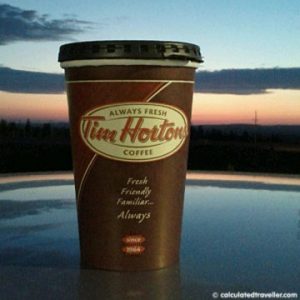 How I like my Timmies: Large Green Tea
Photo taken: sunset in Nova Scotia
Plans for Canada Day: "…likely be doing yard work and then I might try to capture some fireworks for my collection"
---
Vanessa of Turnip Seed Travel
How I like my Timmies: My Tim's order is a French Vanilla cappuccino and (since it's usually in the morning) a bacon/egg/cheese breakfast sandwich on English muffin. BUT if I'm flying, I always, always, always get a Tim's bottled apple juice and a chocolate chip muffin.
Plans for Canada Day: "This Canada Day, I think we might avoid the chaos of downtown for a backyard barbecue"
---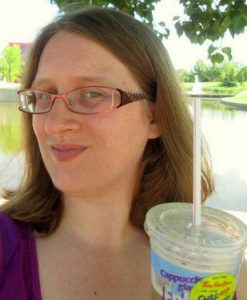 Alouise of Take Me to the World
How I like my Timmies: "Today it's really nice outside so I'm enjoying a small Ice Latte (this one has a hazelnut shot). My regular drink of choice at Tim Horton's is usually just an extra small black coffee, but when summer is here I'll go for an iced drink."
Plans for Canada Day: "I just finished doing a big trip across part of Canada, as well as part of the United States so for Canada Day I will be finding something to do a little closer to home in Edmonton. There are always lots of festivals and activities throughout the summer in Edmonton. I might check out The Works, which is an arts festival downtown or feats, which is a dance festival. There's also a good firework display down by the Alberta Legislature building in the evening."
---
How I like my Timmies: Steeped tea with milk and sugar
Photo taken: at home – using my limited edition Timmie's mug
Plans for Canada Day: " Fireworks, ya' gotta go out there and see the show"
---
Here's wishing you a Happy Canada Day – no matter where you are!
Are you a Tim's Fan? What's your drink order?
Do you have a drink/food that you absolutely must have when you get home from a trip? I'd love to hear about it.