OK, Men, the next time the women in your lives say they are getting away to Buffalo, NY for a little cross-border shopping at the outlets I urge you to say that you are coming along for the ride.
No, I'm not implying that you should go and walk the malls or sit in the dressing room holding the bags and purses because we ALL know that's no fun. I'm suggesting that you take this opportunity to have your very own little getaway!
There are plenty of "manly" things to do in Buffalo NY and why should the girls have all the fun! So drop the ladies off at the mall and arrange a time to pick them up later in the day because you're going on a Buffalo NY Boys Trip!
Buffalo NY Boys Trip Adventure
Buffalo & Erie County Naval & Military Park
One Naval Park Cove, Buffalo, NY 14202
Featuring the only guided missile cruiser on display in the interior of the United States of America, the USS Little Rock, Buffalo & Erie County Naval and Military Park is a great place to visit located in the downtown area known as Canalside.
Sitting alongside the 610 feet long USS Little Rock cruiser is the USS Croaker Submarine and the USS The Sullivans destroyer named for a family of five brothers who all lost their lives in one single battle. There are also planes, vehicles and memorabilia on display.
Many of the Docent Volunteers are veterans who served on these very ships and are on hand to answer any questions you may have about the ships, the displays and life living and working on board.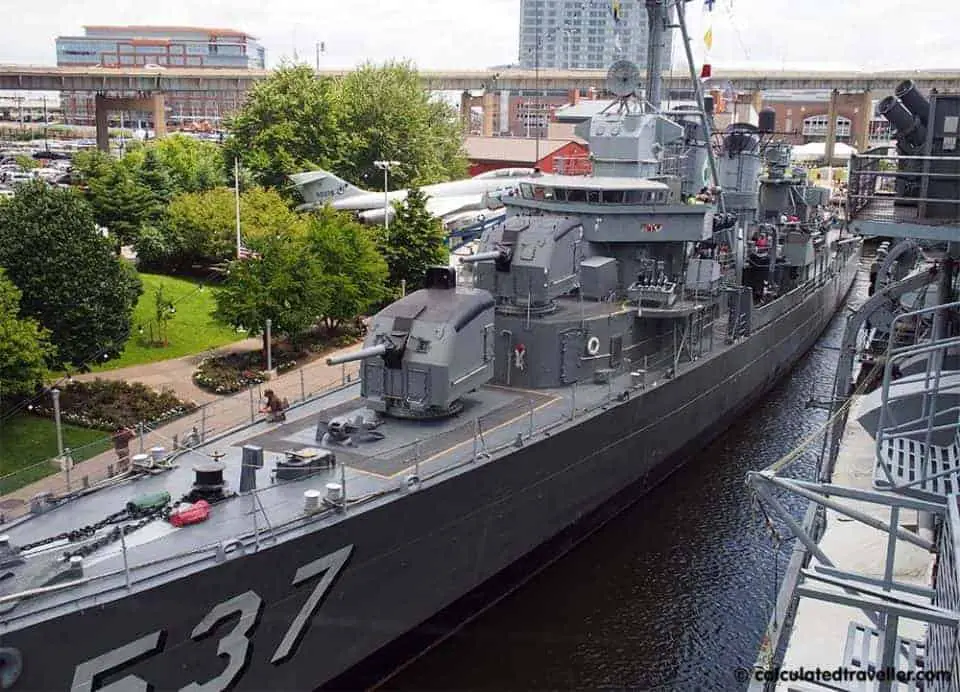 We enjoyed touring all the ships so much so that after 3 hours we had to start moving faster because we were running out of time. So if you have an interest in military history allow yourself plenty of time.
TIP: Dress comfortably, there are a lot of steep stairs and small, narrow doorways.
Admission:
Adult (17+) $12.00
Child (6-16) $6.00
Senior (60+) $8.00
The Buffalo Transportation Pierce Arrow Car Museum
263 Michigan Ave, Buffalo, NY 14203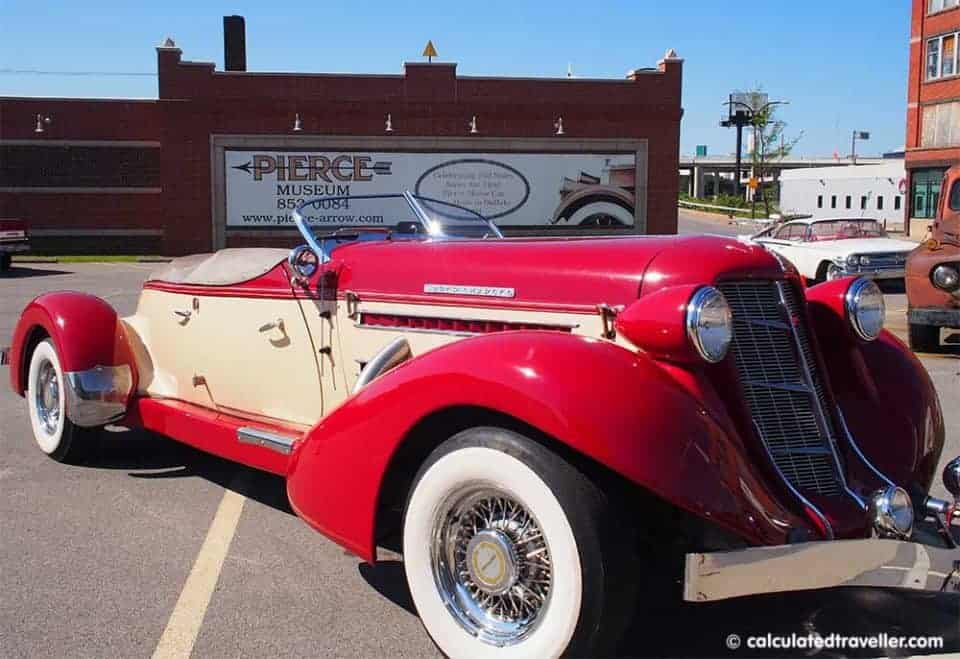 Featuring the private collection of James and Mary Ann Sandoro, The Buffalo Transportation Pierce Arrow Car Museum is a labour of love that started when at 12 years old James' father would give him trinkets to keep him quiet. These collectables started his obsession with antiques, and his collection has grown to what it is today.
The museum, housed in what was once a Mack Truck dealership and showroom, only shows 20% of the collection. The hope is that by the year 2020, after expansion of the space, that they will have room to display the full collection; thus becoming the largest car collection in the world on display.
If it has anything to do with cars or transportation – you can find it here. Everything from automobile parts, advertisements and gas tanks. There are also cars available for sale so keep your eyes peeled for a beauty to call your own.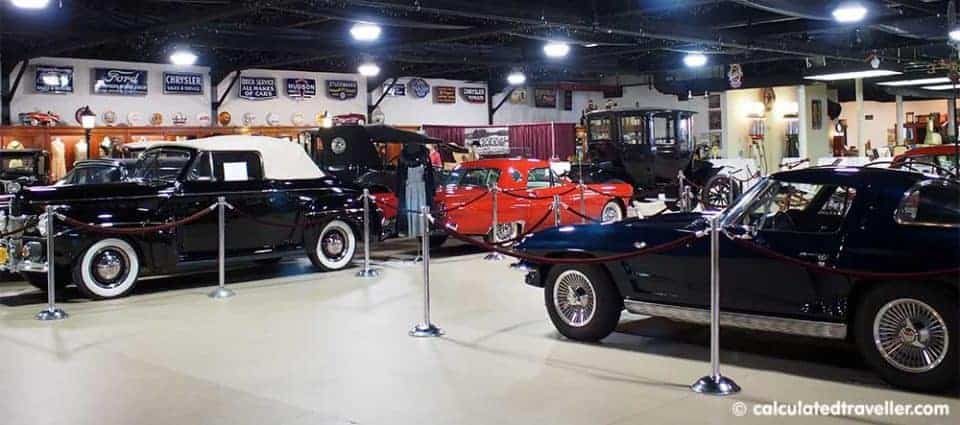 One notable feature of the museum is a full-size filling station designed in 1927 specifically for Buffalo by architect Frank Lloyd Wright. James Sandoro paid a reported $175K for the rights to build the filling station with its unique overhead gravity-fed gas distribution system from the architect's original blueprints and it stands on display for all to see.
Admission:
Adult (17+) $10.00
Child (6-16) $5.00
Tours $20.00
Buffalo NY Silo City Tour
Canalside, Buffalo NY
Operated by Buffalo River History Tours, the Silo City tour takes you on a 2-hour sailing along the Buffalo River. On this tour of 5 abandoned grain and cement silo complexes, you'll learn all about the history of the silos and the river in general.
Buffalo NY has the largest collection of silos in the United States of America, mostly abandoned in the late 1960's as ordered by the City of Buffalo.
Today they are owned by an entrepreneur and supporter of the arts and are being revitalised into entertainment complexes and art installations.
The Silo Tour is not your ordinary tour on a carpeted path with interpretive signs everywhere. This tour is a very down and dirty unique look around, in, and under the silos — something rarely seen. Seriously, who can say that they went through a bunch of abandoned grain silos while on vacation?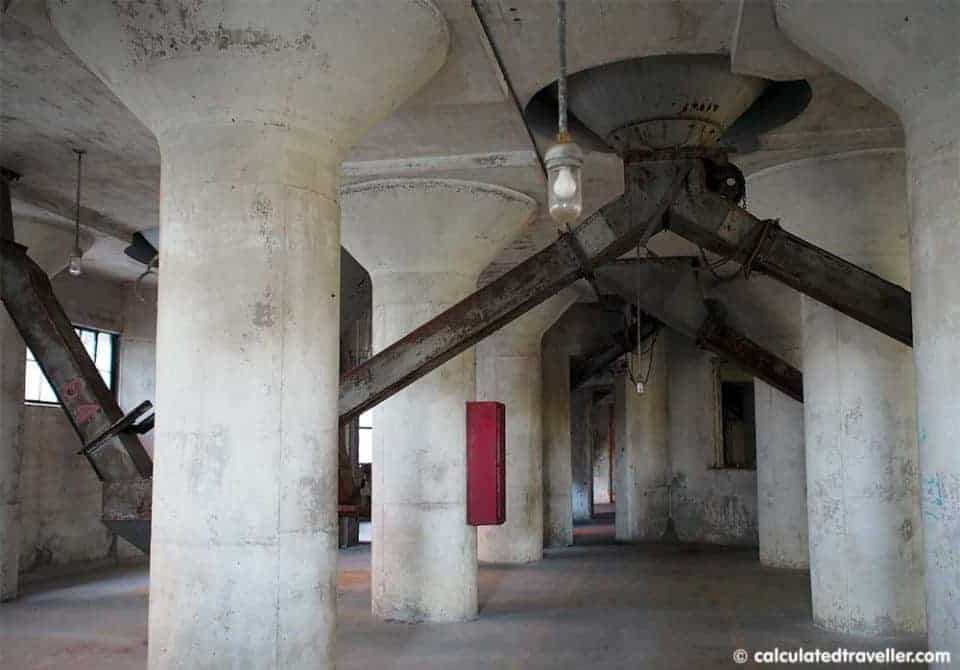 TIP: Wear closed-toe shoes, sunscreen, a hat. You many also wish to bring a small flashlight as there are some areas where there is no electricity and of course bring a camera.
Fee:
Adults: $29.00
Children: $17
Buffalo Beer and Baseball
By now, you're probably hot and thirsty, and you need some refreshments.
Buffalo has plenty of choices when it comes to beer.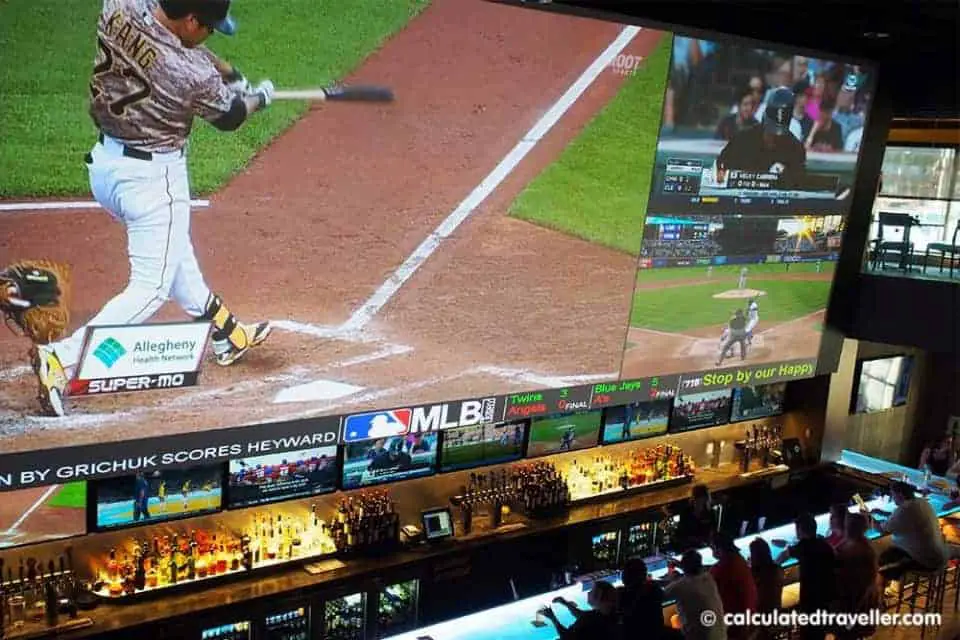 If you are still on Canalside, a good choice would be to have a drink nearby at (716) Food and Sport. The restaurant is owned by the same owner as the Buffalo Sabres and the Buffalo Bills and is a mecca for sports fans with massive TV screens throughout the entire restaurant to keep you busy while you have a cold one.
Read our article : Watching ALL the Games at once at (716) Food and Sport, Buffalo Canalside
Canalside is also where First Niagara Center Stadium is located if you are looking to catch a game.
Looking for craft beer? Buffalo has you covered there too with many craft breweries available to tour and to drink.
Read our article: Beer and Wine in Buffalo Niagara USA
I hope this article has given you boys some alternate ideas of what you can do in Buffalo NY while the ladies are shopping versus just sitting at the Anchor Bar watching sports, drinking beer and eating their famous wings (not that there's anything wrong with that).
I might add that I enjoyed every one of these activities on this list too, but I'm not your regular girlie girl who goes on shopping trips!
Do you have any other suggestions to add to this Buffalo NY Boys Trip list? Let us know in the comments below.
Travel assistance provided by Vist Buffalo Niagara. All opinions are entirely my own.
If you are looking for somewhere to stay, might I suggest:
– Courtyard Marriott Buffalo Canalside Hotel Review
– Lofts on Pearl in Buffalo NY – Review
One last TIP:
– Top 7 Considerations when Packing for a Day Trip