It's just after noon as we park our car (with out of country license plates), in the parking lot in front of A Lowcountry Backyard Restaurant in Hilton Head Island, South Carolina.
The gentleman playing with his grandson on the bench in front of the restaurant smiles as we approach and says with a chuckle "well, that's a far drive to come for brunch", and it is — sort of.
We are actually on our way back home to Canada after spending the week in the Caribbean on a cruise sailing out of Miami and Hilton Head Island is a great pit stop at just 8 hours north of Miami.
Our Seat on the Patio in the Backyard
You can dine indoors, but we wished to have the full "backyard" experience, so we waited for a table to be available on the patio. As we waited, we continued our conversation with the gentleman.
"So why do they call this area the Lowcountry?" we asked.
"Low country? I like to call it slow country because no one is ever in a hurry for anything" he replied.
He continued to explain that the term "low country" refers to the fact that Hilton Head Island and the neighbouring town of Bluffton are very close to (or even below) sea level. According to a chart, we picked up in town, in April the tide pattern fluctuates from 1 foot below sea level in the morning to 8 feet above sea level in the evening. Now that's low!
Here's a wiki explanation of the term "low country".
What exactly is Low Country Cuisine?
Think seafood, crab cakes, shrimp, barbecue, country corn, fried green tomatoes, biscuits, grits, collard greens, and ice tea. YUM!
Interested in lowcountry cooking and cuisine? Check out these books on Amazon.
Our table was ready, so we excused ourselves from our new friend and walked into the restaurant's backyard. I'm so glad we waited for a table outdoors because once we entered the garden, we quickly realised how beautiful and charming the garden was and how the ambience of the entire space was so tranquil. Cast-iron tables and chairs under a large umbrella for shade, a lovely garden next to the outdoor seating area with water feature and cocoa mulch underfoot. At night there is a fire pit, patio lanterns, candles and entertainment events.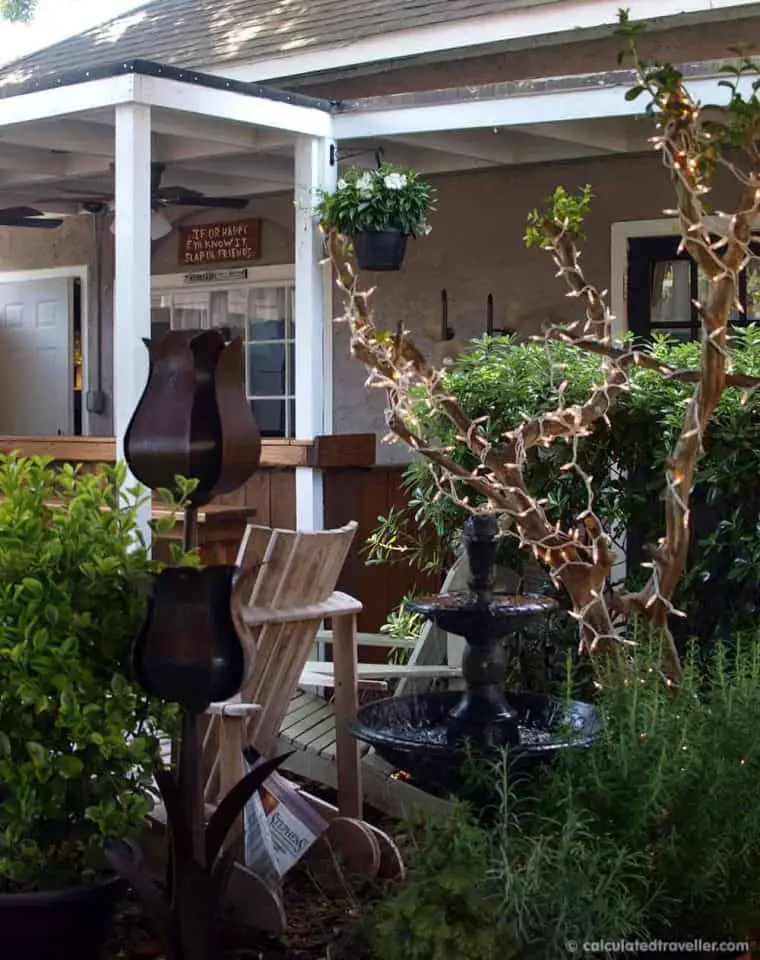 South Carolina Low Country Style Seafood and Smoke
When in restaurants in Hilton Head there are 2 things you can count on when looking at a menu – great seafood and great barbecue – but never would I have thought to order these 2 items for Sunday brunch. But we are on holidays after all and you only live once!
I ordered the oh so decadent "James Island Benedict". Poached eggs on biscuits with crab cakes and creamy lemon-dill sauce (replacing the traditional peameal bacon and hollandaise sauce) with a side of fresh seasonal fruit. Hubby ordered the "BBQ Benedict". Biscuits topped with house-smoked barbecue pulled pork, poached eggs and creamy barbecue Hollandaise with a side of Aunt Sarah's hash brown casserole". Both dishes are perfect to share.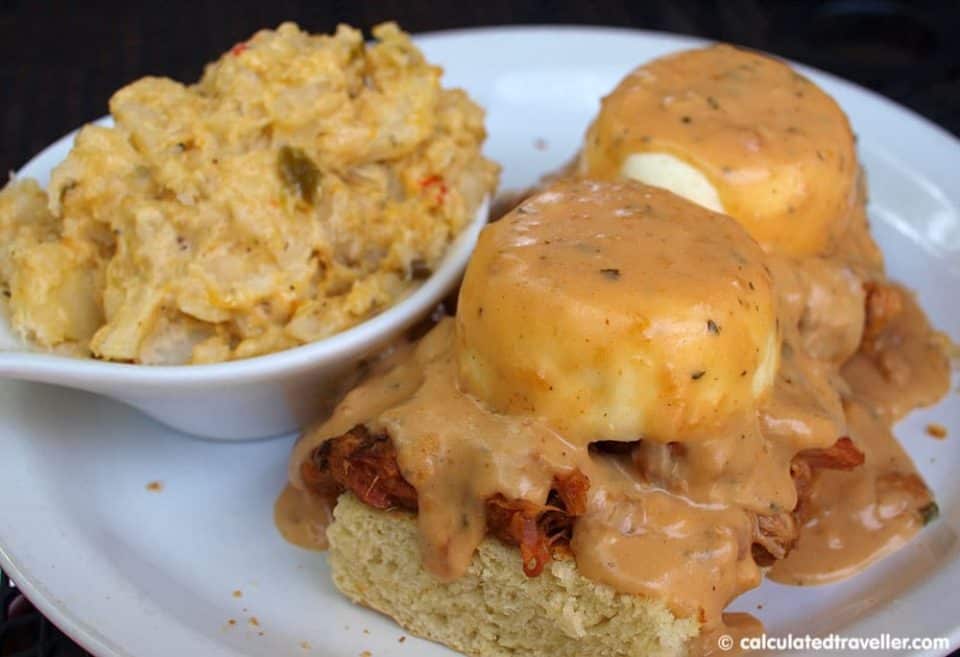 2 forks up for A Lowcountry Backyard Restaurant
We had the best time here from the ambience to the friendly staff and patrons and to the heavenly food all made from scratch. If this place is what slow country in the low country is all about then I'll happily take some more! Plus it's a great place to bring the kids.
By the way, if you are a fan of grits, they make the best shrimp and grits in town (at least that's what our gentleman friend told us)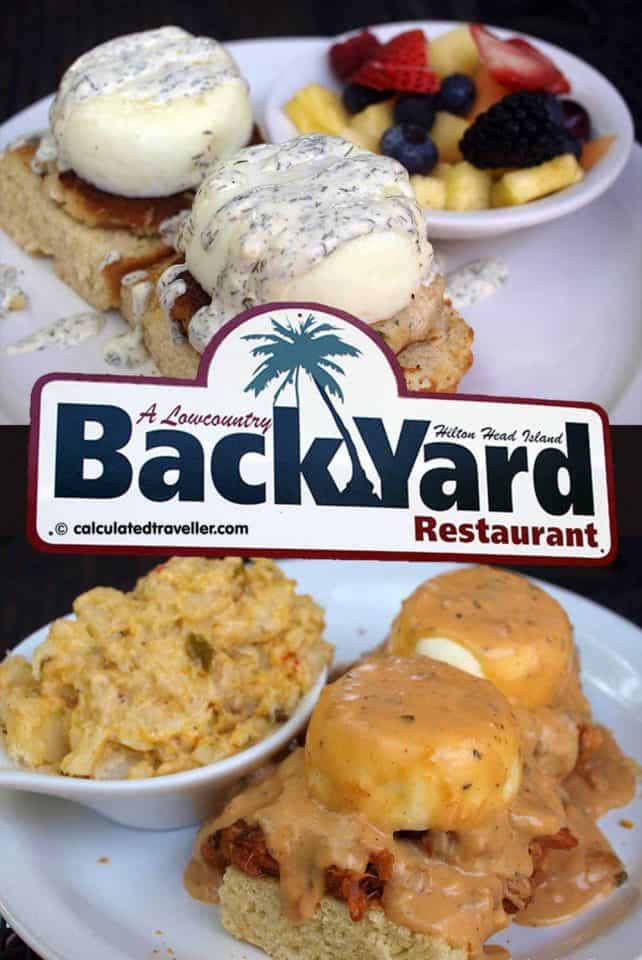 A Lowcountry Backyard Restaurant
32 Palmetto Bay Road, Hilton Head Island, South Carolina
Click here to read more reviews of the Low Country Backyard Hilton Head Restaurant on TripAdvisor.com.
Click here to read more about the Island Gullah culture and our visit to Hilton Head Island and Bluffton South Carolina.
Wondering where we stayed? Check out our hotel review of the Hilton Garden Inn Hilton Head, South Carolina
Click here for more adventures in food.