We travel to Europe for all different things – history, art, culture, food, and adventure but did you know that you can find unexpected romance in Europe?
Finding Unexpected Romance in Croatia
Croatia, now famous for being one of the filming locations for the television series the "Game of Thrones" is known for castles and historic architecture.
With cobblestone streets and red rooftops, the cities of Dubrovnik and Split are the perfect place to find unexpected romance.
In the old city of Dubrovnik, you can pledge your undying love to each other as you stroll along the top of the outer wall of the city, share an ice cream as you sit on a bench along the water's edge watching the sail boats come in and out of the harbour or perhaps gaze into each other's eyes as you sit in one of the many cafés during a meal of fresh seafood.
The old city of Split is famous for the ancient ruins of Diocletian's Palace, built by the Roman emperor in 4th century AD but it also has the most beautiful of waterfronts with palm trees offering shade, benches galore and cafés lining the entire promenade — it's the perfect place to people watch and waste the day away…
Finding Unexpected Romance in Italy
When I think of romance in Italy, I think of the animated Disney movie "Lady and the Tramp" when the two dogs go on a date and share a candlelit meal of spaghetti and meatballs. I always smile when the Tramp nudges the last remaining meatball over to the Lady with his nose… sweet.
When it comes to food I'm in control of my own love life but I will share a bite of my pasta, pizza, Porchetta sandwich or Cannoli with my honey…but just a bite, no more! hah
Read: La Vita Sicilia – For the Love of Food in Sicily
From sailing in a gondola along the canals while the Gondolier serenades you with an aria to stealing a kiss on the Ponte Dell'Accademia Bridge that spans the Grand Canal. Venice is definitely the place to find some romance.
This is a great article with a list of the best hotels in Venice.
Ponte Dell'Accademia Bridge is where couples once would write their names on padlocks, seal them with a kiss and lock the padlock to the railing (see photo top). Just don't put your own "love lock" on the bridge because it is no longer allowed.
Rome is home to the most incredible history, culture and art but I love to look at the fountains in practically every square in the city.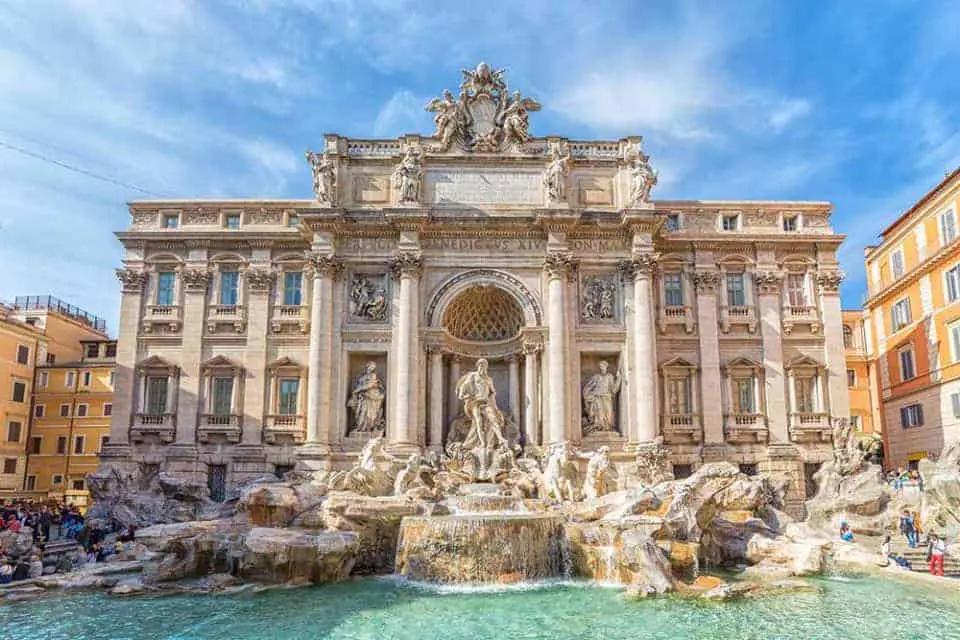 The most famous of fountains in Rome is, of course, the Trevi Fountain. It is said that if you stand with your back to the fountain and toss a coin over your left shoulder that you are guaranteed a return trip to Rome. But, did you know that there is a miniature fountain on the left side of the Trevi Fountain where legend says that if a couple drinks from the "small fountain of lovers" that they will be forever faithful to their partner?
Finding Unexpected Romance in Spain
When in Barcelona, no trip is complete without tapas, wine and a view of some of Antoni Gaudi's amazing architecture.
From the wonder that is the forever-in-construction basilica Sagrada Famila to his home covered in a wonderful mosaic of tiles that is Casa Batiló (see below) to an afternoon spent in Park Güell. When you look at Gaudi's metal work, carpentry and plasterwork in all his projects all you see are sensual curves, and undulating patterns — it's as if he didn't like square corners or straight lines. You don't have to be a lover of architecture to marvel at his creative, imaginative mind.
The next time you are planning a trip to Europe for some art, history, culture and food, don't be surprised if you find a little unplanned romance too.