In this article, we review the contemporary urban Hotel Mercure Barcelona Condor, a 4-star hotel located in the Sant Gervasi district just a few metro stops from Las Ramblas and explain why we feel that staying outside of the city core is ideal when visiting Barcelona, Spain.
Barcelona, Spain, is known for many unique local experiences. Home to Antonio Gaudi's architectural wonders like Sagrada Familia and Park Güell, where everything is built using only curved lines, the historic La Boqueria market, tapas, and of course, Picasso. Barcelona is also a major cruise embarkation port and is popular for cruises throughout the Mediterranean Sea.
Hotel Mercure Barcelona Condor – A Quiet Neighbourhood Stay in Barcelona, Spain
For the best hotel deals for a pre or post-cruise stay, I suggest you stay outside of the touristy Las Ramblas and Plaza Catalunya area of Barcelona. Of course, you still want the location of your hotel to be close to the city centre in order to see all the major tourist sites and be close to the cruise terminal.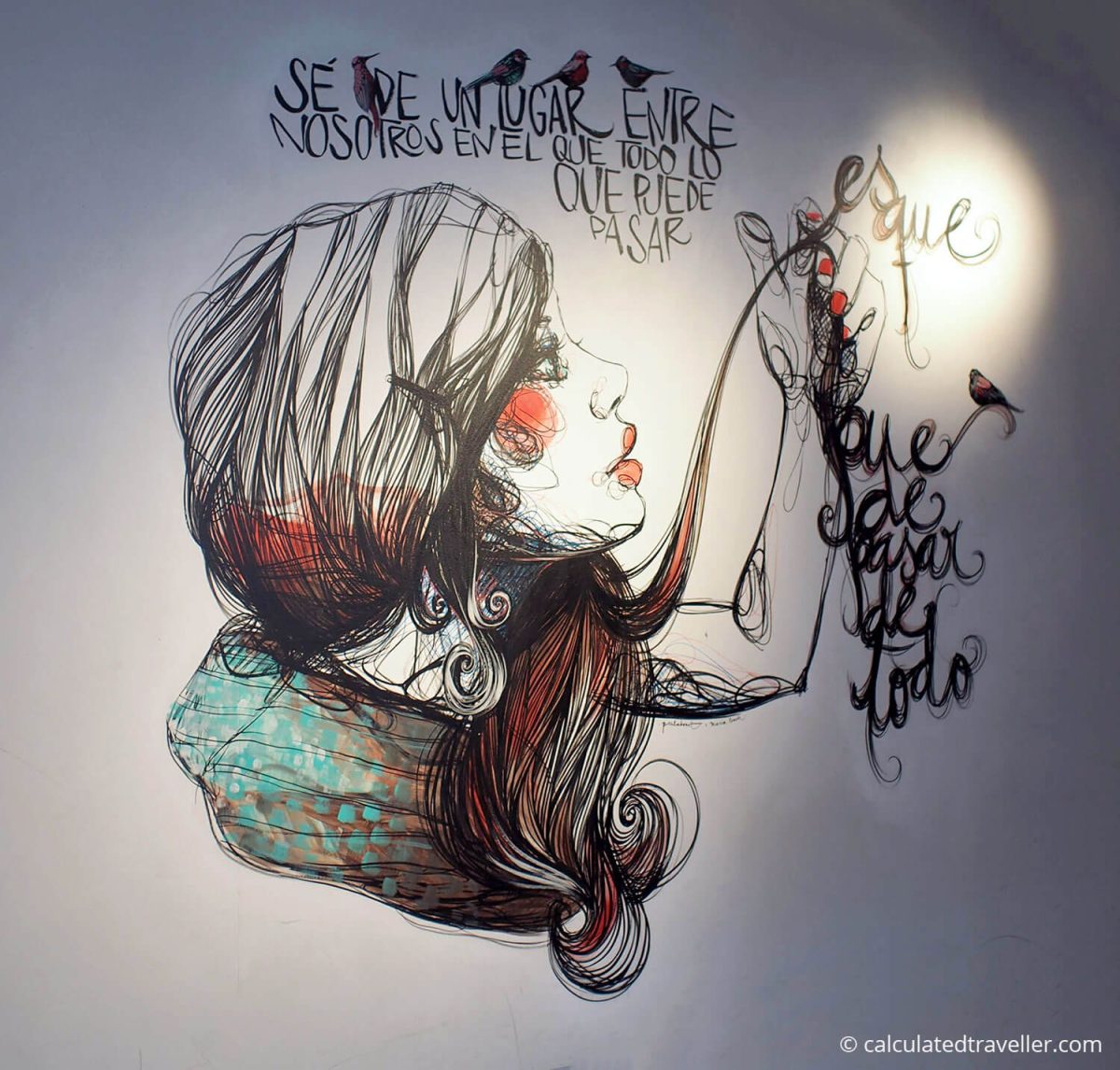 Why Stay Outside of the Main Tourist Core of Barcelona city centre?
hotel prices drop dramatically the farther you get from Las Ramblas
quieter neighbourhoods bring with them lots of local charm
lower restaurant prices mean more opportunities to indulge in tasty local delicacies
for drinks and snacks, you can shop at local markets with affordable local prices
less hectic and stressful as you explore the local community
Barcelona does have a bad reputation when it comes to petty crime, and you might worry about your safety. I firmly believe that the risks of pickpocketing are higher when you are where the bulk of the tourists are, and I feel safer outside of the downtown core. That being said, you should always be on alert no matter where you are in any city.
One thing to note is that a lot of hotels in Europe, Hotel Mercure Condor included, don't have in-room safes. Therefore, you'll need a comfortable, secure way to carry your cash and passport with you throughout your stay. I do not recommend locking your valuables inside your luggage!
Depending on the temperature, I travel wearing either my Clever Travel Companion tank top with built-in zippered pockets – read my review of the tank top here, or wear a bra-safe or zippered money belt if the weather is too hot to wear an extra layer of clothing. For men, this zippered pocket with belt loops that attach through your belt or a general money belt works well — we have used both with great success.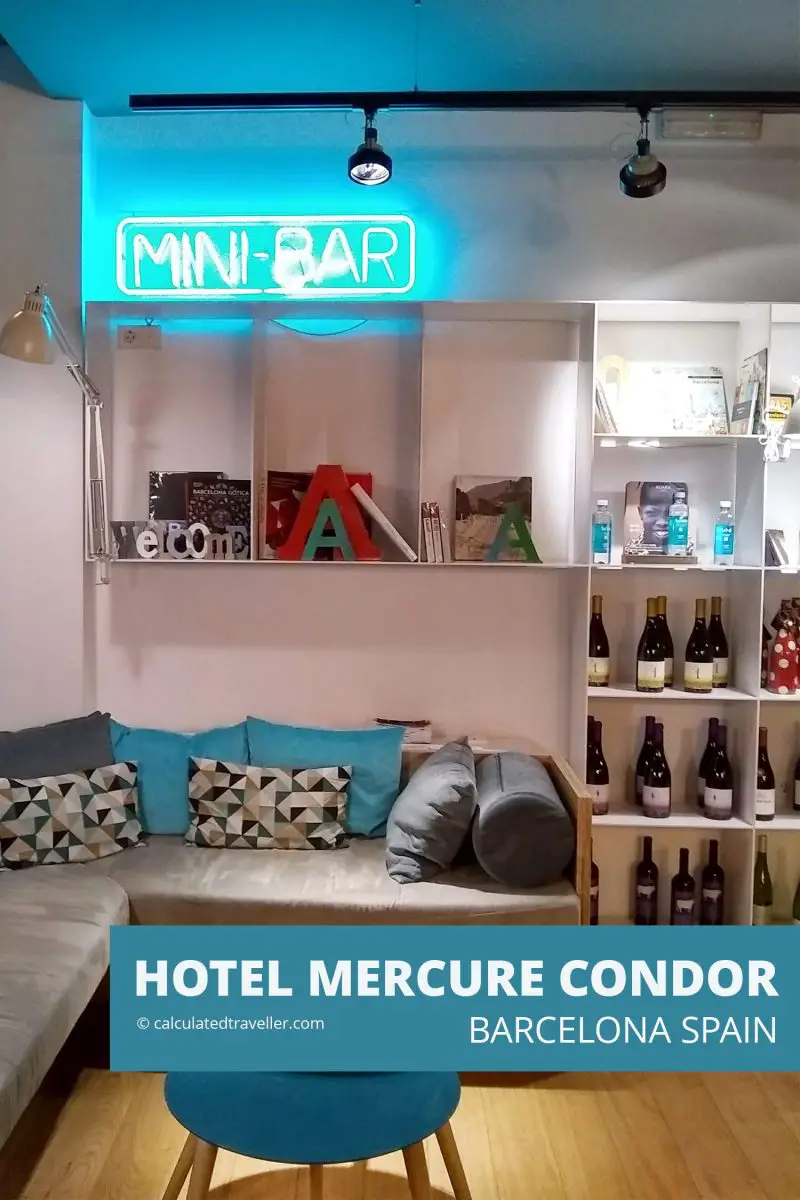 How to get from Barcelona Airport to Mercure Barcelona Condor Hotel
The most inexpensive way is to take the Metro.
Go to Terminal 2 to the Renfe Train
Buy a Renfe ticket
While you are here, buy a Metro Ticket since it's in the same area. We opted to get a T10 Zone 1 ticket which gives you 10 rides on the Metro within the city core. You can buy one transit card for each person, OR you can share a single transit card. To share a card, you simply enter through the turnstile one at a time, passing the transit card to the next person behind you. I only suggest doing this with perhaps two people; otherwise, it starts to get a bit cumbersome.
Take the Renfe Train to Prestige Gracia Station
Transfer to the L3 (Green) Line and get off at Fontana Station
Walk approximately 5 to 10 minutes to the hotel property
PRO TRAVEL TIP: There are actually 3 Metro Stations close to the hotel servicing different Metro Lines – Sant Gràcia, Place Molina, and Fontana.
At first, as I was pulling my carry-on behind me towards the Hotel Mercure Barcelona Condor, I felt it was a bit far of a walk from Fontana Metro station but then we realized after repeat journeys to and from the hotel and metro that we were taking a longer route than necessary. Once we found a direct route and didn't have our suitcases with us, our walk to and from the hotel took only 5 minutes.
Fontana Metro Station and the L3 Line, in general, proved to be very convenient. Since we were staying here pre-cruise, we would take the same metro line direct to Drassane station and the cruise bus to the ship without the need to transfer to another Metro line.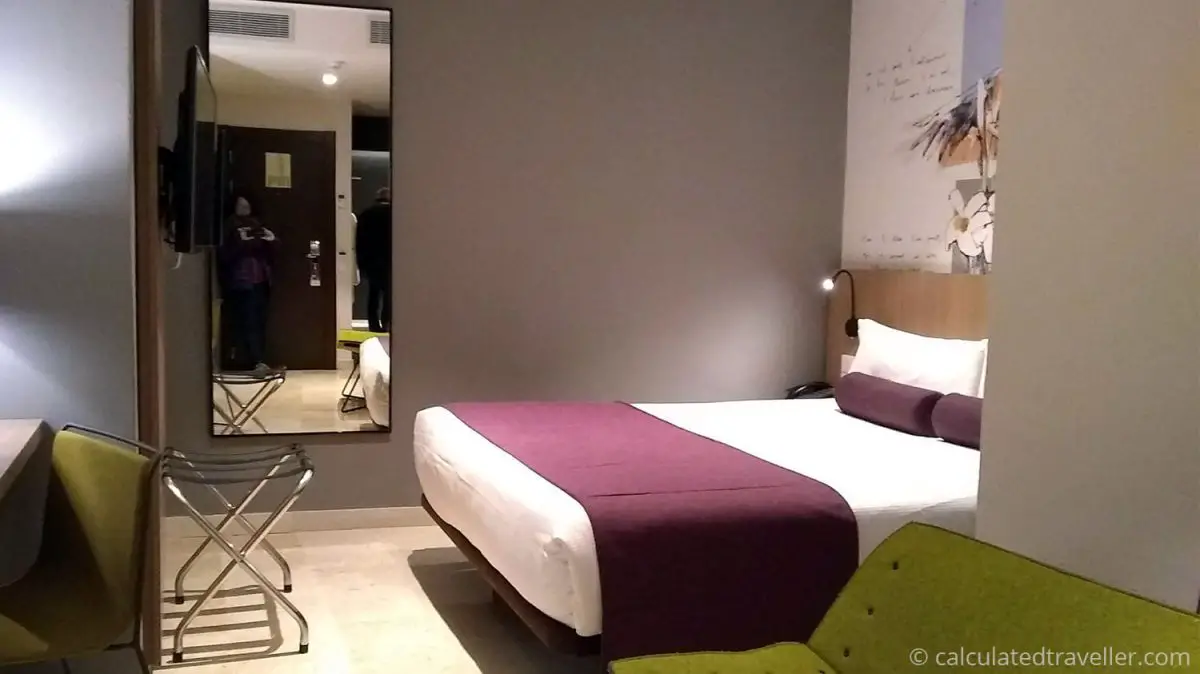 Hotel Mercure Barcelona Condor Standard In-Room Amenities
comfortable bedding
very quiet, although you can hear the slight rumble of the metro
modern chic decor
large bathroom/shower
bar fridge
small desk with a chair
armchair
television
in-room safe
windows that open for fresh air
adjustable thermostat for heat and air conditioning
lots of natural light
electronic key card entry
free Wi-Fi with strong high-speed internet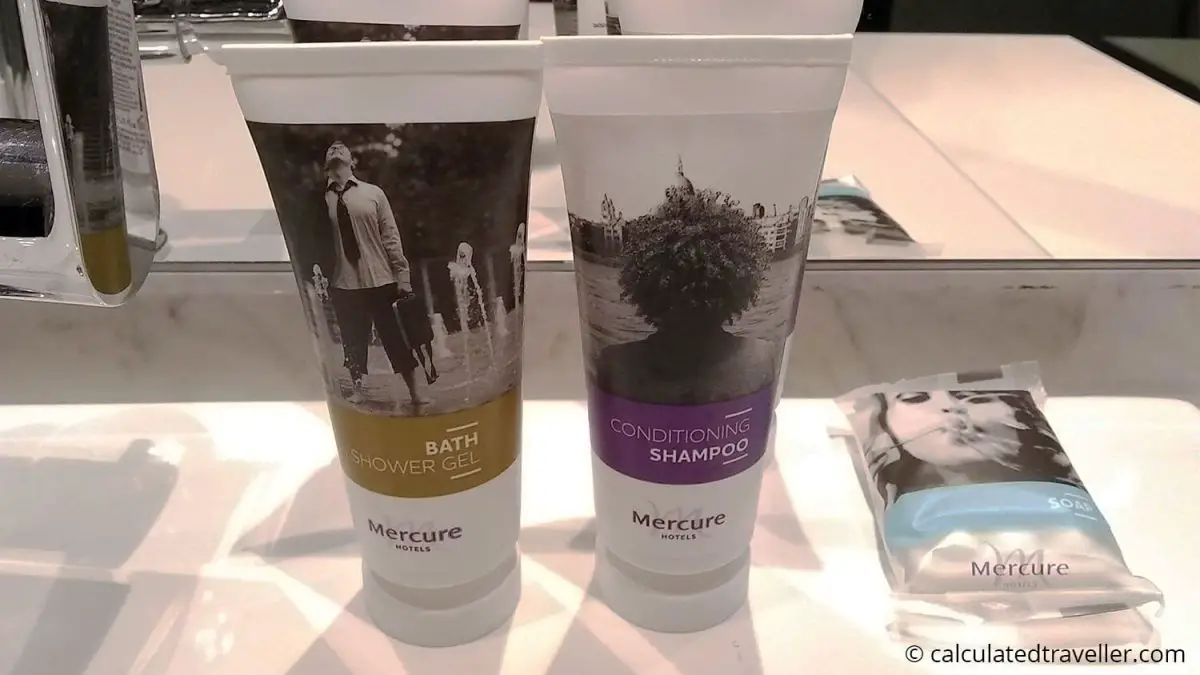 Mercure Hotel Barcelona Condor Amenities
Free coffee Nespresso and teas are available in the lobby 24 hours a day for all hotel guests
Breakfast buffet available on site (15 Euro/person)
Wine bar in the lobby
Computer station in the lobby
Complimentary free Wi-Fi was strong
Checkout time is at noon
Complimentary luggage storage
Welcoming and hospitable staff and service
The neighbourhood near the hotel, as mentioned previously, is home to local residents and lucky for us, the cafes, bakeries, restaurants and supermarkets were plentiful, and the prices were very budget-friendly.
A fabulous cafe bakery around the corner from the hotel offered cafe con Leche with a croissant or a canya (a type of turnover filled with either chocolate, cream or fruit) for 1.90 Euro. At this same cafe bakery, we bought 3 pastries for 1.60 euros. We happily stopped here for breakfast multiple times and purchased extra pastries for snacking on while we toured Barcelona.
There were a few local restaurants near Place Malino metro with outdoor patios and menu del dia – fixed price specials of the day that were reasonably priced.
We also found local eateries close to Fontana Station, where we ate a full meal at a shawarma restaurant called Luna Istanbul – mixed meat platter with rice, salad and drink 7.90 Euro each. Surprisingly,
Our hotel rate/night was around $60US and well worth the slight distance and inconvenience of staying away from Las Ramblas and Placa Catalunya.
PRO TRAVEL TIP: VAT tax of approximately 2 Euro per day per room is additional and payable on-site upon checkout.
A few things about the hotel rooms
There is no exhaust fan in the bathroom (which is common in Europe), although there are screenless windows that you can open for fresh air and ventilation
The floor was cold in the morning since there were no carpets, only wood floors and ceramic tiles. Again, this is quite common in Europe, so I always travel with flip-flops that I use as slippers.
Breakfast in the hotel was expensive, but luckily, there are a lot of inexpensive options in the neighbourhood.
The open door-less shower, although beautiful to look at and easy to get in and out of, didn't stop the water from going everywhere in the bathroom
I really enjoyed our stay at the Hotel Mercure Condo and would recommend it wholeheartedly. The time and distance using the metro from Hotel Mercure Barcelona Condor to Las Ramblas were less than 30 minutes, and the rates were affordable.
Do you have a favourite neighbourhood that you like to stay when visiting Barcelona, Spain?
For other articles about Spain, check out: