"Glamping" is a mash-up of the words "glamour" and "camping" and after staying in a wilderness suite at Long Point Eco-Adventures, two hours from Toronto Ontario on the shores of Lake Erie in Norfolk County, glamping is something I can certainly get used to doing again.
To be clear — I do not enjoy camping. I've tried camping twice, and it didn't "take". Sleeping on the ground is not for me.
My husband, on the other hand, is a hardcore camper. He doesn't just "car camp" at a park campsite using the facilities provided. Nope. Hubby and his group of friends go into full survivor mode. They drive hours into the country, park their car, load all their belongings into kayaks/canoes, then paddle to a secluded island and dig a hole for use as a toilet.
As you can well imagine, we don't see eye to eye when it comes to camping.
Long Point Eco-Adventures Wilderness Suites
Glamping — More Glamour / Less Camping
I knew I was up to something very different when we checked-in to Long Point Eco-Adventures and were each handed a leather portfolio case containing information about the compound, keys to our individual wilderness suite. The golf cart then came to pick up my luggage and staff drove me to my sweet suite!
Once at Suite 7, I was left on my own. Excitement overload time!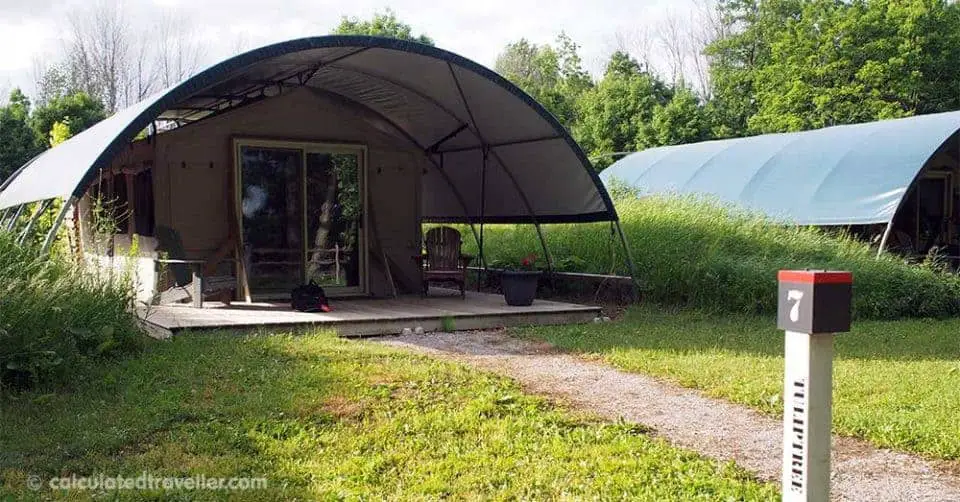 WOW!
Luxurious bedding, bathrobes, and linen
Duo zone electric blanket on the plush king-size bed with fluffy pillows
Rugs on the hardwood floors
Locking sliding patio door, private deck with Adirondack chairs
Electric heater and standing fan
Table and 2 side chairs
Private ensuite bathroom with exterior hot water rain shower and a flush toilet
Solar and electric lights
Clock radio and reading light
Free Wi-Fi
Mini-refrigerator
Eco-friendly toiletries
Smoke-free
24-hour on-site staff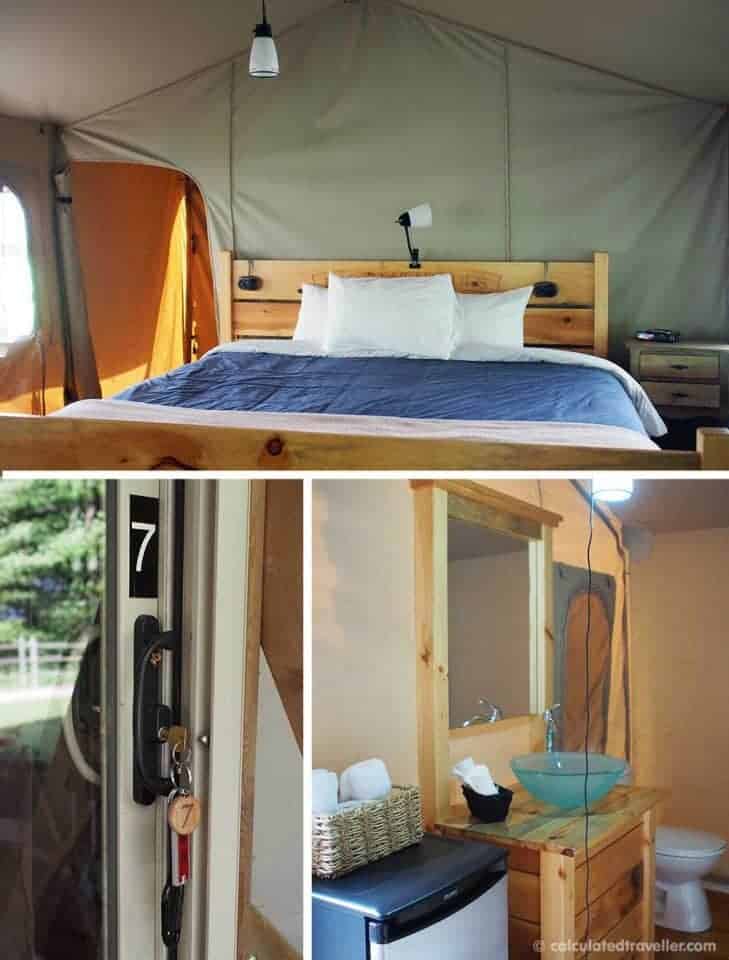 I have to mention this because I think it's very thoughtful of the gang at Long Point Eco-Adventures, but the key to my suite was on a carabineer, and it also included a flashlight! No worries about losing my key or losing my way in the dark.
At first sight, the wilderness suites seem to be very close together. When in reality there is a lot of privacy built into the layout and landscaping. I kept my side window panels open the entire time I was there to allow the natural light to shine in — the tall grass plantings on either side of the unit and the overhanging dome blocked the view of any wandering eyes.
What's there to do at Long Point Eco-Adventures?
Now, what?
Well, get out there and start exploring of course!
Zip line (they have eight lines and two suspension bridges), fishing/kayaking/boat tours, SUP, hiking, and biking (75 km of trails) adventures are all waiting for you. Long Point Eco-Adventures is located just north of the UNESCO Long Point World Biosphere Reserve and Turkey Point Provincial Park.
No bike or kayak? No problem, equipment is available for rent on site.
You can do as little as you want or as much as you want but one thing not to miss once the sun goes down is the Observatory Tower Tour.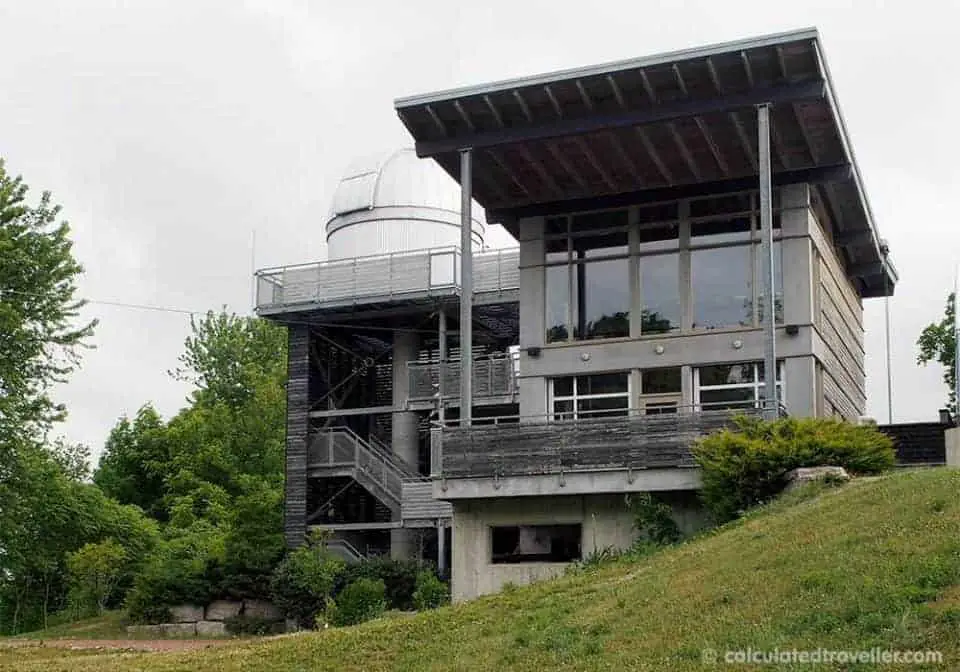 A professional facility with a state of the art 16-inch telescope able to see 100 million light-years away is on site and available every night (weather permitting) for viewing. With the help of staff, we were able to see Saturn and Mars. Even without the assistance of the telescope, from the vantage point of the treetop observation deck and your binoculars, you're able to see the stars.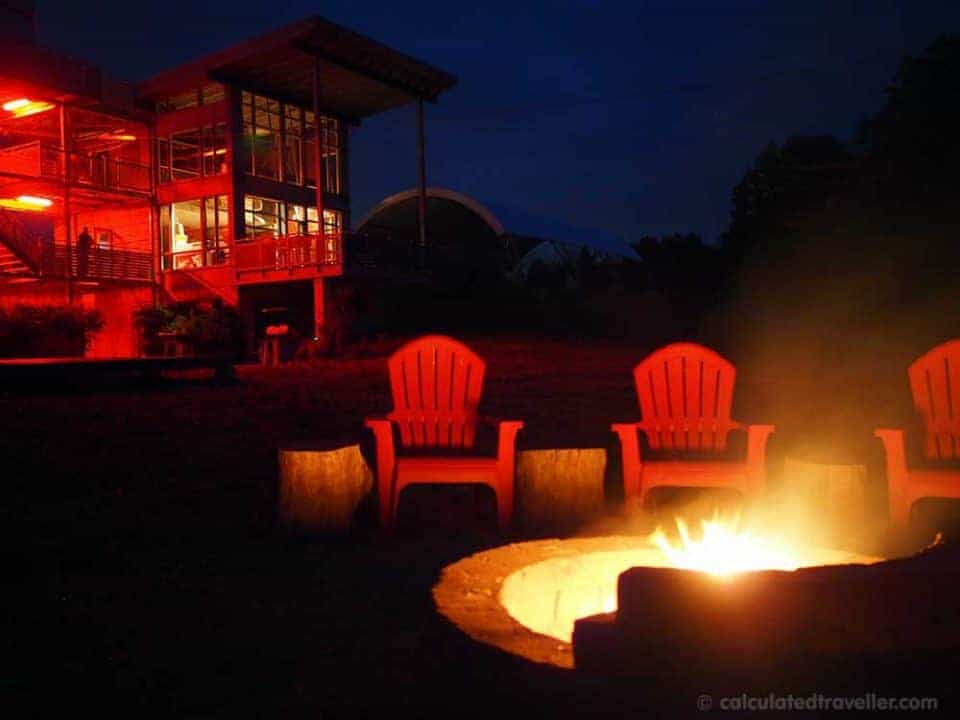 After some time by the bonfire chatting with my travel companions, I retired to my heated tent and went to sleep in my warm comfy bed dreaming about the stars and planets.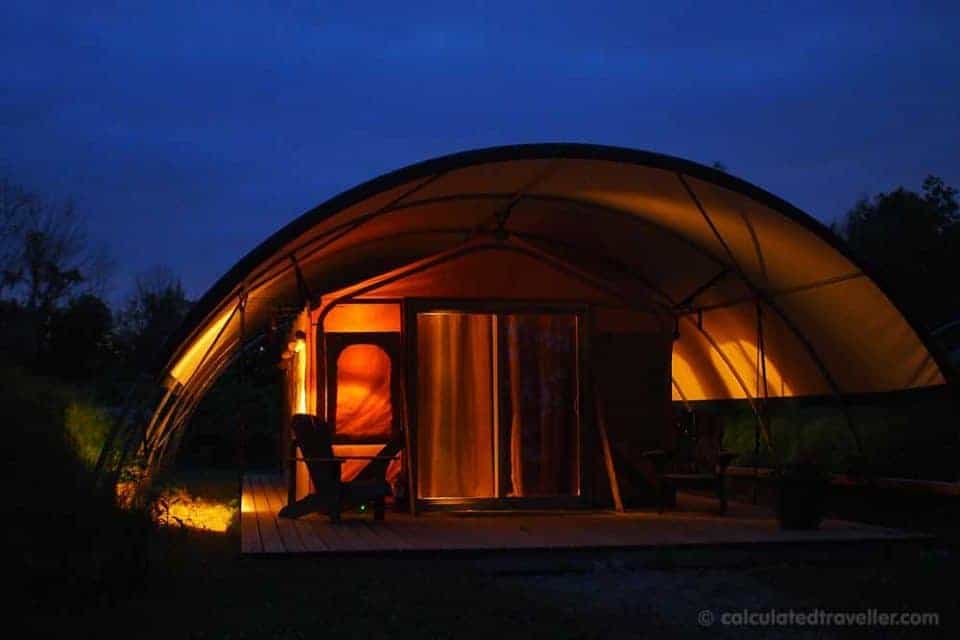 Confessions of a Wilderness Wimp
Brrr…It's 7:30 in the morning and I just took the fastest shower I've ever had in my entire life. I'm one of those girls who has a systematic bathing regime – an order of events that takes 15-20 minutes to complete.
Showering outdoors in 8°C weather does not allow one to linger even with the hot water running! But in the interest of having the full glamping experience, I did it, and it wasn't all that bad. Mind you I skipped a bunch of steps, and I didn't wash my hair because I didn't have a hairdryer with me!
To be truthful, I did rush back inside, throw on the fluffy bathrobe that Long Point Eco-Adventures left for me in my suite and got back under the electric blanket on my bed. I'm still a wilderness wimp after all!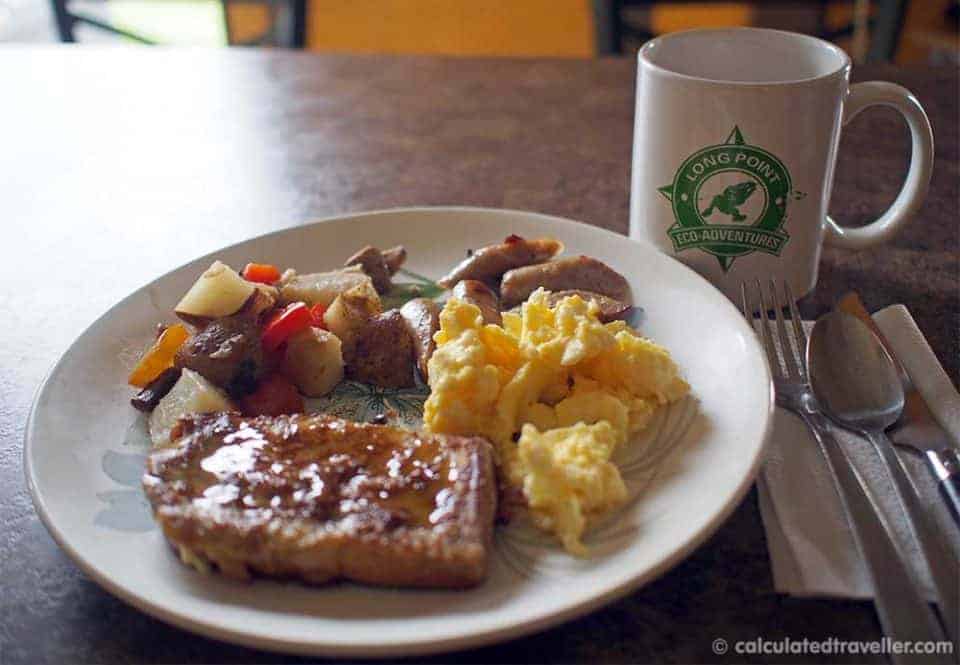 Breakfast included with your stay is served in the Kambuka Tent from 7-11 AM and consisted of hot, freshly cooked and hearty fare. Local bread, scrambled eggs, sausage, potatoes, French toast, as well as assorted hot and cold cereals and beverages are all on the menu. Everything, as expected, is help-yourself casual.
No food is allowed in the wilderness suites at any time but not to worry lunch, and dinner is available across the street at the award-winning Burning Kiln 27 acre vineyard a short walk or golf cart ride away. They also offer picnic to go boxes, complete with wine.
Dining at Burning Kiln Winery
Food service is available at Burning Kiln Winery May to September. The cuisine under the direction of Chef Scott McRae of David's Restaurant in nearby Port Dover is excellent and surprisingly is all produced in a food trailer parked outside on the patio.
Speaking of wine — since you are coming here to eat you might as well indulge yourself in some of their excellent award-winning wines with a tasting and a tour. (My favourite is the 2014 Sweet Leaf Riesling)
We dined on the following:
Arancini Balls
With Marinara and Parmesan Reggiano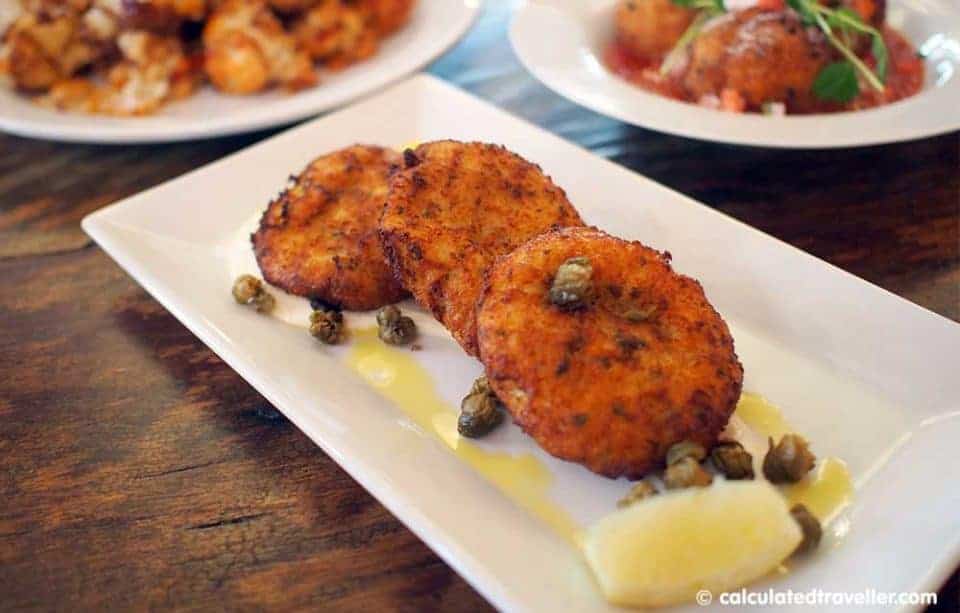 Lake Erie Perch & Pickerel Fish Cakes
With Citrus Aioli
– When in this part of Ontario, one just has to order the perch without question.
Korean Fried Cauliflower
Vegan & Gluten Free, Fried & Tossed with Korean Sticky Sauce & Sesame Seeds
– Amazing! It's meant to be an entrée, but we shared this as an appetiser. Next time I eat here — I'm not sharing sorry! (wink).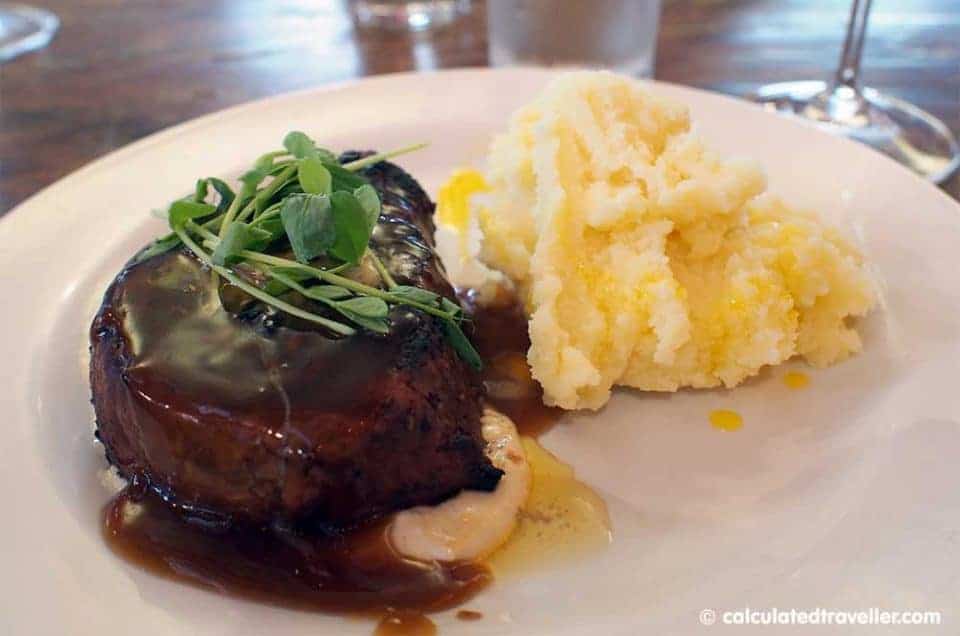 8 oz Beef Tenderloin
With Horseradish Mayo & Local Berry Butter
Side order of Mashed Potatoes
– Perfectly cooked, perfectly satisfying
Chocolate Flourless Brownie
Norfolk County Berry Mousse
Vanilla Ice Cream with Berry Compote
– Perfect end to a perfect meal.
Not only is the food excellent but to be able to dine in the tasting room of an award-winning vineyard is a wine-lovers dream.
They also have live music on the patio on Sundays for your listening pleasure.
I think a return trip is in order…
I had a unique luxury glamping experience at Long Point Eco-Adventures, and although I didn't get to try the zip line, explore the hiking trails or take a kayak out for a run, I still had a fabulous, memorable time.
Long Point Eco-Adventures offers various one-night and two-night pre-set packages, but you can also create a custom package with the help of the staff. Another cool accommodation option they have to offer is their brand-new wilderness pods (AKA "hobbit huts"). They are smoke-free with comfy deluxe beds (queen or 2 twins), heat, electricity, linens, and private decks but without the ensuite bath — located nearby are shared facilities.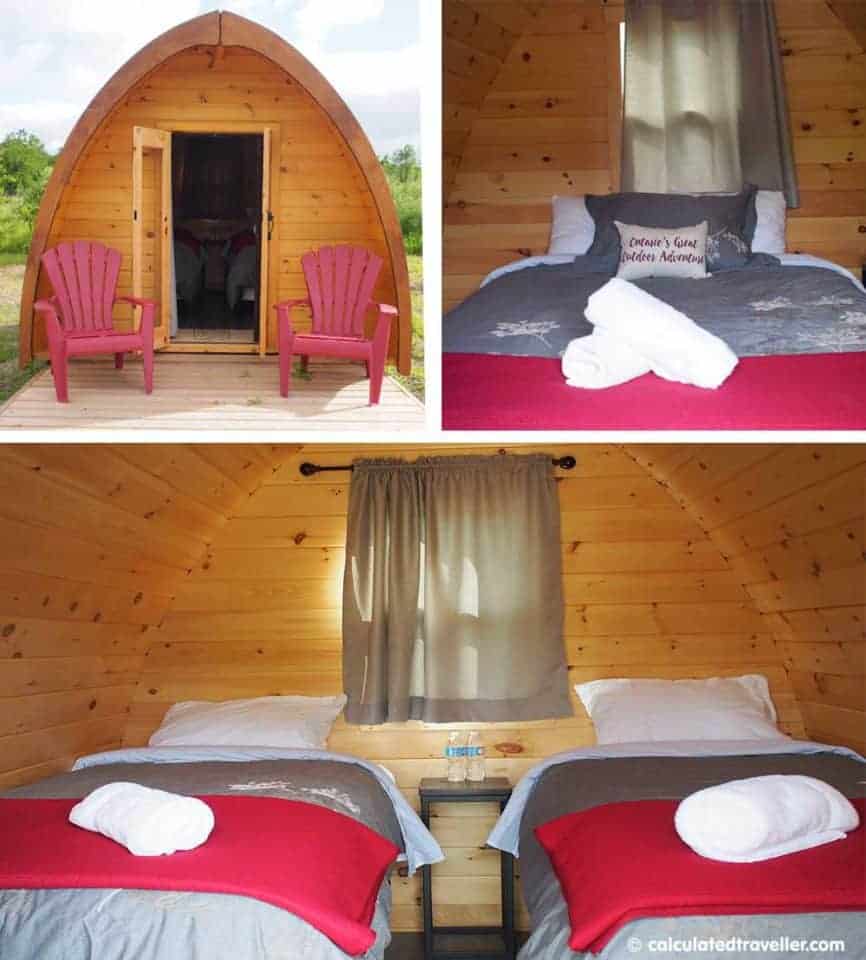 Plans for the future at Long Point Eco-Adventures are for a full-service kitchen, indoor comfort station, and indoor conference centre.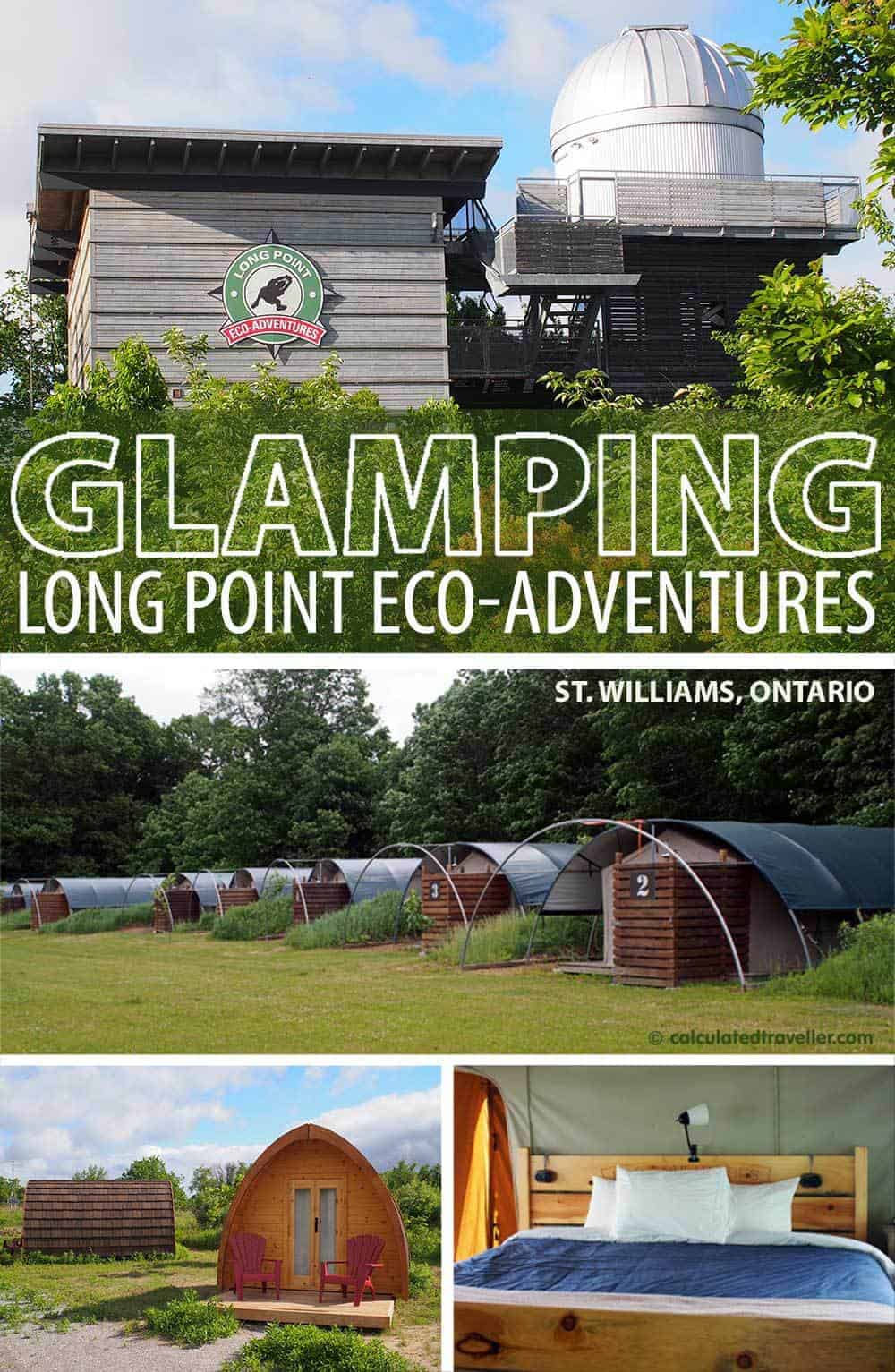 I may not be a hardcore camper like my husband is, but I now consider myself a hardcore luxury glamper!
Read more reviews about Long Point Eco-Adventures on TripAdvisor.
Read reviews of Burning Kiln here.
Travel assistance provided by Norfolk County Tourism and Ontario Southwest Tourism.
All opinions are entirely my own.
Have you tried Glamping before? I'd love to hear about it so that I can put it on my list.
Check out more good eats in Ontario's Southwest:
– Local Fare Delights at Ontario's Southwest City Fare 2016