Organised by the Ontario's Southwest Tourism and iYellow Wine Club, City Fare 2016 brought together the best of food and drink from Ontario's Elgin, Windsor-Essex, Chatham-Kent, Norfolk, Middlesex, Sarnia-Lambton, Oxford, and Haldimand counties. This event allowed Toronto and area residents a rare treat of sampling the best fare and drink vendors from these areas under one roof, without having to make the 2 to 4-hour journey.
My first stop was Colio Estate Wines, and what better way to start the event than with a glass of their crisp and clean sparkling wine, Lily. One of the winery's oldest products, it's no wonder that it is touted as one of Colio's greatest accomplishments—it's probably the best sparkling wine I've had. You may recognise one of Colio's more popular labels Girl's Night Out, which comes in a variety of reds, whites, and other wine-related products (hello, sangria!). Originally built by three Italian bricklayers in 1980, Colio Estates comprises 200 acres of vineyards in Harrow, ON, just outside of Windsor. An interview with Vice President of Marketing Danielle Giroux revealed that the key to Colio's success is its real estate; the vineyard is located at latitudes similar to those of Northern California and the Tuscany region of Italy. Offering one of the longest growing seasons in Canada, the climate allows the grapes to ripen on the vine, making it particularly ideal for producing red wines. Giroux revealed that Colio's greatest challenge came two years ago when it had to rebuild half of its vineyard due to the effects of harsh winters. However, Colio is looking forward to advancing its wines on the Canada-wide stage and, returning to its roots of hard work and determination, is expanding its market into craft brewing and possibly craft distillery in the future. Professional, organised, and sophisticated, Colio Estates is definitely on my list of wineries to visit.
Conveniently, only a few steps away was Gunn's Hill Cheese, located just outside of Woodstock in the dairy capital of Ontario, Oxford County. Gunn's Hill makes five main types of cheese but also carries multiple other varieties throughout the year, as well as sheep and buffalo cheese for local Amish country residents. A relatively young cheese plant at only five years old, it has already established itself as one of the best cheese producers in the area, winning Category Champion for its 5 Brothers cheese at the Canadian Cheese Grand Prix after only one and half years in business. This award catapulted sales, allowing Gunn's Hill to establish itself as one of the hot spots on the Oxford County Cheese Trail (yes, that's a thing, and it also includes bakeries, tea rooms, and other sweets). Co-owner Shep Ysselstein is of Dutch decent but makes his cheese following Swiss traditions. While he has enjoyed success, Ysselstein hopes to moderate his growth so that he doesn't lose his passion for his work. He also believes in keeping it local: most of the milk he uses comes from his family's dairy farm. Visitors to Gunn's Hill Cheese plant will want to book a tour, in which they can see everything from the cows to the process, and finally, taste the final product. Your visit will also allow you to experience speciality cheeses such as "Tipsy" (marinated in red wine) and "Beaus" (beer-infused). Sign me up!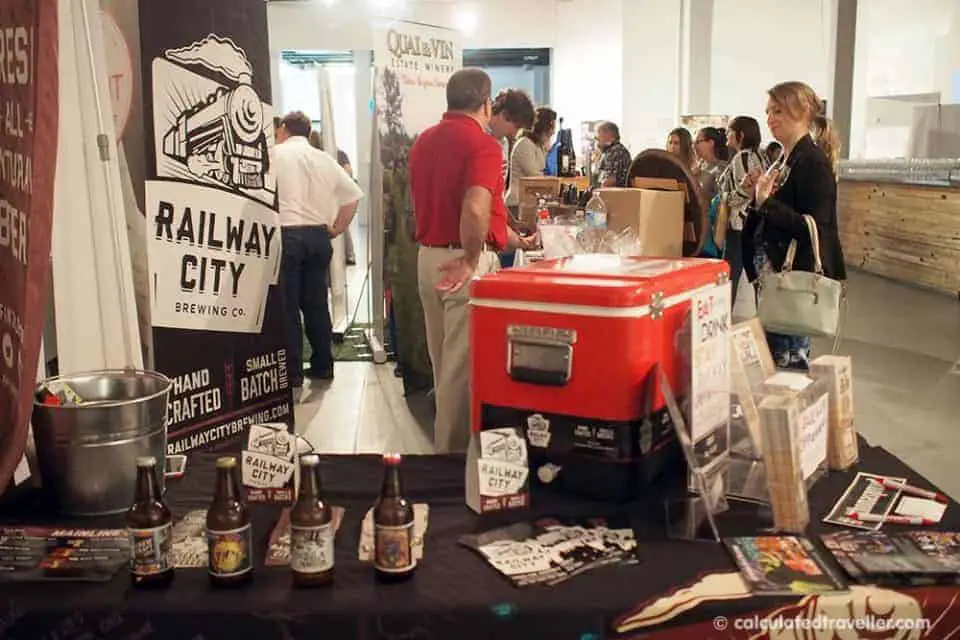 The Ontario's Southwest City Fare showed a strong undercurrent of a desire to create products using local ingredients. The honey and lavender used in Railway City Brewing Company's Gypsy Fortune Teller beer came from Wildflowers Tea, which happened to be the stall directly across from it. Casual fine dining restaurant Six Thirty Nine located in Woodstock, ON, for example, uses grains from C-K Table in their bread. No food goes to waste at the Blue Elephant Craft Brew House and Casual Dining restaurant: they offered a delicious homemade soft beer cheese and used the spent grains from the brewing process to create a sweet potato pudding that puts all others to shame. They also used the spent grains to make dog biscuits, which my fur baby thoroughly enjoyed.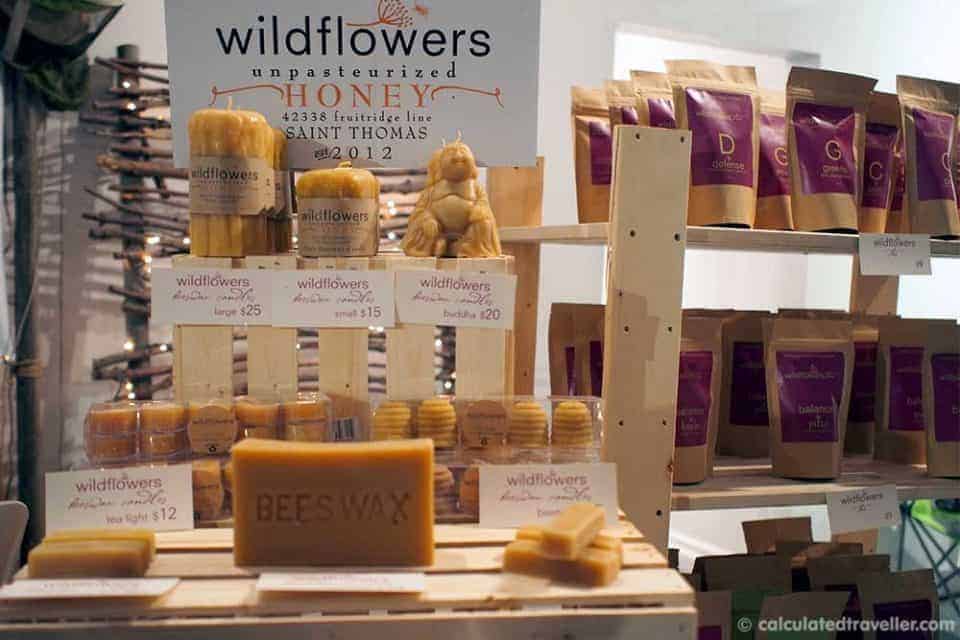 At the heart of this local food movement is Paul Spence (Farmer Paul) from C-K Table. C-K Table was born out of an annual signature event that allowed consumers to visit farms and meet farmers as well as local chefs and ended with the culmination of the two: bringing the farm to the table in a feast celebrating local fare and culinary talents. But such a noble and strong theme quickly grew into a movement—one to "create a viable, self-sustaining, local food economy." It took only seconds for me to realize that Farmer Paul believes in what he's creating, and while I grew up in the country and in a small town, my current near-urban lifestyle had me craving this new (old?) world order in which consumers are informed about the food they are putting into their mouth and choose to support the farmers in their area. Paul's passion for creating a sustainable local food economy is infectious. Look for C-K Table's upcoming "Be a Farmer for a Day" experiences and learn for yourself what goes into growing and harvesting your food. This will be a great opportunity for people of all ages and from all walks of life to become part of something that is larger than ourselves and that affects us at the basic level. C-K Table is still growing into itself, but it is leading a movement that I believe will consume the agriculture industry in Ontario. When asked about C-K Table's greatest accomplishment, Paul said that seeing people dialogue about this issue and seeing the desire consumers have to become more involved and educated about what they eat is extremely rewarding. You can become part of the dialogue and become part of the movement by engaging in the conversation on social media at #FoodStartsHere. Together we can change the course of the local food economy to make it local and keep it real.
Attending the Ontario's Southwest City Fare opened my eyes not only to the richness and diversity of products this area of Ontario has to offer but also to the role we play both as individuals and collectively in driving and maintaining a thriving local economy. I had no idea just how many wineries and breweries are in this area, most of which are family-run. While I wasn't able to sample all the products I wanted to, I did help myself to Sprucewood Shores Estate Winery's Lady in Red, and I'm so glad that I did. I have finally found a very good Ontario red wine, and it is affordably priced—I know because I just bought a bottle from the LCBO. From lavender farms to speciality chocolate shops; unpasteurized honey to infused whisky; speciality coffee, teas, and cheese; and even wheatgrass shots and living organic greens, this event highlighted the diversity that southwestern Ontario has to offer.
Restaurants displayed their talents with creative combinations of the local fare in their areas. With all of these delights made more accessible through wine, beer, and cheese cycling routes and tours, there really is no excuse not to plan a visit to this area and discover and celebrate what Southwestern Ontario has to offer. Perhaps the most important stop you'll want to make on your tour is to visit historic sites along the Ontario Underground Railroad in Chatham-Kent and celebrate the role this area played in helping freedom seekers find their freedom from slavery.
I'm already planning my next trip Ontario's Southwest, and I'm excited for what I'm going to discover and for the people I'm going to meet. What are you doing this summer?
I was a guest of Ontario's Southwest Tourism and iYellow Wine Club. All opinions are entirely my own.
For more Ontario Southwest articles:
– Glamping it UP at Long Point Eco-Adventures Ontario
– Discovering Flyers and History in Dunnville Ontario
– Guide To Awesome Small-Town Ontario Festivals