Located in downtown Houston Texas next to the Minute Maid Park and the George R. Brown Convention Center is the newly renovated Homewood Suites by Hilton Houston Downtown.
We had an opportunity to stay here shortly after it opened (March 2016). We found the hotel to be in an excellent location within the downtown core of Houston and a perfect hotel for all types of travellers both business, extended stay and families.
Inside our Homewood Suites by Hilton Houston Downtown Suite we had:
2 burner stove top
Full size refrigerator
Dishwasher
Coffee maker
Kitchen utensils, pots and pans, dishes, glassware and cutlery
Seating area with a sofa bed
Work space with USB charging station
Sleeping area with a King size bed
Rain shower head in the shower featuring toiletries by Neutrogenia
We found our suite to be very comfortable and quite large. One thing that I found surprising was the heating/air conditioning system. It was super quiet and similar to what you would find at home with a thermostat on the wall – it wasn't one of those noisy boxes under the window like you usually see in hotels.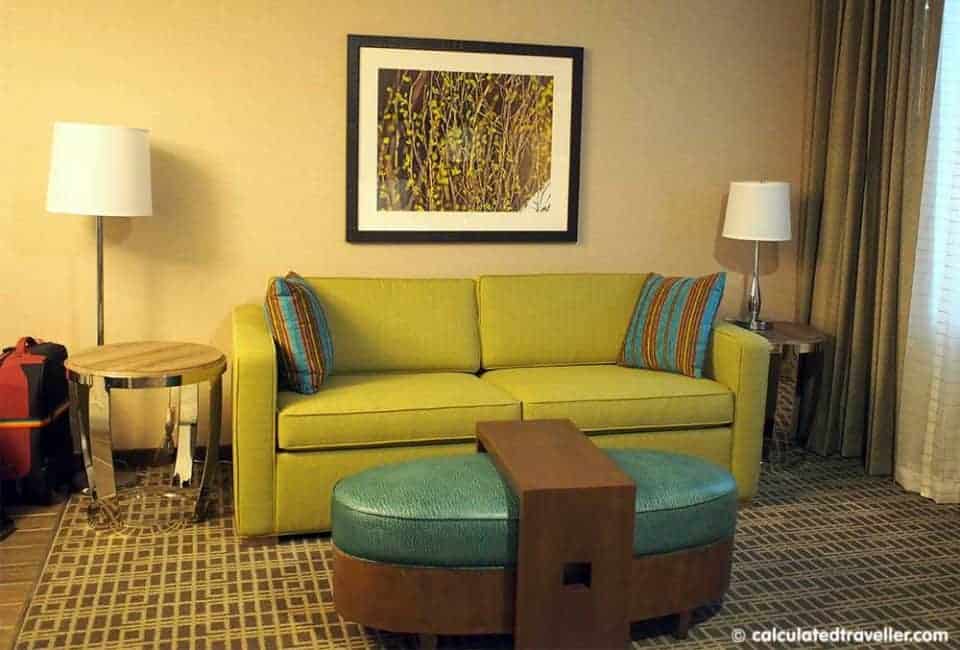 The suite was more like a condo apartment than a hotel room, which I think is great if you are a business traveller and yearn for the comforts of home while you are away.
Homewood Suites by Hilton Houston Downtown "Evening Social"
Another perk of staying at a Homewood Suites by Hilton is the "Evening Social" that takes place Monday to Thursday from 5-7 PM. Geared towards the business traveller so that they can grab a bite and unwind after a day of meetings without the stress of searching the streets for dinner, the Evening Social is a godsend for family travellers too.
I was expecting a simple plate of cheese and crackers and was surprised to see a full spread of food including tossed salad, veggie platter, cheese platter, salty snack zone and a hot selection featuring a lovely cream of chicken with wild rice soup. Wine, beer, lemonade, ice tea, coffee and tea are also available — all entirely complimentary.
Our host/server Stephen explained to us that the hot selection changes daily, past items on offer range from pulled pork sliders, to pasta, to even Vietnamese pho and tofu noodles.
It's all you can eat, so you really can make an entire meal of it.
In keeping with the topic of food, the complimentary hot breakfast is served Mon./Fri. 6-9 AM and Sat./Sun. 7-10 AM in the same area as the Evening Social. Consisting of fruit, yoghurt, hot/cold cereals, waffles, eggs, sausage, pastries, and an assortment of juices, coffee and tea. Everything was hot, fresh and plentiful.
Homewood Suites by Hilton Houston Downtown Amenities
The hotel also features a rooftop pool, fitness facilities and coin laundry.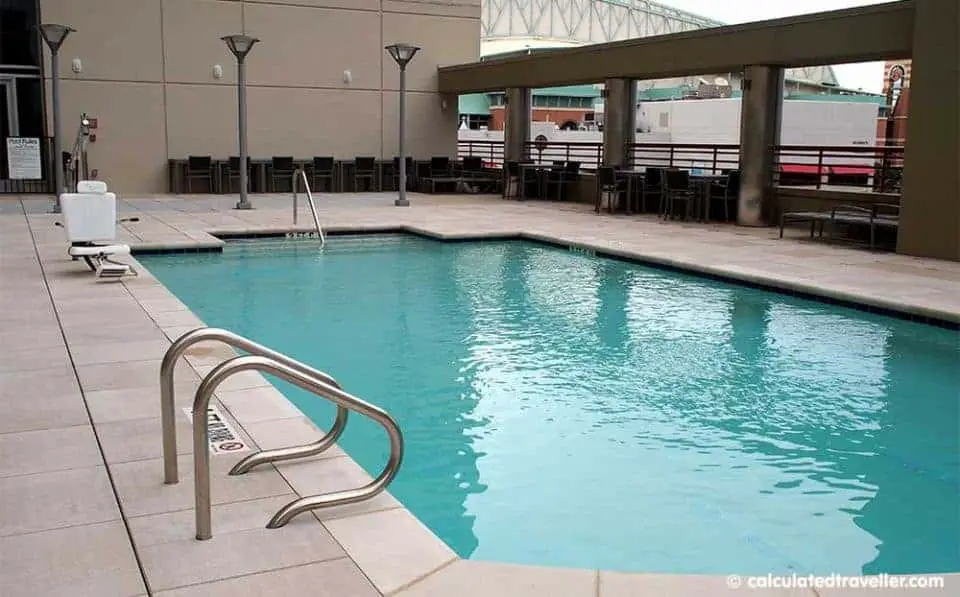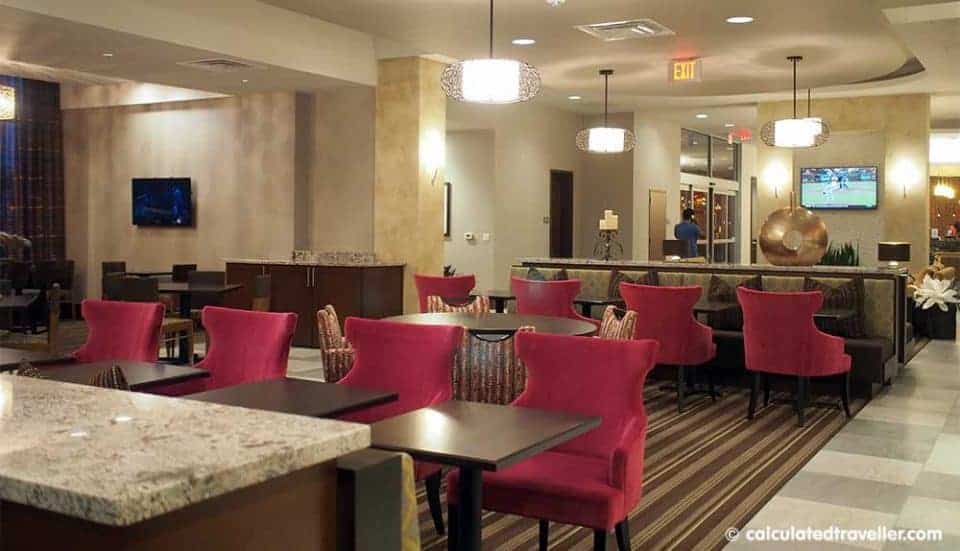 There is also a tuck shop, bar and business centre in the lobby.
One fabulous find just a few blocks away at 1001 Austin Street is Phoenicia Specialty Foods. An excellent spot to pick up groceries but also onsite is the Market Bar should you want a cocktail (opens at 2 PM), a hot table with Mediterranean foods, sushi bar, pizza, bakery and salad bar. They even have live music on the weekends.
We picked up two gyro combos for lunch from the Mediterranean food counter and had so much food that we had the leftovers for dinner that night.
Out Houston visit was our first experience staying at a Homewood Suites by Hilton and with all the extras included with the room rate it definitely won't be our last.
The staff is very welcoming, friendly and accommodating and our stay was very comfortable. The only downside to the hotel is that there is no self-parking – only Valet parking, which adds an extra $30/day to your bill if you are travelling by car.
There is a plaque in the lobby about their logo that says,
"The duck is a universal symbol of versatility and adaptability. Comfortable in air, in water, and on land, ducks migrate long distances over extended periods. They always find the perfect place to stay – a second home – no matter where they travel. We admire the duck's ability to adapt and prosper in a variety of places. Our goal is to serve you with that same spirit of resourcefulness and flexibility."
Regarding my stay, I think they did a pretty good job in living up to this motto…
Homewood Suites by Hilton Houston Downtown
710 Crawford St, Houston, TX 77002
Read other reviews of Homewood Suites by Hilton Houston Downtown on TripAdvisor.
Looking for things to do in Houston?
Check out our article: CityPASS Houston Texas – The Best Way to Tour
Travel assistance provided by Visit Houston. All opinions are entirely my own.
 
Have you stayed at a Homewood Suites by Hilton Hotel? What did you think about it?