The clay on the pottery wheel feels surprisingly warm and velvety within my hands as it spins around and around transforming from its original blob shape into a beautiful useable creation.
I expected the clay to be cold and clammy but as Grahame (AKA The Hairy Potter) my "Patrick Swayze" in this pottery tale explains, "It's warm due to the centrifugal spinning of the wheel".
"Gone to Pot" is just one of the unique explorative packages on offer by tour operator Yours Outdoors in Ontario's Highlands. Pottery is not my first tour experience package I've had the pleasure of participating in and it definitely won't be my last.
Read my articles on the other explorative packages by Yours Outdoors:
Creating Beauty out of the Fire – Artech Glass Blowing Studio – Haliburton
Snowshoeing Lessons Learned at Minden Wild Water Preserve
Play with Clay Workshop at Earth and Fire Pottery
Grahame sits facing me over the pottery wheel and his hands are cupped over mine as he guides me in creating my very first clay creation, a drinking cup.
The wheel spins under the control of my foot on the pedal and I'm grinning from ear to ear as he teaches me how to drip water from the sponge on to the clay with one hand, all the while forming the cup between my fingers of the other hand.
He occasionally sits back and lets me mold the clay by myself…coming back to rescue me when my soon-to-be cup starts to go off kilter or I start to panic.
I can't believe that this is my first time creating pottery on a wheel and after a few short minutes I'm on my own creating my second piece under Grahame's watchful eye. "You are a natural…" he says and I'm hooked! I start daydreaming about all the wonderful pieces of pottery that I can create if only I had the time…
There are varying Gone to Pot tour packages of various lengths ranging from half day to full day and covering both thrown / wheel and slab techniques.
In just a few hours I was super pleased to have made the following:
Gone to Pot by Yours Outdoors Tips
Wear old clothes. The clay washes out easily but this isn't an occasion to wear cashmere.
Dress comfortably. There is a lot of sitting and leaning forward.
Best to wear short sleeves or be able to easily roll up your sleeves so they don't get in the way.
Remove jewelry around your wrists and fingers.
Cut your nails very short so that they don't dig into the clay while it's spinning on the wheel.
Note: You don't actually glaze and fire your clay pieces. Your creations get fired at a later time and are shipped to you.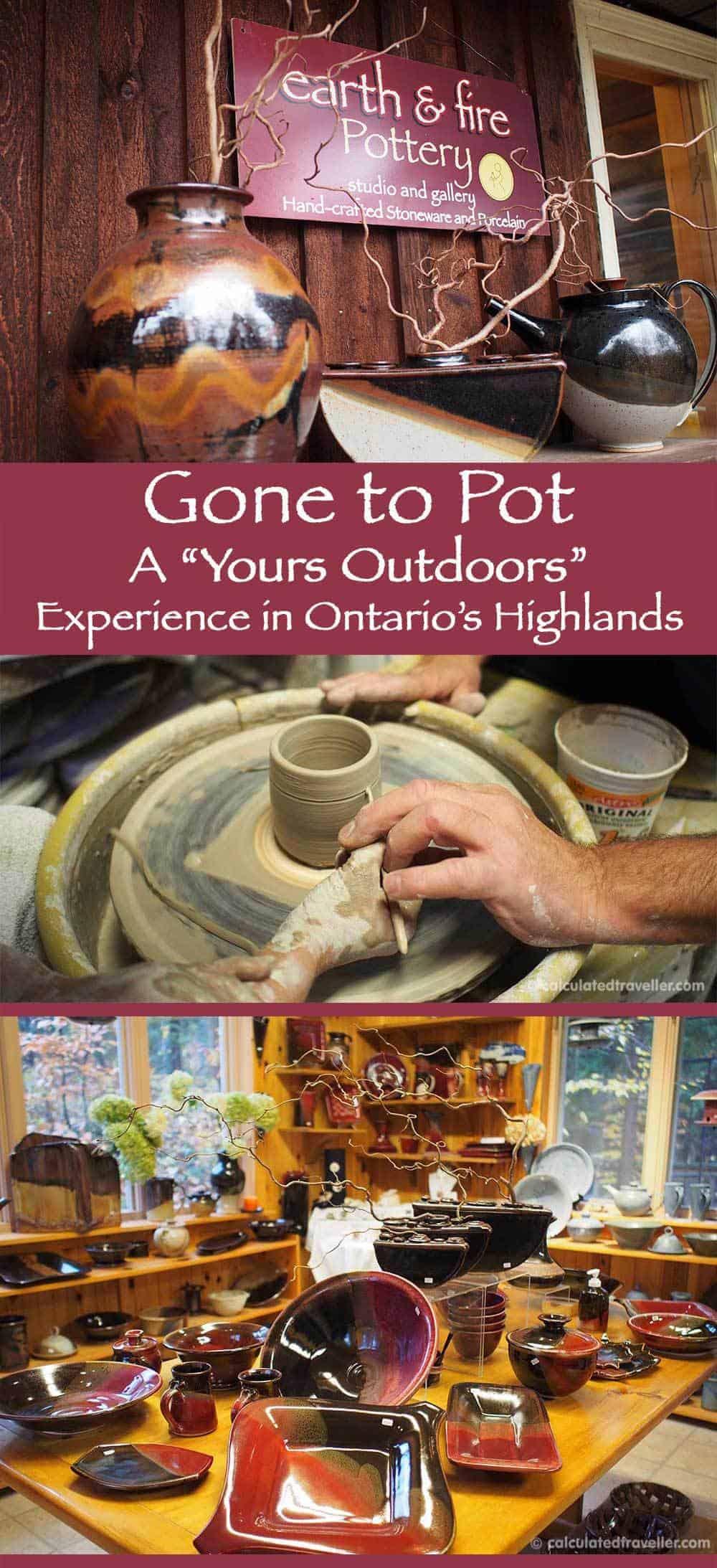 Special Thanks to Maria of Yours Outdoors for taking all the great photos of me in action!
Travel assistance provided by Ontario's Highlands Tourism and Yours Outdoors. As always, the opinions expressed in this post are my own.
In the area and looking for a bit of music?
– Travel Music Playlist – Haliburton Folk Music Camp Ontario