Ahh, walking through the woods, with the snow lightly falling overhead, the crunch of the snow underfoot and the only sound that you can hear is the rushing of the river and the sound of my snow pants.
This memory was my first experience while taking snowshoeing lessons at the Minden Wild Water Preserve with Yours Outdoors in the beautiful Haliburton Highlands of Ontario.
Does Anyone Have Snow Pants they can Lend Me?
When I took to Facebook to ask friends if they had snow pants to loan me for not one but two winter weekend adventures my request was met with shock and many questions ranging from "is this a joke?" to "you're kidding right?".
Why all the scepticism?
My friends know that I'm not what you would call an outdoorsman (outdoorswoman?), but I do enjoy a challenge and make it a point of forcing myself to try new adventures!
Whenever I think of snow, I think of the movie musical White Christmas. Snow plays such a pivotal role in the film — so much so that they were waiting, searching, yearning and of course singing for the cold, fluffy, white stuff! But I personally, never liked the snow.
My experiences with snow, ice and cold weather adventures, in general, have not always been incident-free, and usually don't include any singing or dancing.
When New Things are Tried for the First Time, Memories Happen
I recall the ice fishing incident where my friend Sharon's foot went through the ice, the dog sledding incident where I had to wrestle my glove out of a Huskies mouth and the time I was waist-deep in the snow and couldn't get myself out!
WAIT?
WHAT?
Yes, I've Fallen and I Can't Get Up
That's what happened after our adventure ice fishing on Lake Simcoe.
Typically when you travel with loving friends or family and fall, they immediately help you stand up.
However, if your friends happen to be fellow travel bloggers, the scenario becomes something entirely different.
Cameras immediately come out, and the entire event becomes something to document on social media in all its embarrassing glory.
The week before this trip, we were walking from the dock up to our cottage at the Briars Resort, and I didn't realize that I was the only one not walking on the path. I had my snow pants and boots on and was trudging along behind everyone else and the next thing you know, I end up sinking up to my waist into the deep snow. Each step made it more difficult to walk, and I ultimately decided to lie down and roll, roll, roll my way over to the firmer ground where everyone else was standing.
Walking through the snow is not an easy task if you are ill-prepared and untrained. But, this entire photographic incident (lovingly photographed by Helen Suk) could have been avoided had I been wearing snowshoes (or had I been able to see the path and keep to it).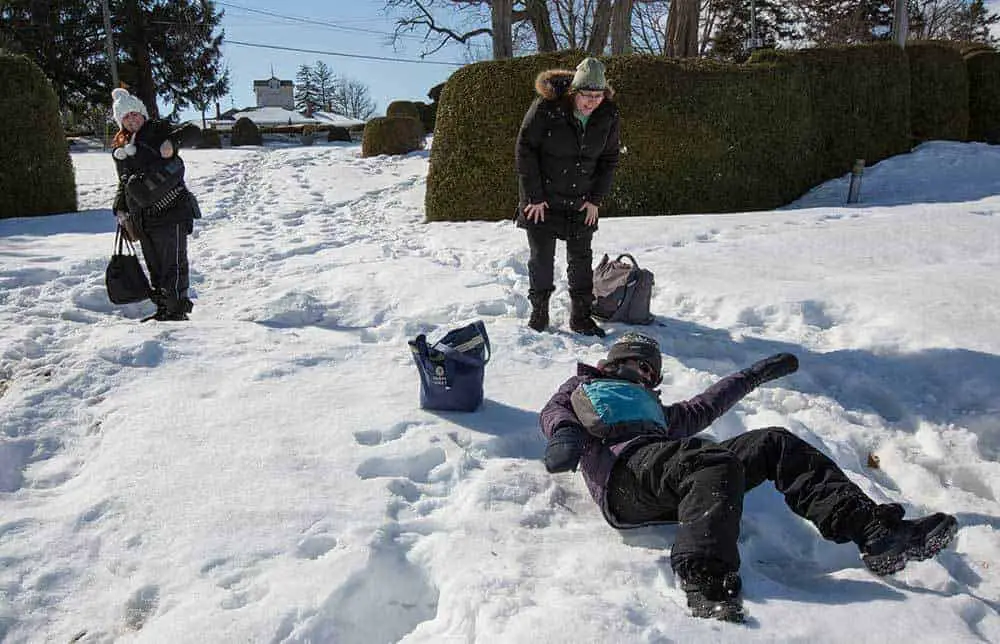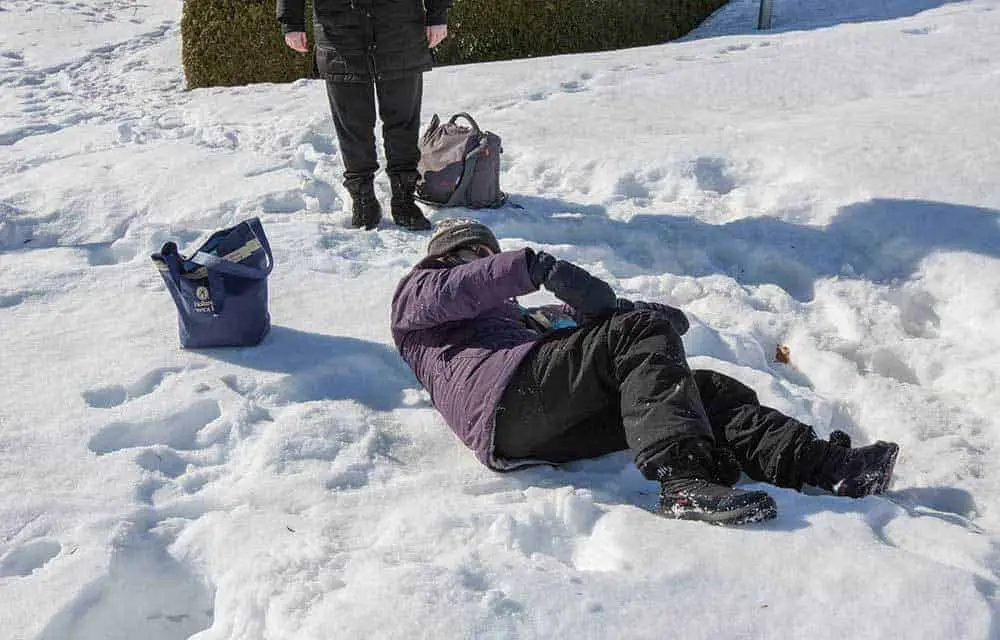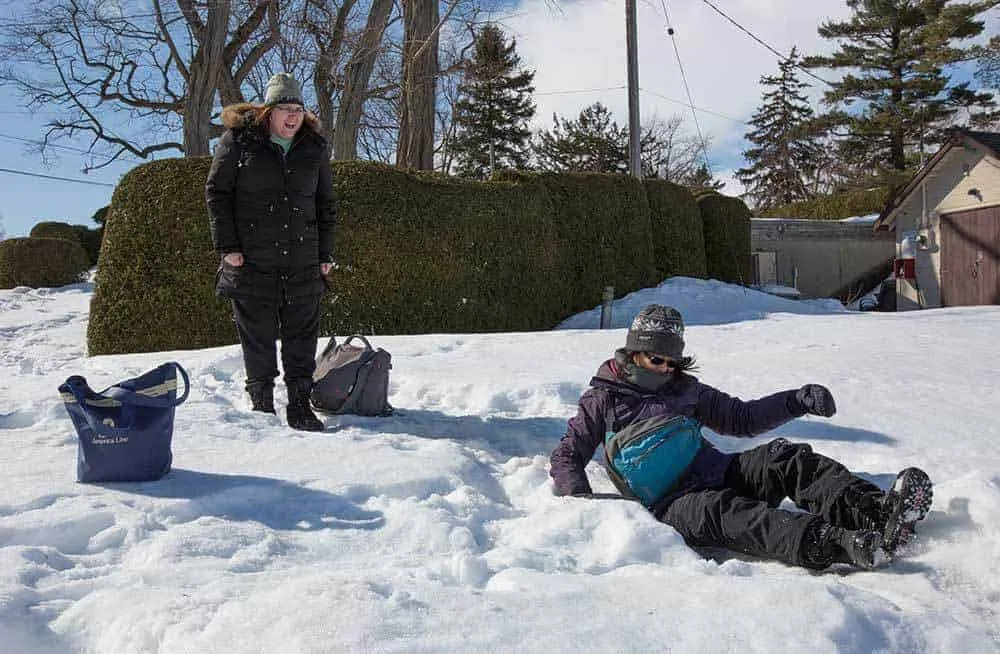 Yours Outdoors Gave me Snowshoeing Lessons
(and saved me from future embarrassment)
Yours Outdoors offers learning vacations and outdoor guided snowshoe for beginners with all gear included. Within a few minutes, I was a snowshoeing pro thanks to our guide Maria Paterson's expert instruction.
There, of course, is a learning curve when first getting started. Such as trying to figure out just how far apart you have to keep your legs/feet so that your snowshoes don't get caught up on each other or the basics of how exactly to turn yourself around.
But, I now have a newfound respect and love for snow pants and snow. Most importantly, I bought my very own pair of snow pants – no more loaners for me!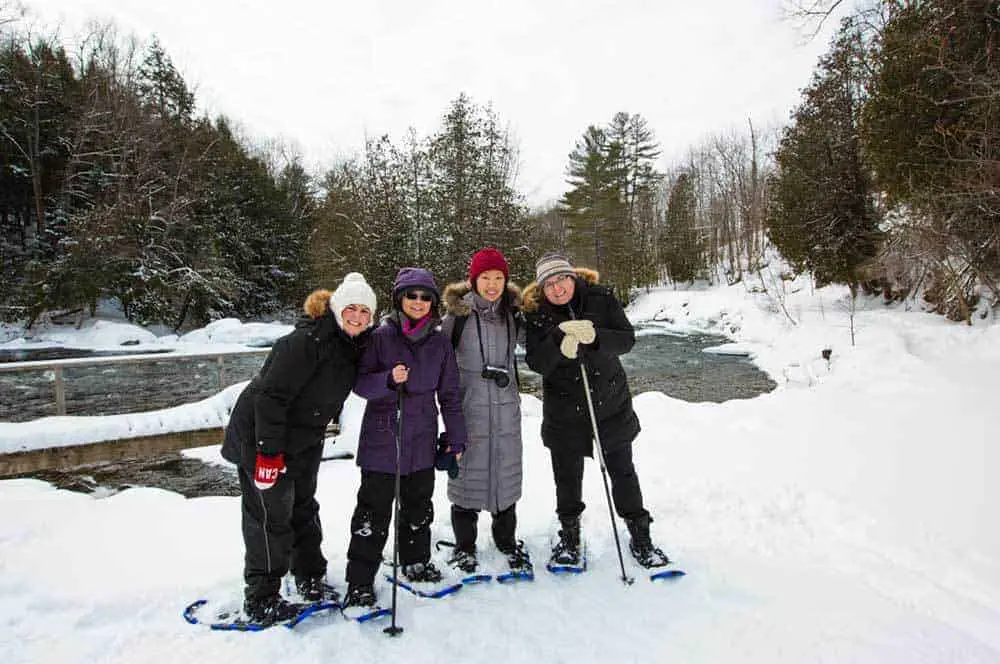 Snowshoeing Boosts Winter Weather Fitness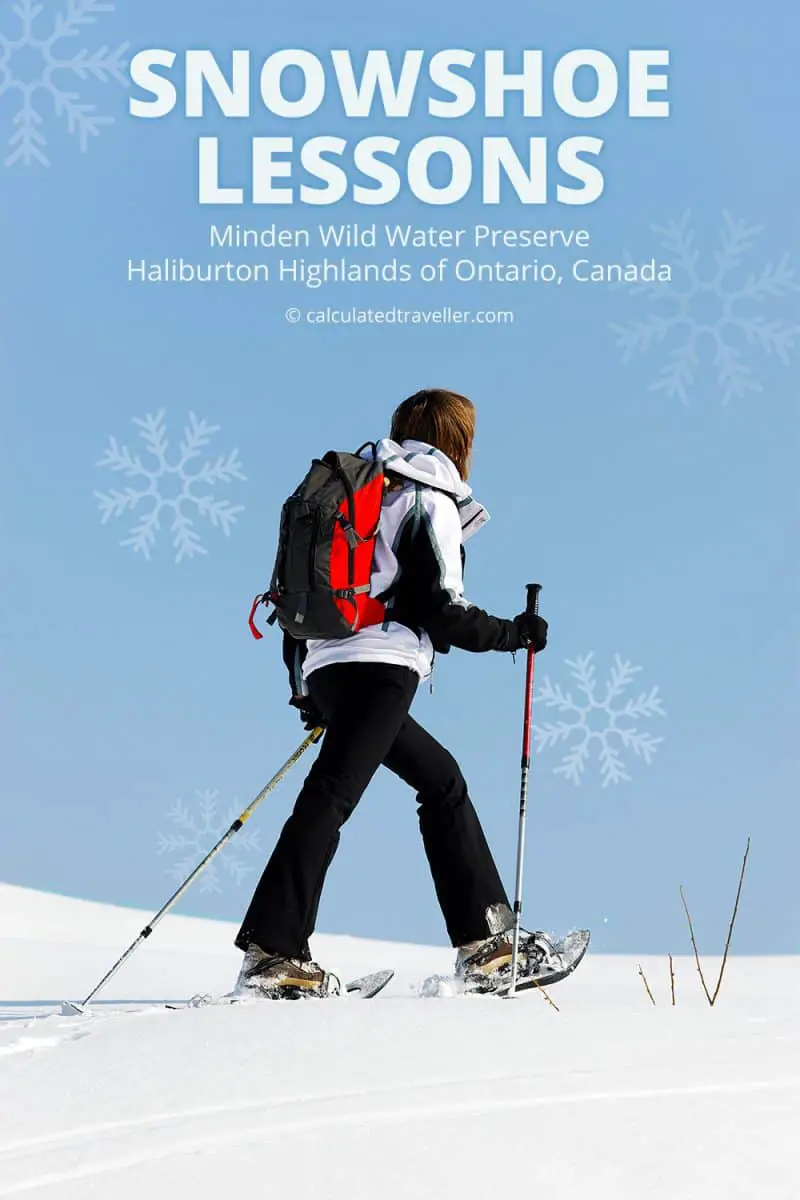 Snowshoeing is a terrific exercise, with a very gentle learning curve. Snowshoeing equipment is inexpensive and minimal, and one can do the sport anywhere there is snow.
Cabin fever and foul weather conditions can challenge even the most devoted fitness walker. Snowshoeing solves the walker's number one problem for outdoor winter exercise: It's simply not possible to get a good walking workout picking through ice and snow and trying not to slip on a neighbour's unshoveled walkway. Indoor treadmills are a great option, and they certainly help keep walkers going when the weather outside involves blizzards and below-zero wind-chills. But for walkers used to fresh air, treadmills are merely a substitute. Snowshoeing benefits combine the low-impact pleasure of walking outside with a high-intensity workout that is good for the heart and burns calories.
Snowshoes can be thought of as boats for the feet that "float" on snow. Each snowshoe is about a third larger than a tennis racket. Bindings can be traditional webbing or more modern plastic, strap the boots to any winter boot. Using snowshoes is as simple as walking: There's very little snowshoe technique to learn, except to take a wider stance than usual and avoid walking backwards.
What to Wear Snowshoeing – Snowshoeing Gear and Equipment
Snowshoes and ski or trekking poles (used for balance) are the essential equipment needed for snowshoeing. Beyond that, for a one-hour snowshoe hike, walkers need about the same amount of gear and winter clothing as they would take on a winter walk of the same length. So, in addition to the snowshoes, gaiters (leg coverings that keep snow out of boots) are a good idea, as is a waterproof outer layer. Bring along a small backpack or a waistbelt to carry extra items such as gloves, a hat, and perhaps an extra layer of clothing. Chemical hand or foot warmers are also a good idea if the temperature is in single digits or below.
Pro Snowshoeing Tips: I prefer to dress in thin layers so that I can remove as I heat up. Having a small, lightweight backpack to carry your discarded clothing is best. Merino Wool base layers are great because they are warm, breathable, and aren't bulky to wear.
Camera or cell phones can be useful, too, but be aware that cold weather can quickly kill batteries. It's best to carry these items inside clothing in an inner pocket close to the skin and take advantage of body heat. The same goes for extra batteries.
What shoes do you wear with snowshoes? All you need are regular waterproof boots.
Where to Find Snowshoeing Trails
Very few backcountry trails are specifically designed or maintained for snowshoers, but that's because they don't need to be: Snowshoers can go virtually anywhere, on trails or off, as long as the snow is deep enough.
How deep does the snow have to be? If it's too deep to walk in with your regular boots, it's suitable for snowshoeing.
After a heavy snowfall, public parks and golf courses are great places for a stroll (or a power walk) on snowshoes. Nearby hiking trails may be a good choice as well and going up and down hills increases the exercise intensity by a large factor. Try to stay on the hiking trails for ease of passage. But don't worry too much about straying off-trail: one advantage to snowshoeing is that it's hard to get lost because snowshoers can always follow their tracks back to the trailhead.
Don't over-do it the first few times you go snowshoeing. Typical snowshoes weigh about three to five pounds per pair: That's an extra 1.5 to 2.5 pounds on each foot, which means that over the course of a one-mile hike, each foot will have to lift an additional 1,500 – 2,500 pounds. (Now it becomes obvious why snowshoeing is such great exercise!) However, the unaccustomed strain can wear out hamstrings and quads that aren't used to quite so much heavy lifting, so take it slowly to start.
Pro Snowshoe Tip: Stretch before and after your adventure!
Finally, take a partner, if possible. Always remember that in winter, small problems such as falls or getting chilled can lead to big disasters, and the margin of safety can be slim. And always whenever you are headed out for a hike or walk, leave an itinerary with someone at home.
Travel assistance provided by Yours Outdoors and Ontario Highlands Tourism. As always, all opinions are entirely my own.
Have you been snowshoeing before? How did you like it?