Ahh… walking through the woods, with the snow lightly falling overhead, the crunch of the snow under foot and the only sound that you can hear is the rushing of the river and the sound of my snow pants.
This was what it was like when I had my first ever snowshoeing lesson at the Minden Wild Water Preserve with Yours Outdoors in the beautiful Haliburton Highlands of Ontario.
See for yourself in this video taken during our walk…
Does Anyone Have Snow Pants they can lend me?
When I took to Facebook to ask friends if they had snow pants to loan me for 2-winter weekend adventures my request was met with shock and a multitude of questions ranging from "is this a joke?" to "you're kidding right?".
Why all the skepticism?
My friends know that I'm not what you would call an outdoorsman…but I do enjoy a challenge and make it a point of forcing myself to try new things!
Whenever I think of snow I think of the movie White Christmas. Snow plays such a pivotal role in the movie — so much so that they were waiting, searching, yearning and of course singing for the fluffy white stuff but I personally, never liked the stuff.
My experiences with snow, ice and cold weather adventures in general have not always been incident free – and normally don't include any singing.
When New Things are Tried – Memories Happen
There was the ice fishing incident where my friend Sharon's foot went through the ice, the dog sledding incident where I had to wrestle my glove out of a Huskies mouth and the time I was waist deep in the snow and couldn't get myself out!
WAIT?
WHAT?
Yes, I've Fallen and I Can't Get Up
That's exactly what happened after our adventure ice fishing on Lake Simcoe.
Normally when you travel with friends or family and you fall – they immediately help you stand up.
However, if your friends happen to be fellow travel bloggers, the scenario becomes something entirely different….
Cameras immediately come out and the entire event becomes something to document in all its embarrassing glory.
The week before this trip, we were walking from the dock up to our cottage at the Briars Resort and I didn't realize that I was the only one not walking on the path. I had my snow pants and boots on and was just trudging along behind everyone else and the next thing you know, I end up sinking up to my waist into the snow. Each step made it more and more difficult to walk and I ultimately decided to just lie down and roll, roll, roll my way over to firmer ground where everyone else was standing.
Walking through the snow is not an easy task if you are ill prepared and untrained. But, this entire photographic incident (lovingly photographed by Helen Suk) could have been avoided had I been wearing snowshoes (or had I been able to see the path and keep to it).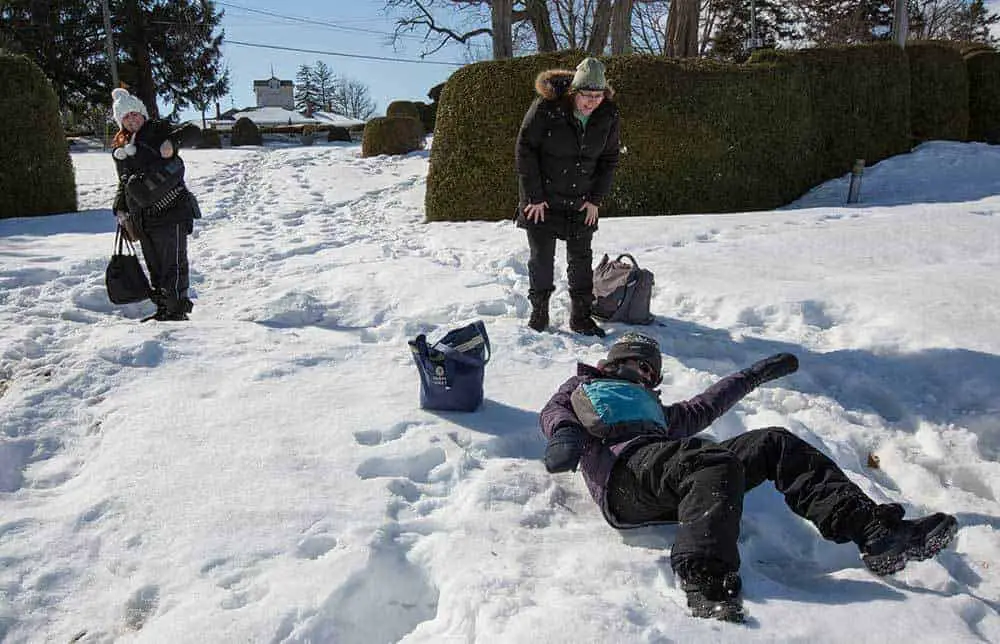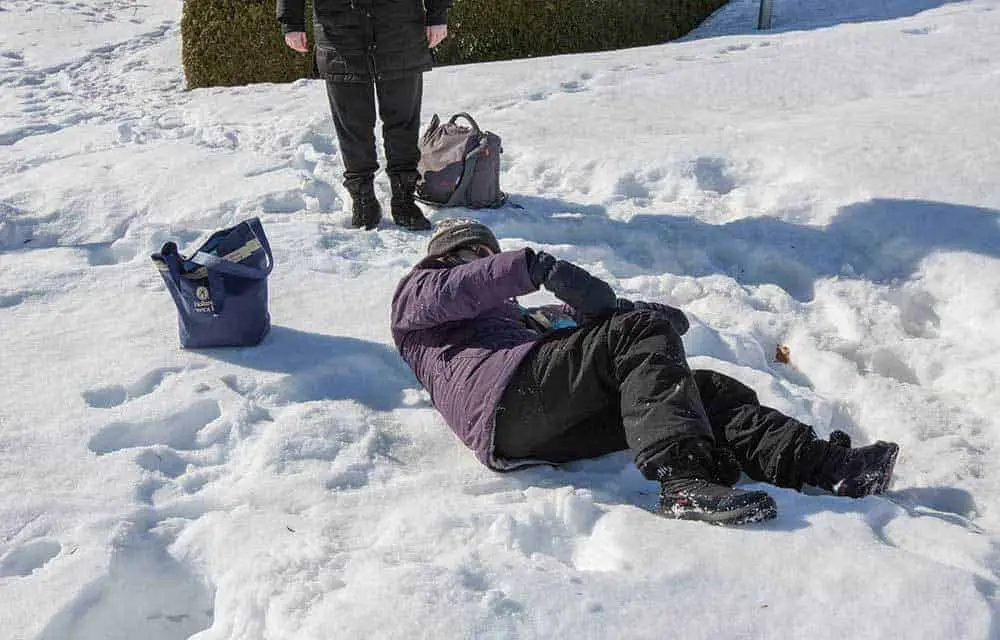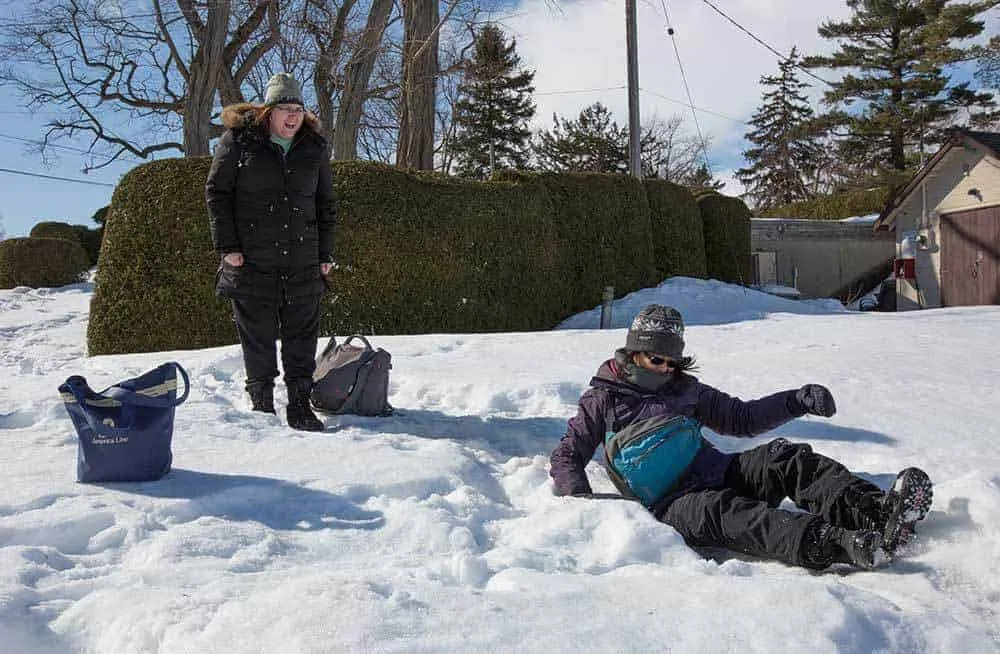 Yours Outdoors gave me snowshoeing lessons
(and saved me from future embarrassment)
Yours Outdoors offers learning vacations and outdoor guided tours with gear included and within a few minutes I was a snowshoeing pro thanks to the expert instruction of our guide Maria Paterson.
There of course is a learning curve trying to figure out just how far apart you have to keep your legs/feet so that your shoes don't get caught up on each other or the basics of how exactly to turn your self around.
But, I now have a newfound respect and love for snow pants and snow.
Travel assistance provided by Yours Outdoors and Ontario Highlands Tourism. As always, all opinions are entirely my own.
Have you been snowshoeing before? How did you like it?