Many restaurants have tried to duplicate the 72oz steak-eating challenge, but the original eating contest at Big Texan Steak Ranch and Brew in Amarillo Texas is much more than a tourist trap if you look beyond the giant bull in the parking lot.
The menu features everything you would imagine old west cowboys would eat — cowboy beans, potatoes, fried okra, and beef. Sure there is chicken on the menu but do yourself a favour (or should that be FLAVOUR) and come here for the steak.
With Texas-sized portions (AKA massive) all entreés are served with bread and choice of side. The bread is soft and light and unexpectedly very good considering it's just a roll on the side.
Why am I telling you about something as minor as a tasty roll? Well, that's because everything at the Big Texan is scratch made fresh — the rolls as well as the salad dressings and the sour cream for the baked potato. No minor detail is overlooked at the Big Texan — order a beer and it's served in a chilled glass!
They say that in Texas everything is big, and that is apparent when you look inside the dessert case at the entrance to the dining room but don't skip dessert merely plan on sharing whatever sweetness you pick from the display.
Don't get the wrong impression and think from the flashy exterior and the multitude of billboard ads along the highway that The Big Texan Steak Ranch and Brew is a tourist trap with high prices and sub-par food. Entertainment, service, food, and value for the money was excellent and trust me there are a lot more locals eating here than you think.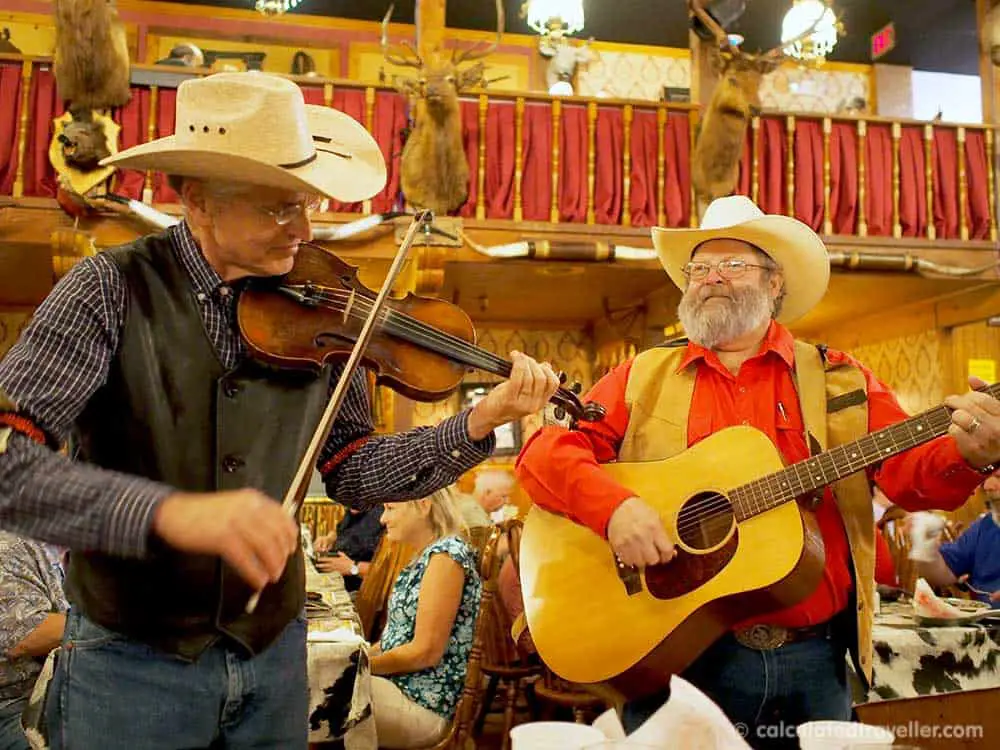 The story of the The Big Texan Steak Ranch and Brew starts in March of 1960. Founder R. J. "Bob" Lee, a native of Chicago Illinois visited Amarillo Texas for the very first time and wanted to experience Western Cowboy food and couldn't find it. With zero experience in the restaurant industry, he set off to fix this oversight by opening the original Texas-style steakhouse restaurant on historic Route 66.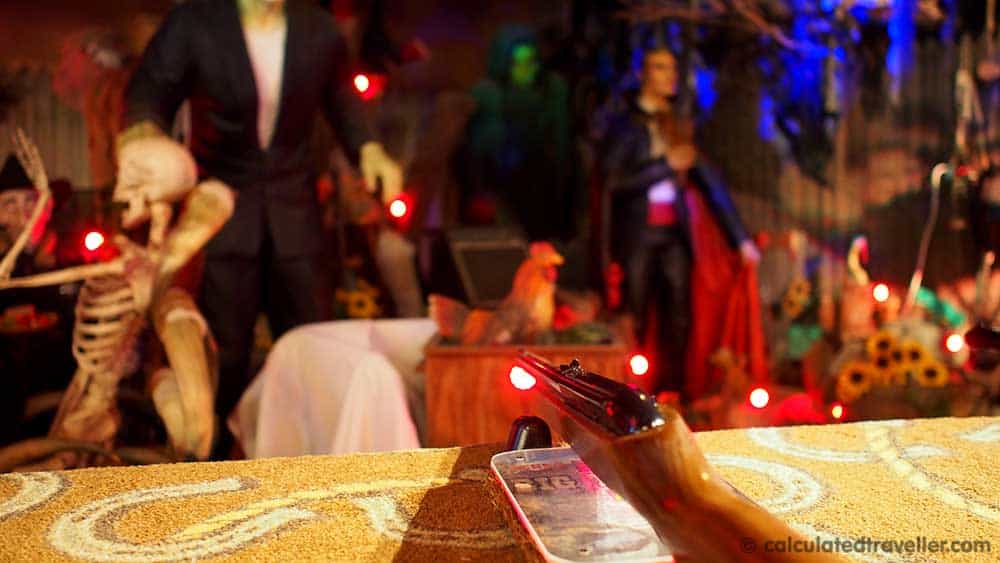 10 years later, Bob Lee had the foresight to invest in land on the I-40 looking to expand one day. Today, that plot of land is home to the current restaurant location on 6.5 acres that includes the restaurant, a shooting gallery, horse stables, a motel, the Starlight Ranch RV Park, and a craft brewery but first and foremost it's a 50+-year-old iconic part of Amarillo Texas.
The Big Texan Steak Ranch is open 365 days per year. Almost half-million people eat here per year with 28% being International Guests. Yes, that's a lot of steaks!
Here's what we tried at the Big Texan Steak Ranch and Brew
Mountain Oysters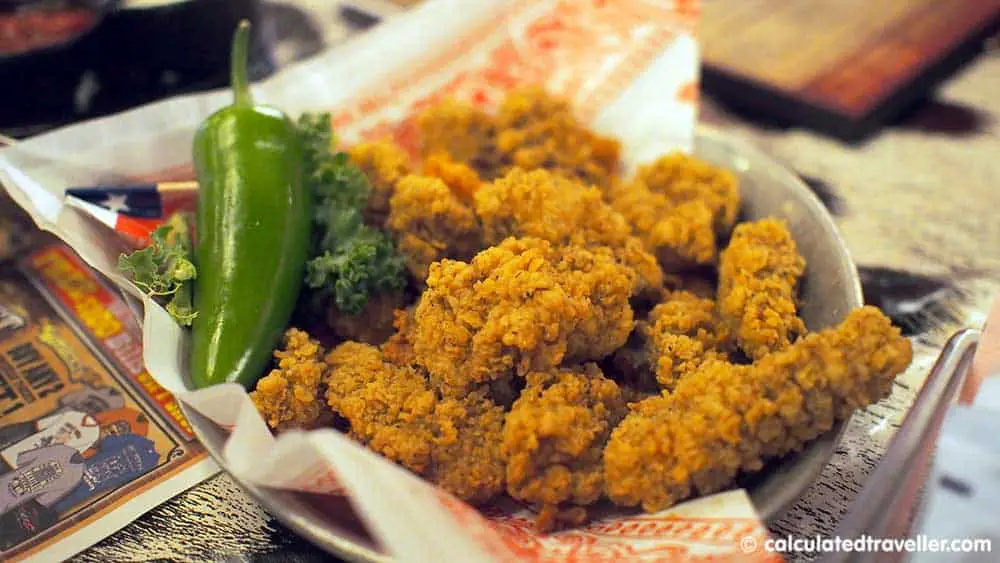 When in Texas right? Battered deep-fried calf fries or testicles were delicious. Texturally like calamari, the seasoning and spice mix wasn't salty at all — the breading reminded me of KFC. The best mountain oysters I've had and even husband Ray enjoyed them.
Caesar Salad

All meals come with a choice of salad – in this case, I decided on a Caesar Salad.
Onion Rings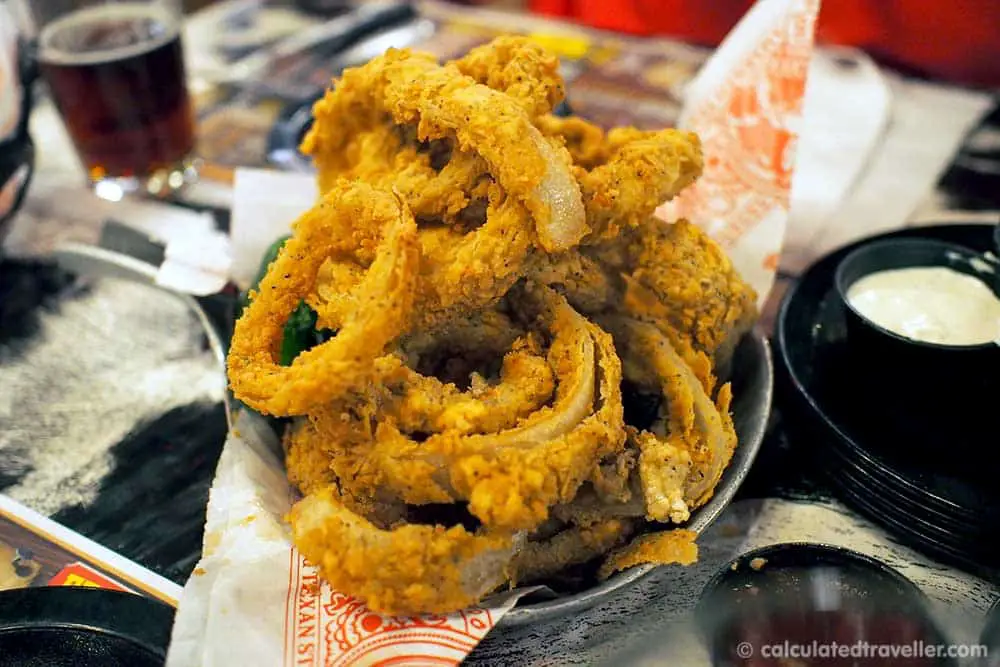 Thick cut onions breaded in the same spice blend as the mountain oysters. These are an excellent choice for a shareable appetiser.
Steak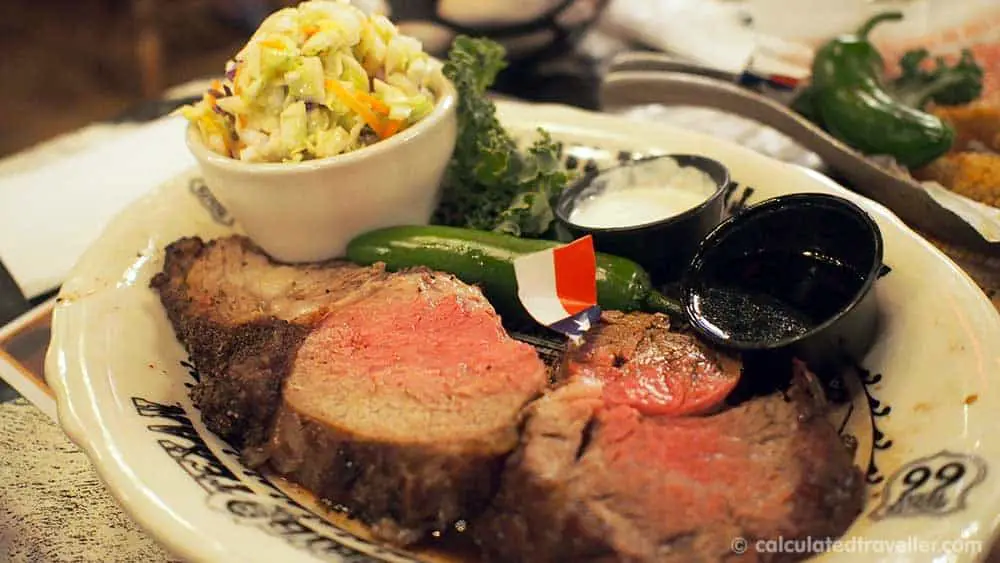 Husband Ray had the prime rib – tender, juicy – delicious. Not a single complaint from him because he was too busy chewing!
I had the ribeye – well marbled and hence not suitable for everyone as it is a bit fatty but it is tasty! My steak was well seasoned not overly salty, and the fabulous charred crust on the outside was outstanding! Beef is wet aged for 60 days and it shows. Served with mashed potatoes, country gravy, and country beans which are pinto beans with a bit of bbq smoke.
Carrot Cake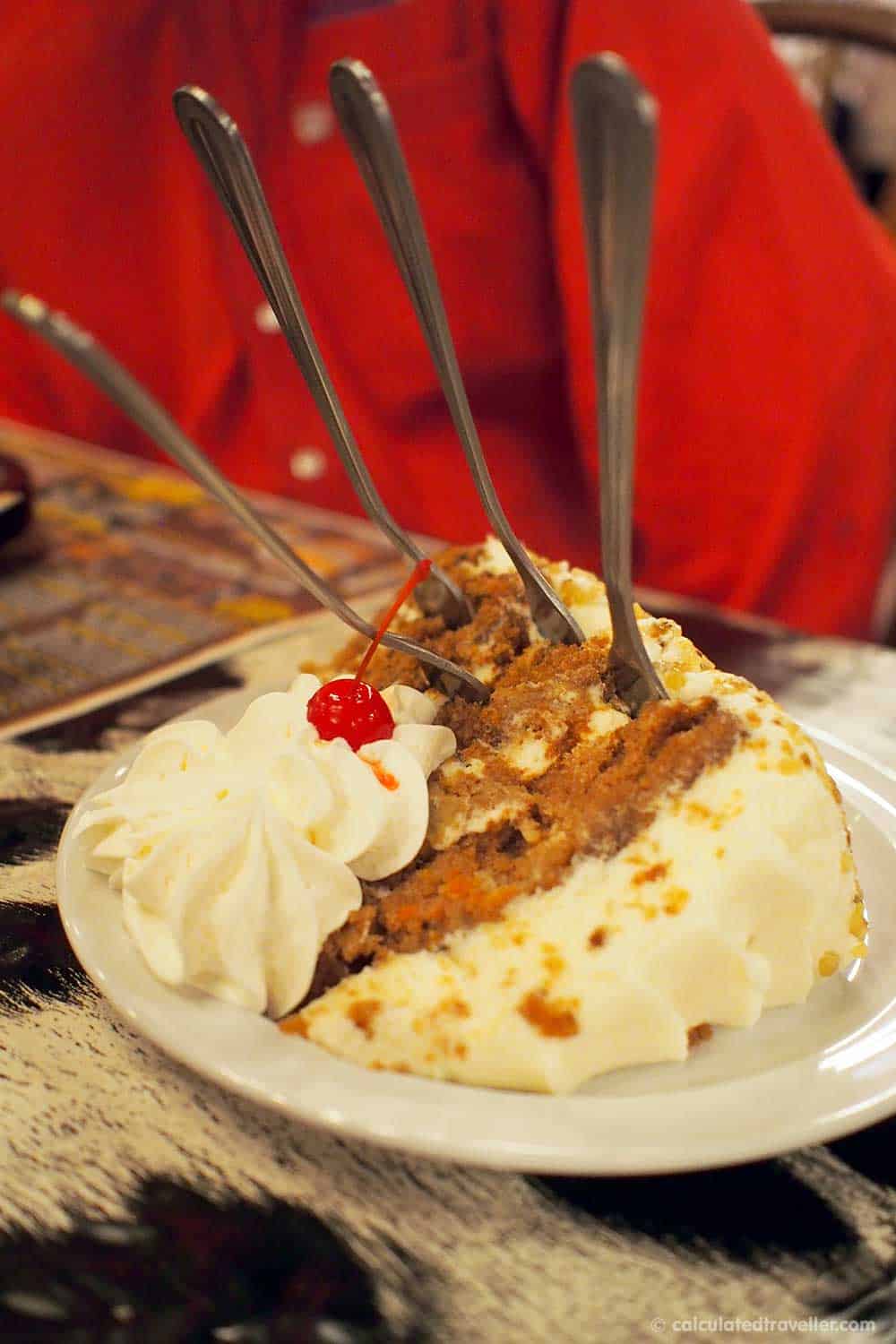 Seven layers of carrot cake and cream cheese icing the size of your head and a dollop of whipped cream. This massive slice of cake is another perfect shareable delight, and it was fresh, moist, delicious and not overly sweet.
About the Big Texan 72 oz Steak challenge
The original of all eating contests, the 72oz Steak Challenge started in 1960 and has not changed one bit according to son Bobby Lee of the Big Texan. The challenger sits on the stage in front of the whole dining room and attempts to eat an entire 72 oz steak as well as ALL the sides in 60 minutes or less. If the challenger succeeds, their complete meal is free; otherwise, it's $72US, but you get to take home the leftovers so nothing goes to waste.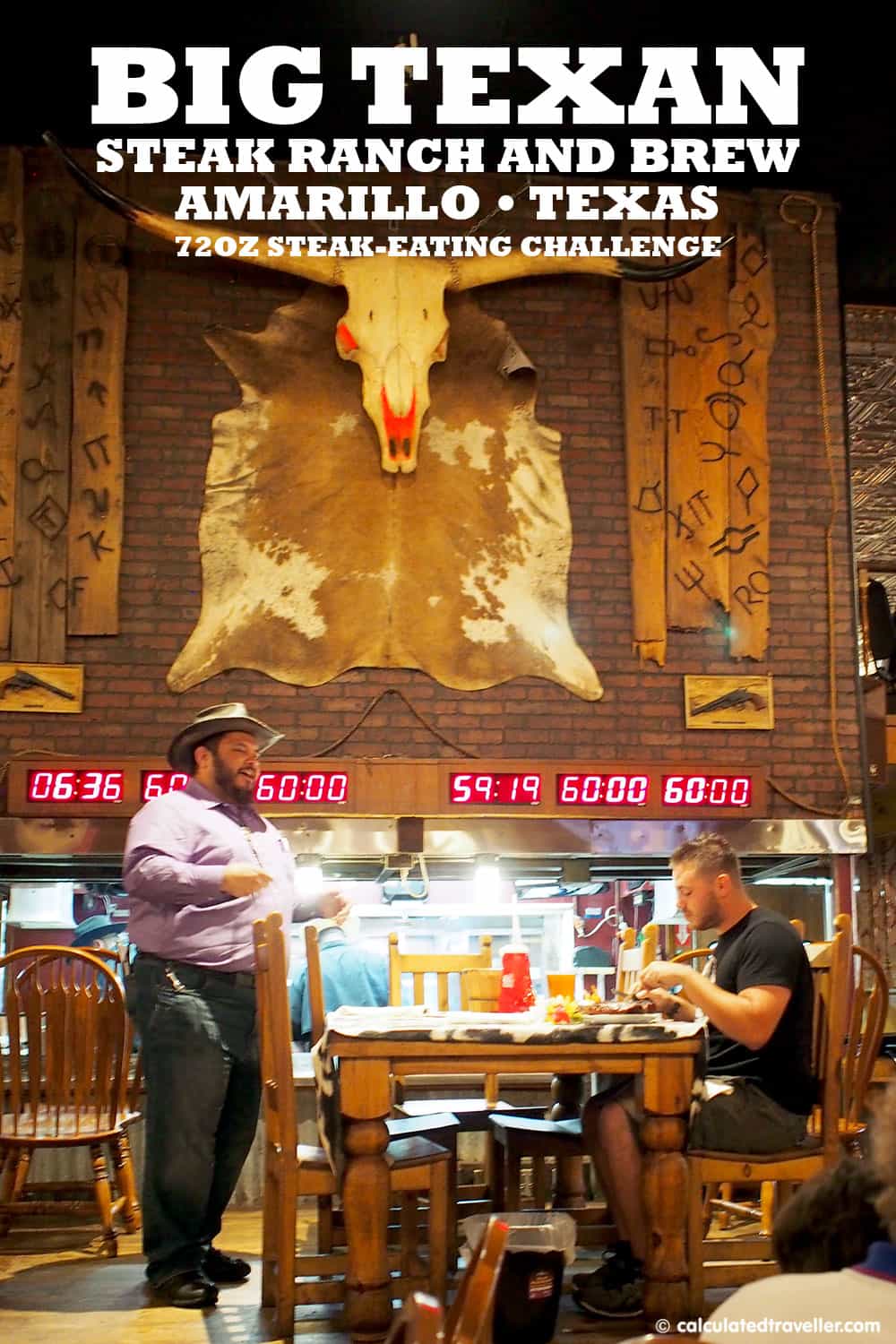 The current world record holder is Molly Schuyler, a female professional eater and local Texan who first completed the challenge in less than 5-minutes. She returned to beat her record and was able to eat three 72 oz. Steak dinners in under 20-minutes.
Do you dare??
Statistics say that one in every six men conquer the challenge and one in every two women succeed!!
In case eating on a stage in front of the dining room isn't a spectacle enough for you, they also broadcast a live feed on the Big Texan website of the steak eating table.
The Big Texan Steak Ranch and Brew is many things. Consisting of 6.5 acres it includes the restaurant, horse stables, a motel, Starlight Ranch RV Park, and craft brewery, but first and foremost it's a 50+-year-old iconic part of Amarillo Texas worthy of a visit.
Big Texan Steak Ranch and Brew
7701 E Interstate 40, Amarillo, Texas
Check out other reviews of the Big Texan on TripAdvisor.com
While visiting Amarillo we stayed at the Country Inn and Suites on the west side of town :
Read our review Texan Charm at The Country Inn and Suites by Radisson Amarillo Texas
I was a guest of Visit Amarillo CVC. All opinions are entirely my own.
For more adventures in Texas, check out:
– Texas article archive
– Tex Mex Good Eats at Braceros Mexican Grill and Bar Amarillo Texas