Pickpocketing is a sad reality of travel in certain parts of the world. In my opinion, taking preemptive measures is the key to not becoming a victim of theft.
Being a Clever Traveller by Preventing Theft with Secret Pockets
When I was 18 years old, I participated in a 1-month student cultural trip to Taiwan. It was my first trip alone without my parents and my first trip overseas. Before the journey, my mother spent nights sewing little "secret pockets" on the inside of my clothing to pickpocket proof my travel tank tops and shirts for me to hide my money. I remember well the little hand-sewn stitches on my t-shirt and tank top with hidden pockets made from fabric scraps with little metal snaps as closures.
To tell you the truth, at the time, I was embarrassed by my mother's handiwork. I knew my mom did this because she loved me and wanted to protect me during my first trip away from home but I didn't want any of the other students on the tour to think that I was a baby — not able to look after myself. I wish I still had one of those shirts now that my mom is gone.
According to the travel underwear brand, Clever Travel Companion: "Over 400,000 pickpocketing incidents occur in the world each and every single day." "The top five cities for pickpocketing occurrences are as follows: Barcelona, Rome, Prague, Madrid, and Paris."
After reviewing Clever Travel Companion products, I now see that my mother was a visionary when it comes to travel clothing with hidden pockets! If only we had patented the "tank top with secret pocket" concept 20+ years ago! LOL

I've written about Clever Travel Companion pickpocket proof clothing before and their travel underwear with zipper pockets and was totally psyched to try out one of their products first-hand — specifically their travel shirts with hidden pockets in a T-shirt or tank top.
Read the article: How to Choose the Perfect Travel Underwear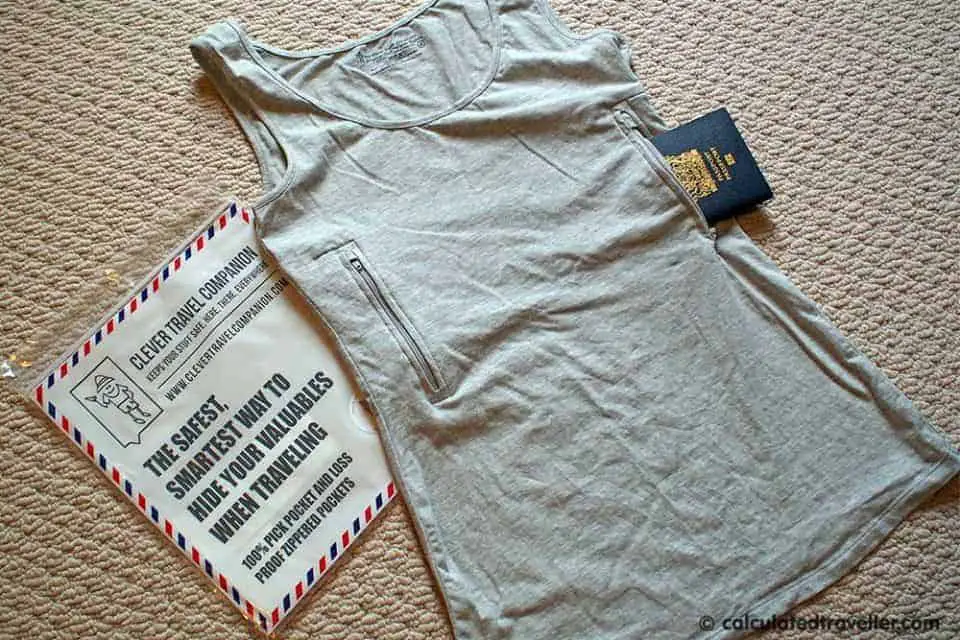 Clever Travel Companion Pickpocket Proof Tank Top
I decided to test out the 2-pocket tank top in grey, preferring the pockets on the side seam versus a kangaroo-type pocket on the front of the t-shirt. I know that the side pockets aren't as easily reached, but I like that they are more hidden on the side versus the more obvious front pocket.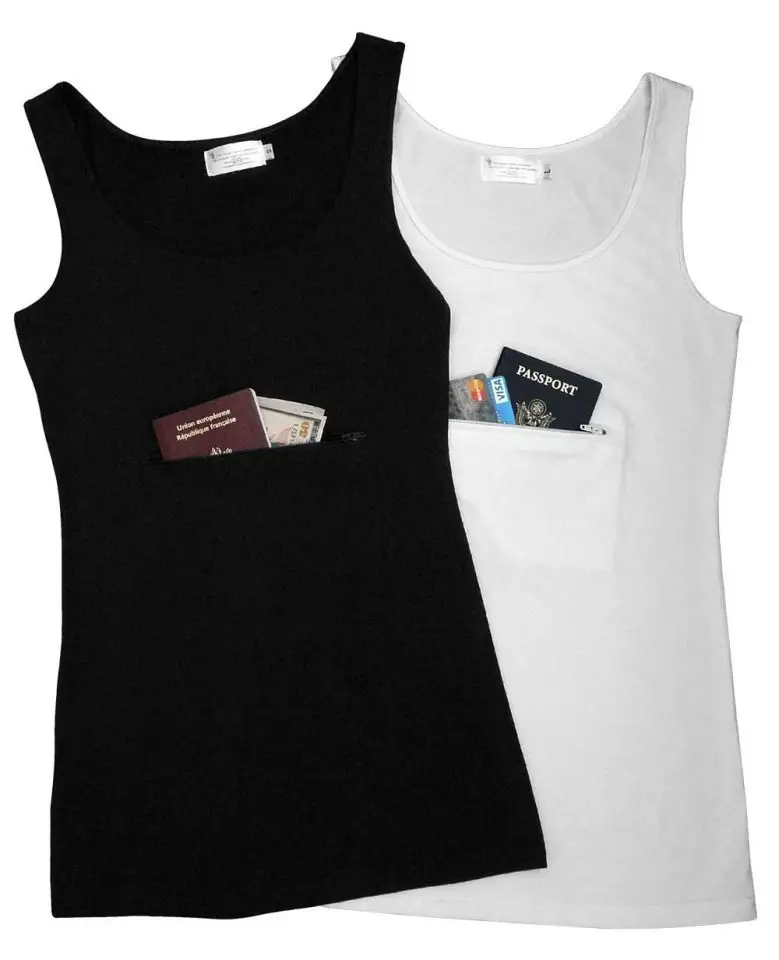 I don't usually wear tank tops alone; I always wear them as an undershirt under an unbuttoned shirt or sweater so this style works well for me.
Sizing: I read some online reviews when ordering the tank top that mentions the tops are very fitted but honestly ordering one size larger than my usual seems a little excessive, so I took a chance and ordered my regular size small.
Packaging: The tank top was packed in a simple printed Ziploc bag. I love the minimal packaging and the fact that the bag is reusable. Even if it's just to hold your dirty laundry, it's better than throwing it in the trash!
Shipping was fast, and I had zero issues.
Fit: Yes, it's fitted but it's a tank top after all. I thought it fit me perfectly but if you want the tank top or t-shirt to be loose and not form fitting, do order one size larger.
Wash: I closed all the zippers, threw the tank top in the washing machine and then hung to dry to "protect" the spandex from losing its stretch with the hit of the dryer. The shirt came out great.
Security: Security is the primary reason for this top after all, and I thought it did its job well. The pockets easily hold my passport, ID, and cash, and it doesn't bulge out too much.
This isn't entirely a pickpocket-proof tank top but I think with the zippers located under your arms/breasts that you would be more aware of wandering hands trying to reach for your wallet.
Pros
Cotton / Spandex
Zippers are TSA metal detection friendly
Neutral grey colour
Easy care, the fabric dried over night when hung to dry
The 2 zippered pockets are on the side seams making them not that noticeable if not over filled
Cons
Very fitted style
Tank tops with pockets can look bulky and bulge if over-filled
You do need to take care not to overfill the pockets, or they will bulge out and thus draw attention to your belongings. I would only use the pockets to hold my emergency stash, passport and ID as the pockets aren't easy to access.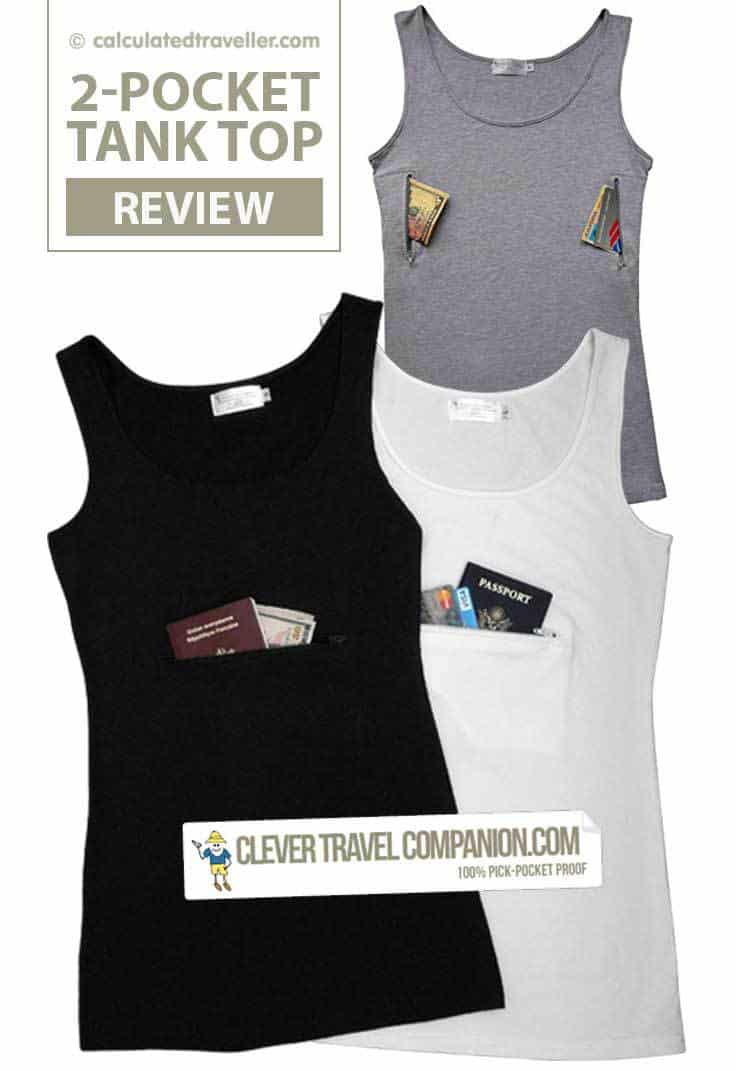 I think my mother would approve of the Clever Travel Companion 2-pocket tank top were she to see its design – especially because she knows it's made to protect me and keep my property safe when I travel! When it comes to looking for the best travel tank tops with secret pockets or hidden pocket clothing — look no further — unless of course, your mom is crafty!
I was provided with the Clever Travel Companion Tank Top for review purposes. All opinions are entirely my own.
For more clothing reviews, read:
– Pact Organic Cotton Clothing Review – Organic Sustainable Cotton Fashion for Travel
– Ramblers Way – Cosy Cool Good-Natured Fashion
– A Pretty Perfect Multipurpose Travel Scarf by Travelon