With a name like "One Hot Mama's American Grille" you might immediately think of either "hot mamas" or "spicy food". But, this is Hilton Head Island, South Carolina and both those terms don't compute. Words like "genteel" "sophisticated" and "southern hospitality" are more like it not "hot" and "spicy".
Located on the south end of the island near the Sea Pines Resort, it's a bit difficult to find the restaurant entrance from the street as you can only see a glimpse of the sign from the parking lot. The main entrance is in the centre of the complex across from popular restaurants Hilton Head Brewery and The Lodge. Look for the smoker outside because I noticed that before I saw the sign to the restaurant.
One Hot Mama's American Grille – Think Flames, Tattoos and Neon
The logo is a dead giveaway of what to expect of their brand. It's rock'n'roll on the jukebox, black-and-white checkerboard tablecloths, blue vinyl, chrome and neon lights at the bar. The atmosphere is relaxed and the menu offers wings, burgers, sandwiches, tacos and flatbreads. But, in our case we came here for the barbecue. (I hear the wings are fabulous but I didn't get a chance to try those – yet..) And of course the prerequisite of any good barbecue place is a roll of paper towel on the table. No roll on the table means no saucy goodness is to come.
I'm starting to sound like a broken record because I always say this, but when it comes to barbecue, order a combo sampler so you can try it all but make sure the sampler has smoked fried chicken in it. Read on to find out why.
Smoked Fried Chicken?
We had to ask the waiter what this was exactly because to a person who knows something about barbecue the phrase is confusing. "Smoked" typically means that seasoned raw meat has been placed inside a smoker with wood chips and smoked until it's cooked. "Fried" generally means the raw meat is coated in a breading and fried in hot oil until cooked.
Using both cooking processes to the same piece of chicken seems like you are going to get something incredibly dry, but according to the waiter, it works.
In the interest of our taste buds and of course to you, our readers – we had to try it. (It's a tough job, but someone has to do it)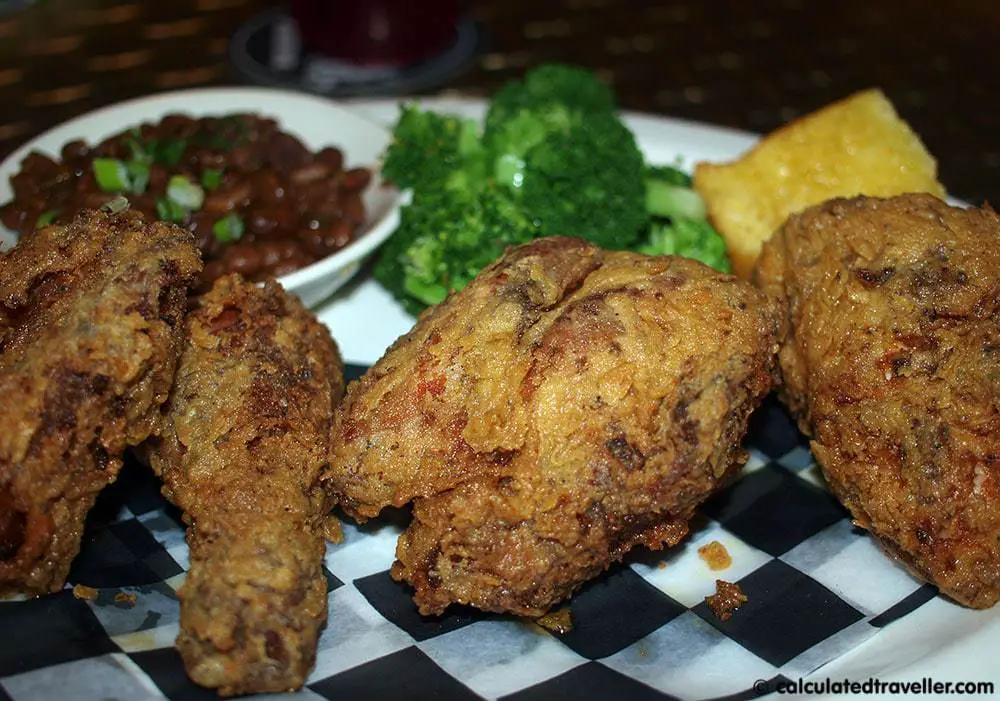 Let me tell you; it was the best fried chicken I've ever eaten. It is indeed smokey but also is crisp, with a flavorful breading with moist meat, and sweetness to it. You can probably tell that we highly recommend the chicken.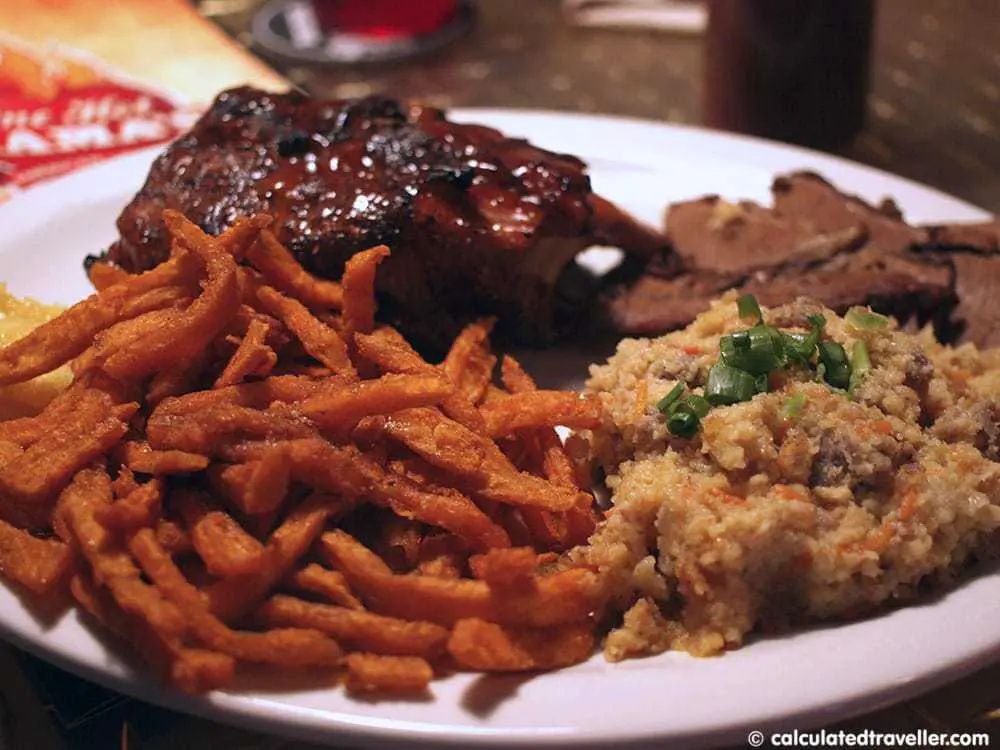 Our other choice off the menu was "Baby Back Ribs and One". 1/3 Rack of Ribs with Sliced Texas Beef Brisket (our one), Sweet Potato Fries, Cornbread & Sausage Stuffing.
The ribs were fall off the bone, moist and good, the brisket was tender, and the stuffing was total yum.
As you can see in the photos, the portions are quite large. We had leftovers the next day.
One Hot Mama's American Grille on Hilton Head Island is most definitely on my recommended list of places to eat. Next time I'm here though I'll honestly skip the ribs and brisket and just get the chicken and some wings. Which does say a lot coming from me because normally if there are ribs on the menu, I'm getting them.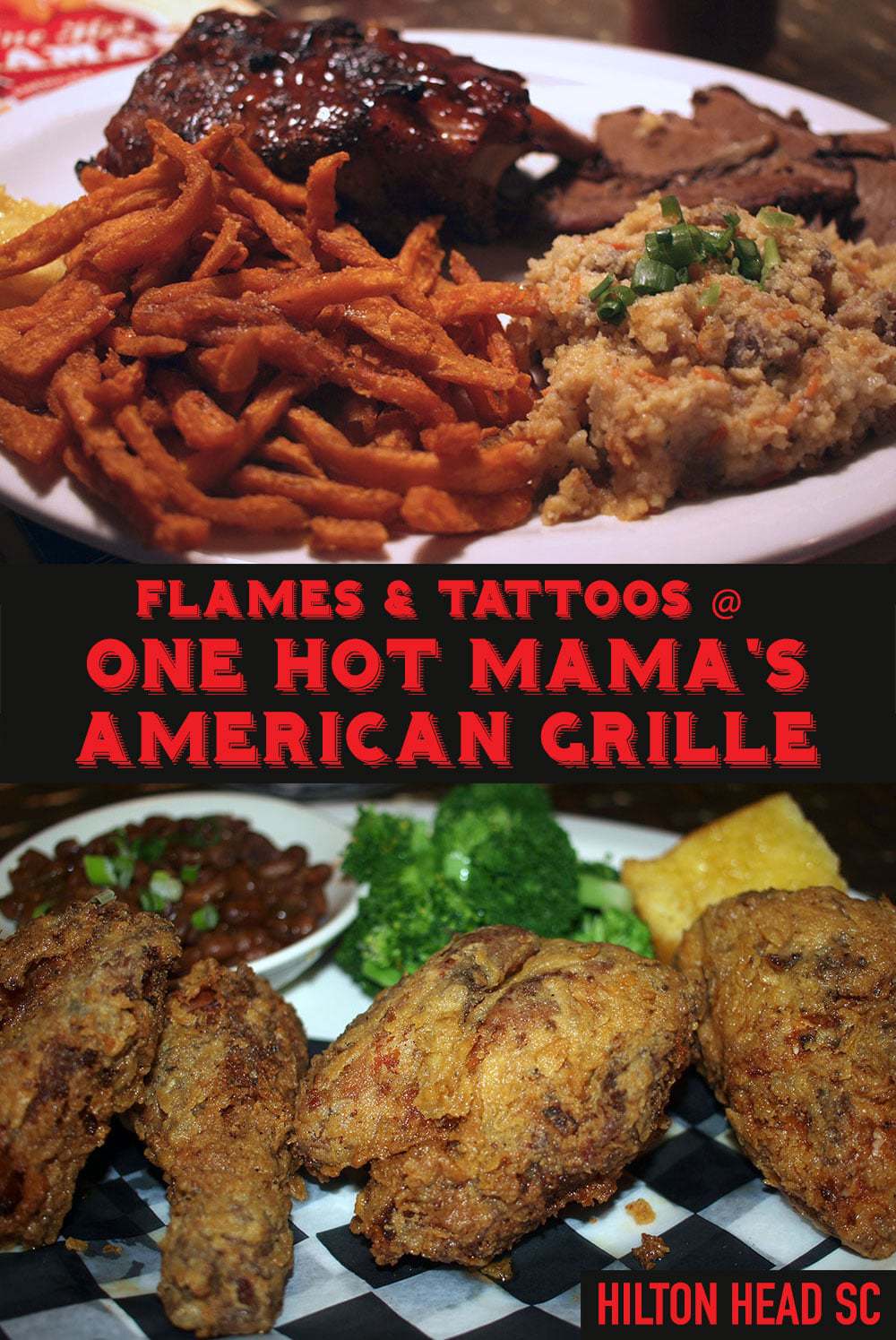 One Hot Mama's American Grille
7A Greenwood Dr, Hilton Head Island, SC
For additional reading:
Eco Green Hilton Head Island, South Carolina
A Lowcountry Backyard Restaurant in Hilton Head Island
Parasailing in Hilton Head, South Carolina