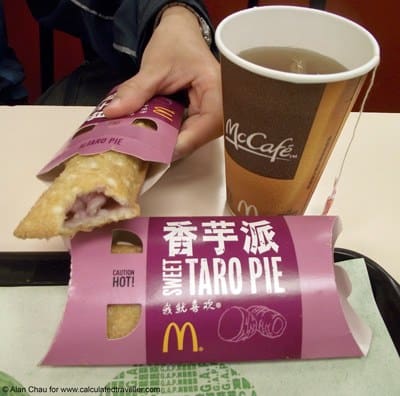 Today's Memory Monday photo of Taro Pie from McDonald's comes courtesy of a friend and fellow traveller, Alan Chau.
In case you are wondering there isn't a problem with the photo and your eyes aren't playing tricks with you, the taro is in fact purple.
A man of few words Alan states the following…
"McDonald's in China with local flavour menu. Yummy."
So, I'll elaborate on his behalf. ; )
We were not fortunate to go on this trip to China, although we were invited to tag along, I know from my travels to other cities/countries around the world that you have to check out the fast food joints.
All the usual North American chains such as McDonald's, Burger King, KFC, etc. offer a local flavour menu.
In Hawaii McDonald's serves ramen noodles and spam, in Hong Kong they serve macaroni with fried egg and ham for breakfast and in Bangkok McDonald's serves Congee for breakfast. My feeling is this. You're on an adventure! Try something new! Say to yourself "I can get a big mac when I'm at home but only here can I get _____________ (fill in the blank)". Most importantly, don't forget to take a photo of whatever it is you are eating!
That top photo is of me in Hong Kong with the man Ronald McDonald himself. That's a double pork burger on the left for $9 HKD and at the top right of the sign, yes folks this is a Sweet Potato Pie for $6 HKD! I'll tell you this, though, if they served the purple Taro Pie I would have had that one instead. Yummy indeed!
We'd love to hear about your fast food adventure with a local flavour menu. Leave a reply below.
Read more about Asia:
– Eating out in Bangkok, Thailand
– Family-Friendly Animal Fun in Singapore
– The Taste of Travel – Memories of Food
– "Scully and Mulder" in Bangkok, Thailand