It's 8:30 AM and the olive eyes of the Bloody Blue Cocktail are blinking at me. I'm at Bay Local Eatery in the Chesapeake Bay Area of Virginia Beach, Virginia having breakfast and it's a bit early to drink a Bloody Mary with cheese filled olive eyes even for THIS Mary!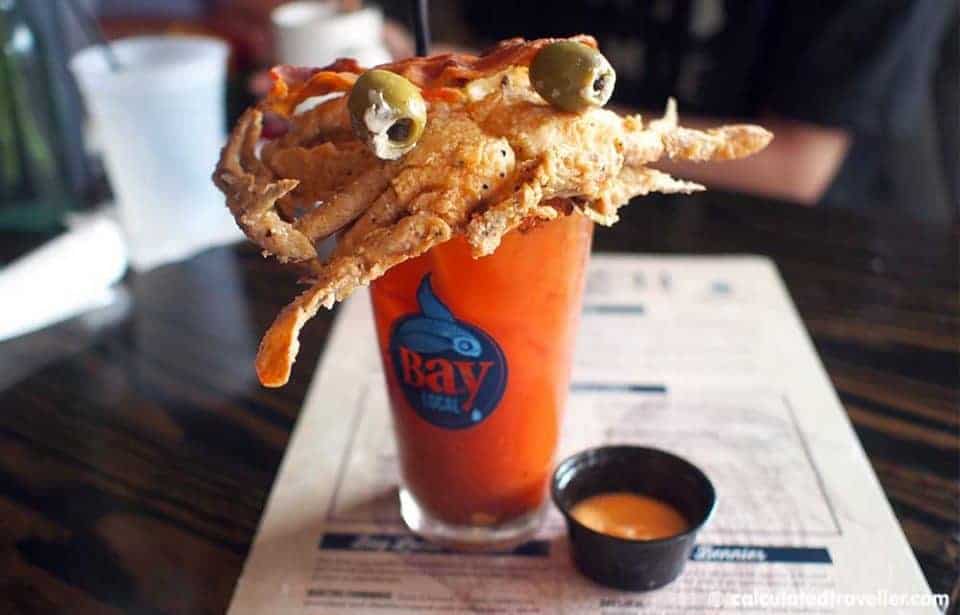 I'm travelling with a group of people, and the plan is that we are all going to take a taste test of the Bay Local Eatery signature Bloody Mary cocktail.
Me, on the other hand, I plan on nibbling on the legs! I've been eating a lot of soft shell crab on this trip through Virginia, and soft shell crabs are in season at the moment. I don't mind — the batter is light, not greasy at all and the crab meat is sweet. Soft shell crabs are the best kind of crabs in my opinion because there is no cracking of the hard shell required — you just pop the whole thing in your mouth shell and all!
About Bay Local Eatery
American flags cover the entire restaurant mixed in among the lanterns, artwork, and distressed painted wood. Independence Day celebrations are approaching, but July 4 is unique and special because it's their anniversary. The restaurant decorates for all the US holidays.
The eatery serves local, farm-to-table "Coastal Southern" cuisine. The menu changes with the season and features "fresh-ials" – fresh specials that showcase seasonal produce, or seafood.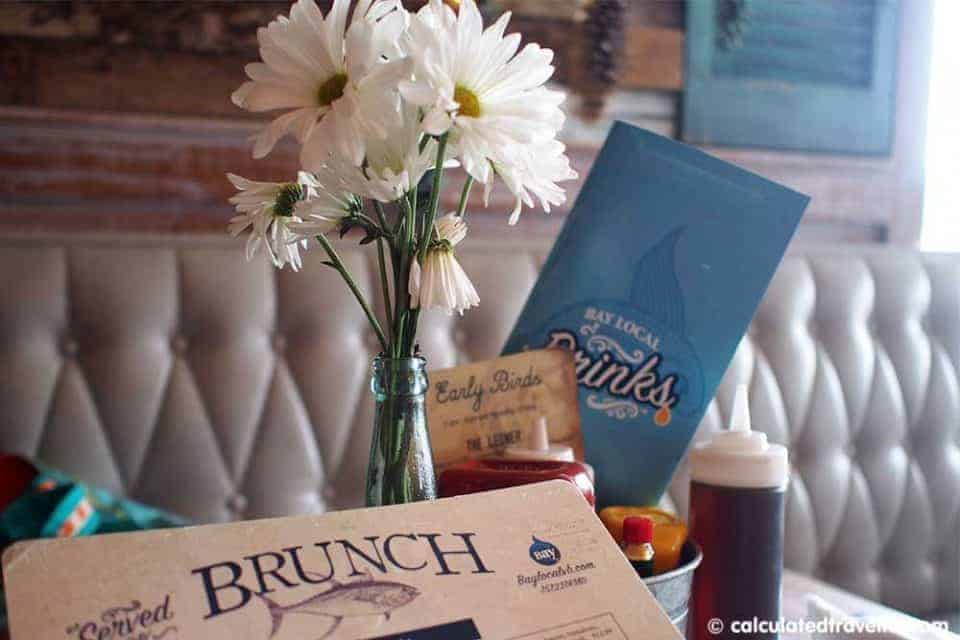 Our Breakfast at Bay Local
Let me start by saying that I just love dining with friends. You get optimum eye candy by drooling over all the other dishes on the table without any of the calories or gaining any weight by only "eating with your eyes". I always say — If your friends are good friends they share.
Travel blogger fails but with all the cameras taking photos all around me (one of the problems when travelling with journalists), I neglected to take a photo of my meal; I just sat down after photographing all the other plates and started eating — oops!
So, you are just going to have to imagine this one.
One of the Bay Local Eatery signature dishes on the brunch menu is the "Big Al" ($11.99). Two sweet potato biscuits stuffed with cheddar cheese, bacon and sausage, baked to perfection and smothered with house-made sausage gravy. Served with two eggs any style and home fries.
Interesting is that the sweet potato biscuit is not what I would call a traditional biscuit. It was flat, dense and perhaps only about half an inch in height compared to a taller biscuit with a light and fluffy texture.
The gravy was not greasy and had a bit of a spicy kick to it due to the sausage. My breakfast was delicious and satisfying, and the portion was large (I was only able to eat half of it).
Here are some more photos of the other meals on our table.
Chicks Beach Delight (Veggie) $10.99
Grilled onions, green peppers, tomatoes, baby spinach, arugula, sprouts, mushrooms and Swiss cheese.
 


 
Buttermilk Pancakes $10.99
Three made from scratch and stacked high with your choice of Oreos, chocolate chips, bananas, granola or coconut. Served with your choice of bacon, smoky sausage link or fresh fruit.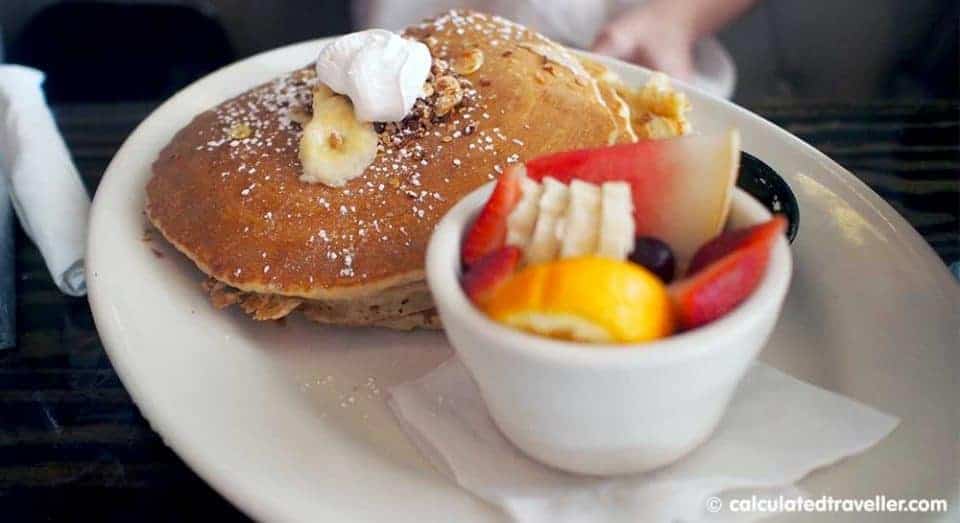 Fried Chicken & Waffles $13.99
Fresh pan-fried chicken on top of a crispy house made Belgian waffle and two eggs any style. Served with butter, syrup and a side of home fries or tots.
 


 
Garden Bennie $9.99
Baby spinach, arugula, onions, green peppers, tomatoes and mushrooms served with poached eggs on a toasted English muffin, drizzled with fresh hollandaise and served with home fries or parmesan tots.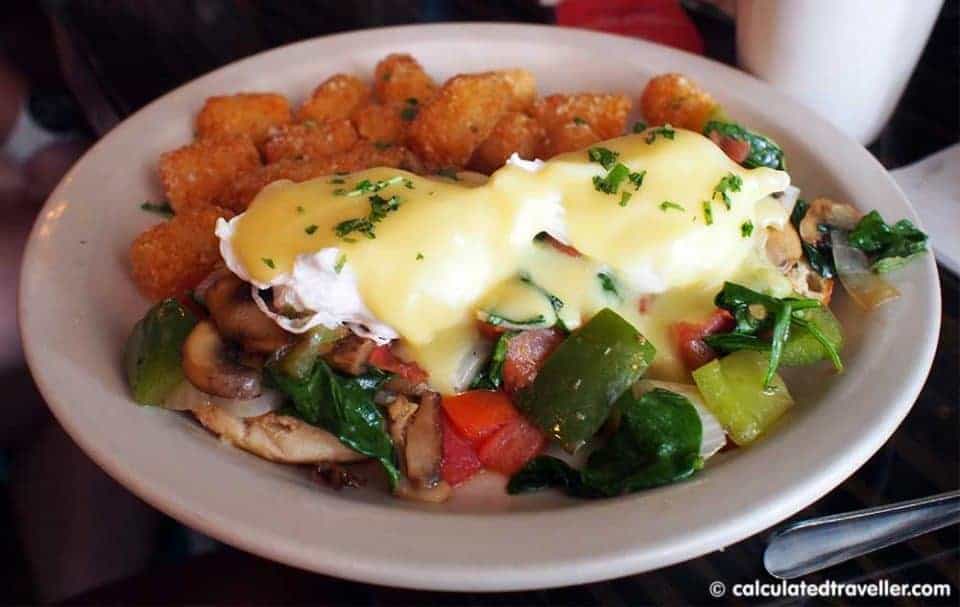 Ebb Tide $4.50 *from the Early Bird Menu 7 am – 8:30 am Monday-Friday
Two eggs any style, applewood smoked bacon or smoky sausage link, home fries and toast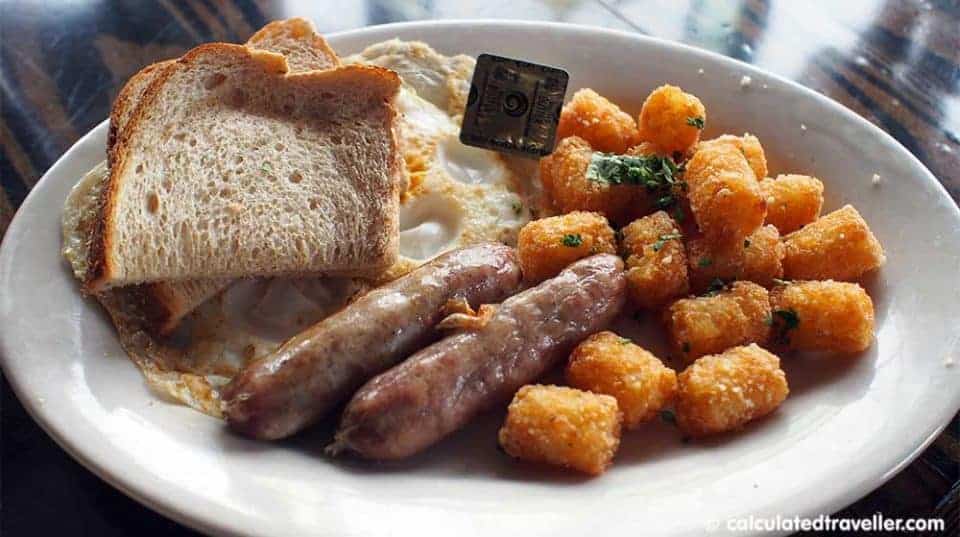 Breakfast BLT* $5.99
Applewood smoked bacon, lettuce, tomatoes, topped with one egg any style, served with home fries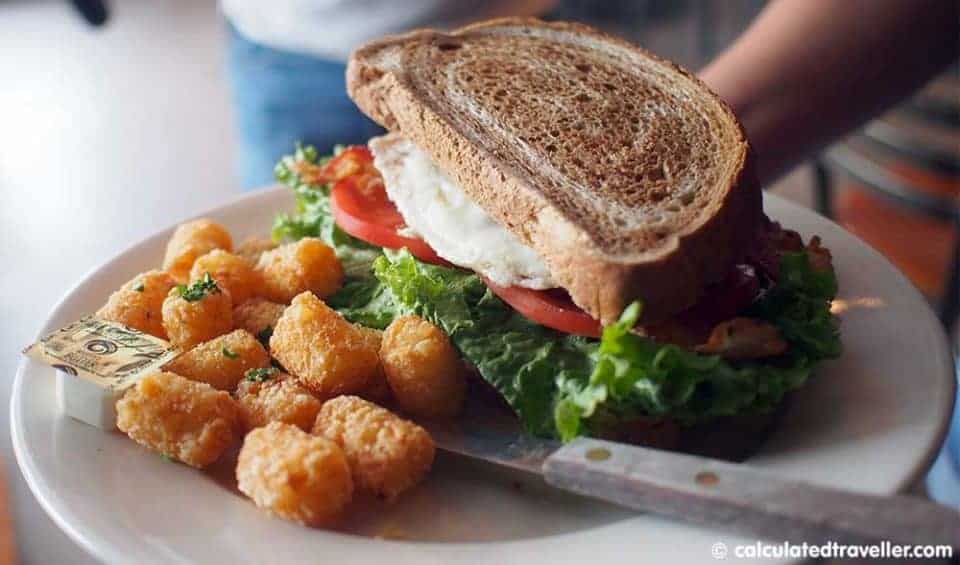 By the look of all the empty plates at the end of our meal; my friends were happy with their meals too!
OH and about that Cocktail, here's a quick video showing how to make your own Bloody Blue:
 

 
If you're looking to hang out with a Bloody Blue Cocktail and experience some local culture in a place with a great shabby chic vibe, check out Bay Local Eatery Virginia Beach they have great food at great prices.
 

Bay Local Eatery
2917 Shore Drive, Virginia Beach, VA 23451
Travel assistance provided by Visit Virginia Beach and Visit Virginia. All opinions are entirely my own.
For more Virginia Beach, read:
– A Pleasure House Oyster Tour in Lynnhaven Virginia
– Guide to Renting a Bike on Vacation in Virginia and DC
– Brianna Simmons a local VB blogger has some other suggestions for where to eat in Virginia Beach.