Osgoode Hall in downtown Toronto houses the Ontario Court of Appeal, the Divisional Court of the Superior Court of Justice and the Law Society of Upper Canada. Whew – that's a mouthful but basically it is a national historic site within Canada and a gorgeous building both inside and out.
Now you may be thinking one of two things: (1) "Meh, just another old building…" or (2) "Wow what a beautiful old neo-classical structure!"; but what never stops to amaze me is that this building is in fact smack in the middle of one of the busiest areas of downtown Toronto – Queen St. W. and University Ave. Surrounded by a large grassy park space, Osgoode Hall has stood its ground against the large glass towers popping up right beside it.
Named after William Osgoode, the first Chief Justice of Ontario, the original building was completed in 1832. From its Queen Street side, one of the most distinct features is its extremely intricate Victorian-style iron fence. It's well-known for its "cow-gates", which most would think were designed to prevent cattle from coming in and grazing on the grass, but interestingly there is no evidence to date that supports it actually being built for this specific reason.
I recently had an opportunity to tour the inside of Osgoode Hall and although it wasn't a requirement or even necessary, I couldn't help but whisper as I walked through the halls. You are after all in a place of law! Another thing was that I felt really small, especially in the library…with its high ornate ceilings and walls filled with books.
Here are some photos…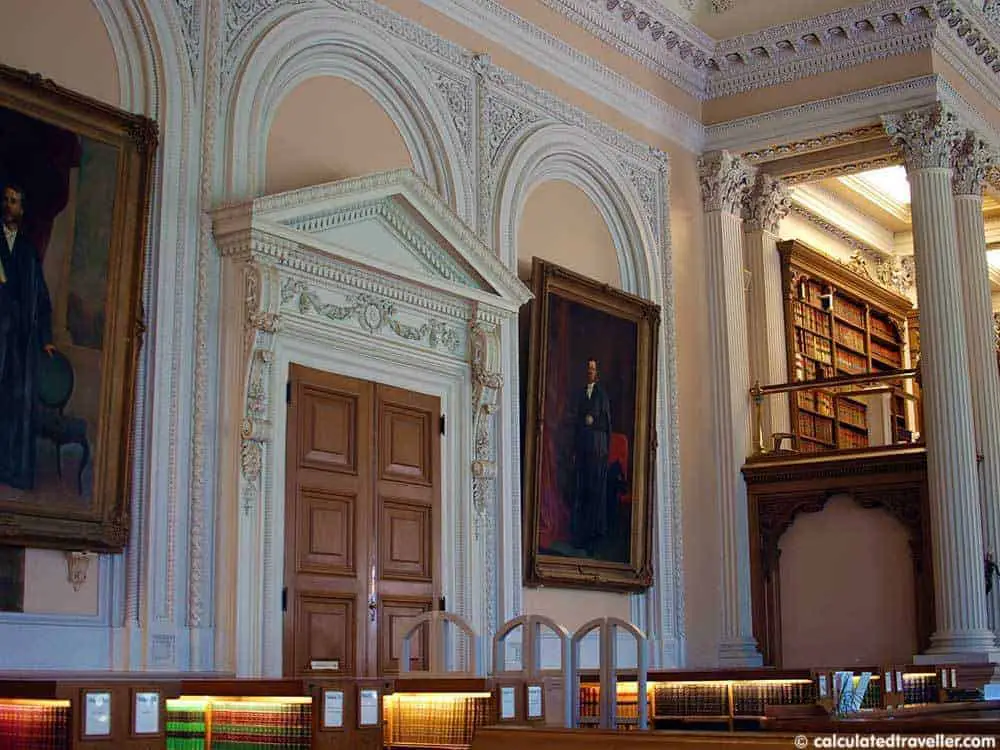 So, there you have it – a mini tour in photos of this majestic historic building – still very much in use today.  
Have you ever been in a court house?
For a tour – not because you HAD to?
For more Toronto history:
Historic Fort York – Brought to Life Before my Eyes
Segway of Ontario – Touring Toronto Distillery District in Style