It's that time of the year again when temperatures drop, holiday spirits run high, and outdoor skating rinks open for the winter season!
When you think of ice skating in downtown Toronto most people think of a visit to Nathan Philips Square Ice Skating rink at City Hall, but my favourite outdoor rink in the city of Toronto is the skating rink located at Harbourfront Centre. It's the perfect location, and as someone who has been ice skating for 18 years and counting, I love getting together with my other skating friends to practice jumps and spins outside, while gliding by the beautiful scenery.
For me, outdoor skating defines the Canadian lifestyle, especially when you think of hockey or figure skating events on a frozen pond during the Olympics. Whether you sign up for a learn-to-skate program, play a fun game of shinny, or just skate for pleasure – I encourage everyone to bundle up, strap on skates, and experience the joy of the sport.
Skating at Toronto Harbourfront Centre
Skate Rental Shop
Don't own a pair of skates or you've decided on a spontaneous visit to the rink? Hockey and ice skates are only $13 (adults) at Harbourfront Centre for an entire day! You can even rent a pair for use offsite, which is a brilliant idea if you wish to skate at a different rink. For extra safety, helmets and lockers are also available. The washrooms are inside as well. Also note, the area surrounding the rink – including the rental shop and café – has mats to walk on to ensure no one is stepping on the cement with their blades (which is a big no-no!). Watch out for the salt!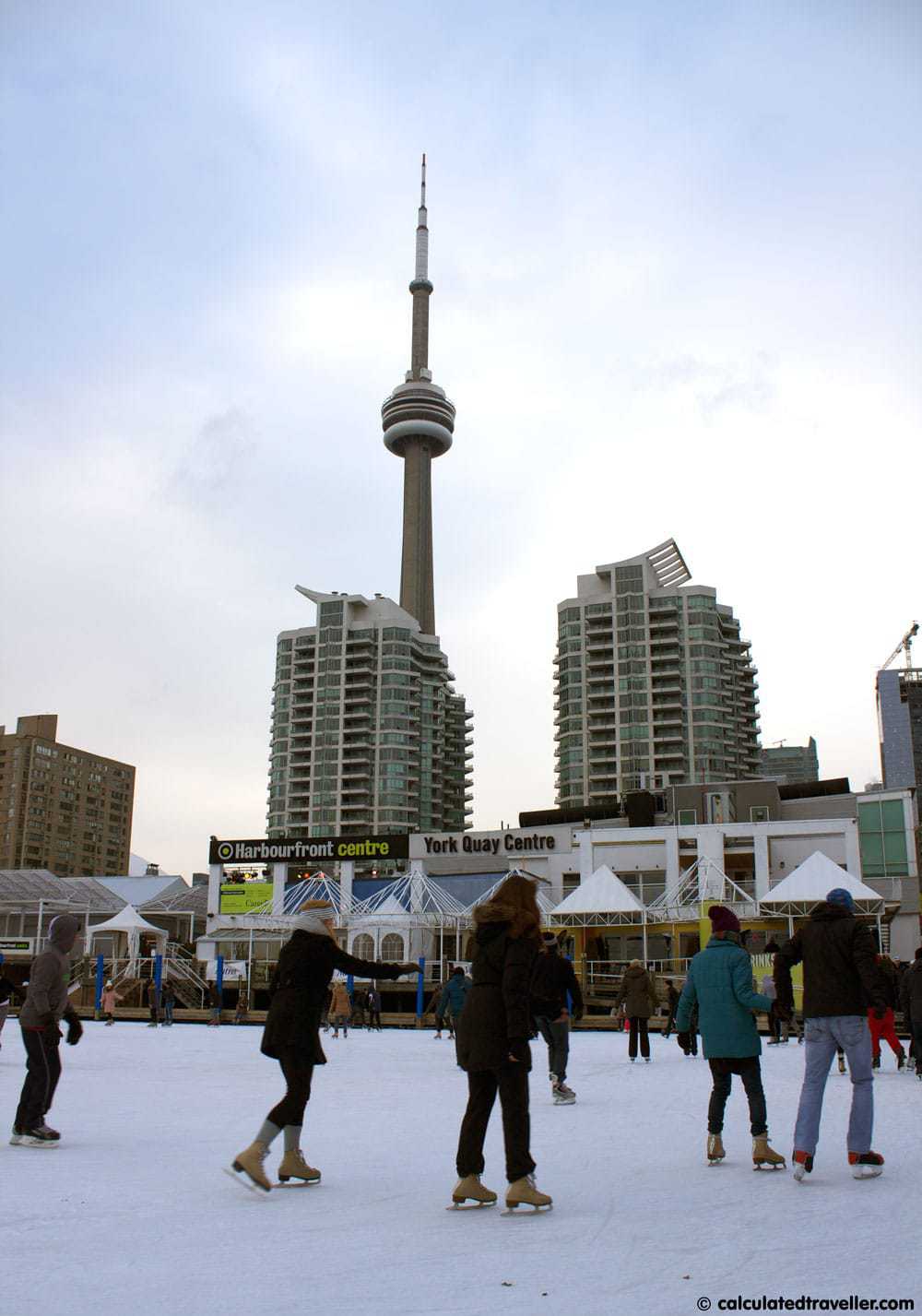 Toronto Harbourfront Skating Scenery
One of the main reasons I love the Harbourfront Rink is the scenery. Skating in any one direction is picturesque with interesting views of the city. Skating east and west is a great way to enjoy Harbourfront Centre's buildings. Facing the boardwalk provides a pretty backdrop of the Toronto Island and the airport where during the daytime, you can see the planes land and take off as well as watch boats cross Lake Ontario. It's also a wonderful opportunity to skate alongside the city skyline, CN Tower included! It would be crazy not to pull out a camera and capture the beautiful landscape and fun memories.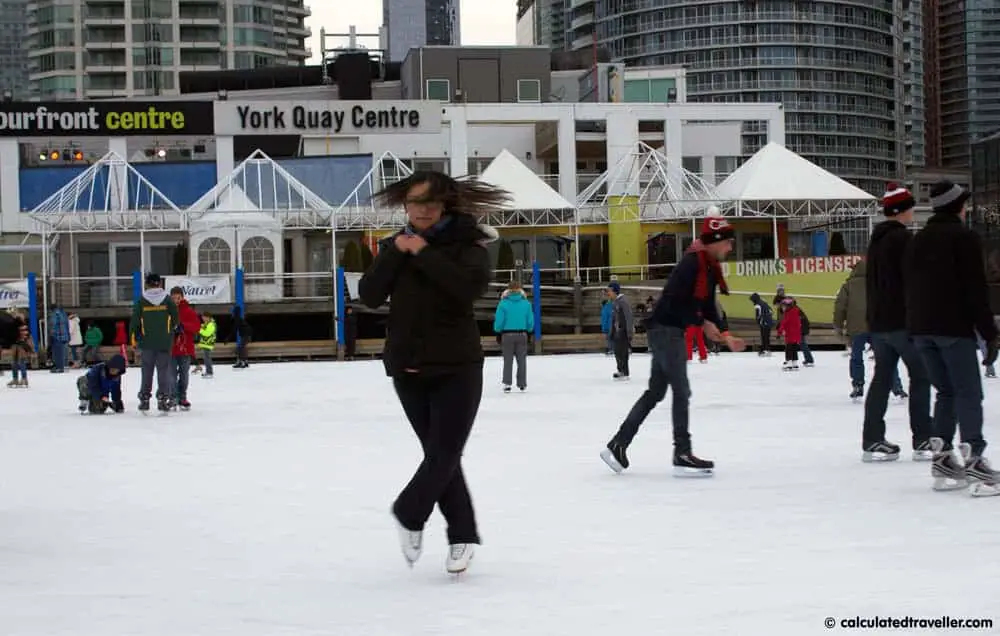 Compared to other outdoor rinks, the Toronto Harbourfront Skating Rink is an unconventional shape and size. It's quite large, which means more skaters can access the ice without overcrowding. I enjoy staying at the centre where I can practice spins and jumps since most people skate around the perimeter.
Don't miss the fire pits hiding by the Zamboni entrance. If you feel your fingers and toes are about to fall off, take a seat by the crackling fireplace and thaw out your limbs while still enjoying the skating experience rinkside!
Food
Hunger is no issue at the Harbourfront Skating Rink. The café is a few steps away from the edge of the ice, and you don't even have to worry about protecting your blades or removing your skates since the mats surround the area. Grab a hot drink or choose from a wide selection of food off the grill. The prices are quite reasonable.
Harbourfront DJ Skate Nights
What better way to spend a Saturday night than a fun dance party on-ice? Every Saturday between the hours of 8 to 11 pm DJ's pump the music at the most scenic rink in Toronto! Expect bright lights, great music, and a fun time with friends.
Skating is free. For Harbourfront skating hours and skate rental pricing information, visit:
Toronto Harbourfront Centre Skating Rink
235 Queens Quay West
416-973-4866
Where is your favourite outdoor skating rink?
For other outdoor winter adventures in Ontario:
– Exploring the Village at Blue Mountain Resort Collingwood
– The Winter Blues Are a Matter of Perspective at Blue Mountain