Paddling back through history…
Located in a historic pumphouse that dates back to 1904, the location of 1000 Islands Kayaking serves as the doorway to the trip back into the Thousands Islands' history you are about to paddle through. Sitting in our kayaks, still docked on dry land, Scott, the owner and our guide for the day explains: "Gananoque means 'garden of the great spirit'. To restore peace to the area, the Great Manitou gave the people a great garden, with a warning to the six nations that inhabited the area, that if they continued fighting, that it would be taken away."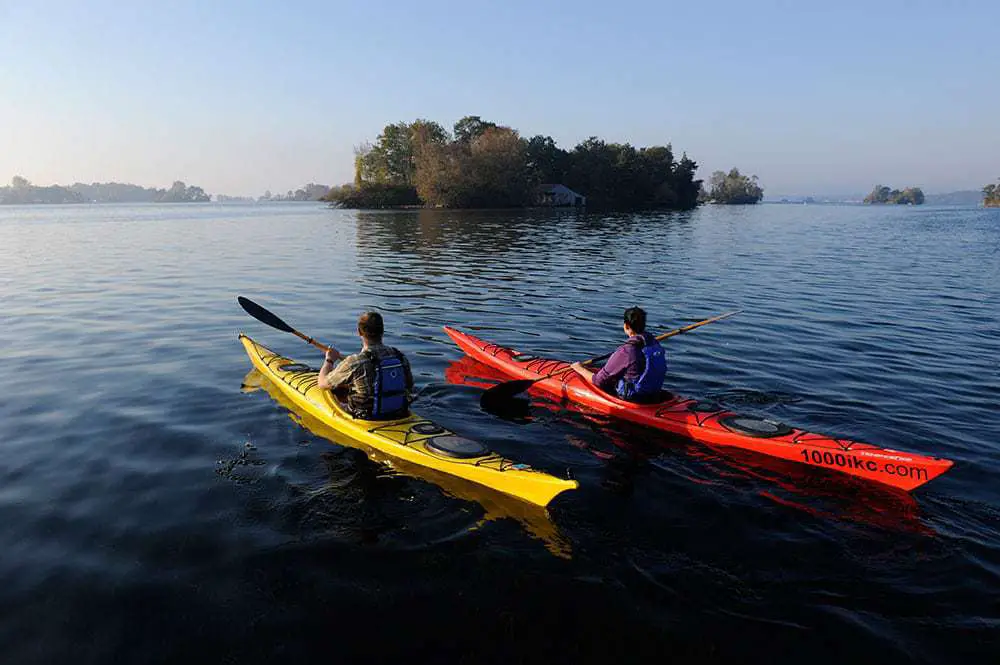 As does most stories of peace end, this one too ended with fighting. Staying true to his words, the Great Manitou, then gathered up the beautiful garden in a blanket. "While flying away, the blanket tore open and pieces of this great garden fell out and eventually took root again–leaving us with the beautiful Thousand Islands that we see today."
Read our Travel Guide to Gananoque and the Thousand Islands Ontario, Canada
Every tour should begin with a good old-fashioned game of tag
Soon after we are gently pushed off of the dock and into the waterways, this historic tour begins with a much-needed '101' on the fundamentals of kayaking. Showing proper paddling technique, followed by a playful game of water tag using inflatable balls that we threw at each other's kayaks to show our newly acquired skilled, served as a playful icebreaker for the adventure we were about to undertake through the Frontenac Arch Biosphere Reserve.
What is one of the biggest fears of a new kayaker?
Tipping their boat over, of course. One overly ambitious Dad, eager to reach a ball during our game of tag was our guinea pig. Our mellow tour guide, who had not only asked everyone to complete a complete assessment form, including medical history prior to the tour, also knew each of our self-pronounced skill levels and selected the right kayaks and equipment accordingly. Watching the Father get back into his kayak, with only a slightly fractured ego, and soaked clothes, as the only true casualties, showed us, that even if we do tip—we are in good hands and all will be alright.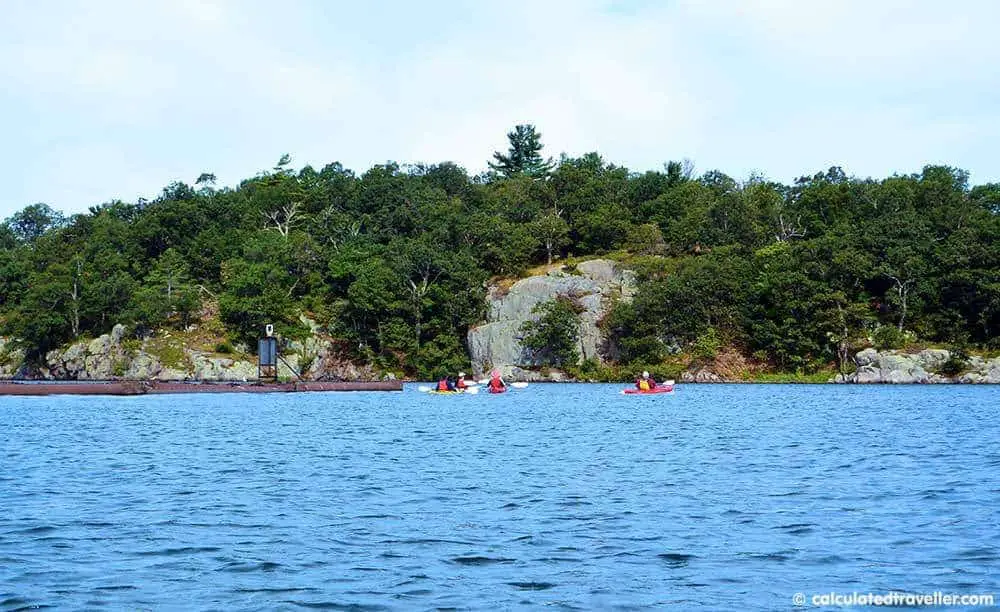 Why are they named the 1000 islands Ontario?
One of the biggest questions I had while admiring the view from my kayak was: Are there actually 1,000 islands?
"There are actually 1,865 islands, but that doesn't sound quite as appealing," laughs Scott. Explaining further: "The Thousand Islands were formed when the roots of the ancient mountain range were flooded after the ice retreated, after the last ice age over 10,000 years ago." Today, the islands serve as a corridor for the water then leads down the St. Lawrence River, eventually leading to the mouth of the ocean.
At about the midpoint of our trip, we slip further back in history to see floating remnants of the years gone by. Paddling further, we see Scott pointing to a wooden board with iron pins sticking out of it. "This is the remains of a schooner called The Briton." Once a popular sailing ship in the Brittons of the Gananoque, it was brought the shore of Mudlunta where its masts served as famous landmarks for the locals and where its cabins served as play areas for the Britton families. Eventually, it was deemed unsafe so they set it on fire.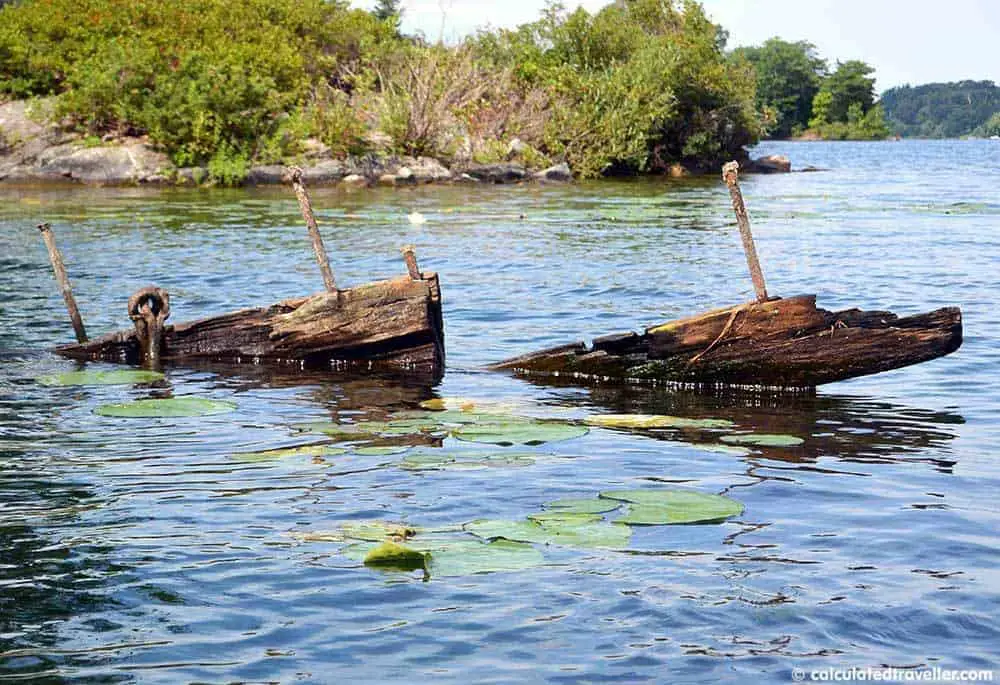 The history of: pigs?
After a unanimous decision that everyone wanted a short break, we then paddled over to McDonald Island to enjoy some freshly cut watermelon and snack on some granola bars. "The island once served as a pig farm; to shelter the pigs from sunburn, the owners planted large trees," said Scott, pointing to the large oak trees that towered above us. Recognizing that it is one of the few islands today with 'old growth', including old oak and pine trees, Parks Canada now, wisely, owns this land. Visitors to the island can rent a campsite for a week or one of the two cabins.
As Scott continued his tour on the trails, telling me a bit about the wildlife that inhabited the islands, including deer, porcupines, racoons, and the occasional weasel, my mind briefly wandered off—thinking of future trips—and what an amazing, rustic adventure it would be to rent a kayak from 1000 Islands Kayaking then stay on the island for a few days—to just get away from it all.
Our group was a bit slower than planned, but typically a half-day trip also leads to the Half Moon Bay, where a tradition of church service began in 1887. Pictured here are some of the residents of Gananoque and neighbouring islands, who listened to the sermon while sitting in their canoes
---
Following Scott back to our dock as he carefully showed us how to navigate the waterways, can be described in one word: peaceful.
You can't help too, while looking down into these clear waters and seeing the rock formations underneath, but wonder what it must have looked like, when the Great Manitou flew away years ago—and what he would think about what these beautiful islands have grown to become today.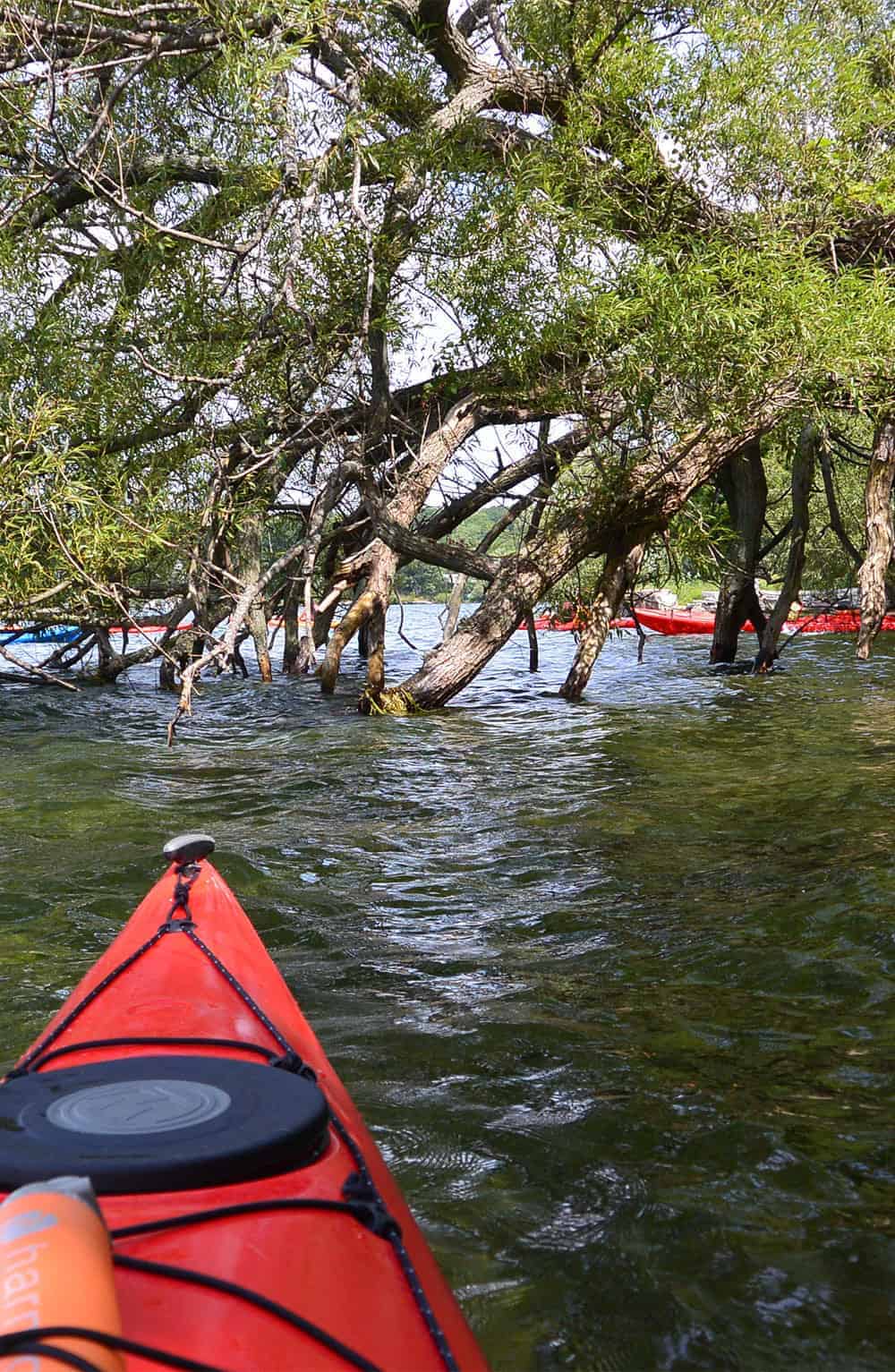 1000 Islands Kayaking Pricing and Options
Thousand Islands Kayaking offers half and full-day tours, weekend camping, and rentals for self-guided tours. The company has different types of kayaks depending on your kayaking experience and length of your trip. They also have school trips and social clubs.
For more information, go to:
http://www.1000islandskayaking.com/
Read up on the experience on TripAdvisor
Sources:
https://www.northernontario.travel/outdoor-adventures/kayaking-the-1000-islands-garden-of-the-great-spirit
https://www.pc.gc.ca/en/pn-np/on/1000
Note: This was a complimentary tour in exchange for this review. The opinions expressed, positive and/or negative, are entirely that of the author and are not a reflection of the compensation received.
Picture credits: 1000 Island Kayaking and Covato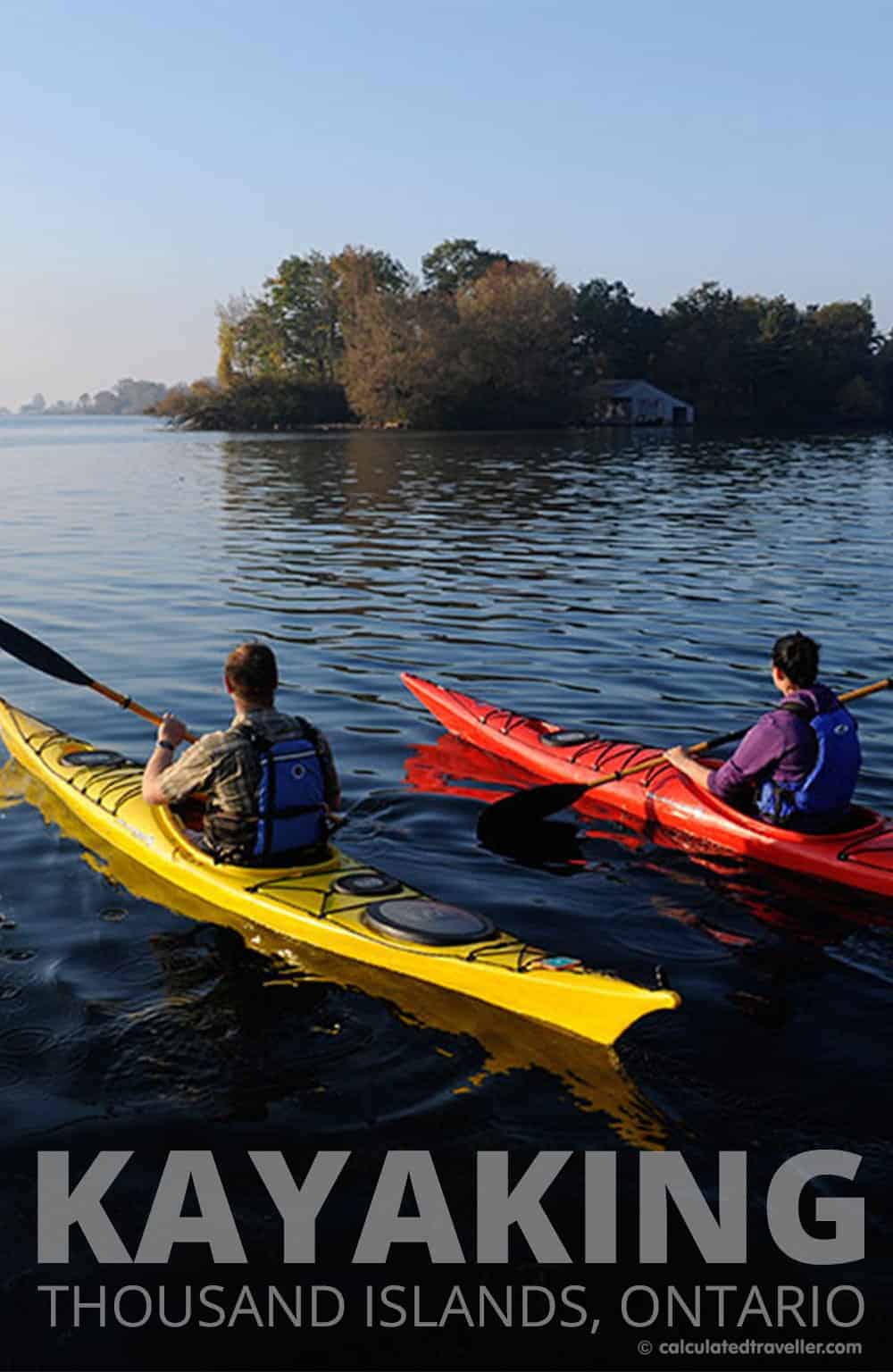 Know of another amazing and tranquil spot to explore by water? I'd love to hear about it!…
Check out more in the area:
– A Bird's Eye View from the 1000 Islands Skydeck Tower
– The Big Apple – in Ontario Canada