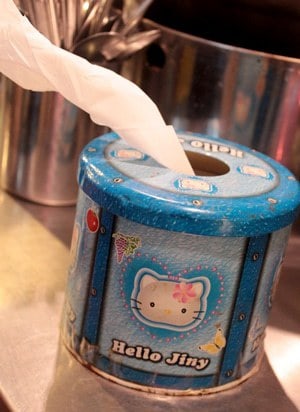 If you've travelled through Asia, you would have seen the ubiquitous round plastic toilet paper dispenser sitting on top of the table for use in place of napkins. Now to clarify, the dispenser is only used in classy establishments…
If you are having street eats – you get the roll of toilet paper without a dispenser!
(Do you see the roll on the counter in the top left of the photo?)
Before everyone says ewww…. It's actually a great idea and after all isn't toilet paper just facial tissue on a perforated roll?
That got me thinking….(lightbulb on moment!)
Here's my Toilet Paper Hack…
Take a NEW roll of toilet paper (since a partially used roll out of the bathroom is just GROSS)
Carefully rip out the cardboard tube from the centre and discard
Separate the 1 huge roll into 3 or 4 smaller rolls by pulling sections out from the centre
Flatten each section
Put each of the smaller sections of tissue into individual resealable plastic baggies
Now, you have a whole bunch of highly portable, multipurpose, compact rolls of tissue!
You may be thinking…umm Mary haven't you seen the Tissue Pocket Packs that they sell at the store?
Of course silly…but those tissue packs only contain about 10 tissues in each pack…and as in that famous Seinfeld tv episode…I like to have a "square to spare"!

I'd like to give a big shout out and Thanks to Trish of Six in Seoul for graciously allowing me to use her photo of the "Hello Jinny toilet paper holder". Jinny must be Kitty's identical twin sister that lives in Korea.
So, what do you think of my toilet paper lightbulb on moment? Any opinions yea or nay? Join the discussion…