I'm a list person.
Packing list.
Grocery list.
Road trip car checklist.
But my favourite list of all is my pre-travel checklist because that means I'm going on a trip!
Do you have a list?
If you don't, you need one so you don't accidentally forget anything.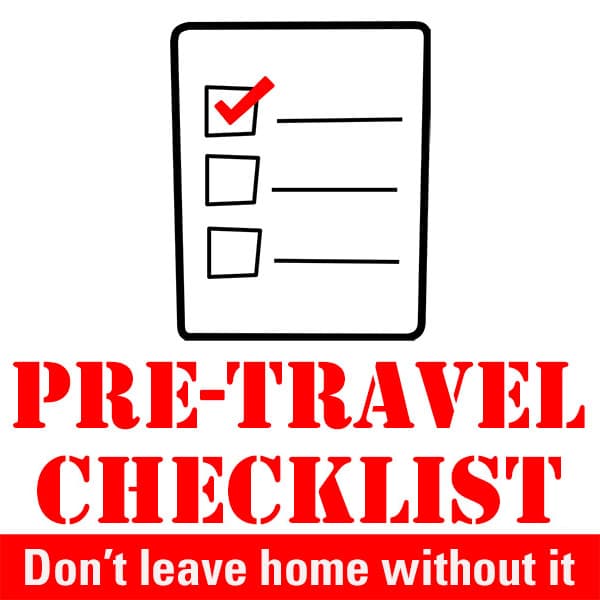 What's on my pre-travel checklist A.K.A. house-closing list
Out of office e-mail / Voicemail
Arrange snow removal / lawn care
Arrange someone to pick up ads / flyers at the door
Turn off water
Adjust house temperature
Notify credit cards
Pay bills
Arrange mail pickup
Cancel newspaper
Cancel satellite service
Drop-off the dog at the kennel
Empty refrigerator
Tidy house
Empty garbage
Water plants
Close curtains
Set lights on timers

Record…Remove…Repeat
I found that for years I was making a list with pen and paper, adding things to the list, forgetting to put things on the list, checking things off the list, and then throwing the messy scribble-filled paper away. The next trip I would do it all over again. (Doh! What a waste of time!)
Then, I got a little bit smarter, and I created a master list on the computer. I would print it off, check things off the list, and then throw the list away. Smart but not genius level.
Now I use an iPad app called "Notability" by Gingerlabs ($2.99 iTunes) that allows me to annotate PDFs. I still use the version I created on the computer, but instead, I've saved it as a PDF and uploaded the PDF to the app. It stays there when I need it. I can now check or highlight anything on the list. When complete; I can erase my annotations and reuse the list over again.
There are other list apps you can use as well, but the point is to streamline and speed up the process of getting you all sorted away and out the door.
Your adventure awaits – don't waste time, stress, or worry about locking your house down before your trip.
 
What's on your pre-travel checklist? Have I missed anything?
 
For more Travel Tips, read:
– Tips for a Working (and NOT Working) Vacation
– Quick Travel Tip #3 – Book an Extra Day off Before and After a Trip
– Quick Travel Tip #9: Clean Your House Before you go on a Trip