The Sahara Desert lies before me as I sit atop a giant dune watching the sun set upon our desert camp. It's our final evening on this 3-day, 2-night cheap Marrakesh Desert Tour, and I can't quite decide if it was worth the trek.
Yes, there have been some great moments on this Morocco Sahara Desert tour, such as watching the sunset in the desert and experiencing the vastness of the Erg Chebbi Dunes. We've also ridden camels, shared a Berber Bonfire, and seen some great sites such as the Atlas Mountains, Dadès Gorges, and the UNESCO site of Ait Ben Haddou (also known as Ait Benhaddou). Still, there have also been some trials, hardships, and broken promises.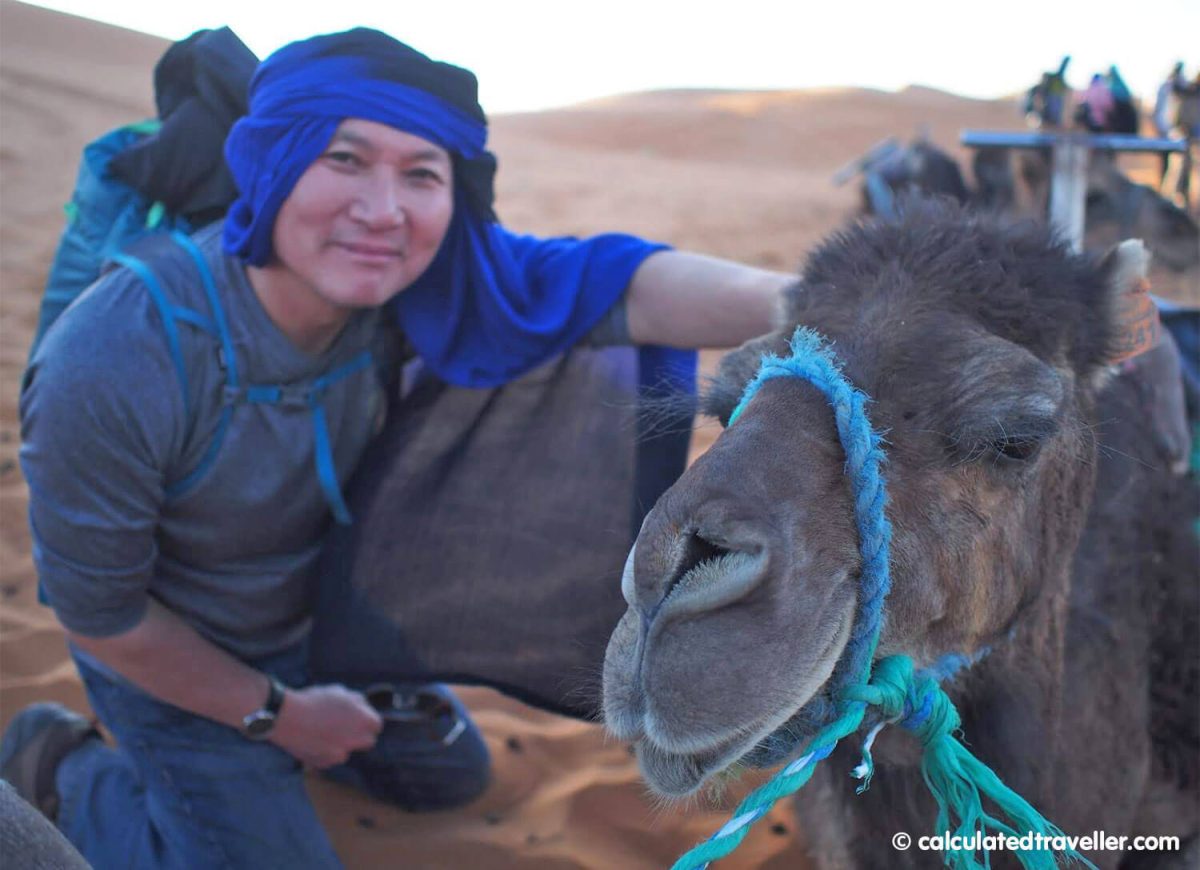 On this 3-day Sahara Desert Tour from Marrakesh, with the beauty, we have the beast.
We were sitting in a van for long hours with moments of car sickness caused by the erratic driving and twisting, turning rugged dirt roads.
Missed attractions on the itinerary and misleading tour descriptions.
Very little communication and narration throughout the journey
Sub-par accommodations with no heat and cold-water showers (when there was water available)
Early wakeup calls where we were woken up by fists banging on our door
Repeated requests for tips
Unpalatable food at expensive restaurants
Before I get into the nitty-gritty, let me start by saying that I highly recommend a tour into the Sahara Desert, whether you book a Marrakesh desert tour or a Fes desert tour. You can't say you've experienced all Morocco has to offer unless you take a Morocco desert tour. Use the tips and my experience to guide you on what to look out for when you make your booking.
Learning the difference between Marrakesh Standard, Mountain Standard, and Desert Standard in Morocco
These three "standards" were coined by fellow travellers; 2 Moroccan students on a spring break trip to the Sahara. Our new travel mates Suleiman and Norteen made us laugh as they rated the various establishments throughout our tour. Desert Standard is decidedly the worst of them all.
For 89 Euro each — yes, you read that correctly, we were promised and received the following:
Promise: Email confirmation and pick up at your Riad or pre-determined location
Received:
I did not receive an email confirmation that we would be picked up at our Riad, so the Riad Dar Les Cigognes manager called and confirmed the pick-up information on our behalf.
The "pick up" for our desert tour arrived as scheduled before dawn, but our escort was on foot, even though the front door to our Riad was accessible by car. He never said a word and just gestured us along as we followed him on foot, dragging our luggage behind us through the dark streets. He took my carry-on at one point as I had difficulty keeping up with his fast pace. Eventually, we arrived at another riad, picked up another couple, and then walked some more to his parked van.
The van then drove to the Medina at Jemaa el Fna, where we transferred to another larger van that seats 16 people.
Marrakesh Desert Tour Promise: Transportation throughout the journey
Received:
The van was great! The van was well-maintained and comfortable, with leather reclining seats and air conditioning.
Overhead light, air vents, and USB plugs – although the charge took forever, we all wondered if they were working.
Our driver was pleasant and courteous but barely spoke to us. I'm still not sure if he spoke English. He was our only point of contact during the tour, yet he never told us his name for the entire 3-day journey. There was no narration in the van while we drove. There was no communication about when we should be ready to leave in the morning or where we were going. We occupied our time sleeping, resting, or chatting with fellow travellers.
Promise: 2-hour sunset camel ride (1 hour to our desert camp and 1 hour back) through the Erg Chebbi dunes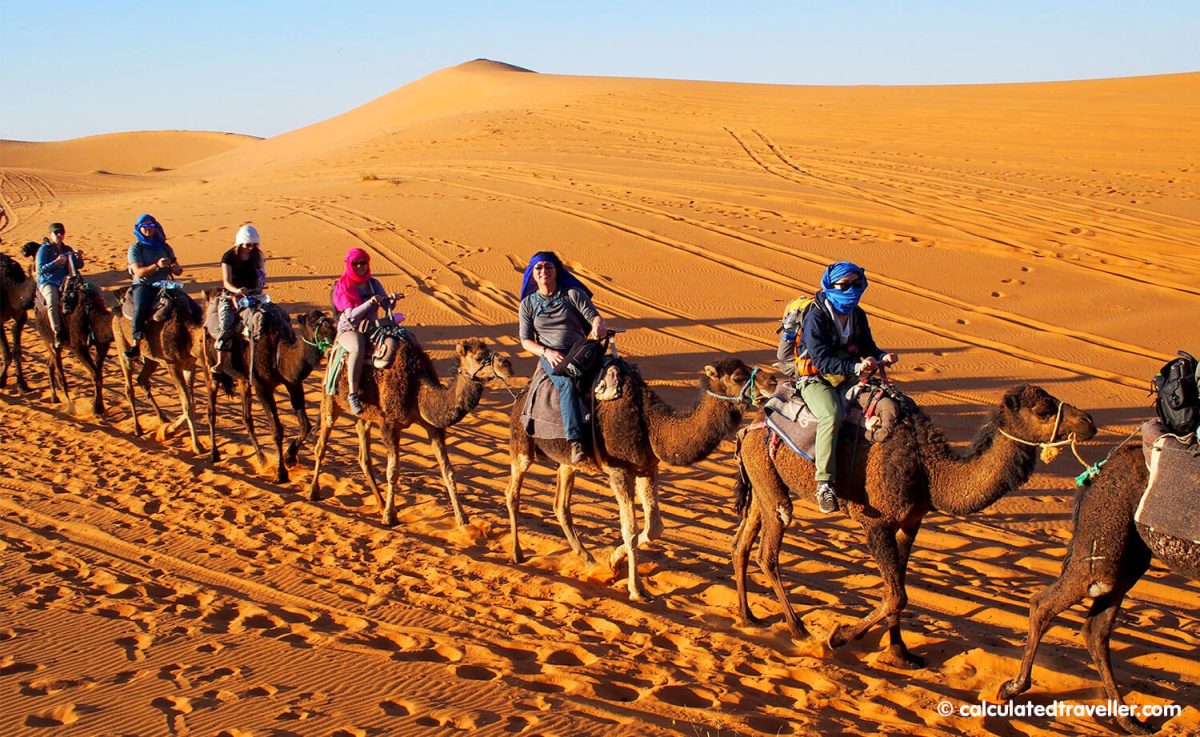 Received:
I didn't time the camel ride precisely, but the duration was nowhere near 2 hours; it was probably closer to 30 minutes to our camp and back, so 1-hour camel ride total. We did ride at a fast pace – the camel ride was simply a way of transporting us from the paved main road to the camp over the sand.
Oh, the camel ride happened late afternoon – nowhere near sunset.
Promise: Visit the Valley of Roses during your Marrakesh Desert Tour
Received:
We drove through the area stopping at a convenience store to purchase drinks, snacks, and a 10-minute restroom break.
Interestingly enough, the entire valley does smell of flowers, but no one explained why.
Promise: CLA Movie Studios
Received:
We drove by the movie studios without stopping. Our driver didn't announce it, so you would have missed it if you weren't looking out the window when we passed the studio.
Promise: Ait Ben Haddou UNESCO World Heritage Site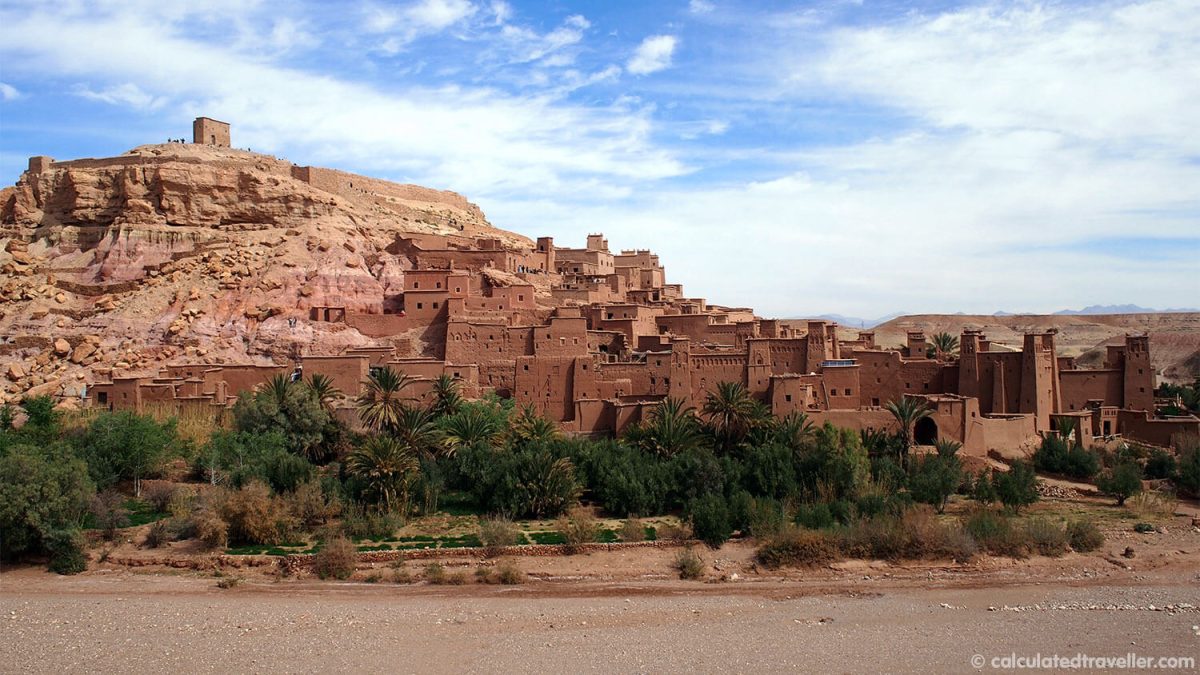 Received:
A picture-perfect spot and a highly recommended site during our Marrakesh Desert Tour; however, our local tour guide, to whom we had to pay an additional tip, told us nothing about the site's history. He led us through the city at a breakneck pace to the top of the town so that we would all stay in one group and not wander off.
Promise: Visit a Carpet Factory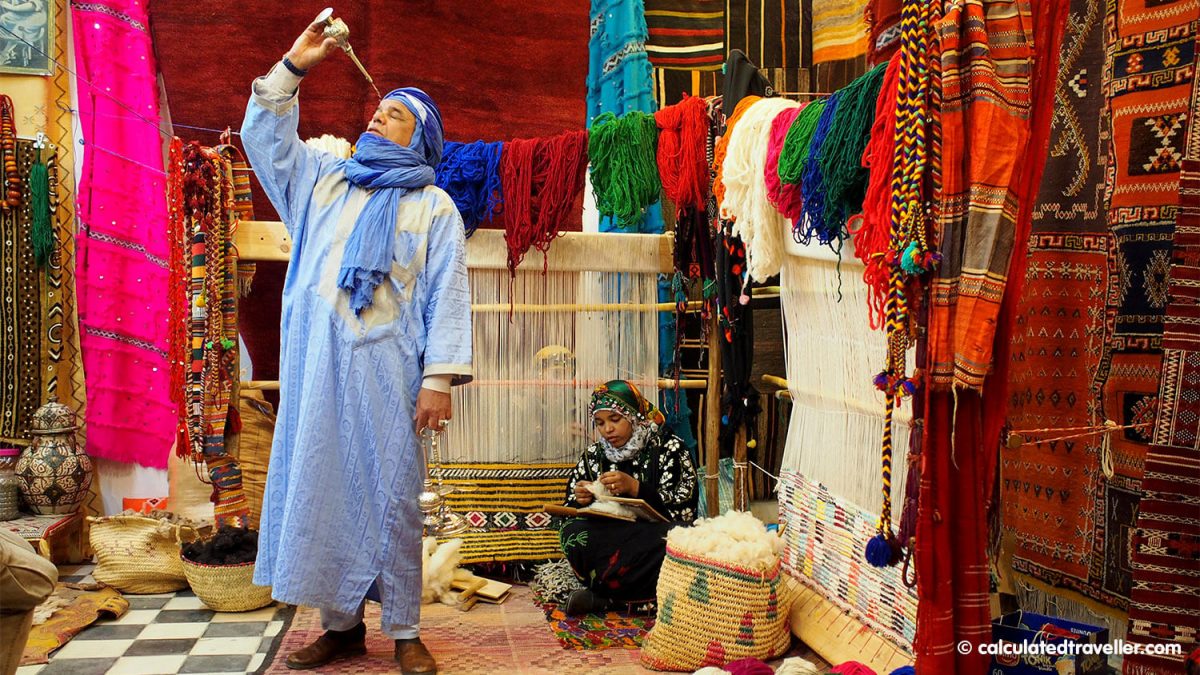 Received:
An excellent demonstration about rose water, Berber culture, rug making and the various types of carpets available. Clean restrooms and a welcome cup of mint tea.
Be warned that they will pressure you to buy something. Stick to your wits and firmly say no. They are very aggressive. No one bought anything since the prices of the carpets were thousands of dollars. They didn't know that we were on a budget tour.
Promise: Auberge des Peupliers – our accommodations in the Dadès Valley
Received:
A hotel with a great name and a slick website, yet this hotel had no heat in the room and limited hot water. The hotel had portable heaters throughout the hallways, but the warm air never migrated into the rooms.
The window curtains of our room billowed as the cold air drifted in throughout our stay.
We weren't sure of the cleanliness of the double-bed linen, so we slept in our silk sleeping bag liners that we luckily had packed for camping in the desert.
The lighting in our room was by way of the single exposed light bulb hanging from the ceiling.
Our bathroom had no door or curtain. Bathroom fixtures were simple faucets like you would see outside your house in the garden or the garage.
There was very little water pressure, and the water was icy cold. During breakfast, some people said they showered with hot water, but our room must have been at the end of the line because we didn't get any, no matter how long we kept the tap open.
If it weren't for the wood fireplace in the dining area, we would have eaten dinner and breakfast with our coats on, as it was freezing in the mountains.
Our dinner consisted of a flavourless bland vegetable soup, shared chicken tagine (among six people), bread, sliced oranges, and bananas.
Our breakfast in the morning consisted of mint tea, coffee, bread, jam, and spreadable cheese.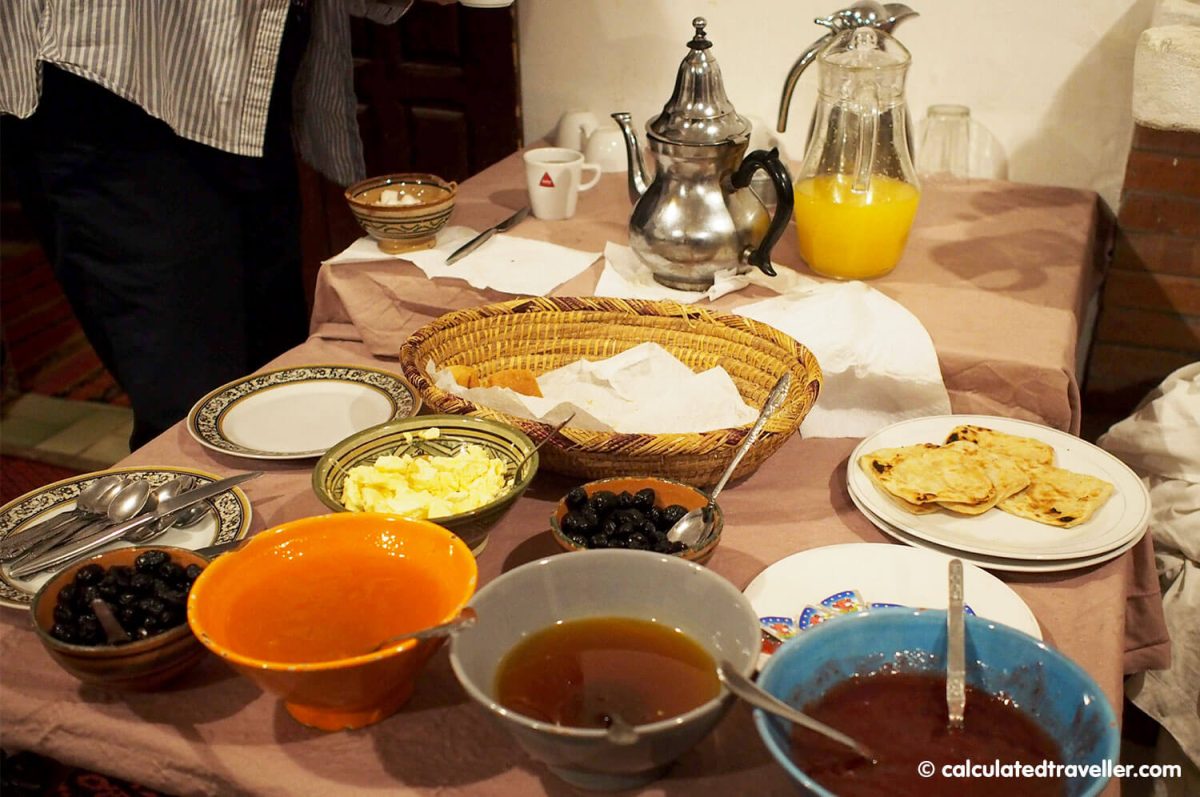 Promise: Overnight Camping in the Sahara Desert – A Highlight of any Marrakesh Desert Tour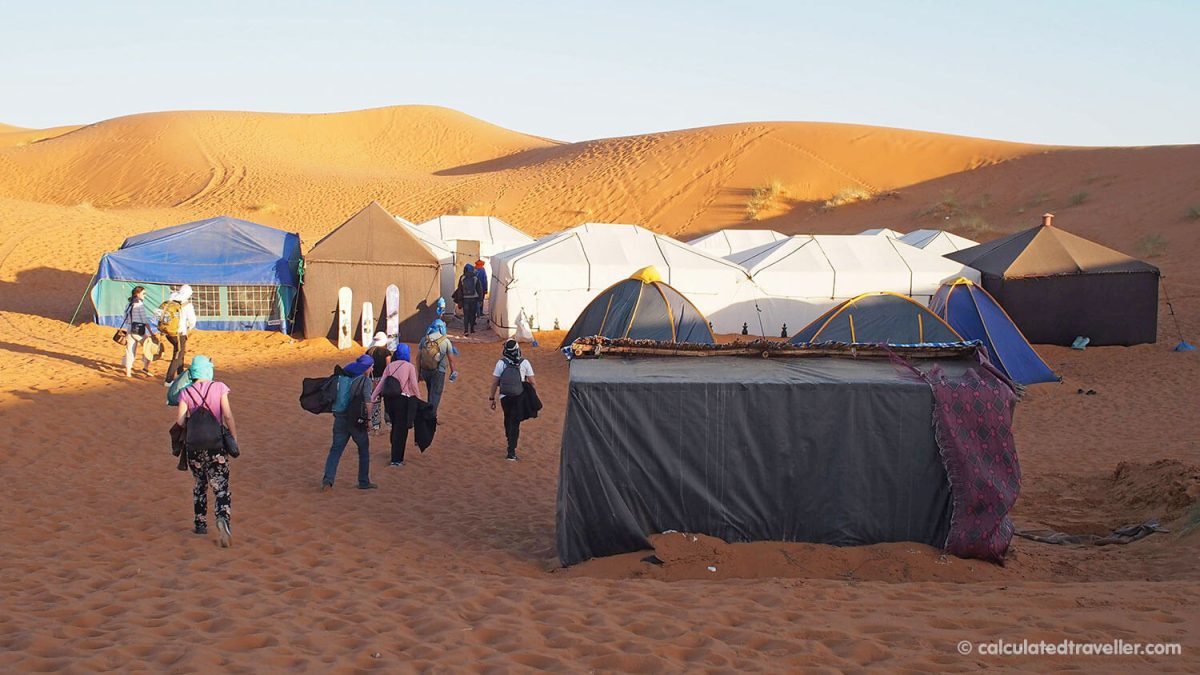 Received:
I knew we would be camping in shared accommodation, but I wasn't expecting eight people in one tiny room enclosure. There were approximately 30+ people in our camp with two toilets and one sink: no toilet paper or soap.
Our tent had no heat and only one bare light bulb in the ceiling.
Each tiny mattress had a hard pillow and a rough, heavy blanket.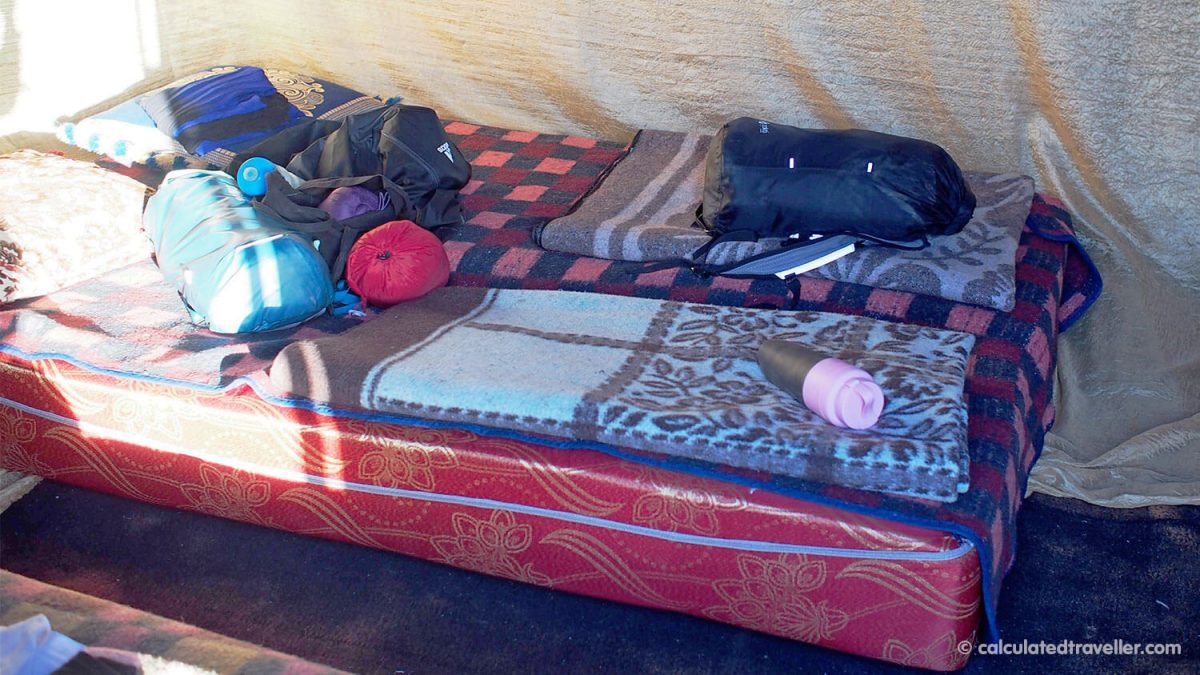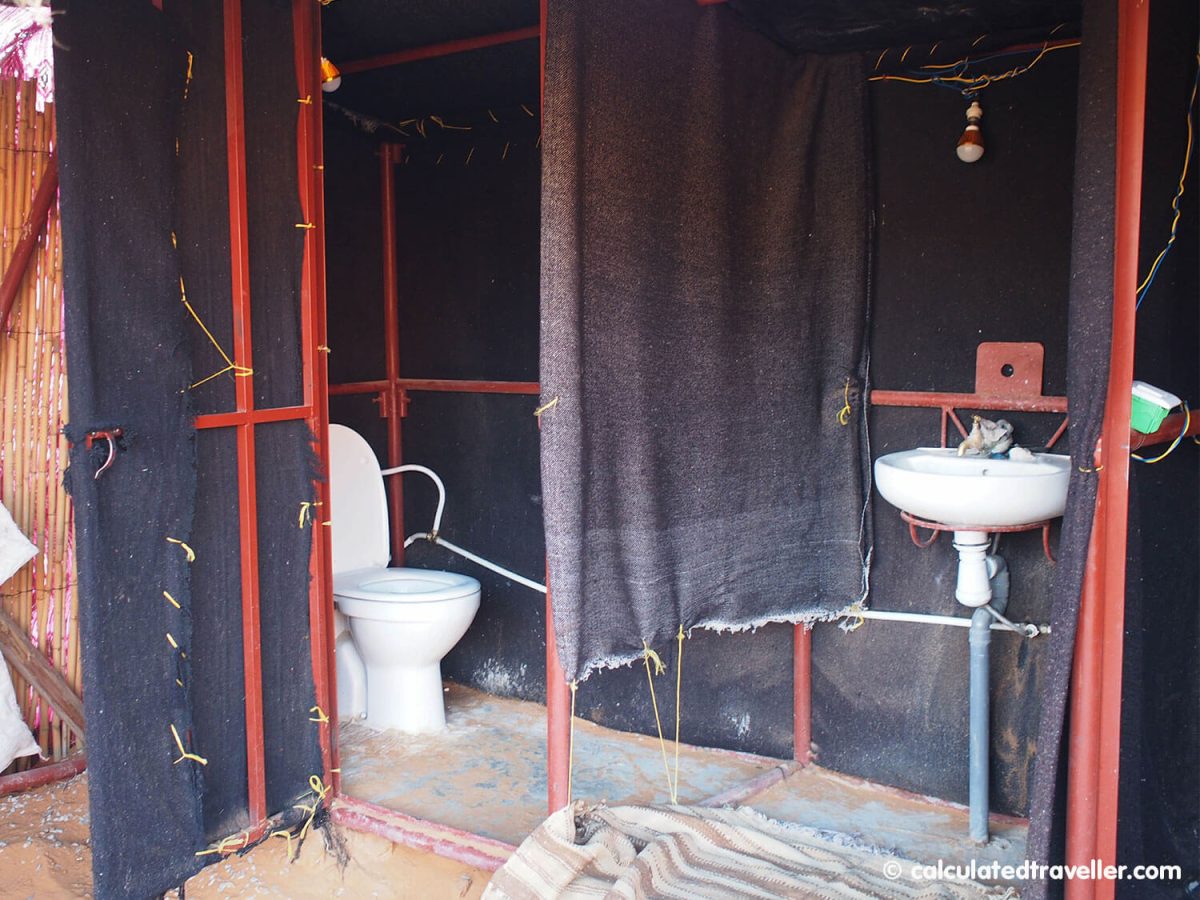 If you recall, our van held 16 people, and so we were joined by other tour groups at the campsite.
There was no assigning of tents/beds amongst the combined tour groups. It was just a free-for-all all as everyone scrambled to find an empty bed for the night.
Again, we slept in our silk sleeping bag liners. I'm glad we packed them because we were skeptical that they would strip the beds and wash the linen between guests in the desert. Hopefully, since the pandemic, this has changed. Truthfully, I slept in my travel clothes since there was no privacy to change in camp and no point since there was no shower.
We ate dinner in the dark by the fire. Our meal consisted of a tasteless barley soup, shared chicken tagine (among six people), bread and tangerines.
Promise: Berber Entertainment at the Sahara Desert Camp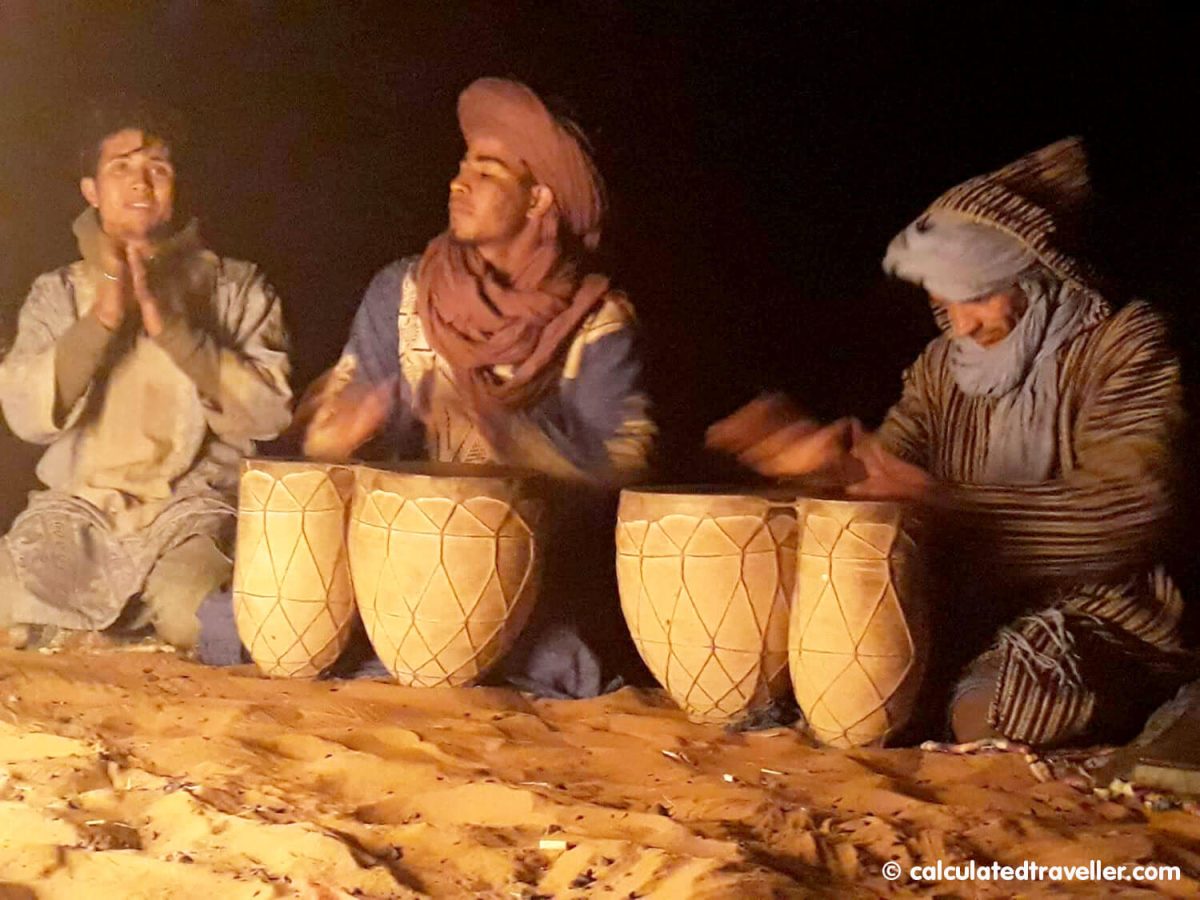 Received:
The bonfire entertainment of Berber drumming and singing after dinner was great, but it didn't last long. I didn't check the time, but it stayed until the fire went out. A clear hint that we ought to go to bed since there was no more light in the camp.
Promise: Return to a hotel for breakfast and showers after the desert camp
Received:
In the morning, there was banging on the door and shouting. We quickly gathered our belongings, rode the camels back to the main road, and then walked back to the industrial building to our parked van.
In the building, there was one sink and two restrooms for all 30 of us weary travellers to use (that is, if you hadn't already used one of the two toilets and single sink at the camp). No shower. No hotel.
Breakfast was served in this same building and consisted of mint tea, bread, fried roti, jam, and butter. The spread wasn't plentiful, and some missed getting food.
Promise: Return to Jemaa el Fna medina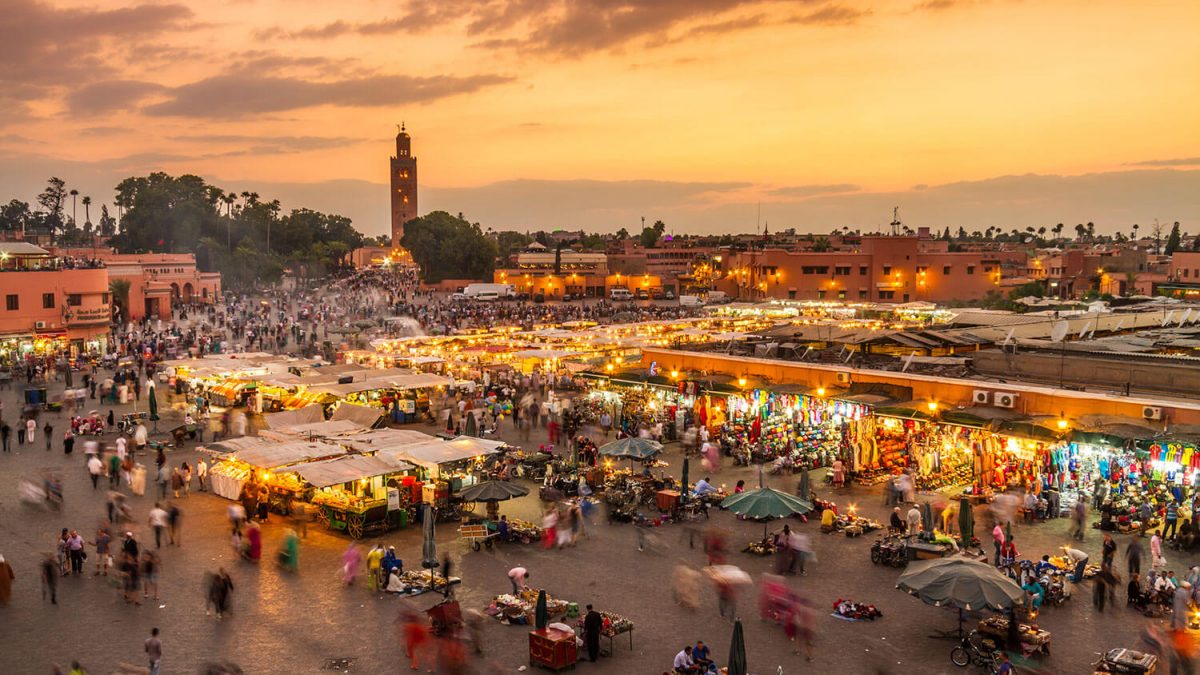 Received:
At the end of the tour, we were dropped off on the main road near Jemaa el Fna. There is no fault here, given the area's traffic, especially in the late afternoon.
This worked out for us in the end since our Riad was on the other side of the Medina at Riad Lorsya. 
Pro Travel Tips for Booking Sahara Desert Trips in Morocco
Different operators are selling 3-day, 2-night trips to Merzouga everywhere in Marrakesh. These are all resellers of the same journey. It doesn't matter if you book your Marrakesh Desert Tour through Agency X, Agency Y or Agency Z. It also doesn't matter if you paid 85 Euro or 95 Euro. Anybody booking the basic tour leaving on a Monday will be on the same bus, driving along the same route, stopping at the same rest stops, eating at the same restaurants, sleeping in the same hotel, and staying at the same desert camp.
The only difference we discovered was that one couple we met from Greece had paid for the deluxe package. They were in the same van as we were throughout the trip, but when it came time to go to the desert camp – they rode their camels with another group to a different campsite. They had a private tent with an ensuite bathroom and a private dinner inside their tent. They stayed with us at the same hotel in the Dadès Valley, but this was an error. They were to sleep in the better hotel next door. The agent promised a partial refund for the mistake, but I'm unsure if this occurred.
When booking your Marrakesh Desert Tour, ask questions and get as much as you can in writing for any future disputes. Specifically, get the names of the hotels to ensure there is no bait and switch.
Be cautious of hotel star ratings. I checked our hotel in the Dadès Valley and was surprised to see that our subpar hotel with no heat or hot water had a high rating. Referring to online reviews on TripAdvisor will provide a more accurate first-hand opinion.
If you book online, bring a paper printout with you so that you have documented proof of what you paid for the deposit and the balance remaining so there are no pricing disputes. Consider bringing the exact change in local funds when making the final payment.
We booked online directly with the tour operator because we were worried about booking on the ground in Marrakesh. I took comfort that I could check online reviews on TripAdvisor before booking and would have some fraud protection when paying with a credit card. Reading the reviews, I knew this was a budget trip, but I did expect more than we received. All I left was a credit card deposit, and I paid the remaining balance in cash to the bus driver before starting the tour.
For added assurance, book with a reputable online tour broker such as Viator or Tour Radar. We tried to book with Viator initially. Unfortunately, the departure dates did not fit our schedule, so we opted to take our chance and book online versus waiting until we got to Marrakesh.
CLICK HERE FOR VIATOR MARRAKESH DESERT TOUR OPTIONS
CLICK HERE FOR TOUR RADAR TOUR OPTIONS
Call the company via WhatsApp to confirm the pickup location and time a few days before your tour date.
Make new friends with your fellow travellers the minute you start the journey. You'll be able to look out for each other while touring and sharing snacks, making the entire experience more enjoyable.
The driver is supposed to stop every 2 hours. This rest break rarely happened since he was rushing to keep on schedule since we always fell behind. Use the restroom whenever available because you don't know when the next stop is.
Keep coins handy for the restrooms, as you'll have to pay for their use even though there isn't any toilet paper or soap!
There is an additional entry fee to Ait Bin Haddou of approximately 10 DH per person.
Wear long pants for the camel ride, as the camel's hair and the blanket saddles are rough and dirty. I wish I had worn my jeans even though it was warm during our camel ride because I ended up with burrs in my pants from the dirty saddle that kept scratching my legs.
If you are interested in stargazing in the desert, preload a star charting app such as Night Sky onto your phone or tablet before you get to the campsite since there likely will not be any internet access available.
Restaurants for lunch were a bit pricey compared to back in Marrakesh. It is discouraged, but you aren't obligated to eat with the group, and often there are other restaurants nearby – let your driver know you won't be eating with the group and ensure you return on time.
We travelled in early March, and the weather fluctuated from cool mornings to hot afternoons to freezing nights – a temperature range of 2 to 20 degrees Celsius. Check the weather and choose clothes accordingly. Dress in layers, and don't forget to pack sunscreen.
I had read online about pressure tactics to buy carpets and scarves before our trip. We only felt the pressure strongly in one carpet store. Don't feel pressured; say 'La Shakron,' meaning 'No Thanks' in Arabic and walk away.
We purchased our scarves for the desert in the souk in Marrakesh for 50 DH each, but I must say that the 'Sahara Blue' scarf shown to us at one of the shops on our tour had a denser weave, and the fabric was wider. Not necessarily worth the 120 DH price tag because I'm not sure if I'll ever wear it again, but if you can negotiate the price down slightly, it makes a great souvenir. As a point of reference, our 2 Moroccan friends negotiated the price from 120 DH to 80 DH.
There is a difference in the quality of scarves. Be careful with the discount scarves that have variegated black along the ends of the fabric sold in the Medina. We were told that once they get wet, the black — probably just black ink — will run all over your clothes and skin.
Dining is communal. Tajines are shared between 5 to 6 people, so don't be bashful and dig in there, or you won't get any food.
Talk to your driver. Our driver was simply that – a driver. He did not narrate along the route or communicate other than to tell us '10 min toilet break' whenever we stopped. There was never an offering of information about what time we were to leave, where we were going next, or what time we were leaving. In the desert camp, one couple sharing our tent was with a different driver and barely had enough time to pack their gear as they were sleeping while we were already packed and ready to go. Just the pounding on the door to 'wake up' and a mad scramble to jump on the back of a camel. Ask questions. Don't be shy.
Pro Travel Tips for What to Pack on a Marrakesh Desert Tour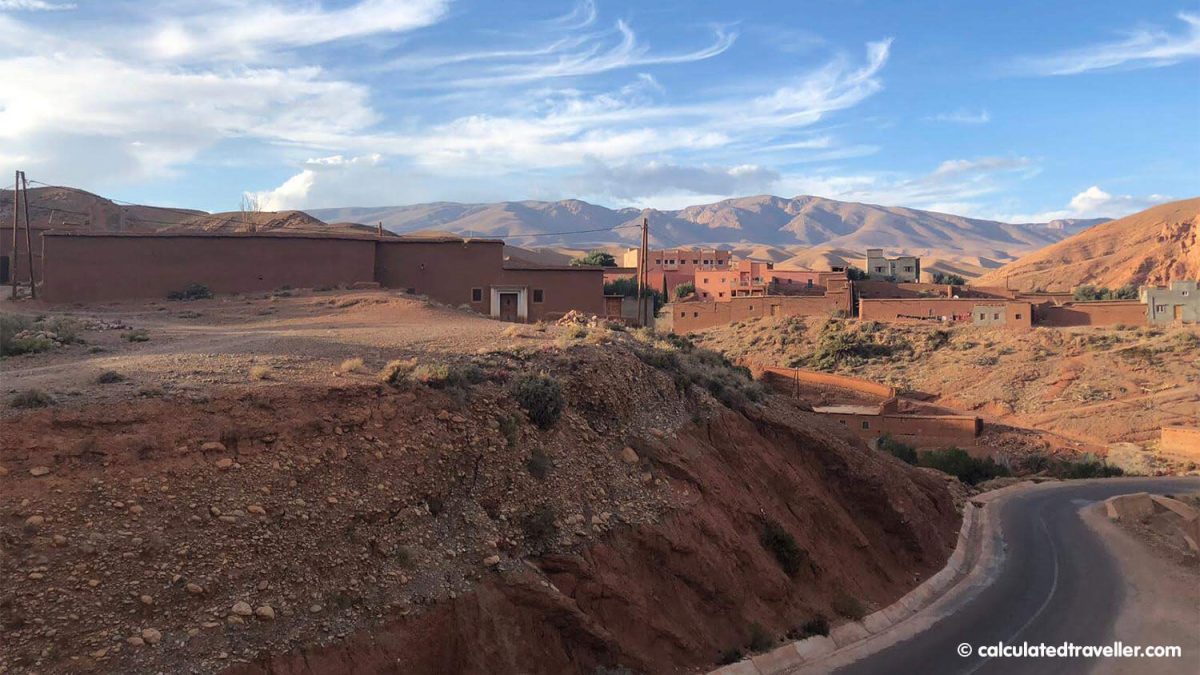 Pack toilet paper and hand sanitizer for the restrooms, as availability is virtually nonexistent on the trip. 
A lot of time is spent sitting in the van, so dress comfortably. The roads are sometimes unpaved, and there are many switchbacks when driving through the Atlas Mountains. If you are prone to motion sickness, I highly suggest you bring Gravol or ginger and take it at the earliest signs of nausea. I wish I had known about ReliefBand before this trip.
Keep small bills as tips for the guides. We tipped 10 DH each whenever we had a guide. Sadly, no one was worth more than that.
There are no shower facilities at the desert camp. So, you can either bring a small washcloth for cold water wipe-downs or pack some baby wipes. I have since purchased fabulously large disposable premoistened bath towels (akin to giant baby wipes). They would have come in handy had I known about them earlier. 
Pack a lightweight sleeping bag liner if you are a clean freak like I am. I saw a few people bring out twin sheets at the camp, but a silk liner with a built-in pillow cover is much more convenient and lighter to carry. We used ours in the hotel and the desert camp. 
Pack earplugs if you are a light sleeper and a lumbar support/neck pillow for the long car ride.
For the sleepover in the Sahara Desert camp, you'll need a backpack big enough to hold your essential gear and valuables. I suggest a backpack because you'll have to carry your bag while you ride the camel to the campsite. You will not have access to the bulk of your belongings as they will be stored in the van parked at the industrial building. I recommend you pack this backpack the night before your scheduled desert campout. Quite a few people were unprepared for this, and they had to scramble and repack at the side of the van while the camels and guides impatiently yelled at them to hurry. I packed too much since I wore the same clothes on Day 2 and Day 3 because there wasn't anywhere to shower. You should also ensure that your contents are securely locked inside your luggage as it will be in storage. Keep any valuables with you!
Charge your electronics, camera batteries, and cell phone before you get to the desert camp because there is no electricity on site. Our van did have USB connections, but there was no guarantee that it would be available, and the charge speed could have been faster. You should bring a portable charger with you. 
Pack a small flashlight/headlamp – good to have whenever you travel anywhere but especially handy in the pitch-black desert. Read our article: Flashlight for Safety
Snacks and water are available for purchase along the route but, at times, can be expensive. I suggest you purchase food and bottled water in Marrakesh and bring them. We packed a water purification LifeStraw with us and used it successfully. 
Would we Retake a Cheap Marrakesh Desert Tour?
For 89 Euro, we did get great value for our money. But we wish we would have done it better as it needed more basic comforts such as hot showers and heat.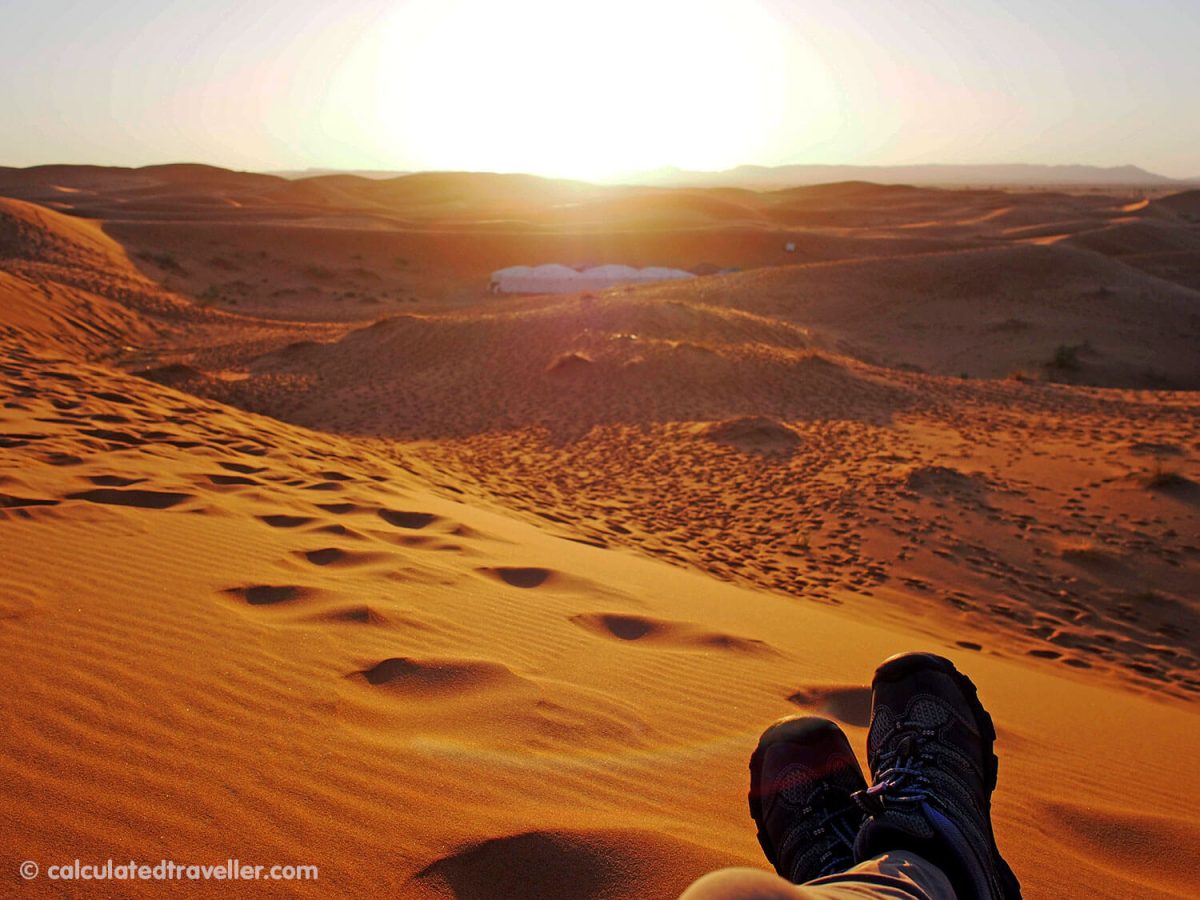 This trip's 300 Euro deluxe version follows the same route and itinerary but with more luxury, such as better accommodations and meals.
If we were to return to Marrakesh with friends who wanted to adventure in the Sahara, we would do this same itinerary again. However, we would book a private, deluxe, or even a luxury desert tour versus a budget-shared Marrakesh desert tour, where we had upgraded accommodations, actual narration with a certified guide, and a choice of restaurant offerings.
This cheap tour was a rough journey similar to outback camping, but it wasn't the worst trip of my life. The best part of the trip was meeting new people, speaking with our fellow travellers from Spain, Greece, Morocco, and Canada and most of all, making new friends. We, as travellers, are used to having adventures such as this, and doesn't it make a great story to share now that we are home?
If you don't have the time to participate in a 3-day Sahara Desert tour, there are lots of Marrakesh day trips available.
Have you been on a Marrakesh Desert Tour? Please share your experience with us on social media.